In our Iowa Icons series, we're celebrating the players, moments, and traditions that define Hawkeye football. Here, we look back at some of the greatest seasons in Iowa football history.
1921:
Claiming Iowa's first-ever undisputed Big Ten title, coach Howard Jones' Hawkeyes posted a perfect 7-0 record, a win over Knute Rockne's Notre Dame, and were later recognized by researchers as one of five teams to share the title of national champions. Four Hawkeyes—Aubrey Devine (22BA), Gordon Locke (24BA 25JD), Duke Slater (28LLB), and Lester Belding (22BE, 40MA)—were named to various All-America teams, as the Hawkeyes outscored opponents 185-36. The Rose Bowl extended Iowa an invitation, but Big Ten rules precluded the Hawkeyes from participating.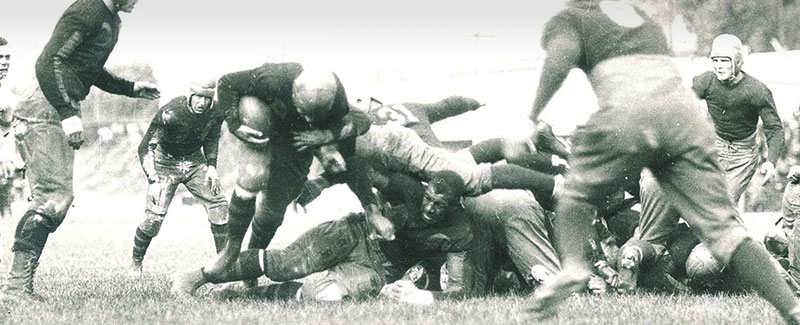 PHOTO: FREDERICK W. KENT COLLECTION, UI LIBRARIES SPECIAL COLLECTIONS
Iowa offensive lineman Duke Slater (helmetless on bottom) paves the way for ball carrier Gordon Locke during Iowa's 10-7 victory over Notre Dame on Oct. 8, 1921, in Iowa City.
---
1922:
Locke tallied 12 touchdowns, a Big Ten record that would stand for two decades, and the Hawkeyes continued their national dominance with another 7-0 campaign and conference title. The season's high point came when Jones' squad took down mighty Yale, coached by his brother Tad Jones. Proving even more dominant than the previous season, Iowa outscored its opponents a combined 208-33.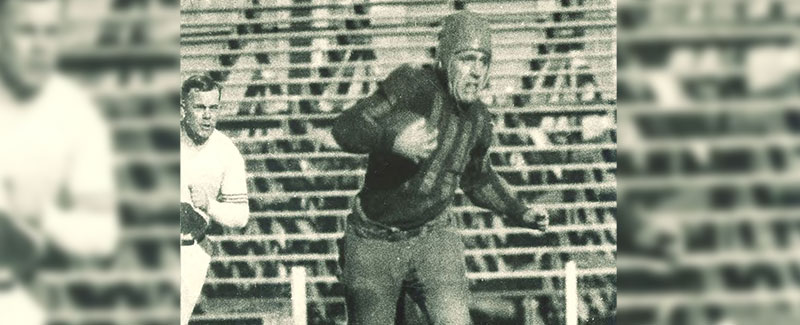 PHOTO: FREDERICK W. KENT COLLECTION, UI LIBRARIES SPECIAL COLLECTIONS
All-American quarterback Gordon Locke led the Hawkeyes to a second straight perfect season in 1922.
---
1939:
The most storied team in Iowa history earned its Ironmen nickname because of its platoon of two-way players who stayed on the field all 60 minutes. Iowa had sat at the bottom of the Big Ten standings for much of the 1930s but, led by new coach Eddie Anderson and eventual Heisman winner Nile Kinnick (40BA), the Hawkeyes went 6-1-1 and finished ranked ninth in the nation. Iowa captured the imagination of the nation with one improbable victory after another, including a monumental 7-6 upset of Notre Dame and an unconventional 4-0 win over Purdue.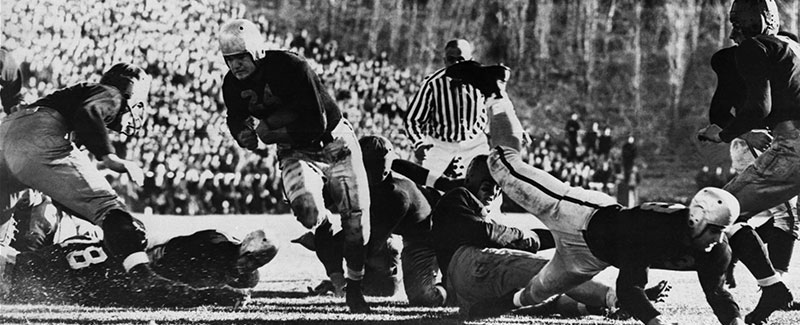 PHOTO: HAWKEYESPORTS.COM
Nile Kinnick scores the decisive touchdown in Iowa's legendary 7-6 victory over Notre Dame in 1939 in Iowa City.
---
1956:
Led by All-American tackle Alex Karras, quarterback Kenny Ploen (58BSCE), and end Frank Gilliam (57BA), Iowa marched to its first Rose Bowl appearance and a storied 10-1 season. In Pasadena, Forest Evashevski's team defeated Oregon State 35-19 and finished third in the AP poll. A last-second loss to Michigan, 17-14, in early November was the only blemish on an otherwise golden season.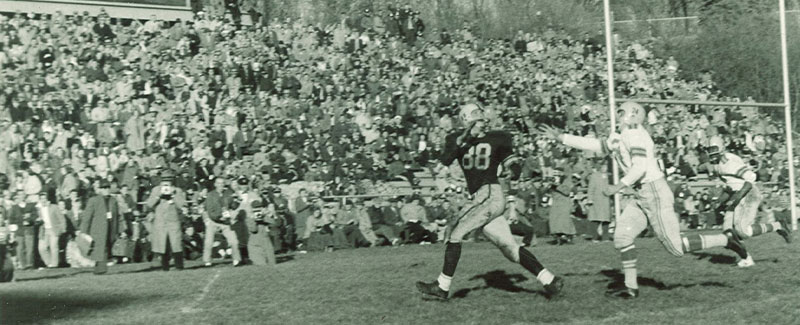 PHOTO: FREDERICK W. KENT COLLECTION, UI LIBRARIES SPECIAL COLLECTIONS
Jim Gibbons catches a touchdown against Ohio State in November 1956 in Iowa City.
---
1958:
Considered by Evashevski and others to be the best team in school history, Iowa and its potent wing-T attack—led by star quarterback Randy Duncan (59BA)—captured a Big Ten title, a second Rose Bowl win, and staked a claim for a national title. Iowa finished 8-1-1, ranked second in the AP poll at the end of the regular season. The Football Writers Association, who voted after the bowls, tapped the Hawkeyes as its national champion.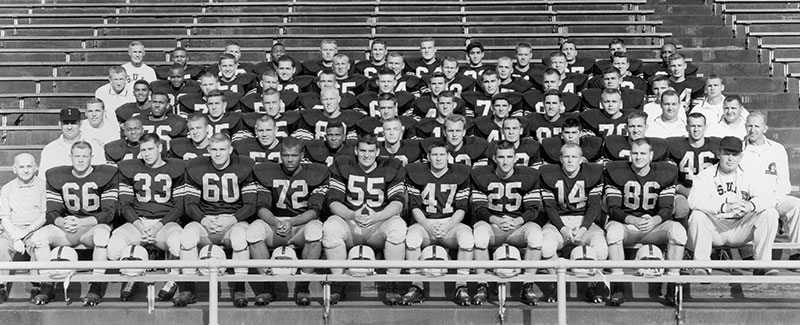 PHOTO: COURTESY HAWKEYESPORTS.COM
The 1958 Hawkeye football team
---
1960:
While a bowl trip is an automatic today for a Big Ten team with a winning record, that wasn't the case in 1960, when there were just nine postseason games. In Evashevski's final season as coach, Iowa spent much of the fall ranked No. 1 before falling at Minnesota. Subsequently, the Gophers earned the invitation to Pasadena while Iowa's season ended at 8-1. Even so, the team and its trio of All-Americans—halfback Larry Ferguson, quarterback Wilburn Hollis (71BA), and guard Mark Manders—finished at No. 3 in the AP poll and No. 2 in the coaches poll.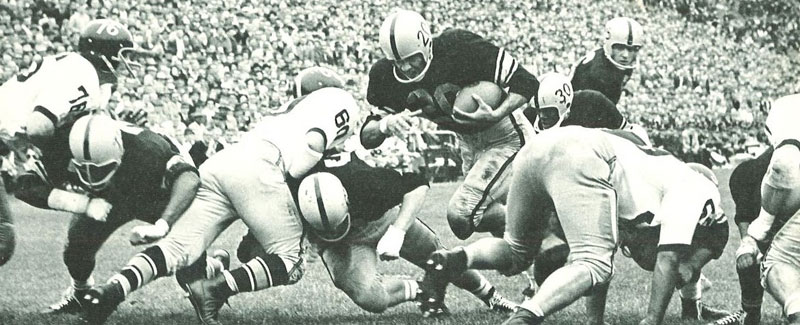 PHOTO: 1961 HAWKEYE YEARBOOK
Quarterback Wilburn Hollis carries the football during the 1960 season.
---
1981:
Since the 1968 season, only Ohio State and Michigan had represented the Big Ten in the Rose Bowl. But Hayden Fry and the Hawkeyes upset that balance of power in 1981, when they secured an unlikely share of the Big Ten title and returned to the Rose Bowl for the first time since the Evashevski era. With future college and NFL hall of famer Andre Tippett leading a fierce defense and Gordy Bohannon (82BBA) quarterbacking the offense, Iowa stunned the nation with upsets over Nebraska, UCLA, and Michigan before falling to Washington in Pasadena to finish 8-4.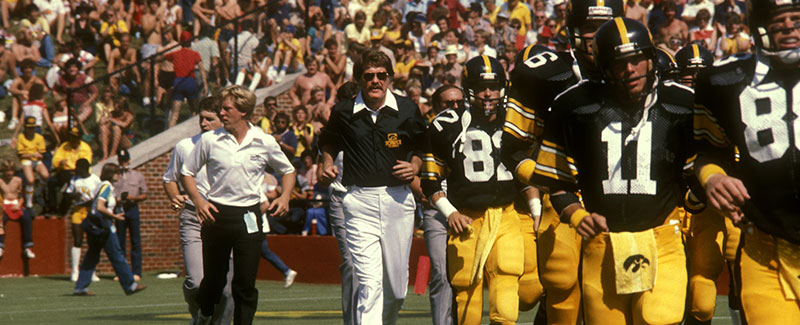 PHOTO: COURTESY HAWKEYESPORTS.COM
Former Hawkeye Football Coach Hayden Fry
---
1985:
No team of the Fry era captured the imagination of fans like the 1985 Hawkeyes. Led by quarterback Chuck Long (85BBA), running back Ronnie Harmon (06BLS), and linebacker Larry Station (87BBA), Iowa ascended to No. 1 in the nation, won a game for the ages against No. 2 Michigan, and claimed its first outright Big Ten title in 27 years. Only an upset defeat at Ohio State and hard-to-swallow loss to UCLA in the Rose Bowl tarnished an otherwise magical run and 10-2 season.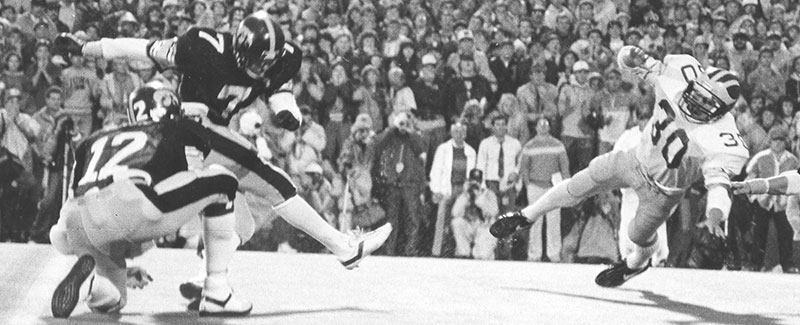 PHOTO: COURTESY HAWKEYESPORTS.COM
Rob Houghtlin's last-second field goal that secured a victory for top-ranked Iowa over 2nd-ranked Michigan in 1985.
---
1990:
Quarterback Matt Rodgers (92BA) and the two-pronged backfield of Nick Bell and Tony Stewart fueled an offense that averaged 35.6 points a game and recorded memorable road upsets at Michigan State, Michigan, and Illinois. After a four-way tie for the Big Ten crown, Fry's team claimed the Rose Bowl bid with wins over the other three teams. Iowa fell 46-34 to Washington on New Year's Day to finish 8-4.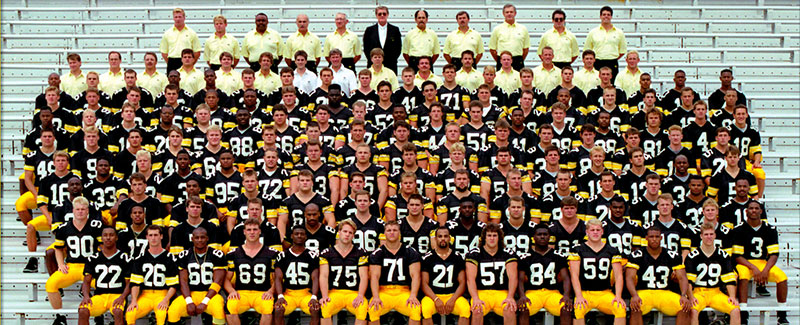 PHOTO: COURTESY HAWKEYESPORTS.COM
The 1990 Hawkeye football team
---
1991:
While an early season loss to Michigan ultimately kept the Hawkeyes from returning to the Rose Bowl, All-American defensive end Leroy Smith (92BA) and the offensive connection of Rodgers and receiver Danan Hughes (17BA) spearheaded a 10-1-1 season. The Hawkeyes won key Big Ten showdowns against Illinois and at Ohio State before playing even with BYU, 13-13, at the Holiday Bowl—the last tie in bowl game history.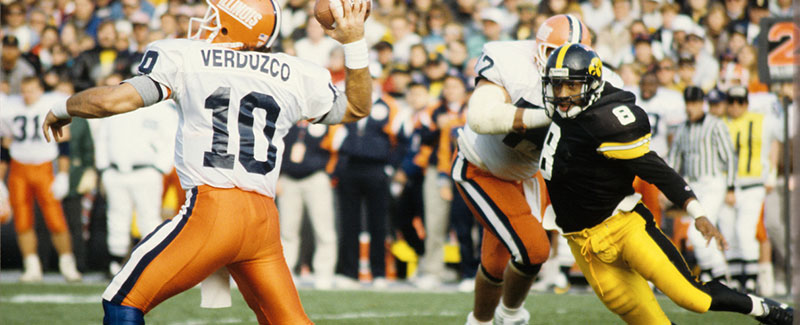 PHOTO: COURTESY HAWKEYESPORTS.COM
Iowa All-American defensive end Leroy Smith rushes the quarterback during a 1991 victory over Illinois in Iowa City.
---
2002:
Iowa ran the table in the Big Ten to earn a share of the conference title and the first New Year's bowl of the Ferentz era. Heisman Trophy runner-up Brad Banks (03BA) quarterbacked an offense that averaged 37.2 points per game and featured running back Fred Russell (04BA), tight end Dallas Clark (07BA), and linemen Robert Gallery (03BA), Bruce Nelson (02BBA), and Eric Steinbach (03BS). The defense and special teams were just as loaded with talent, including kicker Nate Kaeding (04BA, 15MBA), defensive tackle Colin Cole (03BA), and safety Bob Sanders. Iowa finished 11-2 and fell to USC in the Orange Bowl.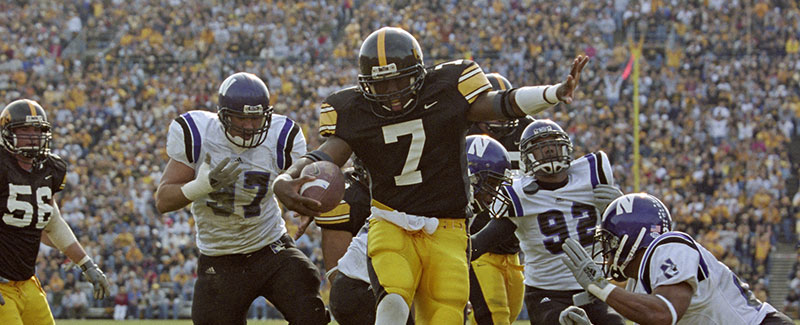 PHOTO: COURTESY HAWKEYESPORTS.COM
Quarterback Brad Banks rushes with the football during a 2002 win over Northwestern in Iowa City.
---
2009:
Iowa made its second trip to the Orange Bowl under Ferentz, but this time came out on top—a 24-14 victory over Georgia Tech for the Hawkeyes' first major bowl victory in over half a century. The Hawkeyes, who finished 11-2 and ranked seventh by the AP, rolled to nine straight wins to open the season, including a dramatic win at No. 5 Penn State. Linebacker Pat Angerer (09BA) and Tyler Sash led a staunch defense, while quarterback Ricky Stanzi (10BA), receiver Marvin McNutt (11BA), and lineman Bryan Bulaga powered a potent offense.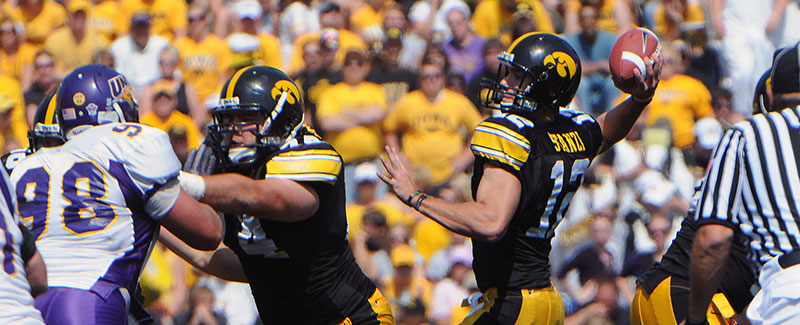 PHOTO: COURTESY HAWKEYESPORTS.COM
Quarterback Ricky Stanzi passes downfield in a home victory over Northern Iowa in 2009.
---
2015:
The Hawkeyes earned a berth in the Big Ten title game, a school record 12 wins, and their first trip to the Rose Bowl in 25 years. Rising as high as No. 3 in the polls, Iowa won its first dozen contests before falling to Michigan State in a conference title game thriller, then coming up short against Stanford in the Rose Bowl. Finishing 12-2 and ranked ninth by the AP, the roster was stacked with players currently in the NFL, including Thorpe Award-winning cornerback Desmond King (16BA), linebackers Josey Jewell (17BA) and Ben Niemann (18BS), tight end George Kittle (16BA), quarterback C.J. Beathard (16BS), defensive lineman Jaleel Johnson (16BA), and offensive lineman Austin Blyth (15BA).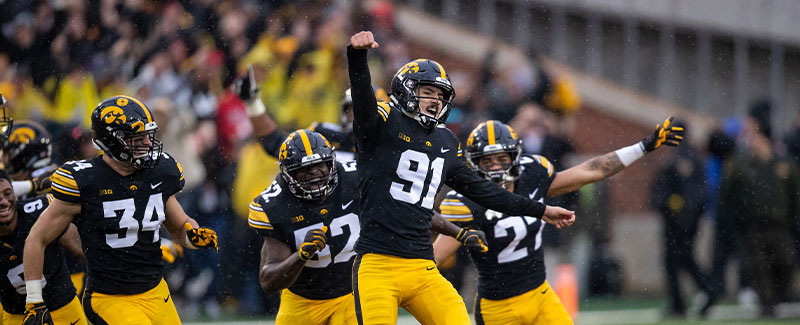 PHOTO: SCOTT BRUHN/NU COMMUNICATIONS HAWKEYESPORTS.COM
Iowa place kicker Miguel Recinos (91) celebrates after kicking the game-winning field goal against Nebraska on Nov. 5, 2015, at Kinnick Stadium.
---