Former world champion Clarissa Chun attracts a super team of recruits to Iowa City. And she knows the wrestling world is watching.
Two decades before she landed at Iowa as its inaugural women's wrestling coach, Clarissa Chun considered becoming a Hawkeye. The Hawaii native applied to and was accepted by the University of Iowa as a senior in 1999 after a decorated prep wrestling career. She knew Iowa didn't have a women's program. Few colleges did in those days. But the gifted student-athlete hoped to train in the best wrestling room in the country or, at the very least, work as a team manager. "I just wanted a place on the mat," Chun recalls today.
That summer, however, Chun received a letter from Missouri Valley College, an NAIA school that was one of the nation's first to offer scholarships for women's wrestling. It was an offer she couldn't refuse. Chun went on the become a three-time All-American at Missouri Valley, an Olympic medalist, and one of the sport's most prominent international wrestlers.
Eventually, Chun found her way to Iowa—and Iowa found its way to women's wrestling. Last year, the UI announced it would become the nation's first Power Five conference school to launch a women's wrestling program, with Athletic Director Gary Barta introducing Chun as the first coach at a university where wrestling is part of its DNA. Chun left her job of four years as USA Wrestling's assistant national women's coach for the chance to break new ground at the collegiate level.
Now she's able to offer the nation's best wrestlers an opportunity that wasn't available when she was a student: a place on the mat at Iowa. "There are hundreds of girls who want to come here to wrestle and get a high-level education," Chun says. "To be at a Big Ten school is a dream of so many."
---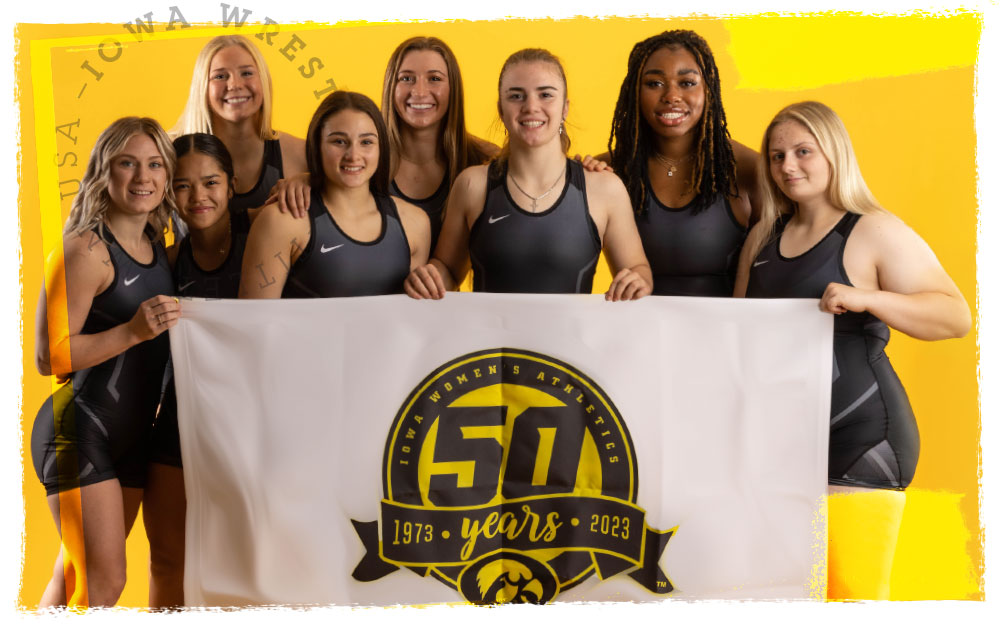 Photo: hawkeyesports.com
Members of the Iowa women's wrestling squad can wrestle unattached this season at open events before team competition begins in the 2023-24 season.
Chun has assembled a veritable super team of the nation's top wrestling talent. Fifteen student-athletes are grappling in the wrestling room this fall, including 12 freshmen and three transfers. Kylie Welker of Franksville, Wisconsin, considered the best pound-for-pound prep wrestler in the country last season, headlines Chun's first class of blue-chip recruits.
The team's first official season won't begin until fall 2023, but Chun's wrestlers can practice and compete unattached at tournaments this winter, wearing unmarked black singlets and paying their own way. While they won't have the block Iowa logo on their uniforms, all eyes will be on the wrestlers in black. "Other programs know who's at Iowa," Chun says. "They're watching."
Felicity Taylor, a transfer from Division II power McKendree University in Lebanon, Illinois, is one of two native Iowans on the roster. Taylor grew up in the northeast Iowa town of Spillville, where she was raised by a family of rabid Hawkeye fans. When her coach left McKendree after last season and Iowa made its historic announcement, it opened the door for Taylor—a four-time national finalist and 2021 NCWWC champion at 116 pounds—to return to her home state for her final year of eligibility.
Taylor says Chun's international credentials were a big part of what brought her to Iowa City. "We all have that goal of becoming Olympians and world champions," says Taylor, "so it's great to able to pick her brain about her experiences, because wrestling is not only physical but it's mental."
Taylor traveled to Europe earlier this fall with Chun and two Hawkeye teammates to train with the senior World team, then competed for USA Wrestling's U23 team at the World Championships this past October in Spain. During the collegiate season, she hopes to wrestle independently at a couple of open tournaments per month. "This year we have a gap year to develop our team and relationships, so we need to take advantage of that," Taylor says. "I'm glad I'm able to provide insight for the girls, if they need it, because I've been through the college season four times. We're so excited to be the first at the start of this program."
---
Chun has been charting new territory in wrestling since she was a teenager. She was a judo prodigy growing up in Honolulu, winning five national championships in the sport while also finding success as a swimmer. During her junior year of high school, the wrestling coach coaxed her away from the pool and onto the mat, which was a better fit for her 4-foot-11 frame and martial arts background. Hawaii became the first state to sanction high school girls wrestling in 1998, and Chun went on to win back-to-back state wrestling championships. At Missouri Valley College, she helped guide her team to a 2001 national title while also bursting onto the international scene. A U.S. Olympic Training Center resident, Chun became a five-time U.S. Open champion, four-time Pan American gold medalist, a 2008 World champion, and a two-time Olympian. Her crowning Olympic achievement came at the 2012 London Games, where she captured a bronze medal in the 48-kilogram class (106 pounds).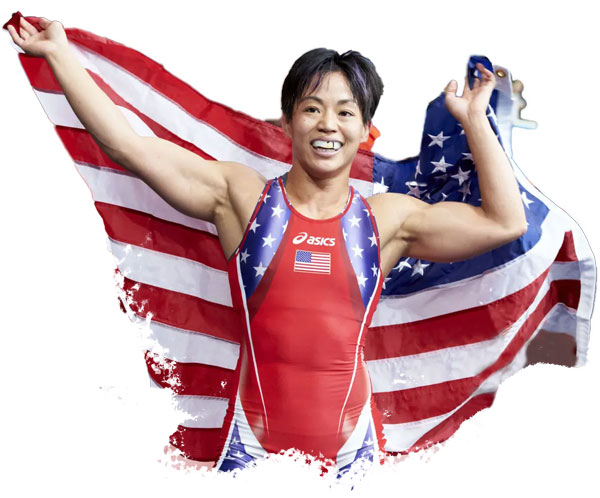 Photo: David E. Klutho/Sports Illustrated via Getty Images
2012 Olympic bronze medalist Clarissa Chun
Chun's road to the Olympic podium passed through Iowa City. Carver-Hawkeye Arena played host to the 2012 USA Wrestling Team Trials, drawing record-breaking crowds. "It was electric—that's what I remember," Chun says of securing that London berth at Carver, where she also wrestled at the 2016 trials. "It was a lot of great energy there, and it stunned me a little. Nowhere else in the country appreciates wrestling as much as they do in Iowa."
Chun's coaching credentials are just as impressive as her wrestling resume. While competing internationally, she also worked as a member of the men's coaching staff at West Virginia University before joining USA Wrestling as an assistant for the women's team in Colorado Springs, Colorado. There she coached under national team head coach Terry Steiner (93BA), a former NCAA champion at Iowa. Since landing the Iowa job, Chun says she has regularly called Steiner for support and guidance. She's also been a frequent visitor to the UI Athletics compliance office as she learns the ropes of the NCAA system and has benefited from the wisdom of UI Deputy Athletic Director Barbara Burke.
"Nowhere else in the country appreciates wrestling as much as they do in Iowa." —Clarissa Chun
"Barbara reminds me that I'm zero-and-zero, that I'm undefeated and should enjoy it," Chun says. "But it's sport—I want to be undefeated forever. I want to see how far I can take our program."
Earlier this year, Chun hired two highly respected veteran coaches to round out her staff. USA Wrestling's Greco-Roman programs manager Gary Mayabb is Iowa's new associate head coach and former Canadian National Team coach Tonya Verbeek is assistant coach. Chun says it's their goal to develop "bold, courageous female leaders," which is why they take a character-first approach to recruiting. "If they're good people with high integrity, that can go a long way," she says.
---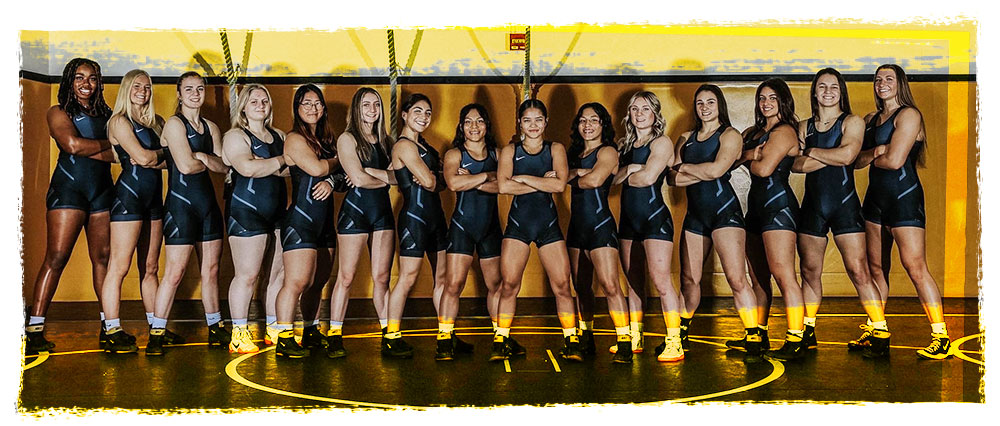 Photo: hawkeyesports.com
The Hawkeye women's team is pictured in the Iowa wrestling room.
Iowa will soon be a flagship program for one of the fastest-growing women's sports in the U.S. According to the National Wrestling Coaches Association, the number of American girls wrestling in high schools has grown from 804 in 1994 to 31,654 in 2022. In Iowa, more than 1,000 girls now compete in wrestling, and the Iowa Girls High School Athletic Union earlier this year joined 33 other states by officially sanctioning the sport. More than 100 colleges now sponsor wrestling programs, including 51 NCAA programs in Divisions I, II, or III. Women's wrestling has been an Olympic sport since 2004, and the UI-based Hawkeye Wrestling Club has been sponsoring female wrestlers in U.S. and world competition the past five years.
Following in the footsteps of Iowa legends like Dan Gable, who inspired a generation of new wrestlers, and the late women's athletics director Christine Grant, who helped lead a national movement for gender equity in sports, Chun embraces the big-picture significance of what she's building at Iowa. One of her greatest challenges, however, has been managing the flood of interest by talented recruits with only a limited number of scholarships. She hopes other major universities soon follow Iowa's lead to provide more opportunities for women wrestlers.
"I challenge other Big Ten programs, Power Five programs, and Ivies to add women's wrestling," Chun says. "As much I get excited for all the young girls who want to come to Iowa, I can't take 500 girls."
Bettendorf, Iowa, native Ella Schmit, a three-time girls state champion and the fourth female wrestler to ever qualify for the Iowa boys state wrestling tournament, is another star recruit for Chun. After growing up attending meets with her family at Carver, she's now a Hawkeye. "It's definitely the most stacked room in the country, even in the world," the freshman says of her team. "I'm just honored to be a part of it."
Schmit and her teammates have embraced their roles as trailblazers. At the end of each practice, the women put their hands together and break out of their huddle with a cheer. "For her!" they cry.
Says Schmit: "It stands for all the girls we're representing, and all the girls we're leaving a path for."