The Goschke Family Wrestling Training Center will bolster Iowa's renown as a destination for champions.
Tom Brands' tenure at Iowa has been defined by winning. In his first 16 seasons as coach, the Hawkeyes captured four national championships, six Big Ten tournament crowns, and 250 dual victories. But even as Iowa added banners to Carver-Hawkeye Arena, it became increasingly clear to Brands that his program was losing in one crucial area: the facilities race.
PHOTO: 1989 university of iowa Hawkeye yearbook
Tom and Terry Brands are two of the Hawkeye legends whose legacies will be celebrated in the new wrestling center's Hall of Champions.
While decades of legendary Hawkeyes have shed blood, sweat, and pounds in the Dan Gable Wrestling Complex, Carver's hallowed wrestling room was showing its age. The subterranean training facility—considered the nation's best when Carver opened 40 years ago this winter—was becoming more crowded and dated by the year. That facilities gap only grew in recent seasons as rival programs like Ohio State, Minnesota, and Penn State opened gleaming new wrestling centers or renovated existing facilities.
"We were getting the pants beat off of us," says Brands of Iowa's facilities. "We had to do something."
So Brands attacked the problem the only way he knew how: head-on. He hit the fundraising trail alongside UI athletics development representatives to meet with donors, fans, and alumni—anyone willing to listen to his pitch for investing in the future of Hawkeye wrestling. He shared his dreams for a world-class facility in Iowa City on par with the training centers he'd visited in international wrestling hot spots like Iran and Russia.
"Wrestling is king in these places, and wrestling is king in Iowa City," says Brands. "Being the mecca of wrestling, it's important that 'good enough' gets replaced with being the best on the planet."
Hundreds of donors have bought into that vision since the Carver Circle campaign launched three years ago. The campaign culminated this past summer when Iowa broke ground on the Goschke Family Wrestling Training Center just south of Carver-Hawkeye Arena at the corner of Hawkins and Elliott drives. The 38,500-square-foot building, scheduled to open in spring 2024, will double the training space for Iowa's wrestlers. It will also house the nationally renowned Hawkeye Wrestling Club, which prepares World and Olympic team members, and enhance Iowa City's status as a USA Wrestling regional training hub.
"Being the mecca of wrestling, it's important that 'good enough' gets replaced with being the best on the planet." —Tom Brands
Funded entirely by donations through the Carver Circle campaign, the $31 million training center will connect to Carver-Hawkeye Arena via an underground tunnel. Visitors will enter at street level into a Hall of Champions designed to showcase the program's proud lineage. Beyond the 13,000-square-foot wrestling room, the two-level building will also include expanded strength and conditioning areas, locker rooms, a student-athlete lounge, training and therapy rooms, and operations offices.
The building is named in honor of Hawkeye wrestling supporters Doug and Ann Goschke of Iowa City, who made a $7 million gift commitment to the campaign. The new wrestling room, meanwhile, will be named for Bob (80BBA) and Kathy Nicolls of Franktown, Colorado, longtime backers of the program who have also donated $7 million.
Just as Carver-Hawkeye Arena was hailed as an equal-opportunity project when it opened in the 1980s to host men's and women's sports alike, the new wrestling center is being built in a spirit of equity. Iowa's women's wrestling team, which debuts in the 2023-24 season, will also call the building home.
Iowa women's coach Clarissa Chun says that female wrestlers often have to make do with limited resources. But Iowa's commitment to offering top-notch facilities for all student-athletes only added to her desire to sign on as the program's inaugural coach. "I feel like I walked into a gold mine," she says.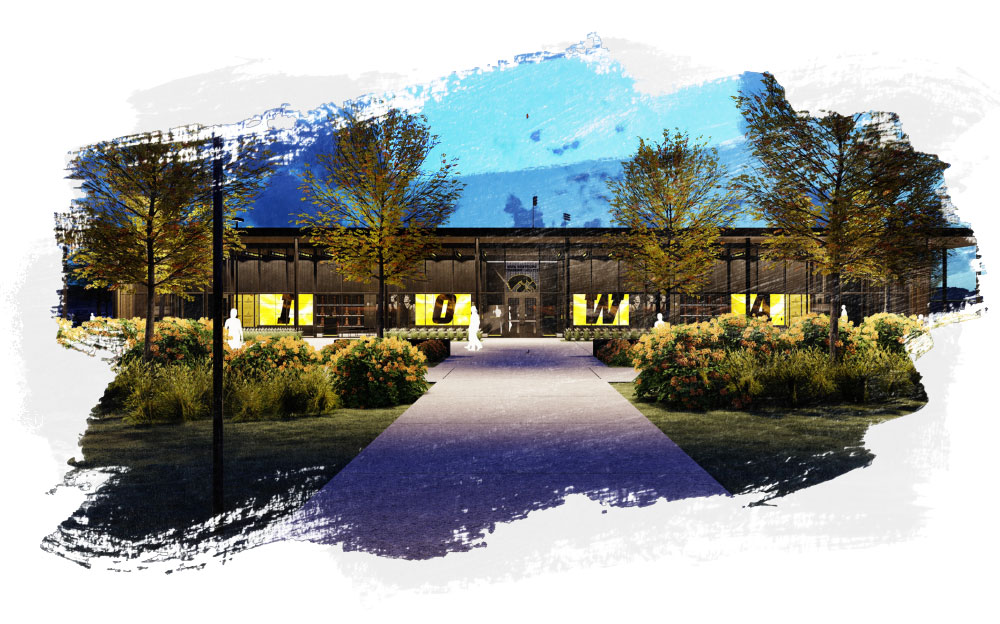 Rendering: hawkeyesports.com
An architect's rendering of the Goschke Family Wrestling Training Center, which will open in 2024.
For the time being, Chun's team is using Carver's visitor locker room but will have its own dedicated space in the new building. "I've seen the women's basketball and volleyball locker rooms, and they're really nice," Chun says. "We're looking forward to the new facility so our student-athletes have that too—a place where they can relax and hang out in the locker rooms."
Brands says having the men and women practicing in the new facility will benefit both programs. "The women will make the men better, and the men will make the women better," he says. "They work just as hard as the men in the sport, and it's just as important to them. It will make our sport stronger by empowering them."
Calling it "a labor of love," Brands says his involvement in the center's design is probably more than what the architects and university facilities leaders are accustomed to. But this project is about more than just bricks and mortar for Brands. It's about upholding a commitment he's made to fans of the program to ensure Iowa City remains the best wrestling town in the nation. "This will honor our past, present, and future," he says.
You can bet when the Hall of Champions opens, it will have room for more NCAA trophies.