After surgery to replace both ACLs and an excruciating season on the sidelines, the superstar senior aims to become the first Hawkeye to win four NCAA titles. But his drive to be the best in the world won't let him stop there.
Spencer Lee (21BS) isn't interested in talking about past accomplishments. Ahead of his final season at Iowa—and a run at Hawkeye and NCAA immortality—the nation's most dominant wrestler is fixated on what he hasn't done since arriving in Iowa City in 2017.
It's a short list, given all his accolades. But it's one that consumes the two-time winner of the Hodge Trophy, wrestling's equivalent to the Heisman Trophy. Derailed by injuries and a pandemic, Lee hasn't been able to compete for a spot on a national team, much less a world championship, since high school. He was forced to withdraw from the 2021 Olympic trials after blowing out his second ACL in two years. Even more agonizing was watching last season matside when he took a medical redshirt.
So questions about the titles and trophies that have brought him to the cusp of joining the sport's most elite club—wrestlers who have won four individual NCAA championships—seem irrelevant to a guy aching to simply compete. "My career could have been a lot better than it is," says Lee, who turned 24 this past October and is in his sixth year at Iowa. "I didn't come here to be just a national champ. That's the lowest of the totem pole for me."
He adds a disclaimer: "Not that it isn't important."
What is most important to Lee is becoming the best wrestler in the world, collegiate or otherwise. A career sweep of national championships—something accomplished by only four others in NCAA history—would just be the next step on the list of lofty goals he once scrawled out as a grade-school phenom in Pennsylvania.
"I came here to win Olympic, World, and national titles," says the 125-pounder. "I haven't even gotten the opportunity to compete for those, and that's been the most frustrating thing about my career."
Iowa's storied program has produced 23 wrestlers who captured two or more national championships, including seven three-time winners. But no Hawkeye until Lee has entered his senior season with a shot at a four-peat. Even the sport's most revered figure, former Iowa coach Dan Gable, fell one match short of it at Iowa State.
"It's a feat to even crack the starting lineup for four years at the University of Iowa, let alone be a four-time national champion," says Mark Ironside (98BS), a radio analyst for the Hawkeyes and a two-time NCAA title winner. "Spencer Lee is something special, no doubt. … A lot of times college athletes can get complacent once they've won a title or two and hit a plateau. Spencer has never hit that plateau."
The only question now, in Lee's return, is whether his knees are healthy enough to support the weight of his ambitions.
---
The chase for No. 4 was supposed to happen last season.
In March 2021, after leading Iowa to its first NCAA team championship in a decade and winning his third individual national title, Lee revealed in a post-match interview with ESPN that he had torn his left ACL just days before NCAAs. That was on top of a previous tear in his right ACL, meaning he won the title with, as he described it on national TV, no ACLs. "I didn't want to tell anybody, because excuses are for wusses," he famously said—and later trademarked on T-shirts.
Opting for rehab and forgoing surgery, Lee thought his knees were healthy enough to compete last season. But as he was warming up for his debut last December at the National Collegiate Duals in Niceville, Florida, something was off. His legs were sluggish and unstable, and pain shot through his knees. Lee still won his three matches in commanding fashion, outscoring his opponents a combined 31-1. Back in Iowa City, however, he struggled to get through practices and had to pull himself out of drills. "I was like, is this how I really want the rest of my career to be like?" Lee says. "I've toughed things out since I came into college but thought I should try to get healthy."
So, on New Year's Day, Lee shut it down. He had reconstructive surgery on both knees at UI Hospitals & Clinics and dedicated himself to preparing for 2022-23. Lee had grappled with injuries before, but nothing that kept him off the mat this long. In 2014, he won the first of three cadet and junior world titles with two cracked ribs. He claimed his second world title the following year with a torn labrum in his right shoulder. And his senior year of high school, he tore his ACL midway through the season but held off on surgery to pursue a fourth state title. He made it to the state finals where he lost 6-5 to eventual Hawkeye teammate Austin DeSanto (21BLS), whom he'd beaten 15-0 in the title match the year prior. Lee finished his prep career 144-1.
Last winter, Lee assumed the role of a coach and mentor as he rehabbed, offering guidance to teammates even if he couldn't tangle with them in the wrestling room. Unable to run, he instead spent hours on a stationary air bike and began weightlifting more—something that wasn't a big part of his previous regimen. By September, he was ready to test his knees on the mat.
"People always ask if I get tired of rehabbing," says Lee. "For me, it's part of my life, so you just do it. I've learned how to train in a smarter manner. I was always hurt, so we've had to figure out creative ways to get in shape and train as hard as the other guys on my team while not being able to do what they do."
---
Coach Tom Brands (92BS) calls it "The Spencer Lee Factor." With Lee's influence, Iowa has already sold out every home meet of the coming season for the second straight year. When Lee comes to the mat, even when Iowa is on the road, the concession lines and bathrooms are a ghost town. Everyone is in their seat.
"There's a certain gear in him that's fanatically ferocious," says Brands. "He doesn't get the notoriety or credit for being a dominant wrestler, but he scores points in bushelfuls. And that trophy"— Brands points to one of Lee's Hodge trophies on a shelf in his office—"is for the most dominant wrestler, and he's won two of them. And he wants to win three."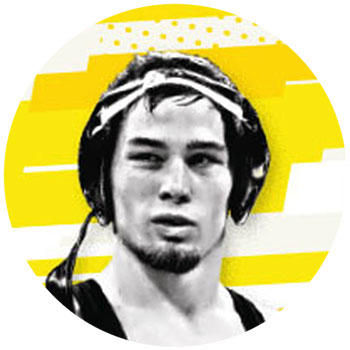 "I want to do better, compete harder, and win more. … I'm going to go out there and do the best I can to put on a show and try to create more fans for our sport and university." —Spencer Lee
The son of two accomplished judo athletes—his father, Larry, was the U.S. national coach and his mother, Cathy, was an alternate for the Olympic team—Lee seemed destined for greatness from a young age. He tells the story of how, when he was in eighth grade, he was invited to a national team camp at the Olympic Training Center, where he worked out with senior-level athletes. "People thought I was there as a camper, because there was a developmental camp there for kids at the time," he laughs.
At Franklin Regional High School in Murrysville, Pennsylvania, Lee became something of a folk hero as the best pound-for-pound wrestler in the nation and a multi-time world champion. A documentary crew chronicled his prep and international career for a film simply titled Spencer Lee. In 2016, he shook the wrestling world when he announced he was attending Iowa over in-state power Penn State.
"I've always been that guy who's been successful, and I've never let it get to my head because I've never been satisfied with my career," Lee says. "I want to do better, compete harder, and win more. … I'm going to go out there and do the best I can to put on a show and try to create more fans for our sport and university."
---
Talk to Lee outside of Carver-Hawkeye Arena, and you'll find him to be easygoing and studious. He's a multi-time National Wrestling Coaches Association Scholar Athlete who graduated last year with a bachelor's in sports and recreation management. He's now pursuing a master's in the same field. He loves video games and is a self-described "Pokémon nerd," twice using the anime series' theme song for his walkout music before the NCAA finals.
Wrestling can be a solitary sport, but Lee is beloved by his teammates. After Lee won his second NCAA title in 2019, former heavyweight Sam Stoll (19BA) led a pack of Hawkeyes into the media room to interrupt the press conference. Stoll grabbed a microphone to ask Lee, "Why are you the baddest man on the planet?" before hoisting the national champ on his shoulders to carry him away. It's a memory Lee says he'll never forget.
Lee also relishes his role as an ambassador for Iowa, and he cheers on other Hawkeye teams every chance he gets. When Brands asks his wrestlers who won the UI soccer game the night before, it's Lee who knows the final score. "I pay attention because I bleed black and gold," Lee says. "If you're a Hawkeye athlete, male or female, if you're good at what you do, I'm going to know who you are."
Beneath Lee's humble nature, though, lies one of the most competitive and driven wrestlers to ever come through Iowa. "I don't know if there's anybody tougher, and 'tough' embodies a lot of characteristics," Brands says. "It's a good word to describe who Spencer Lee is, what he's been through, and what he's overcome."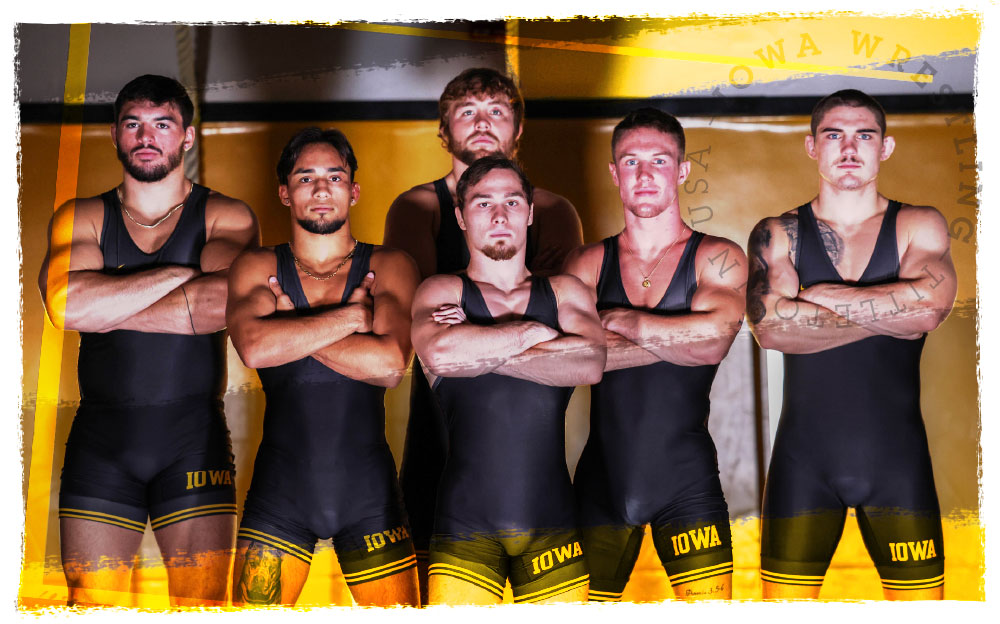 photo: hawkeyesports.com
Spencer Lee, front and center, leads a Hawkeye team that features six past All-Americans. Pictured, from left, are Tony Cassioppi, Real Woods, Jacob Warner, Max Murin, and Abe Assad.
Ironside calls Lee a student of the sport who is constantly watching videos of international matches and old college matches. Possessing a sixth sense on the mat that keeps him a step ahead of his adversaries, Lee knows exactly the right moment to strike, says Ironside.
"The thing about Spencer is that he has a lot of different styles," Ironside says. "He's not just a slick, finesse-type wrestler, but he is very slick and very finesse. He's not just a hammer who wants to physically beat you up with his hands, but he can do that well too. The kid is extremely strong, and he knows positioning really well. What really sets him apart, though, more than anyone I've seen in my life in collegiate wrestling, is how he can work his opponents over on both sides from the top position."
The only thing more excruciating for Lee than being sidelined with an injury is losing. Not that he has a lot of experience with that. He entered this season riding a 38-match win streak dating back to the 2019 Big Ten Championships. "I always say that I hate losing more than I like winning," he says. "Losing feels like dying. It's a combat sport. It's tough, it's gritty, it's one man versus another man. You always want to be the better man, and I always strive to be the best I can be."
That philosophy has fueled Lee in the months after his surgery. He's awake at 6 a.m. and at Carver before the sun is up for rehab work, lifting, cardio, and a cold splash. After classes he returns for afternoon practices, which for many months, he could only watch from the bike. Then he's back after dinner for one last workout to try to tire himself out before bed.
As Lee punishes the air bike during these long days in the windowless wrestling room, where Olympic rings and names of past champions adorn the walls, his knees only get stronger. He's another mile closer to being back.