The Iowa legend turned the tide of the Hawkeye football program.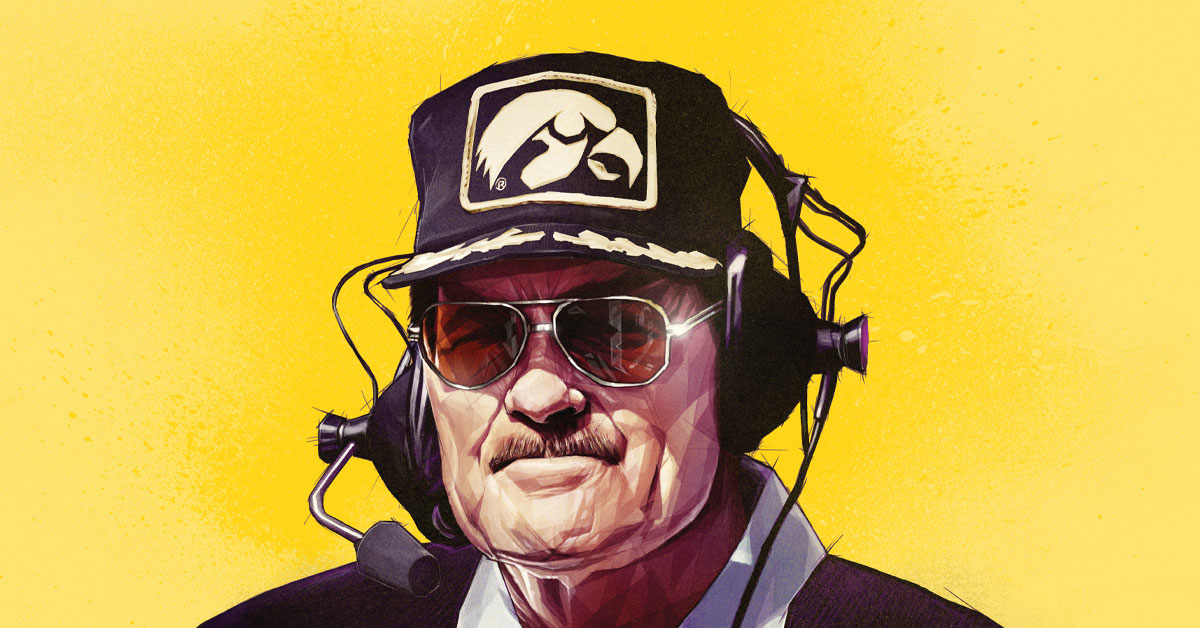 ILLUSTRATION: DAVE MERRELL
Memorial contributions can be made to the Hayden Fry Football Captain's Scholarship Fund and to the J. Hayden Fry Center for Bladder and Prostate Cancer Research at givetoiowa.org/hayden.
He swaggered into Iowa City with Texas-sized charisma, a psychologist's mindset, and a daring brand of football. He rode off into the sunset as an Iowa icon.
Hayden Fry died Dec. 17, 2019, at age 90 in the Dallas area, surrounded by family, after a long battle with cancer. Former coaches, players, and colleagues around the nation joined Iowans in mourning the loss of the College Football Hall of Famer who took the Hawkeyes to new heights.
Hired in 1979 by the late University of Iowa Athletic Director Bump Elliott, who also died in December, the former Southern Methodist University and North Texas coach resurrected an Iowa program that hadn't enjoyed a winning season in 17 years. Over the course of two decades, Fry guided the Hawkeyes to 14 bowl games and three Big Ten titles. His career record of 233-177-10 ranks 16th in all-time victories among Football Bowl Subdivision coaches.
Behind his signature aviator sunglasses, Fry was constantly innovating. He introduced the Tigerhawk logo, the Swarm, the America Needs Farmers campaign, standing tight-end formations, a wide-open passing attack, and the famous pink locker room. Thirteen of his assistants went on to land head coaching jobs, including Bill Snyder (Kansas State), Barry Alvarez (Wisconsin), Bob Stoops (Oklahoma), and, of course, Kirk Ferentz.
Family, friends, and fans remembered Fry at a celebration of life in January 2020 in the Dallas area. The Hawkeye football team also paid tribute to the former coach at the Holiday Bowl, where they played without the Tigerhawk emblem on their helmets in his honor.
---
Hawkeye Sports pays tribute to Hayden Fry's enduring legacy.