PHOTO: Hawkeyes Athletic Slides, IOWA DIGITAL LIBRARY, THE UNIVERSITY OF IOWA, IOWA CITY, IOWA
Hayden Fry counsels quarterback Chuck Long in a 1983 road game against Michigan.
Reminders of Hayden surfaced in recent months with the June retirement of Bob Stoops, 83BBA, one of Fry's most notable assistant coaches, after 18 years as head coach at the University of Oklahoma. His departure leaves Kirk Ferentz as the longest-tenured Division I Football Bowl Subdivision (FBS) head coach. The memories also came through the untimely death of Bob Elliott, 76BA, another talented Fry understudy, who lost his blood cancer fight in July at the age of 64. The 11-year Hawkeye assistant built lasting relationships with his players that exceeded the gridiron—another trait he shared with Iowa's hall of fame coach.
Fry embraced the mental aspect of the sport well before most coaches and frequently employed his psychology education—but also kept the atmosphere fun and loose. He empowered his quarterbacks in critical moments, balancing his own gut decisions with greater ownership from his players.
Fry instructed quarterback Chuck Long, 85BBA, to "keep the ball and don't tell anyone else" on a game-winning bootleg run in 1985 against Michigan State. Two years later, Iowa faced fourth-and-23 in the waning seconds against Ohio State in Columbus. Fry turned to Hartlieb to make the call in what became known as "The Play"—a 28-yard touchdown pass to Marv Cook, 90BBA, for the upset win.
The approach appeared haphazard at times, but Hartlieb believes every one of Fry's moves was well planned. Iowa's resurgence under Fry's 20-year tenure included three Rose Bowl berths, three Big Ten titles, 10 finishes in the Associated Press Top 25 poll, and 14 bowl appearances. The Hawkeyes also helped break Ohio State and Michigan's stranglehold on the Big Ten. Of Fry's transformative impact at Iowa, current head coach Ferentz says: "I doubt anybody else in America was capable of pulling off what he pulled off."
"Not only are we going to win, we're going to look good doing it." -Hayden Fry's Game Day Message to Chuck Long
---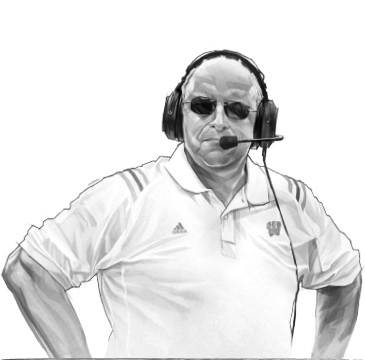 "One of the things that Hayden used to say was, he wanted to hire assistants who wanted to be head coaches – that was No. 1. The majority of his coaches all wanted to become head coaches at some point in their careers. The fact that we had success with a program that floundered for a long period of time made it an attractive place for other schools trying to turn programs around to look."
—Barry Alvarez on the success of Fry's assistant coaches
---
But Fry also leveraged his platform to address issues that transcended football. He integrated the Southwest Conference by recruiting Jerry LeVias—the league's first black scholarship football player at Southern Methodist University in the 1960s. Amid the Midwest farm crisis in 1985, he launched the America Needs Farmers campaign—placing gold "ANF" decals on the Hawkeyes' helmets to raise awareness.
Fry's time in Iowa City reshaped the landscape of college football through an illustrious lineage of assistant coaches. Fifteen of his understudies (13 at Iowa) moved on to Division I-A/FBS head coaching roles, including some of the sport's biggest names—Stoops, Bill Snyder, Barry Alvarez, and Ferentz—who have combined for 1,063 wins, 20 conference championships, 47 bowl victories, and one national title in major college football entering this season. The branches of his coaching tree reach even further through a new generation of head coaches including Kevin Sumlin, Mike Leach, and Paul Chryst. Some links stayed in Iowa City, including Bill Brashier and Carl Jackson—two of Fry's top assistants who never became head coaches but had unmistakable impacts on the UI program.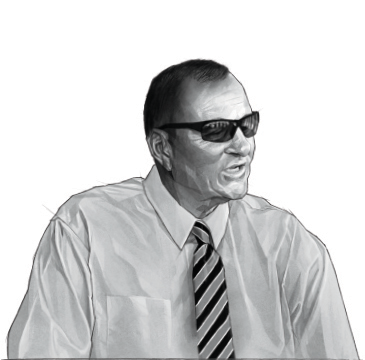 "The incredible positive attitude that he had and he believed and instilled in us—I took with me everyday."
—Dan McCarney on Fry's optimistic outlook
---
From football to racism and helping farmers, Fry faced every challenge with confidence and optimism—but nothing could prepare him for his most personal test in 1998. Diagnosed with prostate cancer, he focused his attention on fighting the disease and spreading awareness. He supported a $10 million campaign for the J. Hayden Fry Center for Prostate Cancer Research at the University of Iowa, gave speeches at UI Hospitals and Clinics, and visited cancer patients across the country. Even as health issues forced him to step down as Hawkeye head coach, Fry's passion for Iowa never wavered. "To spend 20 years as a member of the Hawkeye family, I could never repay them," Fry remarked at his retirement
press conference.
Nearly 19 years after his cancer diagnosis, Hayden Fry is now 88 years old and resides in Mesquite, Nevada. He still maintains relationships with former coaches and players, draws upon fond memories on and off the field, and gets a chuckle out of the same jokes he's told dozens of times before. Like the other legend for which Kinnick Stadium is named, his heart will forever beat black and gold.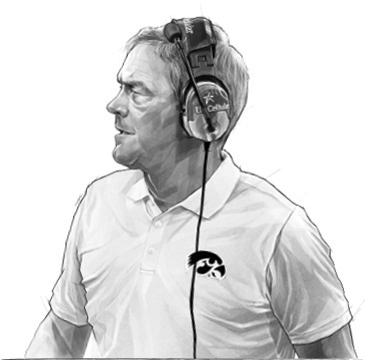 "When you meet him and talk to him for five minutes, you feel like you've known him for 15 years."
—Kirk Ferentz on his first impression of Fry
---
HAYDEN FRY COACHING TREE
Assistants that became Division I-A/FBS head football coaches
---
Division I-AA/Football Championship Subdivision (FCS) head coaches that coached under Hayden:
John Austin - South Dakota, Glenn Gossett - Northeast Louisiana, Mark Hendrickson - Western Illinois, Del Miller - Southwest Missouri State, Don Patterson - Western Illinois
Other notable Iowa assistants under Fry:
Bill Brashier (1979-1996), Carl Jackson (1979-1991, 1999-2008), Bob Elliott, 76BA (1976, 1987-1994, 1996-1998), Bernie Wyatt, 62BS (1974-1989), Don Patterson (1979-1998), Del Miller (1978-1988), Dave Triplett, 72BA (1972, 1989-1994), Frank Verducci (1985-1986, 1989-1998)
Notable Hayden Fry branches (Head coaches that worked under Fry's assistants):
Mike Leach - Texas Tech, Washington State, Mark Mangino - Kansas, Kevin Sumlin - Houston, Texas A&M, Paul Chryst - Pittsburgh, Wisconsin, Paul Rhoads - Iowa State, Dave Doeren - Northern Illinois, North Carolina State
---