Iowa Coach Kirk Ferentz couldn't have paid a more fitting tribute to Hayden Fry than the Hawkeyes' dominant performance against USC in the 2019 Holiday Bowl.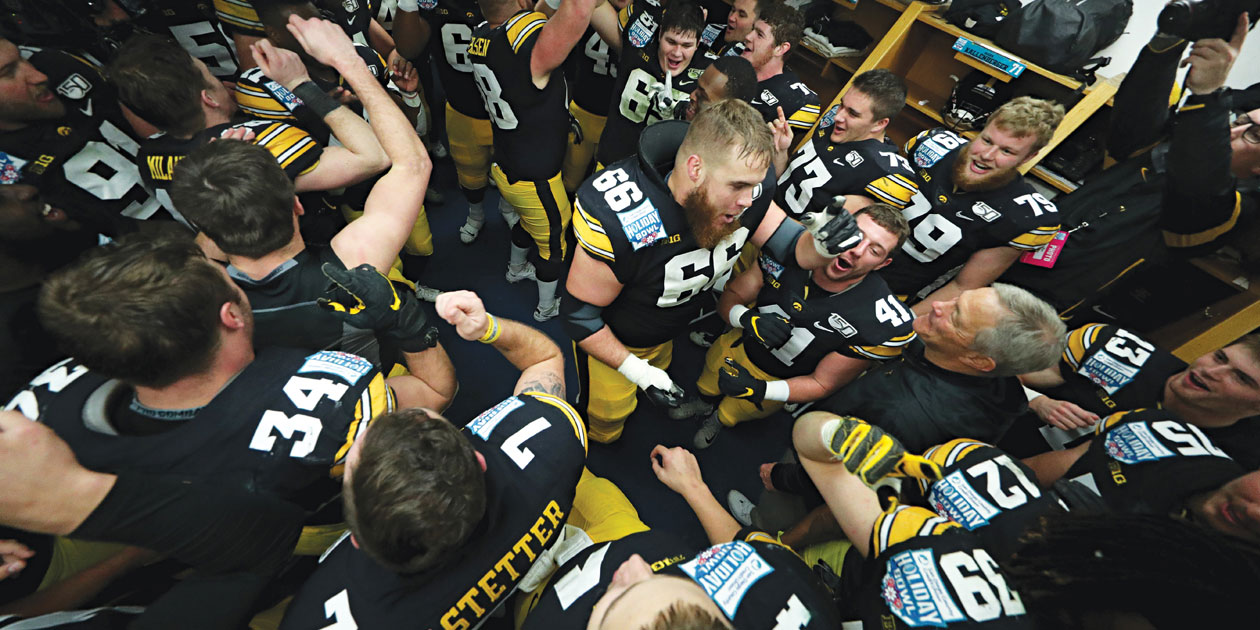 PHOTO: BRIAN RAY/UI ATHLETICS
The Hawkeyes do the Hokey Pokey for Hayden Fry following their Holiday Bowl victory.
Hayden Fry once said that one of his favorite postseason destinations was the Holiday Bowl, where Iowa recorded memorable victories in 1986 and 1987 and a tie in 1991. Fry also famously loved leading his team in the Hokey Pokey after a big win.
So Coach Kirk Ferentz couldn't have drawn up a more fitting tribute to his predecessor than the Hawkeyes' dominant performance in San Diego this past December—and the postgame celebration that ensued. In its best offensive showing of the season, Iowa trounced USC in the Holiday Bowl 49-24 at SDCCU Stadium to finish with a 10-3 record.
A moment of silence was held before the game and the Hawkeyes removed the Tigerhawks from their helmets in honor of Fry, who died 10 days earlier.
Junior receiver Ihmir Smith-Marsette scored three touchdowns—one rushing, one receiving, and one 98-yard kickoff return—to earn offensive MVP honors. Junior defensive lineman A.J. Epenesa was the game's defensive MVP after registering 2.5 sacks and 1.5 tackles for loss. Senior quarterback Nate Stanley finished his career by completing 18 of 27 passes for 213 yards and two touchdowns.
After the game, the jubilant team danced the Hokey Pokey in the locker room. "That was one of Coach Fry's signatures—one of many, actually," says Ferentz. "So that was a nice tribute to him."