Retired Finkbine golf pro James Dickerson bonds with former service members while introducing them to a new pastime.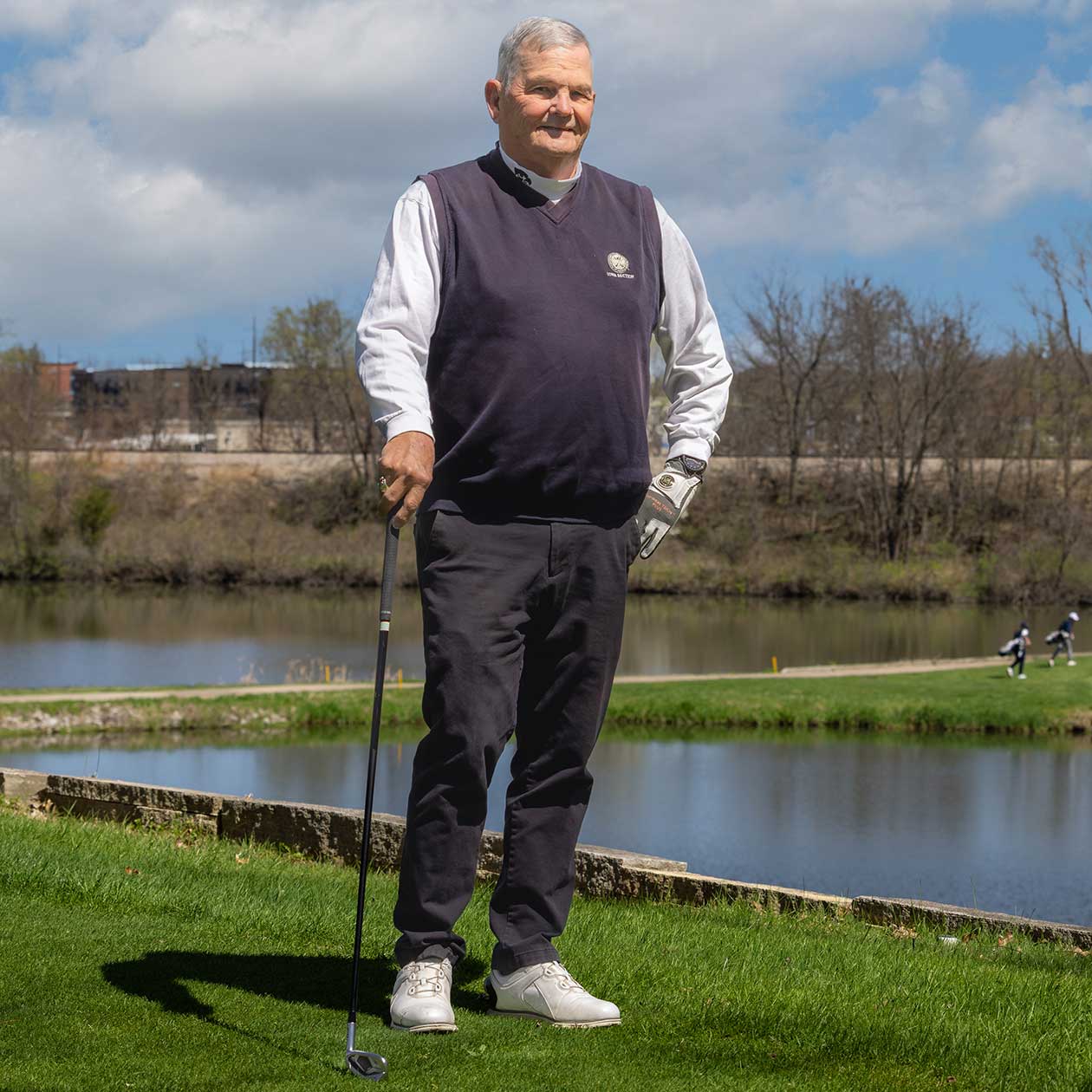 PHOTO: John Emigh
James Dickerson hits the links at Finkbine Golf Course in Iowa City.
The lessons start with simply learning how to call a local course and set up a tee time. They move on from there, step-by-step: how to hit a drive, how to pitch, how to chip, how to putt. In all, the Golf for Injured Veterans Everywhere program offers five two-hour classes, culminating in an actual round on a course.
At the end of the program, GIVE instructor James Dickerson (83BGS), a former golf pro at Finkbine Golf Course in Iowa City, said the veterans have learned the basics of the game, developed new relationships, and gained a new reason to spend time outside in the sun.
"We gear the program to the person who has never experienced golf," Dickerson says. "They get the opportunity to socialize, tell war stories, and drink coffee."
The GIVE foundation was started in 2007 by Lou King (48BSC), a World War II veteran, former University of Iowa quarterback, and executive director of the PGA of America. Since then, about 2,000 people have gone through the five-week program. Classes are held at one of three courses in Iowa including the Riverside Casino and Golf Resort just south of Iowa City where Dickerson teaches.
The service members benefit from being introduced to people who share a common background, Dickerson says. "Once you've been through the service and you're amongst service people, you understand that they will have your back," Dickerson says.
A neuropsychologist at the Iowa City VA Medical Center, which services about 42,000 patients, visited once, recalls Dickerson: "He said, 'I don't know what you guys are doing, but don't stop.'"
Dickerson is a veteran himself. He served in the Army for 23 years, including in An Khe in South Vietnam in 1968 as a member of the 173rd Airborne Brigade. He retired as a sergeant major in 1991. In addition to working as the golf pro at Finkbine, he coached men's and women's golf at Cornell College in Mount Vernon for 12 years. The UI last year presented Dickerson with a Hawkeye Distinguished Veterans Award.
Now 78, Dickerson retired from Finkbine last year, but he's not ready to quit the foundation. "I do not want to abandon my veterans," he says.