Ten of the greatest Hawkeyes to play the position.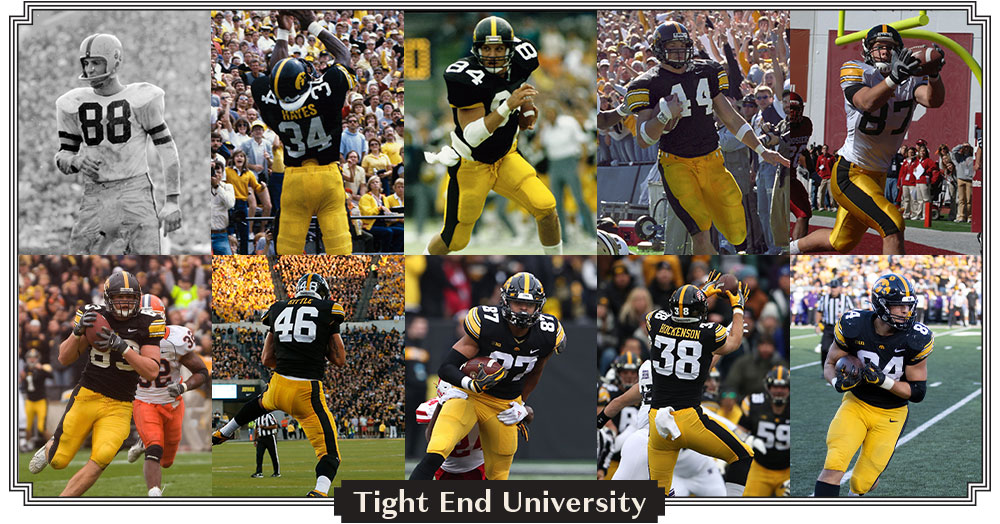 PHOTOS: HAWKEYESPORTS.COM
College football's ivory tower for tight ends, the University of Iowa, has a long legacy of players who starred for the Hawkeyes and in the NFL. Here are 10 of the most accomplished alumni who call Tight End University their alma mater:
---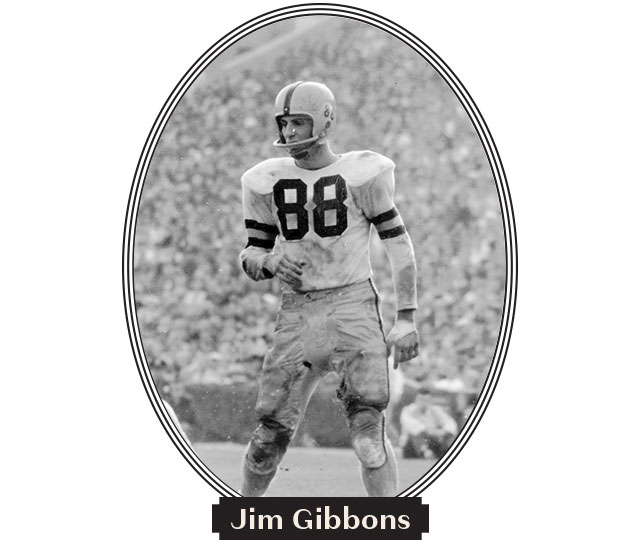 Jim Gibbons, 1955-57
Gibbons was an All-American end during Iowa's spectacular run under coach Forest Evashevski. He famously caught the lone touchdown in Iowa's 6-0 win over Ohio State in 1956 to send the Hawkeyes to their first Rose Bowl. Gibbons played 11 seasons with the Detroit Lions, where he became one of the NFL's earliest pass-catching tight ends and amassed 287 catches for 3,561 yards.
---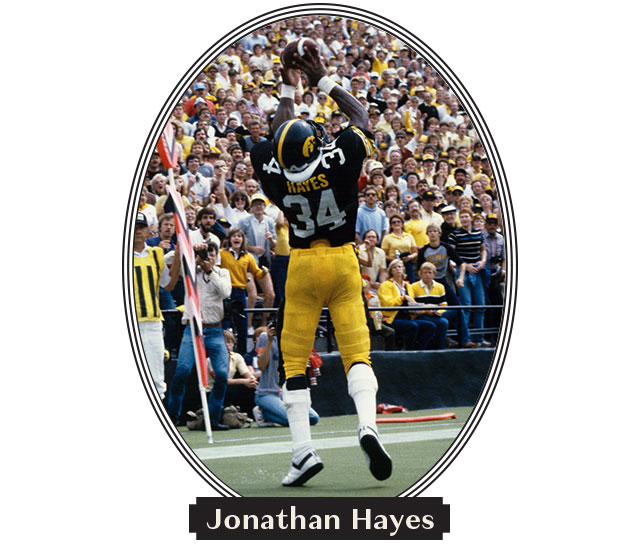 Jonathan Hayes, 1982-84
Playing stand-up tight end in coach Hayden Fry's high-powered offense, Hayes was among quarterback Chuck Long's favorite targets during the 1984 season en route to a Freedom Bowl win. A second-round pick in the 1985 draft by the Kansas City Chiefs, Hayes played for 12 years in the NFL. Hayes, the father of NBA player Jaxson Hayes of the New Orleans Pelicans, today is a veteran college and professional coach. Earlier this year he reunited with Long (85BBA) as co-offensive coordinators for the XFL champion Arlington Renegades.
---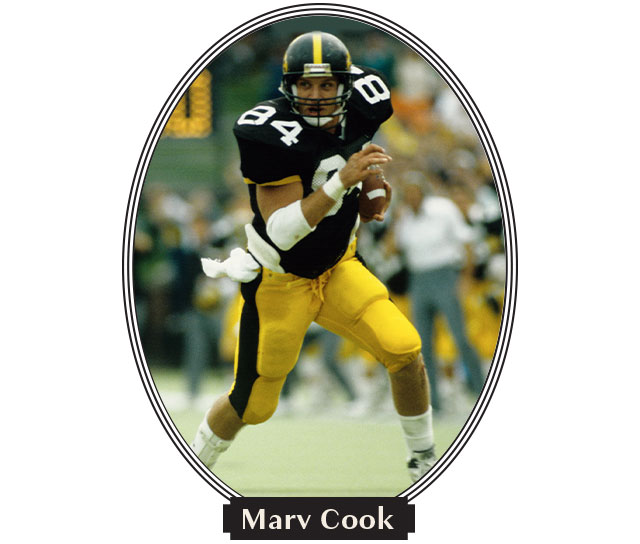 Marv Cook, 1985-88
Iowa's first consensus All-America tight end might be best remembered for his stunning 28-yard touchdown catch to upset Ohio State in 1987. The West Branch native had 803 receiving yards as a junior and 63 receptions as a senior, both school records for his position. Cook, who still owns the career record for most receiving yards for an Iowa tight end (1,825), played seven seasons in the NFL, where he twice made the Pro Bowl for the New England Patriots. After retiring from football, Cook coached Iowa City Regina to seven state titles in 14 seasons.
---
Dallas Clark, 2000-02
The Livermore, Iowa, native came to Iowa City as an unheralded walk-on linebacker. Three years later, he was a consensus first-team All-American and John Mackey Award recipient in 2002. A first-round pick by Indianapolis in the 2003 draft, Clark was an All-Pro selection in 2009 and played in two Super Bowls. Clark set an NFL record for receiving yards by a tight end in a single postseason with 317 on the way to the Colts' Super Bowl XLI victory over Chicago in 2007.
---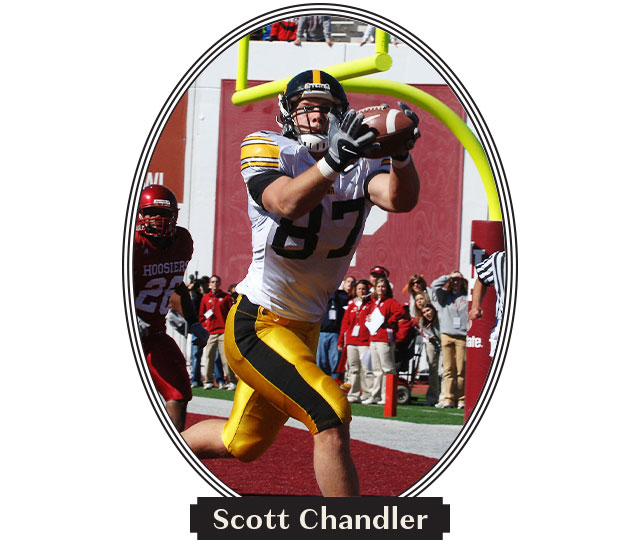 Scott Chandler, 2004-06
Chandler followed his older brother, quarterback Nathan Chandler (03BBA), from Texas to Iowa, where he racked up 1,467 career receiving yards, which ranks third all-time among Iowa tight ends. A fourth-round draft pick by the San Diego Chargers, Chandler spent nine years in the NFL, including four and a half seasons with Buffalo. He amassed 2,379 receiving yards and 21 touchdowns as a pro. Today, Chandler is an assistant football coach at Liberty High School in North Liberty.
---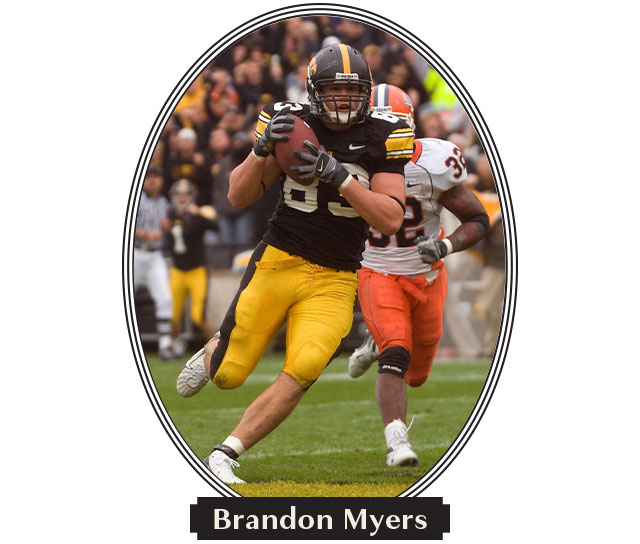 Brandon Myers, 2005-08
The Prairie City, Iowa, native posted modest numbers early in his Hawkeye career but developed into an All-Big Ten player by the time he was a senior. A sixth-round draft pick by the Oakland Raiders in 2009, Myers enjoyed an eight-year NFL run with the Raiders, Giants, and Buccaneers in which he tallied nearly 2,000 career receiving yards.
---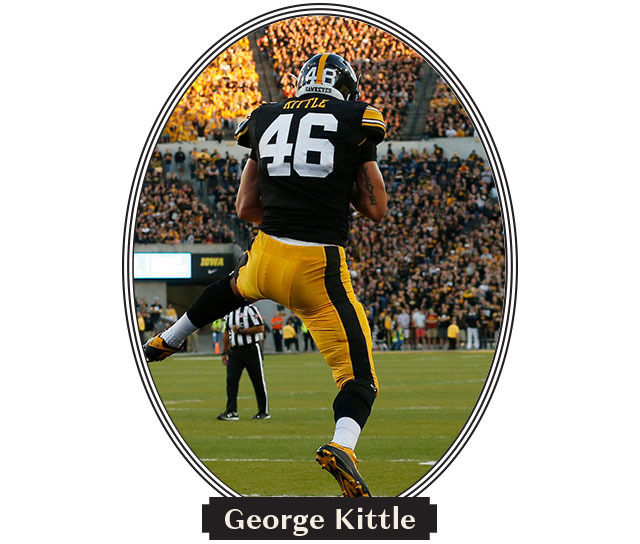 George Kittle, 2013-16
Nicknamed the People's Tight End, Kittle is among the NFL's biggest stars and is considered one of its best players, regardless of position. The son of former Iowa offensive lineman Bruce Kittle (83BBA, 89JD), who helped lead the Hawkeyes to the 1982 Rose Bowl, Kittle is entering his seventh NFL season this fall. Each summer, the four-time Pro Bowler helps organize a Tight End University summit in Nashville for his NFL peers. Off the field, Kittle made a cameo at WrestleMania this past spring and returned to Iowa City to host a kids football camp that raised money for UI Dance Marathon.
---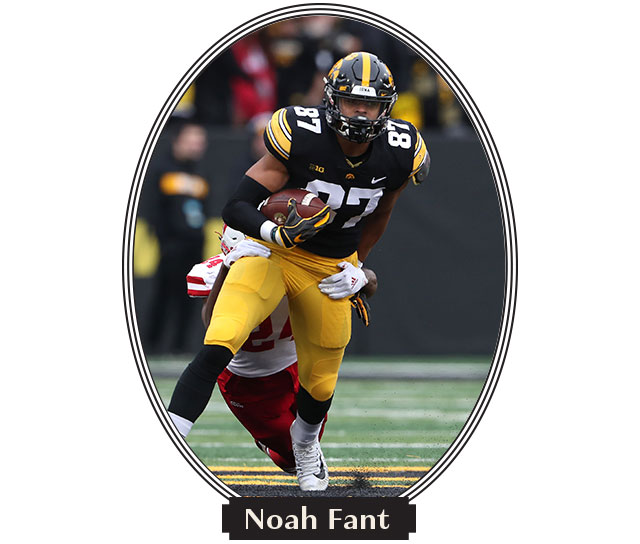 Noah Fant, 2016-18
No Tight End U alum spent more time in the end zone than Fant, who set a Hawkeye record with 19 scoring catches in his three seasons. Fant was a first-round draft pick in 2019 by the Denver Broncos, where he played for three years before being traded in 2022 to the Seattle Seahawks. He enters his fifth NFL season this fall with 220 career receptions for 2,391 yards and 14 touchdowns.
---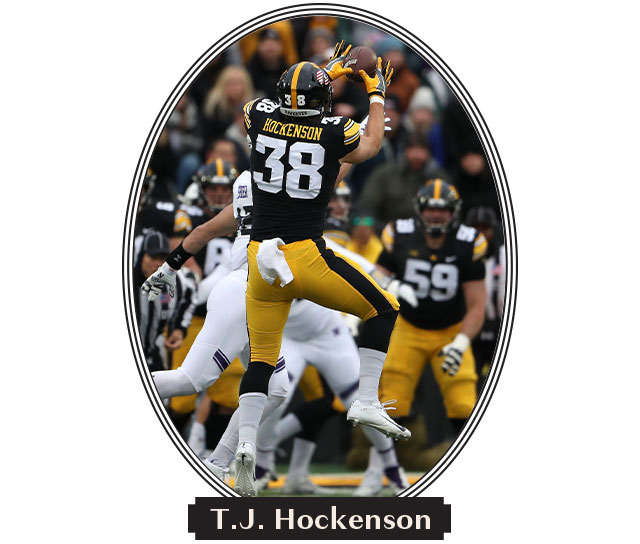 T.J. Hockenson, 2017-18
Winning the Mackey Award as college football's top tight end in 2018, Hockenson departed Iowa for the NFL following his sophomore season. He was the eighth overall pick by the Detroit Lions, where he played three and a half seasons before being traded to Minnesota last fall. The Chariton, Iowa, native and two-time Pro Bowler surpassed 2,500 career receiving yards in 2022 and has 18 career touchdown receptions to date.
---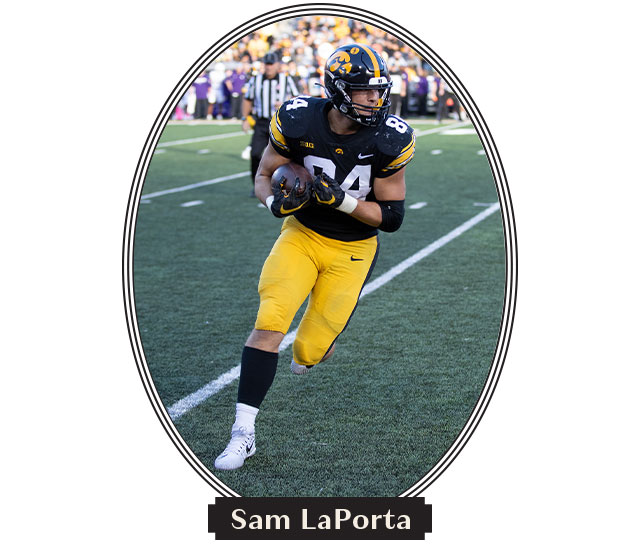 Sam LaPorta, 2019-22
The newest alum of Tight End U makes his pro debut this fall with the Detroit Lions, who drafted him in the second round. Iowa's all-time leader for receptions by a tight end, LaPorta harnessed his NIL star power last season to raise money for UI Stead Family Children's Hospital by designing a Tight End University T-shirt, which included his name alongside several other Hawkeye greats on this list.