Sam LaPorta becomes the latest Hawkeye tight end to make the leap to professional football.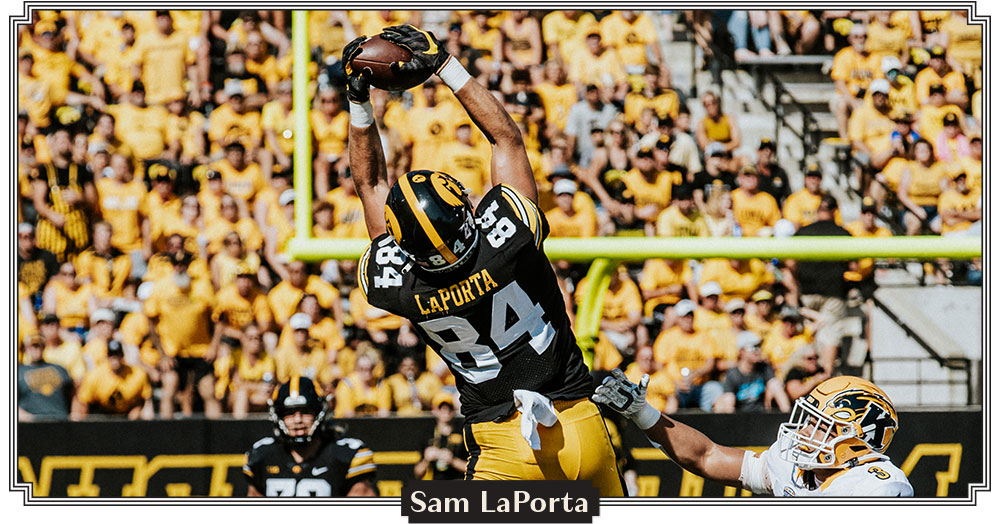 PHOTO: JUSTIN ELSNER/HAWKEYESPORTS.COM
This past spring, NFL rookie-to-be Sam LaPorta (23BBA) traveled to Nashville, Tennessee, at the invitation of two of pro football's top tight ends. LaPorta had played his final collegiate game in this city just a couple of months earlier—a 21-0 Iowa drubbing of Kentucky in the Motor City Bowl. A turning point was the senior's electrifying 27-yard reception when he dodged, dragged, and flattened a half-dozen defenders. It set up the Hawkeyes' first touchdown of the bowl and added one more highlight to a career reel that dazzled NFL scouts.
Now, the Big Ten Tight End of the Year was back in Nashville ahead of the NFL combine for a week of intensive workouts. It was a rare opportunity for a college player to train with two Pro Bowlers, but LaPorta already shared a special connection with the stars: They were all products of Tight End University.
Fellow Iowa alumni George Kittle (16BA) of the San Francisco 49ers and T.J. Hockenson of the Minnesota Vikings put LaPorta through his paces that week. On a 40-yard stretch of field turf outside "The Barn"—the nickname Kittle gave the training facility at the 75-acre property where he makes his offseason home—they focused on things like footwork, releases, and top-of-the route technique. "Smaller things that make a big difference," says LaPorta.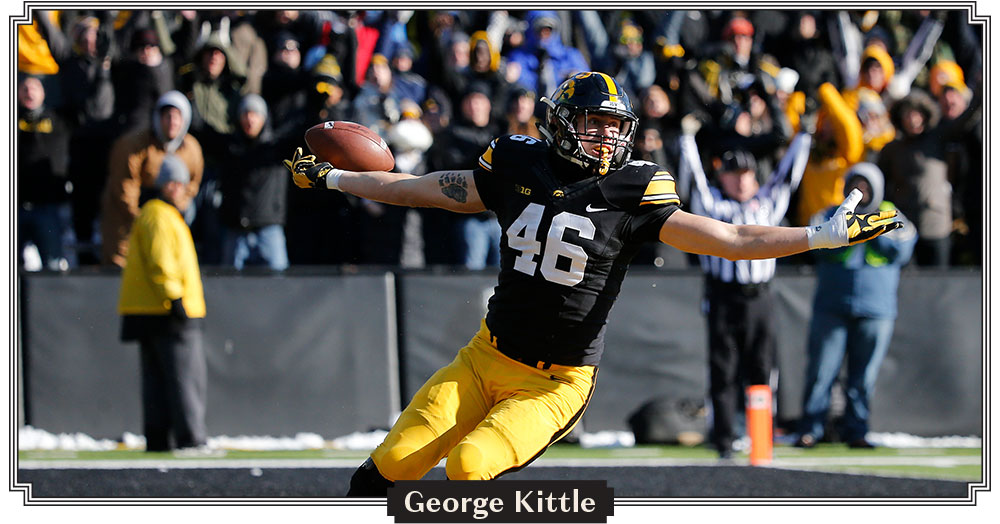 PHOTO: BRIAN RAY/HAWKEYESPORTS.COM
The Hawkeye tight ends were joined by a few other NFL pals for workouts, including former Iowa quarterback and current Jacksonville Jaguar C.J. Beathard (16BS). Though the 22-year-old LaPorta was the youngest of the group by several years, he already felt like part of the brotherhood of NFL Hawkeyes and its tightly bonded fraternity of tight ends.
"The University of Iowa is just truly a special place. It's a bond that, once you come out of that program, just keeps growing." —T.J. Hockenson
"They've texted me a lot over the last couple of years, and they've just been really supportive of me and let me know that they're in my corner if I ever need anything," LaPorta says of Kittle and Hockenson. "But to actually get out and train and compete with them was great. I was able to see how they operate and why these guys are the best at what they do at the highest level."
LaPorta is the latest in the proud lineage of tight ends developed at Iowa. Heading into the NFL draft this past April, he was set to be the 12th player at the position drafted under Kirk Ferentz, a coach known for his creative use of the tight end in his schemes. Schools like Miami, Notre Dame, and Stanford have also staked claims as the mythical Tight End U over the years, but no program has more potential NFL starters at the position this fall than Iowa. Four of the league's 32 starting tight end spots could potentially be populated by Hawkeyes when the season kicks off this month.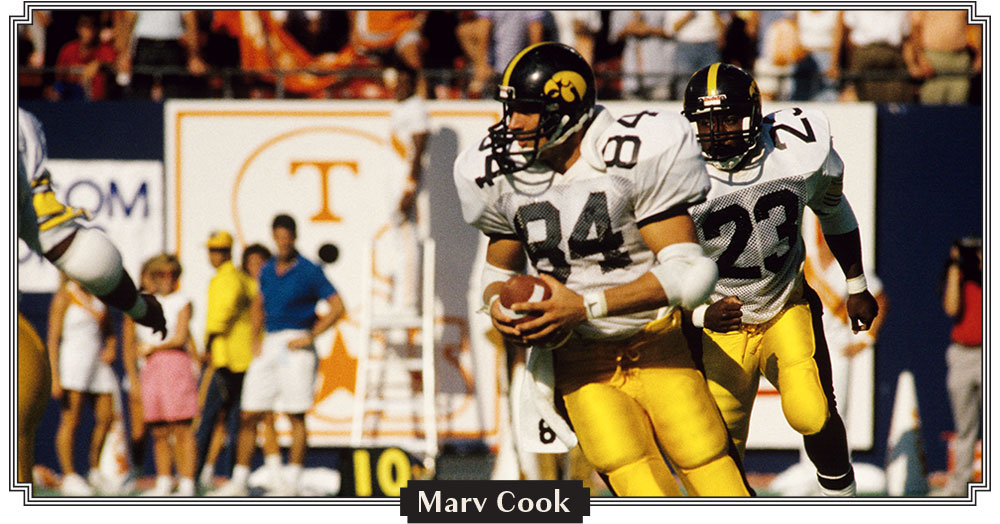 PHOTO: HAWKEYESPORTS.COM
---
Tight End Factory
Iowa's renown as a tight end factory isn't just a modern-day phenomenon. In the 1980s, future NFL players Jonathan Hayes (86BGS) and Marv Cook (90BBA) thrived in former coach Hayden Fry's unique system that featured standing tight ends. Although Ferentz, who was an assistant under Fry in the 1980s, didn't adopt that standing strategy, he retained his predecessor's emphasis on tight ends in the passing game.
"We always talk about Tight End U and how prominent the culture is at Iowa and how we just keep producing them," says Hockenson, who is entering his fifth NFL season after a trade sent him from Detroit to Minnesota last fall. "So to be in the league with all these great tight ends coming out of the same university is truly special. We try to make sure it's a tightknit group and we all stay connected. The University of Iowa is just truly a special place. It's a bond that, once you come out of that program, just keeps growing."
Four of the NFL's 32 starting tight end spots could potentially be populated by Hawkeyes when the season kicks off this month.
Kittle, likewise, continues to be one of Iowa's biggest hype men. During pregame introductions during 49ers broadcasts, he often announces himself and his alma mater as: "George Kittle, Tight End University." He's also borrowed the TEU moniker for the annual summit of NFL tight ends that he hosts with the Kansas City Chiefs' Travis Kelce and retired Carolina Panther Greg Olsen. This past June, Hawkeye alumni Dallas Clark (07BA) and Noah Fant took part in the three-day event that includes film study, on-field drills, and charitable activities.
As LaPorta prepares to make the leap to the league, he says he's proud to carry on Iowa's Tight End U tradition. "It's really cool to be the next guy," he says. "I showed up as a freshman, and I was just hoping I could sneak onto the field. Four years later, I leave the University of Iowa and I feel like I'm right up there with names like T.J. Hockenson, Dallas Clark, and Noah Fant. That's something I'm really proud of."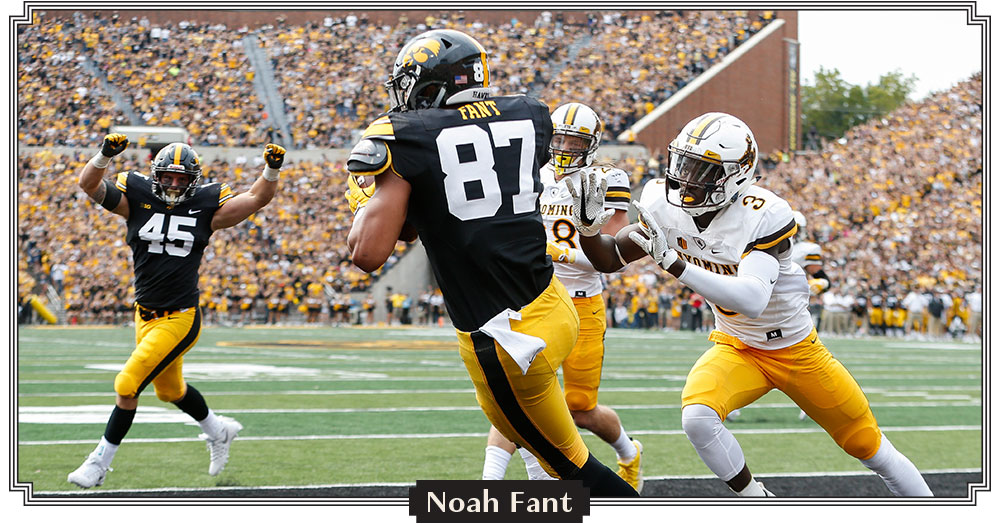 PHOTO: HAWKEYESPORTS.COM
---
Opportunity at Iowa
It was mid-April, a couple of weeks before the NFL draft, and the UI's Hansen Football Performance Center was quiet. Spring practices recently wrapped up, so the team meeting room was empty. LaPorta settled into a chair by the coach's podium to reflect on his final days in Iowa City before graduating with his business degree and the life-changing moment ahead when he would hear his name called by the NFL.
The Highland, Illinois, native first walked into this building as a last minute-addition to the 2019 freshman class after largely being overlooked by major conference schools. Hockenson and Fant had each declared early for the NFL draft after the 2018 season and would become the first set of tight-end teammates to be taken in the first round. The Hawkeyes needed help at the position—and quick.
"I showed up as a freshman, and I was just hoping I could sneak onto the field. Four years later, I leave the University of Iowa and I feel like I'm right up there with names like T.J. Hockenson, Dallas Clark, and Noah Fant. That's something I'm really proud of." —Sam LaPorta
LaPorta, who likely would have attended Bowling Green University had Iowa not offered the late scholarship, was frustrated by the lack of attention from major colleges after enjoying a record-setting high school career as a wide receiver. But a visit to Iowa City in December 2018 that included a dinner with Hockenson, who served as his recruiting host for the trip, helped sell him on an unexpected future with the Hawkeyes. When he arrived ahead of the 2019 season, he had a chip on his shoulder and was determined to prove he belonged in the Big Ten.
"I knew that once they offered me, everybody was going to start at square one, and it didn't really matter how you got there," he says. "I had the same opportunities as everybody else."
LaPorta made the most of the opportunity, breaking into the starting lineup as freshman and becoming a sure-handed downfield target. He had played at 215 pounds in high school but immersed himself in Iowa's strength and conditioning program and eventually added 30 more pounds to his 6-foot-3 frame. Most importantly, LaPorta came to the practice field with an eagerness to learn and work, his coaches said.
By his senior year, LaPorta was a team captain and had established himself among the most decorated tight ends in Iowa history. He finished his career as Iowa's all-time leader for receptions (153) by a tight end and second in career receiving yards (1,786) at the position. A torn meniscus in his knee sidelined him late in the 2022 season, but, remarkably, he rehabbed in time to compete in the Motor City Bowl just six weeks later.
"Nine out of 10 times someone in his position would never have played in that bowl game," says Iowa tight ends coach Abdul Hodge (05BA). "I'm looking at him in practice after he came back working in drills as part of his rehab process, and I'm thinking to myself, here's a guy who has a 100 percent chance to get drafted. I'm thinking there must be something wrong with this kid. But that says a lot about Sam."
---
'The Right Type of Kid'
Tight end is a hybrid position that requires a unique blend of size and strength coupled with skill and athleticism. In the mold of players like Clark and Kittle, LaPorta's knack for making difficult catches and his doggedness as a blocker made his stock soar among this year's deep tight end class. His Tight End U pedigree certainly didn't hurt, either.
LaPorta had studied hours of film of his tight end predecessors at Iowa, but working out in Nashville with Hockenson and Kittle—along with Robert Tonyan of the Chicago Bears and former 49er Jordan Matthews—LaPorta got a firsthand glimpse of what makes them tick. "Tight ends in general are a little bit like goofy offensive linemen, but they also have a little more swagger," LaPorta says. "They're all characters in their own right. Like what you see with George on TV—he's the exact same way in person. He's just a big goofball. Somebody made a comment that he's like a 12-year-old kid in a grown man's body, and now he has money too. So he has all the toys, and they have so much fun."
PHOTO: BRIAN RAY/HAWKEYESPORTS.COM
LaPorta was all business when he met virtually this past spring with a long line of NFL teams over hour-long video-conference interviews, as well as in-person at the NFL Scouting Combine in Indianapolis and Iowa's pro day at the football complex. During the combine showcase, he posted an eye-opening 4.59-second 40-yard dash, the third-fastest time among tight ends. One of LaPorta's more memorable meetings in Indianapolis was with Detroit's charismatic coach Dan Campbell, himself a former pro tight end. Campbell had a "big chaw" packed in his lip and a firm handshake, recalls LaPorta. Campbell played a clip of Lions game film to start the interview. Then, at the end of the meeting, the coach quizzed LaPorta to see if he remembered the receiving routes from the play. As it happened, it wouldn't be LaPorta's last conversation with Campbell.
LaPorta says there's no secret formula for Iowa's ability to develop NFL-caliber tight ends. While the Hawkeye offense features tight ends more than many other programs, and Iowa's strength and conditioning program is famous for developing pro-ready players, LaPorta credits the coaches for identifying student-athletes who thrive in the Hawkeye system. "It's not so much the right athletic ability; it's about bringing in the right type of kid with the qualities that you look for," LaPorta says. "I think that goes beyond the tight end room; it goes to every position group in the building."
Hodge brought a unique perspective when he was hired as Iowa's tight ends coach ahead of LaPorta's senior season. An All-Big Ten linebacker at Iowa from 2002-05, Hodge was teammates with several Hawkeye tight ends who went on to the NFL, including Clark, Tony Moeaki (09BA), Scott Chandler (07BBA), and Brandon Myers. "The guys who typically do well at Iowa are guys who are hungry, guys who have felt like they've been passed over, guys who have something to prove," Hodge says. "They're guys who are great teammates, guys who are high character, and guys who are selfless and willing to do anything on a field that a coach tells them to do."
Of course, physical attributes also play a big role. Hodge says Iowa discovers diamonds in the rough by asking "what can Iowa do with this kid?" and projecting where they'll be after a couple years of coaching and strength training in Iowa City. The Hawkeyes similarly have a knack for identifying versatile athletes with long frames who excel in multiple sports, says Hodge. Clark, for instance, was a four-sport high school athlete who came to Iowa as a walk-on linebacker. Kittle was a tall, lean prep receiver and defensive back who also played basketball. LaPorta grew up playing soccer and was a standout high school basketball player whose parents and three sisters were all former and future college athletes.
"Those guys had untapped potential," Hodge says. "They were really great athletes who were really great competitors. 'Upside' is a term I consistently use in the recruiting game, and their upside was huge."
---
A Hawkeye Brotherhood
LaPorta and about 100 family members, friends, and former coaches gathered in late April at an events venue in his hometown of Highland, Illinois, for the second night of the NFL draft. Hodge, who was in nearby St. Louis that week for a recruiting trip, also joined the party. LaPorta had watched as Hawkeye teammates Lukas Van Ness and Jack Campbell (22BA) were selected a day earlier in the first round by the Green Bay Packers and Detroit Lions, respectively. Now it was LaPorta's turn.
When commissioner Roger Goodell stepped to the podium in Kansas City with the third pick of the second round, cheers erupted in Highland. LaPorta pumped his fist, gave out high-fives, and hugged his family. Like his former roommate Jack Campbell, he was heading to Detroit, the team he first interviewed with at the combine.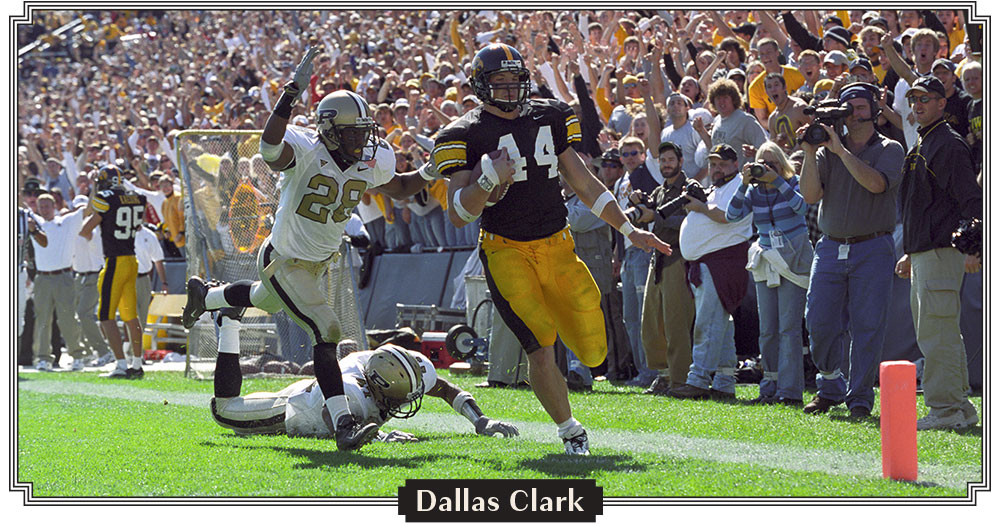 PHOTO: HAWKEYESPORTS.COM
Congratulatory texts and calls lit up LaPorta's phone. Among the people who reached out was Dallas Clark, who had been in LaPorta's shoes on draft day 20 years prior. The two met when Clark returned to Iowa City for a visit during LaPorta's freshman year in 2018, and they'd stayed in touch ever since. Today, LaPorta considers Clark one of his biggest mentors. Says LaPorta: "After a tough loss or after I didn't have a great game, he's the first one to call and say, 'How do you feel about that? You're going work through it, and don't let this get to you.'"
That Hawkeye network also helped LaPorta settle into his new life following the draft. When he arrived in Detroit for rookie minicamp in May, he asked Hockenson, a former Lion, for advice about where to live in the city. "Sam's a great kid," Hockenson says. "It's good to be able to keep in touch with people like that and help as much as I can."
LaPorta, who's expected to make an immediate impact for Detroit as a rookie, says he hopes that he can likewise serve as a mentor one day for Hawkeyes with NFL ambitions. Iowa has a stable of talented tight ends ready to step in this fall, including junior Luke Lachey and Michigan transfer Erick All. "They're definitely going to carry that torch," says LaPorta.
Hodge says LaPorta's impact at Iowa will be a lasting one. Like a master's student who leaves a thesis project for future students to study, LaPorta left Tight End U with a master class worth of film clips. Hodge says it's not the big grabs or jaw-dropping runs after a catch that he screens in the tight end room. Instead, it's how LaPorta gave maximum effort every snap, looked for the extra block downfield, and made hustle plays that don't show up on the stats sheet. "The films I pull up to show our guys are the ones where Sam doesn't have the football," Hodge says. "It's his selflessness and his love for his teammates."
Ferentz likes to preach the importance of leaving the jersey in a better place. LaPorta took that message to heart in his four years at Tight End University.
"When I'm wrapping up hopefully a long NFL career, I'll be like, man, that was cool," LaPorta says. "I came in here and nobody really wanted me, but I left a big impact on a program that meant so much to me."