Iowa All-Americans Myreanna Bebe and Julien Gillum are as fashionable as they are fast.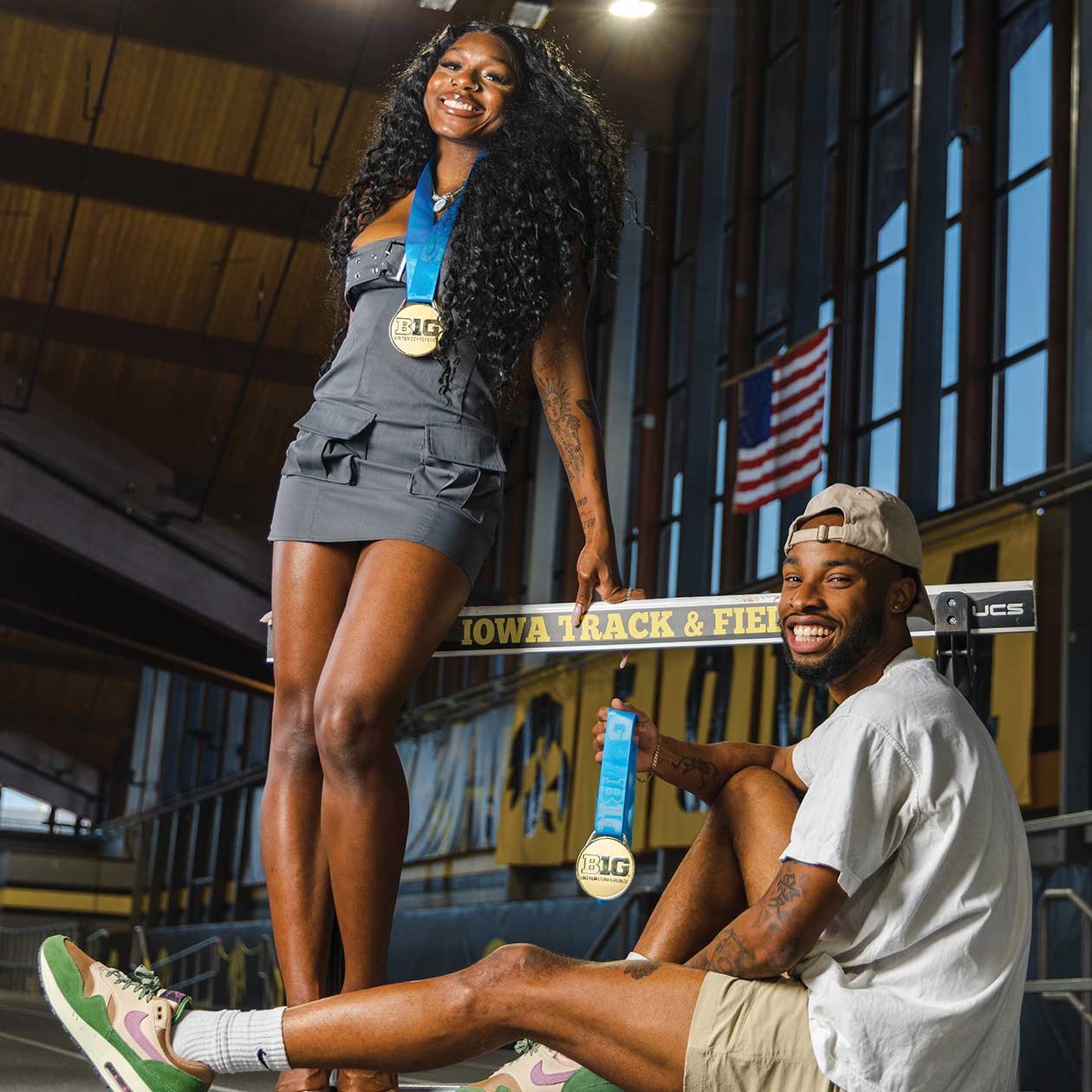 PHOTO: JOHN EMIGH
Hawkeye track stars Myreanna Bebe and Julien Gillum show off their favorite accessories—their Big Ten championship medals.
When University of Iowa track and field standout Myreanna Bebe won a Big Ten indoor championship this past season in the 60-meter hurdles, she did it with some added style. The senior from Orlando, Florida, turned heads with a school-record time—and a wave of bright pink hair flowing behind her.
While student-athletes in some sports are hidden behind helmets, caps, and other gear, track and field offers a bit more freedom for personal expression. Runners can sport accessories like necklaces, bracelets, headbands, sunglasses, and piercings. "It's really about what makes you feel good," says Bebe, whose teammates jokingly refer to her as a real-life Bratz doll.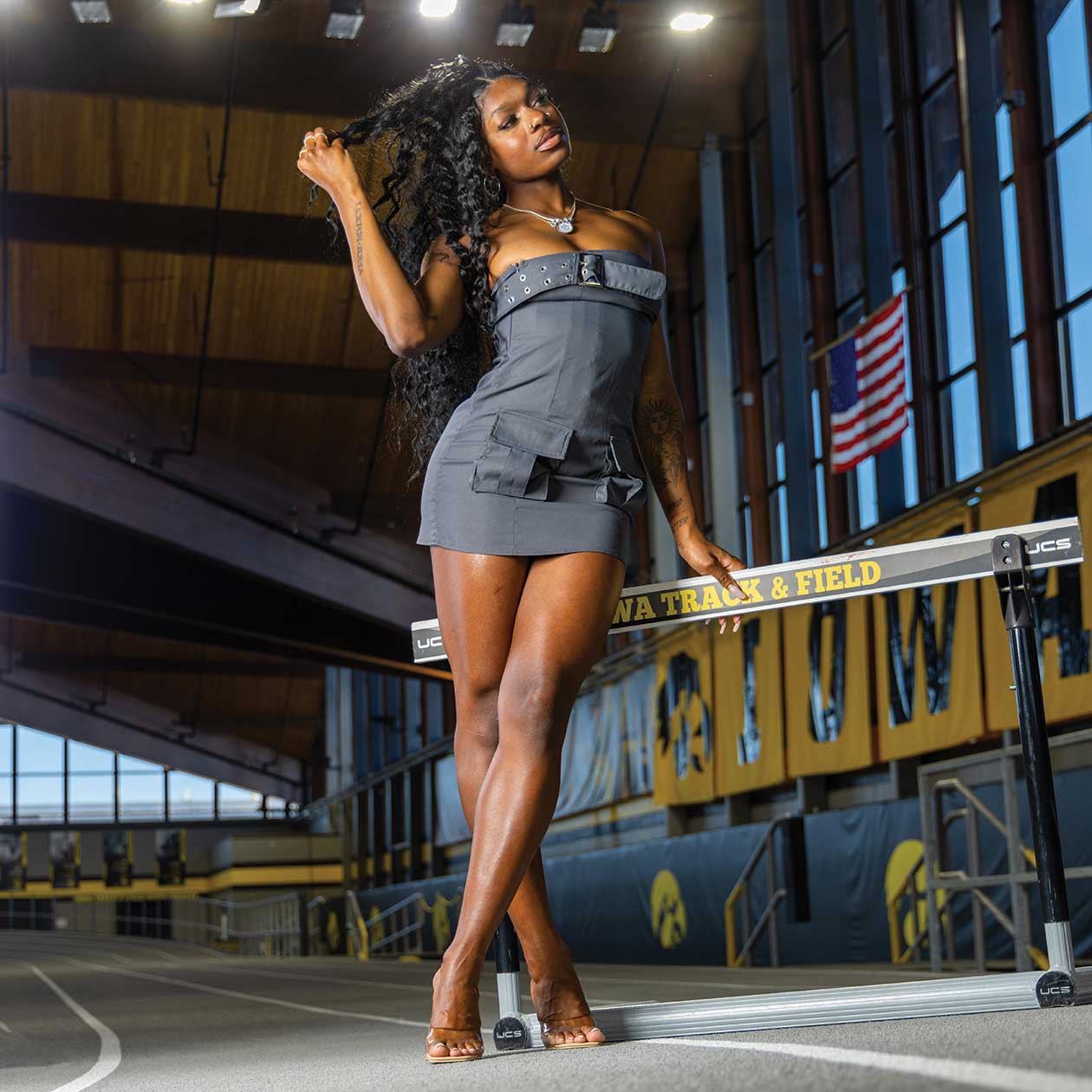 PHOTO: JOHN EMIGH
Myreanna Bebe wears a special medallion necklace from her mother, which she also wears when she competes.
On race day, the All-American wears a silver necklace with an inscribed message from her mother, as well as a piece of jewelry that her late older brother once gave to her mom. She also adds earrings, waist beads, and manicured nails for an added confidence boost.
All-American sprinter and hurdler Julien Gillum is another Hawkeye known for his fashion savvy. The Biloxi, Mississippi, native and 2022 Big Ten outdoor 400-meter hurdles champion often dons a couple of chains and bracelets from his large collection for meets. "You can't really change anything about the uniform, but jewelry is something that adds a little spark and makes you stand out," says the UI senior.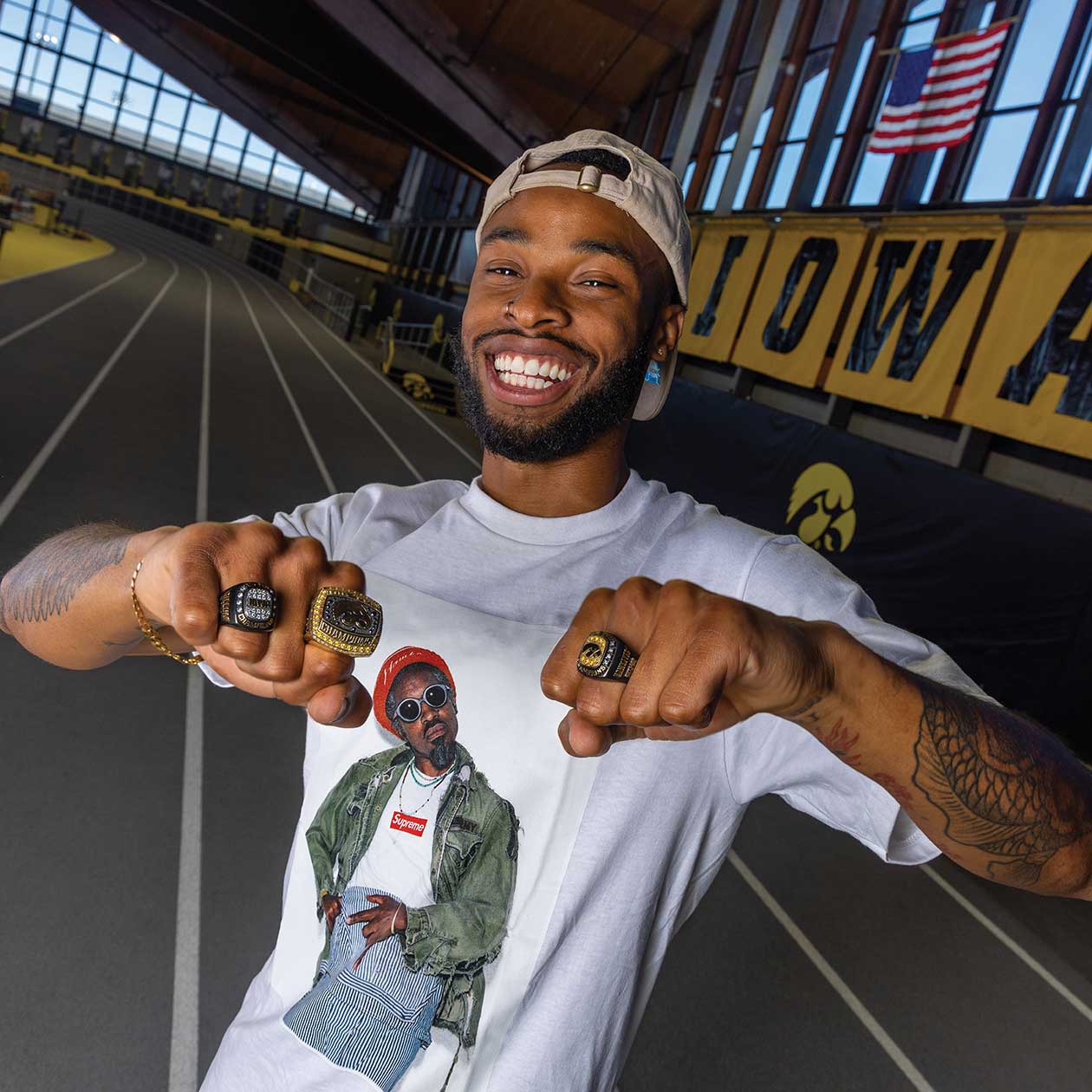 PHOTO: JOHN EMIGH
Julien Gillum shows off his Big Ten championship rings.
The team's resident sneakerhead, Gillum owns several dozen pairs of shoes, including extensive collections of Jordans and Air Force 1s.
Even more meaningful for Bebe and Gillum is their ink. Bebe has several tattoos that pay tribute to her late brother and father, while Gillum has an Interstate 10 sign on his right thigh to remind him of his Southern roots and how far he's come. "It's a constant reminder to keep going in the direction I want to go," he says.