Anna Wolle hopes to one day open a legal practice to help arts organizations and fellow creators.
PHOTO: JASON SMITH
UI law student Anna Wolle holds up the fabric she used to create this handmade floral top.
At first glance, the legal world and fashion industry may not seem like they have much in common. But Anna Wolle finds it fascinating how her two passions intersect.
The third-generation University of Iowa law student aims to one day open a practice to provide legal support for arts organizations and independent creators, including those working in fashion. In her free time, Wolle is also a self-taught seamstress who aspires to create her own clothing line.
Just this past spring, Wolle registered an LLC for her future clothing line, Annaconda, that she hopes to one day sell in boutiques. After law school, she intends to help other artists in her home state navigate the complexities of areas like intellectual property protection, labor and employment issues, and international trade.
"My goal is to create a robust art practice in eastern Iowa where I can help emerging artists, fashion designers, and musicians—as well as established artists and organizations— all navigate these different issues," says the Cedar Rapids native.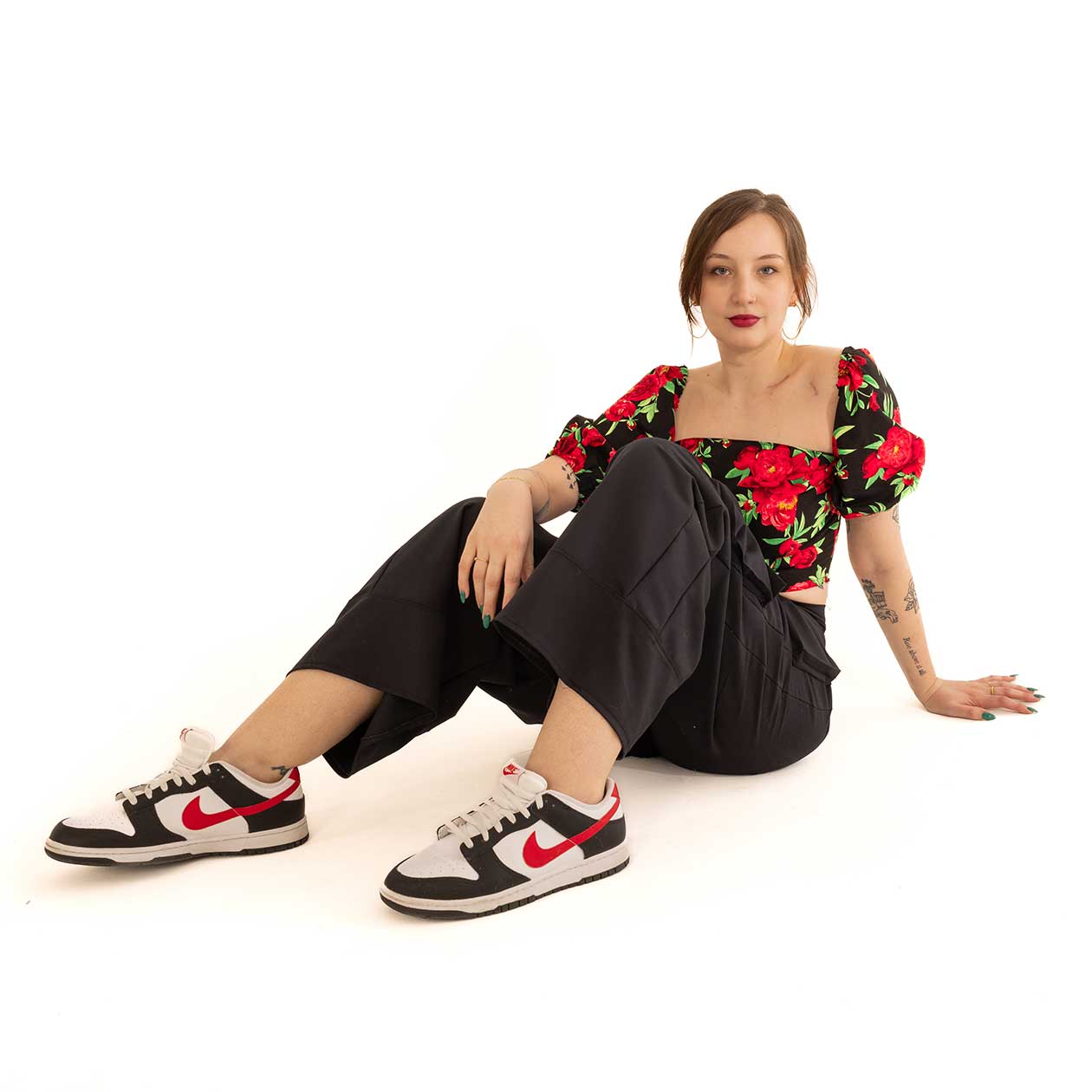 PHOTO: JASON SMITH
Anna Wolle models a pair of hand-made cargo paints and a floral top.
Last year, Wolle founded the Fashion Law Society at the UI to connect with other aspiring lawyers interested in the legal landscape of the fashion industry. The group hosted a panel discussion for students with two national experts, including the attorney responsible for trademarking the famous Tiffany Blue and Christian Louboutin red-bottomed soles. While the group dissolved after a year, the experience helped reinforce Wolle's interest in pursuing the field after law school.
At her sewing machine, Wolle creates clothing for all body types that she describes as edgy and feminine, with a focus on sustainable practices and materials. She lists the British designer Alexander McQueen, the Italian fashion house Bottega Veneta, and the French label Y/Project among her many inspirations.
"Since the age of 10, I've been going to thrift stores, and I spend hours and hours every day looking at different designers and online retailers to understand trends in the fashion industry," she says. "It's been a hobby and a huge passion of mine all my life. I spend time every day learning and creating new things."