Hawkeyes write in about CAMBUS, Bruce Springsteen, and Christine Grant.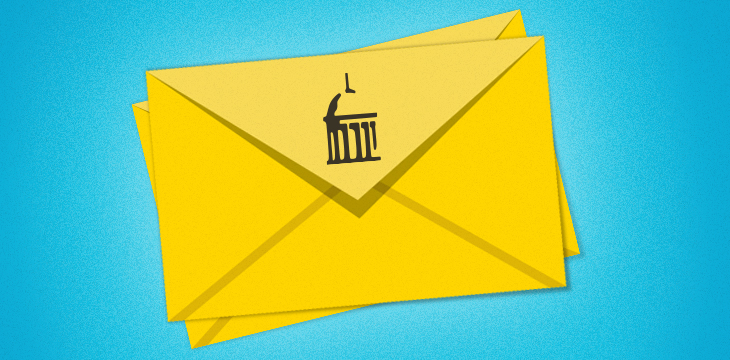 CAMBUS' Central Role
I was a freshman at the University of Iowa in 1972. I used the CAMBUS ["Alumni Share CAMBUS Memories Ahead of Homecoming Reunion"] to go everywhere on campus. I remember students were a little reluctant at first; the concept was so new. By my senior year, it was an integral part of campus life.
Linda Nicholas Byrne (76BA)
Elk Grove Village, Illinois
I had rhetoric in Macbride Hall my freshman year. Macbride did not have air conditioning, and one day it was incredibly hot both inside and outside. Our rhetoric professor led us out to the CAMBUS stop, and we all got on the bus and had class in the back of the air-conditioned CAMBUS as it drove its loop around campus.
Erica Wehner Ferranti (01BA, 04JD)
Raleigh, North Carolina
---
Trips That Rock
Markes Johnson's (71BA) essay about his spring break trips ["Bedrock of Discovery"] with the geology department brought back many memories. I was one of only a few female geology students to go on the Grand Canyon and Florida trips. As a freshman, I had just fallen in love with geology when the Grand Canyon trip came along to cement that relationship. Professors Brian Glenister (56PhD), Holmes Semken Jr., and Keene Swett were our leaders on these adventures.
Although my family had already taken a few trips across the country, the adventures of the spring break trips probably cemented my continuing wanderlust that has taken me to four additional continents. While my career ended up in analytical chemistry instead of geology, I'm still a rock hound at heart.
Robin Russell Walker (72BA)
Goshen, Indiana
---
Cognitive Workout
"Give Your Brain a Workout" is fascinating. Thank you for sharing insights on lowering the risk for Alzheimer's. My 80-year-old dad has reduced his physical activity, and I think this study could be very useful to motivate him to become more active.
Mauricio Ruiz
Atizapán, Mexico
---
Springsteen Set the Stage
I was director of the Hancher Entertainment Committee from 1975 through 1978. The Bruce Springsteen concert ["Springsteen, Hancher, and a Rock Tsunami"] was the first show we produced during that era and was, to the best of my knowledge, the first rock 'n' roll show in Hancher Auditorium. Kudos to the first director of Hancher, James Wockenfuss, for allowing us to book the concert. As a result of the success of the show, we were able to work with him to successfully produce a variety of Hancher concerts, which were widely supported by UI students (most of our shows sold out).
Due to the quality of the acoustics and staff, Hancher gained a reputation with artists that drew them to Iowa City and the university (see Ray Davies of the Kinks in his book Americana). It is my hope that the new director, André Perry (08MFA), will also allow concerts popular with the UI student body at the new Hancher facility.
John Gallo (78BGS)
Boerne, Texas
I was there at Hancher in 1975 to watch Springsteen & the E Street Band. I had recalled that student tickets were $3.50; it's good to have confirmation on that since I've told that story ("I saw Springsteen for $3.50!") many times over the years.
"Amazing" doesn't do the concert justice. I was not on my feet during the concert but was comfortably seated in the cushy Hancher seats. It was something like the old ad for Memorex tapes, where the tie of the guy seated in the easy chair is flying behind him in the sound waves created by the music.
John Olson (77BA)
Ankeny, Iowa
---
More Music Favorites
You put together a fairly good list of campus concerts, but it was a little biased toward the 1980s to 2010s ["Twenty-Five Legendary Iowa City Concerts"]. It missed a truly great concert at Hancher when Chick Corea and Return to Forever played their Romantic Warrior tour in 1973. Hancher put on another great concert in 1978 with Pat Metheny, who was the opening act to the headliner, Flora Purim. Finally, I've got to give honorable mentions to Jethro Tull, Little Feat, and Emmylou Harris.
Craig Keepers (79BS)
Eden Prairie, Minnesota
Good story. However, being at the University of Iowa between 1977 and 1981, I cannot believe you left out Linda Ronstadt at the Field House in 1977, Jackson Browne at the Field House in 1978, and B.B. King at Maxwell's in 1979.
John Drwiega (81BBA)
New Orleans
I attended a concert by The Supremes back in 1968 at the Field House. I had a nearly back-row seat and was so far away that those four sparkly performers off in the distance could have been anything. But when they started singing, there was no doubt. I had the good fortune of meeting Mary Wilson of The Supremes in the early 2000s, and I told her about my experience at the UI 40 years earlier. She got a giggle out of that!
Don Yager (67BA)
Fenton, Iowa
---
Preserving Paradise
I loved the article, "Paradise Not Yet Lost", about the UI Museum of Natural History's Laysan Island Cyclorama. I remember touring the cyclorama when I lived in Iowa City. What a gem! I am glad to contribute to the refurbishing and restoration of this project.
Joyce Holly (72BA)
Clemson, South Carolina
Having grown up in Hawaii before attending the UI, the Laysan Island exhibit was a frequent reminder of home—especially during those cold Iowa winters.
There was another reintroduction to Laysan some years ago, the Hawaiian monk seal. A nursery was established on the island, including netting to protect the pups from sharks until they became more agile swimmers. The monk seals have since spread to the younger, more populated Hawaiian Islands.
George Leeper (65BA, 66MS)
Durham, North Carolina
---
Family Keepsake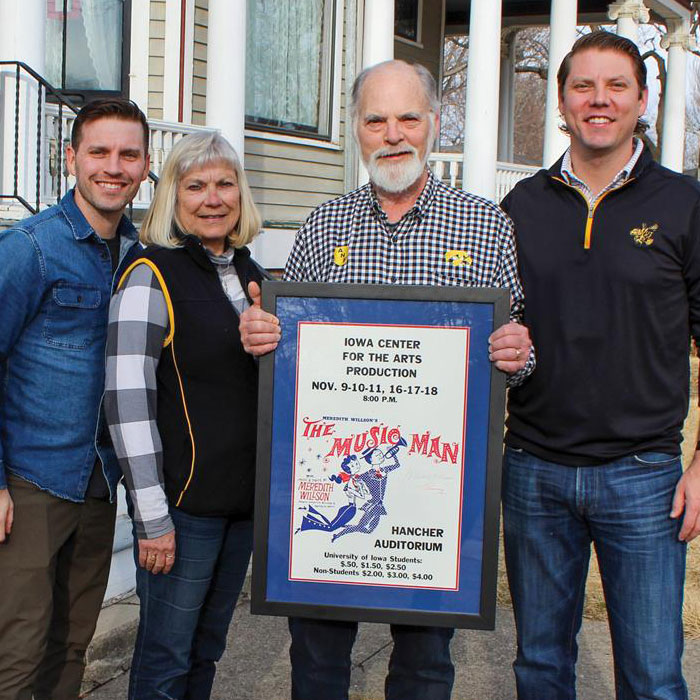 PHOTO COURTESY AARON PARKER
Adam, Deb, Ron, and Aaron Parker stand with a family heirloom: Ron's playbill from Iowa's 1972 production of The Music Man, signed by Meredith Willson and his wife, Rosemary.
Through Iowa Magazine [including "The Next Act," I learned Hancher is celebrating its 50th anniversary this year. I'm sending you this memory of the performing arts center from my dad, Ronald Parker (73BBA).
The Music Man was the first production at the newly built Hancher Auditorium in November 1972. It was a student production, and my father was a member of the cast. Meredith Willson, who wrote The Music Man, and his wife, Rosemary, attended the production. Both Willsons signed my dad's playbill. My father kept it as a souvenir and for many years it resided in his attic. It was eventually rescued from the attic, professionally framed, and given to me. It remains in my possession, as we joke, "on permanent loan from the Parker Family Collection."
I look forward to the continued celebration of Hancher and all its history, and I am glad to have this memento from its youth.
Aaron Parker (08BA)
Nashville
---
Nature University
What a pleasure to see that the Macbride Nature Recreation Area is still being well-utilized to teach students about wildlife and conservation ["Into the Wild"]. My sixth grade University Elementary School class had a visit there in 1963. The Cedar Rapids Gazette reported that we were the first group to camp overnight in the nature area. The article included nine photos of me and my classmates in various activities.
Your summer issue was a memory road trifecta: on a couple of occasions, my grade school art class hiked over from what is now North Hall to Macbride Hall to sketch animals in Mammal Hall and Bird Hall. The Laysan Island Cyclorama was a highlight. I am glad to hear it will be undergoing a major cleaning.
Lastly, although my time in the geology department began right after Markes Johnson's departure, his article on the field trips reminded me of our later trips. Although access is now restricted, I have memories in the mid-'70s of swarms of geologists descending to the bottom of Meteor Crater and the top of Sunset Crater in Arizona.
Rick Knowling (74BS, 77MS)
Scottsdale, Arizona
---
A Personal Hero
Thank you for your all-inclusive and detailed article on Dr. Christine Grant (70BA, 74PhD) ["How Christine Grant Changed the Game"]. I took both golf and field hockey classes from Grant.
She would tell me, "C'mon, Ann, we are starting a women's golf team, and you should come; we are meeting at Finkbine." I brought a golf pal, and we formed a ragtag group of golfers and even drove to Ames for a contest with Iowa State at Veenker Memorial Golf Course.
I stayed in touch with Grant through the years, and it is fun for me to reflect back on my minimal contribution to sports at Iowa and on knowing Grant. She was my hero. I am now an LPGA/PGA golf professional, working at Thunderbird Country Club in Rancho Mirage, California.
Grant will be missed by so many, but her contributions live on in those she mentored and through her commitment to women's sports at the UI and beyond.
Ann Loughlin (74BS, 76MA)
Palm Springs, California