An Iowa-trained geologist and science writer reflects on how the university's annual spring break treks provided the bedrock for his career.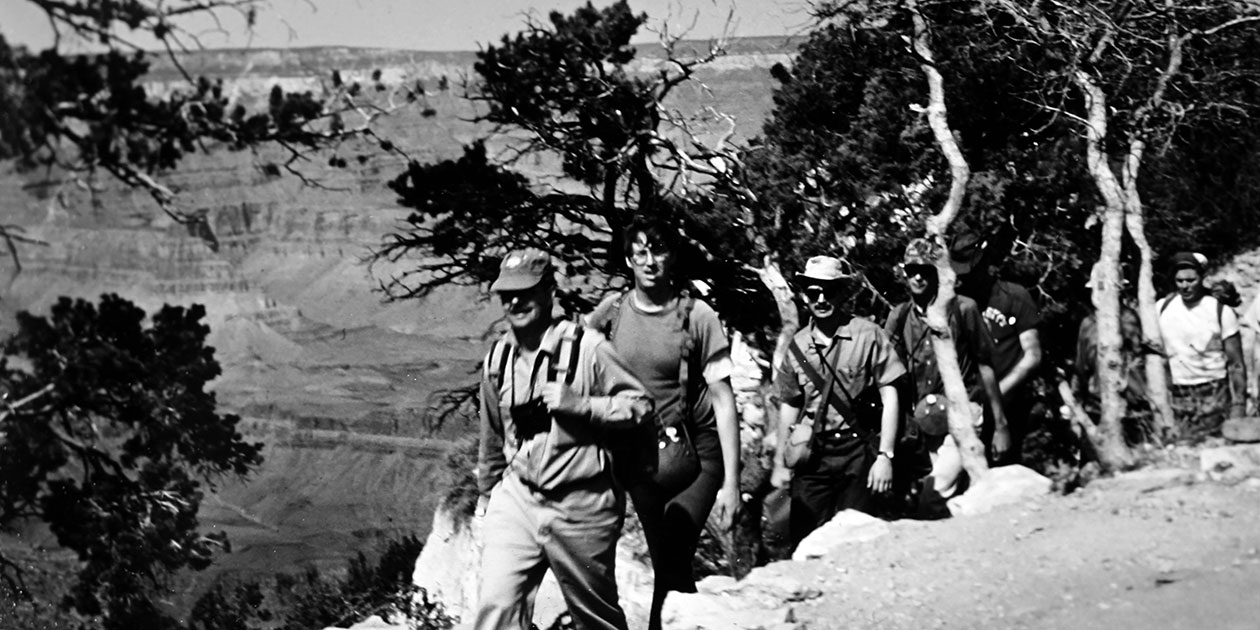 PHOTO COURTESY Markes E. Johnson
At the top of the Bright Angel Trail in 1968, professor Brian Glenister (56PhD) leads a line of Iowa hikers—including the author, third from left—out of the Grand Canyon.
T
hose who teach never really stop being a student.
Although I'm now a professor emeritus of geology at Williams College in Williamstown, Massachusetts, I spent more than 30 years leading students on field trips to study the sedimentary rocks that accumulated around the Gulf of California where seawater flooded a growing rift between mainland Mexico and the Baja California peninsula about 5 million years ago. The region is a place of largely untamed beauty. It also exists as an extraordinary laboratory in which to compare the geography and ecology of the past and present. While my career has taken me to many other places around the world, it is to Baja California, Mexico, that I return each year.
My first experience in Mexico came while I was a University of Iowa undergraduate in the geology department (now known as the Department of Earth and Environmental Sciences). During the 1966-67 academic year, the department launched an innovative program offering academic credit to students who participated in annual spring break excursions to places of scientific interest. In 1970, I joined the UI trip to Big Bend National Park in West Texas, which included a short visit across the border to Mexico. At that time, I had no idea it would lead to a professional career doing geological research in Baja California and the Gulf of California.
The UI's annual field excursions continue into the present day. They were and continue to be tremendously important for the education of Iowa's geology students. That was certainly the case for me, and during my early years as a professor at Williams College I made a point of repeating some of those trips with my students.
While a student at Iowa, I attended four such expeditions to Grand Canyon National Park (1968), Pennekamp Coral Reef State Park in the Florida Keys (1969), Big Bend (1970), and Great Smoky Mountains National Park in eastern Tennessee and North Carolina (1971). For each trip, we chartered a bus in the university motor pool normally reserved for sports teams. These were long-haul trips, and two of the university's professional drivers traded duties behind the wheel. As many as 35 students and a handful of faculty members filled the buses to capacity each time.
To earn course credit, students attended weekly information sessions leading up to the trip and contributed papers on a destination topic. These were assembled into a guidebook used during the excursion. The bus made stops at multiple attractions en route, such as Mammoth Cave National Park on the way east to the Appalachians and the San Francisco Peaks of Arizona on an adventure west.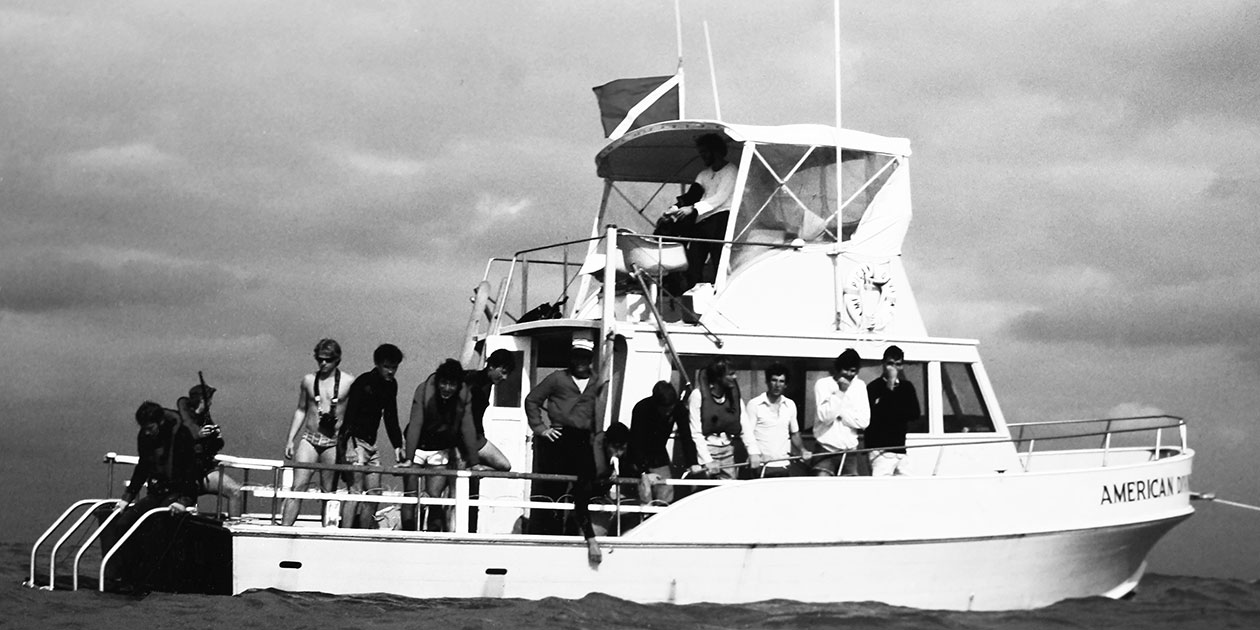 PHOTO COURTESY Markes E. Johnson
An intrepid group of Iowans aboard the American Diver vessel prepare to brave the waters off Key Largo during a windy day in April 1969 that kicked up waves.
For the Grand Canyon trip, students chipped in $25 each to help defray road costs (gasoline at that time was 28 cents per gallon in Iowa City). En route, we stopped at Petrified Forest National Park, Meteor Crater, and Sunset Crater. I recall our arduous hike to the volcanic rim of Sunset Crater, covered with loose cinders that allowed progress barely three steps forward for one slipping backward.
At each stop, we invited the bus drivers to join us, but they always stayed with the bus. Once we pulled up next to the Grand Canyon, I knew it would be impossible for them not to see the enormous gash in the crust of the earth. As I exited the bus, I turned and said to the driver, "Isn't it fantastic?" With a big grin on his face, he answered, "You sure could park a lot of buses down there!"
Everyone forms their own unique impressions after viewing a wonder of the world. For those of us studying geology at Iowa, the opportunity to see marvels impossible to find at home was nothing less than transformative.
Iowa's geology is instructive in its own right with rock layers that dip gently across the entire state. But the Grand Canyon offered the opportunity to view similar rock layers all from one vantage point as cut by the mile-deep excavation of the Colorado River.
During our visit, we descended from the south rim on the shorter but steeper South Kaibab Trail 7 miles into the river's inner gorge. We camped overnight on a sand bar along a tributary flowing into the Colorado River at Phantom Ranch. Mules delivered our camping gear ahead of time, and we received a warm meal at the ranch before nightfall. The sky was inky dark from the confines of the inner gorge, and it was far into the night when the moon finally crossed the narrow opening overhead. The next day's physical climb out of the canyon was via the longer Bright Angel Trail, with many switchbacks over 12 miles. But the round-trip journey in geologic time had taken us on a kaleidoscopic tour through a half-billion years of Earth history.
In 1969, I went on another memorable trip—this time to Florida. In preparation, our group trained in the Field House swimming pool to learn how to use floating compressors with 25-foot hose lines attached that could support two divers with breathing air from the surface. Paired with a swim buddy, we practiced diving for spoons at the deep end of the pool.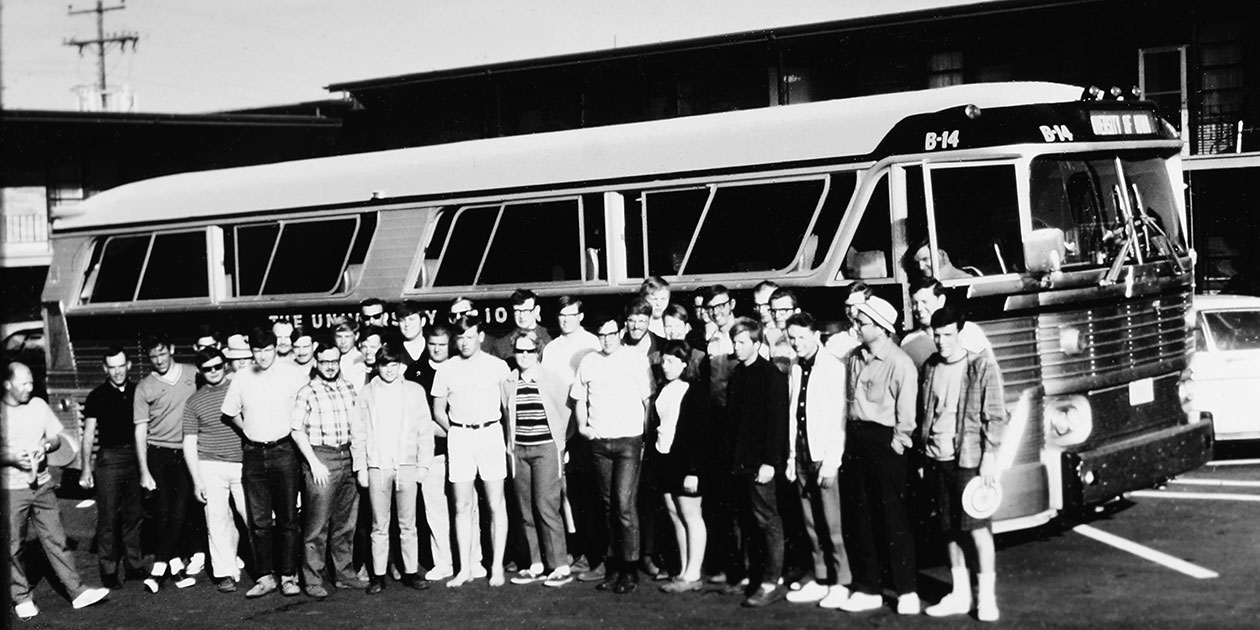 PHOTO COURTESY Markes E. Johnson
Students and faculty on the 1969 Florida excursion pose outside a University of Iowa bus with trip organizers and professors, Keene Swett, at left, and Gilbert Klapper (62PhD), second from right.
The highlight of the trip was a day-long dive boat charter that took us well offshore to one of the windward reefs on the Atlantic side of Key Largo. All of us had purchased black swim masks and fins, except for Mike Watson (71BS, 74MS), whose more costly equipment was bright yellow. After his first dive, Mike offered to trade his equipment with anyone who wanted it. Apparently, he had encountered a Moray eel shooting out from its hiding place in the corals that attacked one of his fins. Mike was adamant that the yellow flash of his fins provoked the incident.
Most of us succumbed to sea sickness as that day wore on, but it was better to be in the water than on the boat's rocking deck. Other day trips brought us to mangrove shores, where we swam in water only chest deep. Coral formations with waving sea fans attached were a sight to behold in deeper settings, but lush carpets of green and red algae that add sediment to shallower settings were of interest as a major additive to limestone.
In all, I earned eight credit hours from my travel experiences in the department, the equivalent of two regular-semester courses. In retrospect, these were the most important and life-changing lessons that brought my tenure as a geology major to a satisfying conclusion with graduation in 1971.
Those field trips from Iowa City proved to be influential in my subsequent teaching career at an eastern liberal arts college. My new home was barely three miles from the Appalachian Trail, but the distant pull of other spots I had visited as an Iowa student was strong, and I sponsored my own trips during spring breaks to introduce students to the Grand Canyon, Florida Keys, and Big Bend.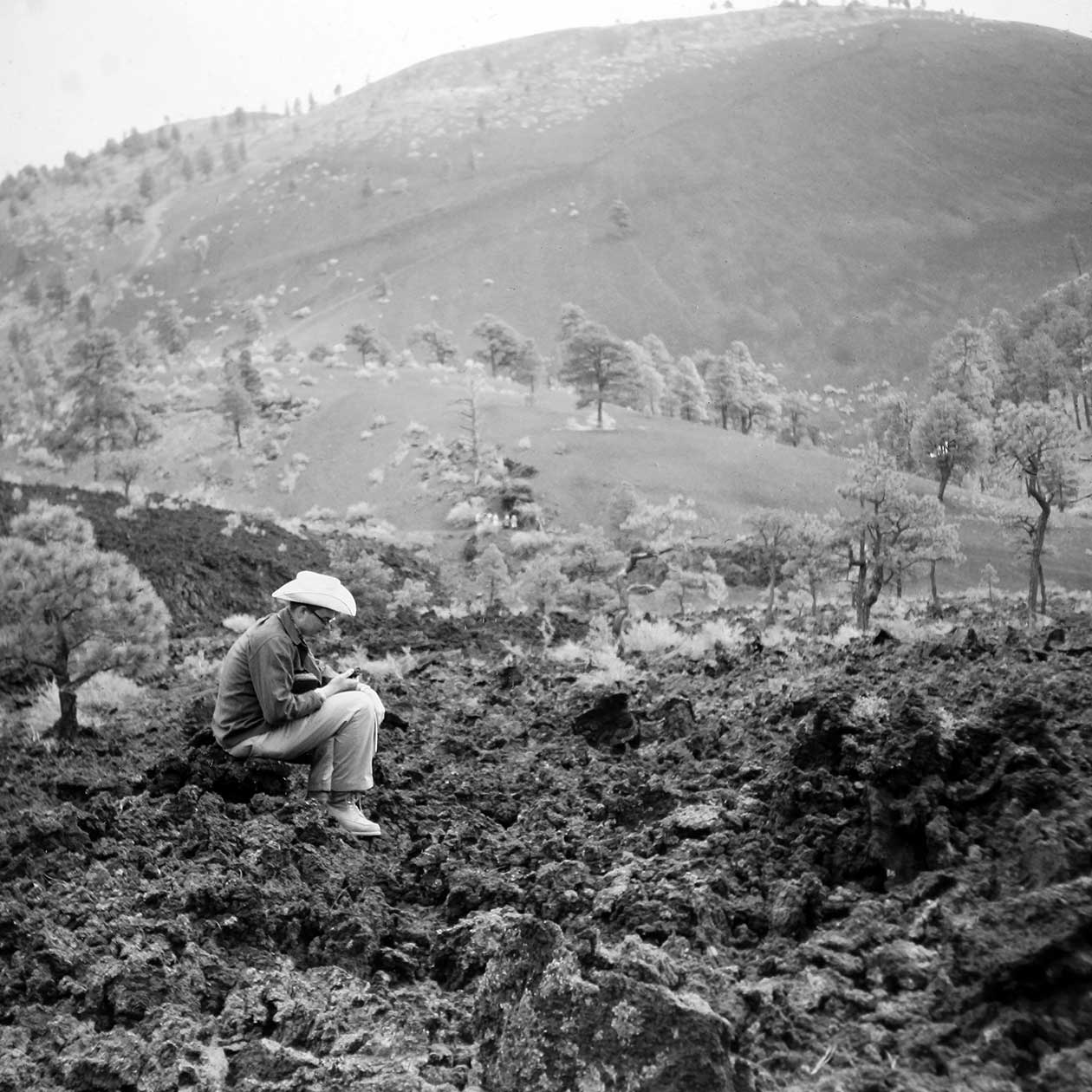 PHOTO COURTESY Markes E. Johnson
In this photo from 1968, geology student Dennis Lapoint (68BA) sits on a block of rough lava with the 1,000-foot-high Sunset Crater in the background.
Direct field immersion—which allows students to contrast a living coral reef with a fossil reef or compare the erosional power of the Colorado and Rio Grande rivers throughout time—is superior in every way to a traditional classroom lesson in geology. During my teaching career, I've guided more than 80 students on such journeys. At the onset of each trip, I've paused to remember my UI geology professors, who sacrificed their spring breaks to enlarge our perspective on the world beyond Iowa.