Springsteen at Hancher. Nirvana at Gabe's. Lizzo on the Pentacrest. Iowa Magazine recalls some of the most unforgettable concerts in this music-loving college town's history.
It was September 1987 when the world's greatest band—at least in my eyes as a fourth grader—played Carver-Hawkeye Arena. The year before, I'd lip-synced "Catch a Wave" in the class talent show. And when a local radio station aired a marathon of the band's music, I stayed up late with a blank cassette in my boom box and a finger on the record button. To hear my wave-riding heroes, the Beach Boys, play "Surfin' Safari" in person was magical for a pasty Midwestern kid who didn't know the ocean from the Coralville Reservoir.
Although you'll be surprised to learn that I did not, in fact, become a professional surfer, the concert was an early introduction to Iowa City's vibrant music scene. Years later, as a college student who had traded in his board shorts for flannel shirts, I spent Saturday nights at Gabe's listening to local grunge bands and at The Mill nodding along to folk singers. More recently, my wife and I communed with our fellow Gen Xers this past April at the Englert Theatre to see Ben Folds.
Live music has always been the backbeat of the Iowa City experience. Talking concert memories with my fellow Iowa Magazine staff members, we wondered: What were the best-ever Iowa City shows? So, we put out a call for alumni memories and spent a few days paging through old yearbooks and newspapers. Here's what we came up with: Twenty-five legendary Iowa City concerts, some of our readers' favorite musical moments, and an essay by alumnus David Sitz (74BA), who helped stage Bruce Springsteen's epic 1975 Hancher show.
Though my first concert didn't make this by-no-means-definitive list, decades of other good vibrations in Iowa City did.
---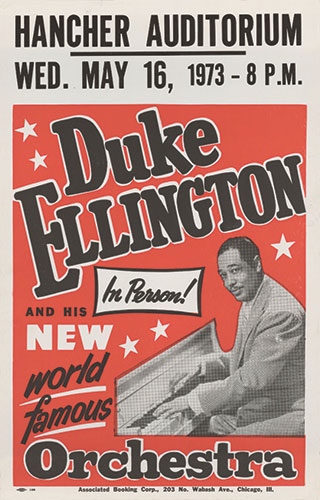 Duke Ellington
March 11, 1949 | Iowa Memorial Union
The greatest jazz composer and band leader of his era played two shows at the IMU to a combined audience of 2,800, then jammed out until the wee hours at the AMVETS club and a private house party, according to an account in The Daily Iowan. The famed pianist made a number of UI appearances from the 1940s to the 1970s, including his final Iowa City show at the newly built Hancher Auditorium a year before his 1974 death.
PHOTO: IOWA DIGITAL LIBRARY, UI LIBRARIES
---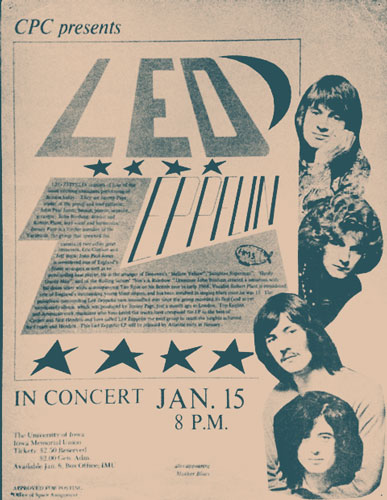 Led Zeppelin
Jan. 15, 1969 | Iowa Memorial Union
Just three days after the release of their self-titled debut album and on their first U.S. tour, the British rock-gods-in-the-making overcame an Iowa ice storm, equipment issues, and a brief concert disruption when police arrested a gate-crashing couple. Between future classics like "Dazed and Confused" and "Communication Breakdown," lead singer Robert Plant reportedly stopped the show to raise $45 from the audience for bond money for the fans who were hauled out.
PHOTO: IOWA DIGITAL LIBRARY, UI LIBRARIES
---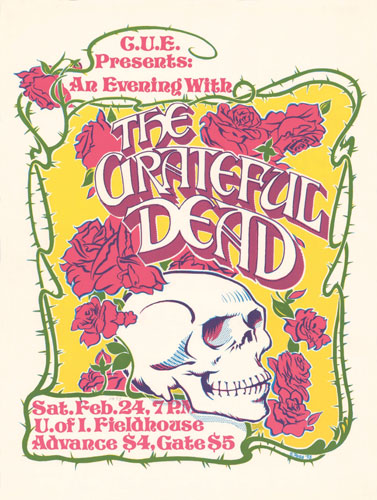 The Grateful Dead
Feb. 24, 1973 | UI Field House
In an epic five-hour show that didn't need an opening act, Jerry Garcia and company brought their improvisational San Francisco psychodelia to Iowa City. Taking 10,000 Iowa Deadheads along for a long, strange trip, the band played "Truckin'," "Me and Bobby McGee," "Sugar Magnolia," and hours of technicolor jams in between. The Dead also played the Field House in 1971 and 1982.
PHOTO: IOWA DIGITAL LIBRARY, UI LIBRARIES
---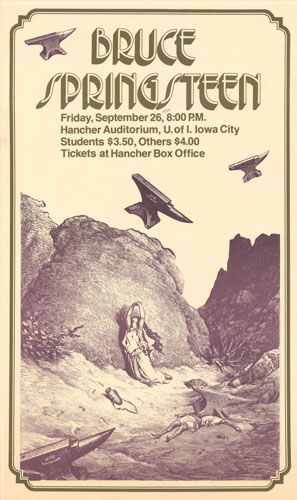 Bruce Springsteen and the E Street Band
Sept. 26, 1975 | Hancher
The Boss had just released his seminal Born to Run album when he and the E Street Band screamed down the boulevard and into Iowa City. The fist-pumping performance included "Tenth Avenue Freeze-Out," "Jungleland," and the album's anthemic title track. Springsteen's rise from New Jersey bars to sold-out stadiums would bring him to Hancher again in 1978. (Read alumnus David Sitz's account of that first show.)
PHOTO: IOWA DIGITAL LIBRARY, UI LIBRARIES
---
Johnny Cash and June Carter
March 30, 1984 | Hancher
"I've been everywhere, man"—including Iowa City. Performing alongside his wife, June Carter, and musicians from TV's The Johnny Cash Show, the Man in Black played back-to-back concerts in one night at Hancher, though the late show was surprisingly sparsely attended. Even at age 52, the country legend was as prolific as ever, releasing his 69th album just a few months before and starring with June in a soon-to-be-released movie, The Baron and the Kid.
---
R.E.M.
May 9, 1985 | Hancher
No band was a bigger mainstay on college radio playlists—UI student station KRUI included—in the 1980s than R.E.M., which made the first of its three Iowa City appearances. (R.E.M. returned to Hancher in 1986 and played Carver-Hawkeye Arena in 1989). With the famously spotlight-shy Michael Stipe performing with his back to the crowd for much of the night, R.E.M. played jangly indie-rock hits like "So. Central Rain" and "Driver 8."
---
Tina Turner
Sept. 19, 1985 | Carver-Hawkeye Arena
Turner was on top of the entertainment world when she dazzled Iowa City on her Private Dancer tour. The pop diva won three Grammys earlier in the year, including Record of the Year, and starred in the blockbuster movie Mad Max Beyond Thunderdome. The concert featured glitzy costume changes, Mad Max clips on a big screen, and Turner belting out her megahit, "What's Love Got to Do With It."
---
Stevie Wonder
Sept. 5, 1986 | Carver-Hawkeye Arena
The first musician to play a concert in the round at Carver, Wonder tossed his pink sequined jacket into the crowd from the revolving stage. After bringing down the house with timeless hits like "Superstition" and "Part-Time Lover," the R&B icon greeted and took photos with all 18 members of the Student Commission on Programming Entertainment, or SCOPE—the UI group that organized the show.
---
U2
Oct. 20, 1987 | Carver-Hawkeye Arena
"I don't get this feeling very often, but I think this is a U2 town," a cowboy hat-wearing Bono told the spirited crowd that sang along to nearly every anthem by the Irish rockers. With a No. 1 album in The Joshua Tree and a massively popular U.S. tour launching U2 into the cultural stratosphere, tickets to the band's first and only Iowa City visit sold out in less than six hours. Bono also appeared in Iowa City in 2002 for an event at the IMU to raise awareness for the AIDS epidemic.
---
Miles Davis
Oct. 7, 1988 | Hancher
The 62-year-old jazz innovator graced Hancher's stage three years before his death. One of the 20th century's most influential musicians, Davis and his band put their mesmerizing spin on a number of pop tunes on this magical night, including Michael Jackson's "Human Nature," Cyndi Lauper's "Time After Time," and Prince's "Movie Star."
---
Metallica
Jan. 28, 1993 | Carver-Hawkeye Arena
Iowa City's metalheads were treated to a nearly three-hour headbanger's ball featuring blistering performances of "Enter Sandman," "Master of Puppets," and "One." Before the show, the band held a moment of silence for Chris Street, the Hawkeye basketball player who died in a car accident nine days earlier. "I know it's been rough around here the last week or so, so let's have a good time tonight; that's what we need to do," bassist Jason Newsted told the crowd during the cathartic set.
---
Guns N' Roses
March 20, 1993 | Carver-Hawkeye Arena
Fans camped out for tickets to see rock's most decadent act, and GNR delivered. The band closed the night in rip-roaring fashion with "You Could Be Mine," "Sweet Child O' Mine," and, as an encore, "Welcome to the Jungle." The ever-volatile Axl Rose abruptly ended the show by dropping his mic and walking off the stage.
---
Smashing Pumpkins
July 30, 1993 | Gabe's Oasis
Three days after the Pumpkins released Siamese Dream, one of the defining albums of the '90s, they returned to Gabe's. They had opened for a local band a few years before, but on this night, the Pumpkins were the main draw. Billy Corgan and his bandmates tore through soon-to-be hits like "Today" and "Disarm."
---
Cypress Hill and Rage Against the Machine
Nov. 19, 1993 | Iowa Memorial Union
Rage guitar virtuoso Tom Morello and the lyric-spitting Zack de la Rocha were a revelation, winning over plenty of new Iowa City fans with their fusion of rock, rap, and political activism. Meanwhile, hip-hop titans Cypress Hill performed hits like "Insane in the Brain" from their No. 1 album, Black Sunday, alongside a giant, smoke-spewing stage prop.
---
Nirvana
July 5, 1989 | Gabe's
A 25-cent beer night shared the billing with this little-known Seattle band fronted by 22-year-old Kurt Cobain. According to a 2013 Little Village retrospective of the show, only 40 to 50 people were on hand to see the pre-Dave Grohl iteration of Nirvana, which three weeks earlier had released its first album, Bleach. While details of the show have faded—save for this black and white image of a thrashing Cobain—the concert has become the stuff of local legend.
PHOTO: MARK WEILLS
---
Garth Brooks
March 24-26, 1994 | Carver-Hawkeye Arena
Brooks, who became the No. 1-selling solo artist in U.S. history, took country mainstream in the 1990s and sold out three straight nights in Iowa City. Arriving to the stage in a moving capsule and later singing from a ladder that swung above the crowd, Brooks wowed with hits like "The Thunder Rolls" and tipped his cowboy hat to the Iowa City crowd's enthusiasm.
---
Run-DMC
April 25, 1997 | Hubbard Park
An estimated 11,000 people turned out for a RiverFest concert that organizers declared to be the largest event ever at the UI park. With Jam Master Jay manning the turntables, the hip-hop pioneers pumped out classic beats like "Walk This Way" and "It's Tricky" that had introduced rap to the masses in the early days of MTV.
---
Red Hot Chili Peppers and Foo Fighters
April 26, 2000 | Carver-Hawkeye Arena
Fans turned the Carver floor into a mosh pit, and the Foo Fighters' Dave Grohl sprinted up the arena steps with his guitar to play "Stacked Actors" from the concourse. Anthony Kiedis and the co-headlining Chili Peppers, meanwhile, had thousands of lighter-waving backup singers for hits like "Under the Bridge," "Scar Tissue," and "Otherside."
---
Aretha Franklin
Oct. 23, 2004 | Hancher
Joined by 20 band members and backup singers, the Queen of Soul shrugged off an apparent cold, according to The Gazette, to delight a sold-out Hancher crowd. Franklin, who was the first woman to be inducted into the Rock & Roll Hall of Fame, belted out classics like "Respect" and "Chain of Fools" during her first and only Hancher appearance.
---
Bob Dylan and Elvis Costello
Oct. 24, 2007 | Carver-Hawkeye Arena
"It's kind of like having Walt Whitman come to Iowa City," English professor Frank Durham told The Daily Iowan ahead of Dylan's performance, which included countrified reworkings of "Don't Think Twice, It's All Right" and "Tangled Up in Blue." Sharing the stage was the equally masterful Costello, who opened with "(The Angels Wanna Wear My) Red Shoes" and closed with "The Scarlet Tide."
---
Wilco
Oct. 1, 2009 | Iowa Memorial Union
The Chicago-based indie band and its front man, Jeff Tweedy, are no strangers to Iowa City. "We've been coming there for 15 years to play, and it always seems like sort of an oasis, like certain college towns are," bassist John Stirratt told The Daily Iowan ahead of Wilco's sixth Iowa City appearance in which they played a sprawling 27-song set.
---
Kendrick Lamar
May 6, 2013 | Iowa Memorial Union
Before he was dubbed "the greatest rapper alive" by Rolling Stone and became the first hip-hop artist to win a Pulitzer Prize, Lamar unleashed his lyrical wizardry on Iowa City. The future Grammy winner told the crowd that it was "the loudest of the whole tour" as fans roared along with hits like "Swimming Pools (Drank)."
---
Al Jarreau
Sept. 19, 2014 | UI Pentacrest
A UI alumnus who blended soul, jazz, and pop music, Jarreau (64MA) returned to his alma mater to headline the Iowa Soul Festival. Decades earlier, Jarreau cut his teeth as a musician by performing at eastern Iowa jazz clubs while studying rehabilitation counseling as a grad student at Iowa. It was Jarreau's last Iowa City show before his death in 2017.
---
Backporch Revival
Aug. 27, 2016 | Kinnick Stadium
Former UI student Ashton Kutcher and former Hawkeye football star Dallas Clark (07BA) organized the first-ever concert at Kinnick Stadium to raise money for their Iowa-based charity, the Native Fund. Country's Blake Shelton headlined the eight-hour event, which drew nearly 45,000 fans.
---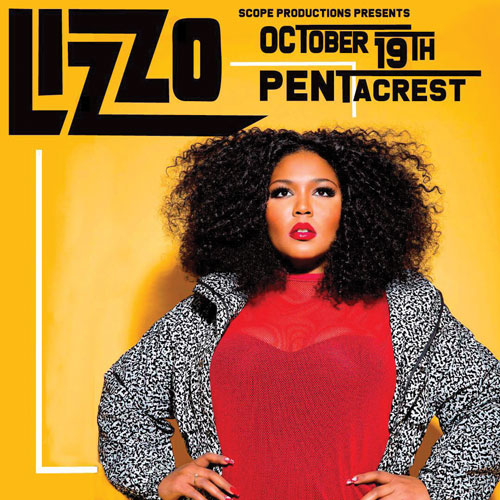 Lizzo
Oct. 19, 2018 | Pentacrest
On her way to winning three Grammy Awards, Lizzo delivered an unforgettable homecoming concert in front of Old Capitol. The Minneapolis-based artist and her backup dancers performed smash hits "Truth Hurts" and "Good as Hell," but the high point came when Lizzo flexed her musicianship by breaking out her flute for a solo between verses—a clip that soon went viral.
PHOTO COURTESY SCOPE PRODUCTIONS
---