Longtime leader Chuck Swanson passes the baton to Andre Perry as the performing arts center celebrates its milestone year of creative collaboration.
Chuck Swanson (75BBA, 76MBA) will never forget the night. Under clear skies, thousands gathered on a pleasant fall evening for a free concert on the Hancher Auditorium lawn.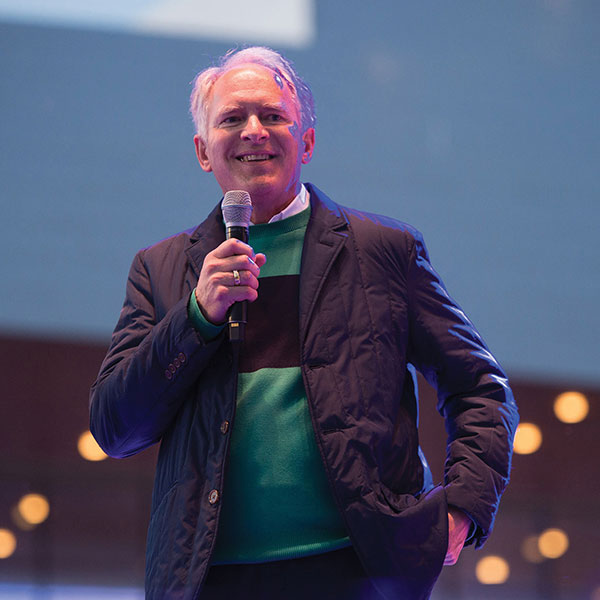 PHOTO: TIM SCHOON/UI OFFICE OF STRATEGIC COMMUNICATION
In one of his favorite Hancher memories from 2017, Chuck Swanson addresses a crowd before Leslie Odom Jr.'s free outdoor performance.
The audience eagerly awaited Leslie Odom Jr., star of the Broadway smash Hamilton, to take the stage. But before the Tony Award winner opened with "Wait for It," more than 200 students from four local high school choirs sang a stirring rendition of "Be the Change." Swanson sat among a crowd of proud family members and friends, relishing one of many unifying moments that sticks with him at the end of a 37-year career with Hancher. "I don't think anyone had a dry eye," says Swanson, Hancher's recently retired executive director, of the 2017 performance. "In my eyes and my heart, it felt like it doesn't get any better than this."
Moments like this illuminate Swanson's passion for people: Bringing them together. Providing unforgettable experiences. Forging lasting relationships. He embodies the Hancher value of people first, and it's embedded throughout his final act—Hancher's current 50th anniversary season. Though Swanson has handed the reins to former Englert Theatre executive director Andre Perry (08MFA) to lead this next chapter for the University of Iowa's performing arts center, Swanson's personal touches in planning this season are evident in the array of performers returning to the Hancher stage, including Odom, cellist Yo-Yo Ma, and the Jazz at Lincoln Center Orchestra with Wynton Marsalis.
As the curtain rises this fall on a season of celebration and growth for Hancher, its power to create community through the arts remains. "Hancher has this magic that attracts people and makes them feel connected," says Swanson. "Everybody wants to feel connected to something."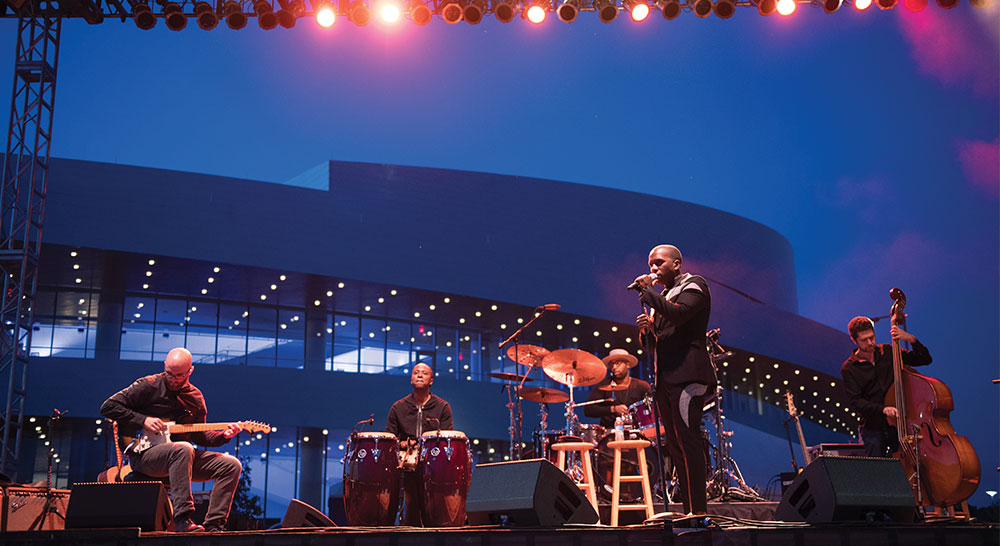 PHOTO: TIM SCHOON/UI OFFICE OF STRATEGIC COMMUNICATION
Singer and actor Leslie Odom Jr. (pictured in front of Hancher in 2017) returns to the auditorium this month.
---
A New Leader
Perry remembers feeling a sense of connection when he attended his first Hancher performance. He moved to Iowa City from San Francisco in August 2005 to pursue a graduate degree in the UI's Nonfiction Writing Program. One month later, he was immersed in the sounds of Gustav Mahler's Fifth Symphony performed by the UI Symphony Orchestra. "You feel like you've been welcomed into a space," says Perry. "That served as a catalyst to help me make this a home."
More than 17 years after his first Hancher experience, Perry is striving to help others find a sense of belonging at the UI through developing a more unified performing arts campus. This vision is central to Perry's roles as executive director of Hancher and the new UI Office of Performing Arts and Engagement, which strengthens Hancher's support of the university's academic mission and student experience. Whether it's building community for current residents or supporting performers visiting from around the world, Perry's aim is to develop Iowa into a national destination for the performing arts and a space where all feel welcome to pursue their work.
A range of past leadership experiences in the arts helps inform Perry's work at Hancher. Perry is co-founder of the Mission Creek Festival, a multiday event that celebrates music and literature at venues around Iowa City. At the Englert, Perry further elevated the theater's national profile by co-founding the Witching Hour Festival and helping launch the Strengthen Grow Evolve campaign, a fundraising partnership with FilmScene. He also spent time as the UI's director of arts, engagement, and inclusion and senior adviser to the associate vice president and executive officer of diversity, equity, and inclusion, with each experience giving him a sense of what a connected performing arts community could achieve.
Now, in his first year as Hancher's newly named Chuck Swanson Executive Director, Perry is listening. He's heeding advice from current and former Hancher staff, including Swanson and previous executive director Wally Chappell. He's meeting with donors, students, faculty, staff, and community members to learn how he can help Hancher and the university build upon a rich history in the performing arts. He's also learning from peers through serving on several boards, including the National Independent Venue Association, Arts Midwest, and Iowa Arts Council.
"My hope is to help bring people to the table and design the conversation so that everyone's voice is heard," says Perry. "I see myself as a facilitator and strategic planner who can help us get to the next chapter. But it's all based on the excellence and intelligence of other people … where we get to will be a collective outcome."
---
Pivotal Partnerships
That collective spirit was essential in Hancher's eight seasons between the 2008 floods and its rebuilding through 2016—the most fraught period in the organization's history. As executive director of the Englert during that time, Perry opened its doors to Hancher for numerous performances, providing opportunities for him to establish deeper relationships with the Hancher staff. Hancher's collaboration with the Englert and other community partners helped it continue to provide world-class performances without a home and strengthened its local connections. "When it came time for us to have a need, it wasn't a difficult situation," says Swanson. "The trust and the relationships were there. Andre and his staff provided amazing support."
Whether it was the Kronos Quartet at the Englert, jazz saxophonist Miguel Zenón at The Mill, or the Joffrey Ballet at the UI's Space Place Theater, Perry says those post-flood performances demonstrated how the right venue can create an optimal experience for both the artist and audience. They also provided a blueprint for how Hancher, the UI, and the Iowa City community could excel as a more unified destination for the performing arts. "That was a really fertile period for artistic collaboration within the UI and Iowa City community," says Perry. "It was a time when many leaders came together to envision a more connected arts community. … Chuck's persistent positivity and strategic attitude through the whole thing helped me understand the dedication that it takes to do this kind of work right."
How can different performing arts groups such as the Department of Dance, School of Music, and Department of Theatre Arts remain distinct while also working closer together toward a greater cause? That's a question Perry is asking in conversations with faculty and staff at the UI Division of Performing Arts.
He's also exploring an expansion of Hancher's educational programming for UI students interested in performing arts careers. Currently, Hancher's visiting artists engage with students through workshops and lectures, though Perry would like to see Hancher and the UI Performing Arts Production Unit staff continue that workshop development year-round. Through progressions like those, he wants people to see Hancher not only as a place to see a show but also as a space to engage with the arts community throughout the year. Perry says Hancher Presents—the newly named presenting arm of the university—is a continued evolution of what Hancher's already doing. That includes performances outside its auditorium and commissions of new works.