On the 50th anniversary of Title IX, the University of Iowa celebrates the legacy of the athletics administrator who helped level the playing field nationally and sparked a women's sports revolution.
Christine Grant (70BA, 74PhD) arrived in Iowa City in 1968 eager to immerse herself in a Big Ten town with a rich sports tradition. The Scotland native and former coach of the Canadian national field hockey team marveled at the state's passion for Hawkeye sports and the tens of thousands of football fans who filled Iowa Stadium that fall. But Grant soon learned that even at major U.S. universities, women's sports received little attention. In that era, sparsely funded athletics clubs were often the only option for women.
"I asked, 'Why did the men get all of these wonderful opportunities, and we don't have comparable opportunities for our women?'" Grant once said. "I was told by many people women are not interested in sport. Well, I didn't buy that. I could never buy that."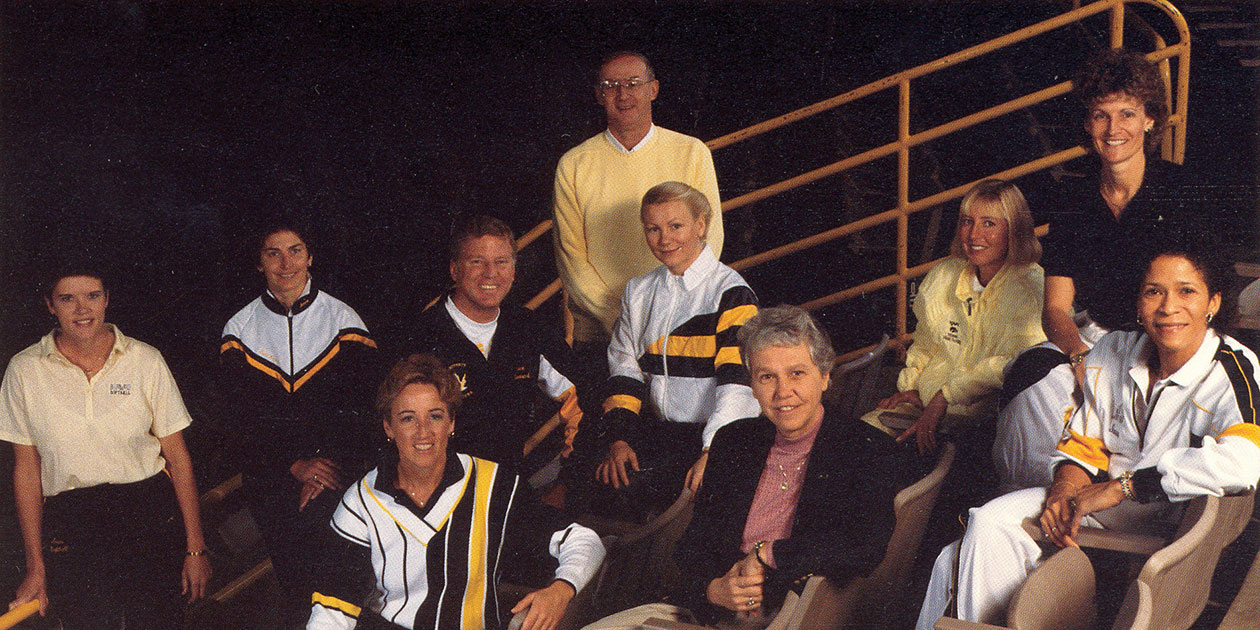 PHOTO COURTESY HAWKEYESPORTS.COM
Christine Grant (front, center) is pictured with her women's athletics coaching staff in 1980s. From left are softball coach Gayle Blevins, field hockey coach Beth Beglin, golf coach Diane Thomason, track and field coach Jerry Hassard, swimming coach Peter Kennedy, gymnastics coach Diane DeMarco, tennis coach Micki Schillig, volleyball coach Ruth Nelson, and basketball coach Vivian Stringer.
Grant, who went on to become the University of Iowa's first and only women's athletic director and a leading figure in the gender equity movement in sports, died Dec. 31 at age 85 in Iowa City. The news prompted an outpouring of tributes from coaches, administrators, and admirers from around the nation. "If there was a Mount Rushmore of impactful female pioneers in sports, Christine would be on it," wrote former Iowa basketball coach C. Vivian Stringer, who now coaches at Rutgers University. Current Hawkeye basketball coach Lisa Bluder, one of Grant's final hires before her retirement in 2000, said her former boss "helped change the landscape of women's athletics." And Mark Emmert, president of the NCAA, eulogized, "We have lost a giant in college sports."
Thanks to Grant's vision, today the UI is home to more than 400 female student-athletes who compete in 12 sports—13 after women's wrestling debuts in 2023-24—for Big Ten and NCAA titles in world-class facilities. Far beyond Iowa City, countless women nationally have benefited from Grant's advocacy for equity in sports and her stewardship of Title IX, which marks its 50th anniversary this year.
In June 1972, Congress passed the landmark legislation that promised equal opportunity in education and athletics. Title IX set the stage for a revolution in women's sports, and Grant worked tirelessly to open arena doors and ballfield gates for generations of student-athletes. This year, the UI celebrates Grant's far-reaching legacy and the Hawkeye women who have carried her mission of equity onward. In conjunction with the Iowa's May 7 home softball game, Iowa's HERkys organization is planning a series of events marking the Title IX anniversary. That will lead into a yearlong tribute to a half-century of Iowa women's athletics, which will include the Hawkeye women's teams wearing special logos on their uniforms during the 2022-23 seasons.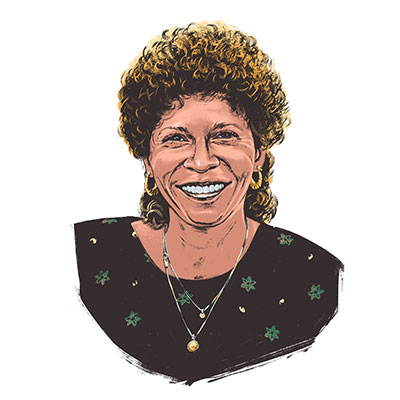 "Christine was so many things to me. She was my boss, my mentor, my female role model, and my friend. There would not be a Vivian Stringer if there was not a Christine Grant. She was perfect for me. She allowed me to have a voice as a young woman. All I wanted as a coach was to be supported and encouraged, and Christine Grant was my biggest supporter." —C. Vivian Stringer, former Iowa women's basketball coach and current Rutgers coach
"Dr. Grant was instrumental in pushing initiatives for girls and women in sports, and we have her to thank for a lot of the progress we've made here at the University of Iowa," says Barbara Burke, UI Athletics' deputy director of athletics, senior women's administrator, and chief operating officer. Burke founded the HERkys in 2017 to honor Iowa's proud tradition in women's athletics and help empower the next generation. "I'm thrilled by the opportunities that are available for our women today. It's really important that there are women still out front creating that path forward."
'WOMEN WEREN'T EXPECTED TO SWEAT'
Grant was born in 1936 in Bo'Ness, Scotland, just outside of Edinburgh. She grew up in the shadow of World War II, sometimes hunkering down in a cramped bomb shelter built by her father when the air raid sirens blared. After the war, at the encouragement of her parents, 11-year-old Christine took up netball—a sport like basketball but minus the backboard—and later field hockey. At the same time, an influential physical education teacher opened Christine's eyes to a possible career in athletics and education.
It wouldn't be until she later moved to the U.S., however, that Grant realized how unique her experience as a young athlete was. "I naively thought every little girl had that opportunity across the world. I was sadly mistaken," Grant said in 2008.
Grant studied as an undergraduate at Dunfermline College of Physical Education in Scotland, then taught and coached for several years in her home country. After befriending a group of Canadian field hockey players who had visited Scotland, Grant in the 1960s decided to move to Vancouver, where she played, coached, and umpired field hockey. Grant helped found a national field hockey organization and became the first coach of Canada's national team.
In 1968, at the height of the feminism and civil rights movement, Grant came to Iowa City to study under Professor M. Gladys Scott (31MA, 37PhD), the widely respected head of the women's physical education department and an expert in biomechanics. It soon became apparent to Grant, however, that America was hardly a land of equal opportunity when it came to women's sports. At the UI, where students and alumni took pride in their Hawkeyes, women had to pay out of their own pockets to compete on club teams and weren't allowed to play in the Field House. When Grant became coach of the women's golf club, her squad couldn't practice on local courses without paying. Instead, they practiced with whiffle balls on the grass near the Iowa Memorial Union.
About that same time, the UI began planning for a new recreation building that would open in 1970. When Grant learned that there were no women's restrooms or locker rooms in the initial designs—despite the project being funded by both men's and women's student fees—she pushed back. "And I'm sure that that was the trigger that made me a feminist. That blew me away," Grant said in 2009.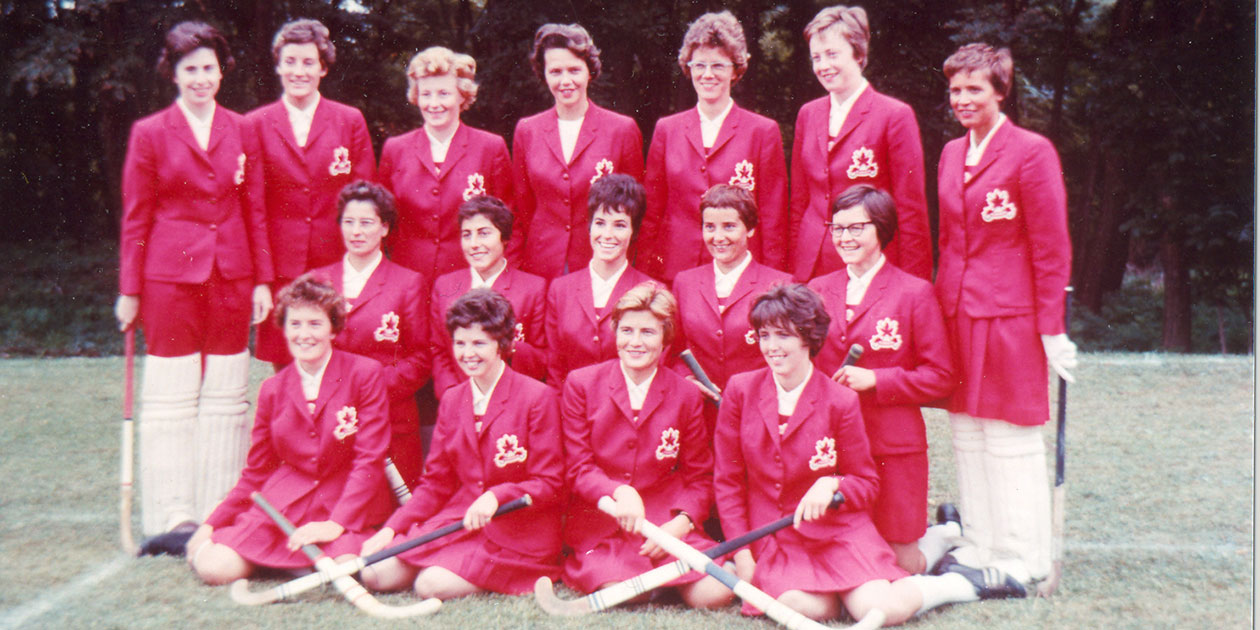 PHOTO COURTESY HAWKEYESPORTS.COM
Grant (back row, center) served as the first coach for Canada's national field hockey team in the 1960s.
Her biggest hurdle, though, was an American culture that considered it unladylike to play sports beyond a casual round of golf or tennis match. "Women weren't expected to sweat at all," Grant said in an early 1990s interview. "At the most you glowed. Well, you can't aspire to be great if you just glowed."
Grant was a doctoral student when, on June 23, 1972, Title IX was enacted into law. At the time, the NCAA oversaw only men's competition, and women's club teams at schools like Iowa didn't receive school funding, much less scholarships. Title IX, however, dictated that federally funded educational institutions must provide fair and equal treatment to all sexes, including in athletics.
Although many universities resisted Title IX's requirements, Willard "Sandy" Boyd (81LHD)—the UI's progressive and civil rights-minded president—embraced the change. "For so many years, women were really not adequately recognized or incorporated into all aspects of the university," Boyd told Iowa Alumni Quarterly in 1999. "All sports were men's sports, and physical education was a male operation. At the time, the women's physical education department was not only an outstanding P.E. program, but it had a strong commitment to gender equality. And when it came time—long overdue—for women's athletics, the leadership came out of that department."
In fall 1973, Boyd elevated a dozen women's club sports to the varsity level with a combined budget of $30,000. Instead of bringing the women's teams under the umbrella of the men's program, which was led by athletic director Bump Elliott, Boyd endorsed a campus committee's recommendation to establish a separate Department of Women's Intercollegiate Athletics. Scott encouraged Grant to apply for the directorship. At the time, Grant was teaching and working on her dissertation while leading a field hockey club that she founded on campus. Her plan had been to earn a PhD and move back to Canada, but her leadership abilities vaulted her to the top of the application pool. She accepted the job at a salary of $14,000.
Once hired, Grant set to work building a women's athletic department but had few resources—or staff. Her duties involved chalking playing field lines. "There was no funding, no uniforms, no paid coaches, no support at all for women's athletes," recalls Lark Birdsong, whom Grant hired as Iowa's first women's basketball coach. "Undaunted, Christine decided to change this."
Women's athletics moved into Halsey Hall, the longtime home of the women's phys ed department and gymnasium. A portion of the building's kitchen was converted into a makeshift office for Grant—the irony of which wasn't lost on the new administrator. Grant said her secretary would call down to the kitchen each morning and ask her to put the soup on the stove.
With a limited budget for travel, Grant's student-athletes sometimes had to sleep on gymnasium floors during road trips, and they made do with two sets of uniforms between the 12 teams. "Now you try putting your gymnastics team and your volleyball team into the same set of uniforms," Grant said. "I was angry, I was really angry, because there was such a disparity in how we were treating our young men and our young women. I just thought that if enough of us really pushed and tried to bring it to the attention of the university that this wasn't right, we could make a difference."
'CHRISTINE GRANT WAS MY REASON FOR COMING TO IOWA'
In November 1973, five months after the passage of Title IX, Grant and UI faculty member N. Peggy Burke (65PhD) represented Iowa at the first delegate assembly of the newly created Association for Intercollegiate Athletics for Women in Overland Park, Kansas. "This was a meeting of women who loved sport, who had been denied their fair opportunity in sport, and who realized that they were being given an opportunity to be in on a revolution. It was electric," Grant said. "We drove back, and we never stopped talking for another month after that."
The AIAW brought together the nation's disparate women's athletics organizations under a single governing body for the first time and coordinated national championship events. Grant became the group's president in 1979. Burke and Bonnie Slatton (70PhD), Grant's close friends and fellow UI physical education department faculty members, also served as presidents for the AIAW in the 1970s and added to Iowa's national influence.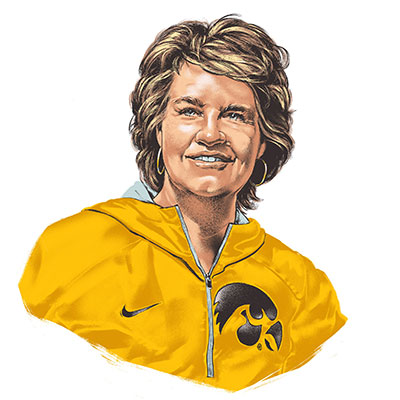 "I owe Dr. Grant so much. She hired me to coach at this university that I love so dearly. More importantly, she gave the opportunity to thousands upon thousands of girls to enjoy and benefit from participating in athletics. Without Dr. Grant's commitment and efforts to gender equality, girls and women would not be able to experience the benefit of sport the way we know it today." —Lisa Bluder, Iowa women's basketball coach
Grant testified before Congress on the impact and implementation of Title IX several times, and she served on a 1978 Title IX Task Force. She was called as an expert witness in numerous lawsuits filed against universities that refused to comply with the law and traveled the nation lecturing on the status of gender equity in college athletics. The AIAW disbanded in 1982 after a bitter legal battle and takeover by the NCAA. "You really lost a lot of the female leadership," says Barbara Burke, who played basketball and softball at Western Michigan University from 1976 to 1980. "Before that, you had women's athletic directors managing the athletics programs on campuses. But when the AIAW was no longer, they became one department."
Another major setback came in 1984, when a Supreme Court ruling effectively stripped Title IX's coverage of athletics. The Civil Rights Restoration Act of 1987 eventually reversed that ruling, but Title IX would remain a political lightning rod.
At the UI, Grant maintained autonomy of the women's program, and Iowa was one of the few universities to have separate programs for men and women. By the mid-1980s, Iowa had established itself as a beacon for women's athletics. Grant lured several up-and-coming coaches to Iowa City, including Judith Davidson, who led Iowa to a field hockey national championship in 1986; C. Vivian Stringer, who transformed the women's basketball team into a national power that reached the 1993 Final Four; and Gayle Blevins, who guided Hawkeye softball to the Women's College World Series four times.
"Christine Grant was my reason for coming to Iowa because I wanted to know what it was like to work for the very best athletic director in the country," said Blevins during a panel discussion last fall at FRYfest in Coralville honoring Grant and Elliott. "And I was never disappointed. … So many of my colleagues across the country were envious of what we had because they knew that it was not this way in a lot of places."
Stringer came to Iowa City in 1983 after leading Cheyney State, a historically Black college in Pennsylvania, to the national title game the previous year. During the interview process, Grant assured Stringer—who was also being courted by Kentucky, North Carolina, and USC—that she'd have the funding and support to recruit and compete nationally. "I then asked Christine how she would handle it if I had an all-Black team, not that I intended to recruit an all-Black team, but my Cheyney State team was all-Black," Stringer wrote in a tribute to Grant this past winter. "Christine said, 'Oh, Vivian, that doesn't matter. What matters is that girls are getting an opportunity to play sports and get a paid education.'" Later, Grant would call Stringer's hiring "the best recruiting job I ever did in my life."
Another major selling point for Stringer was the newly built Carver-Hawkeye Arena, which opened its doors in January 1983. Grant applauded the $18 million arena as "an equal opportunity project." Yet her stake in the arena didn't come without its struggles. "When the very first draft came to us, all of the offices for men's head coaches were in the front with glass windows, and the women's coaches were in the back with no windows at all," Grant said. "Bump told the architect, 'I think you better go back to the drawing board.'"