Readers reflect on UI theater, Mickey Mantle, and Iowa City pizza.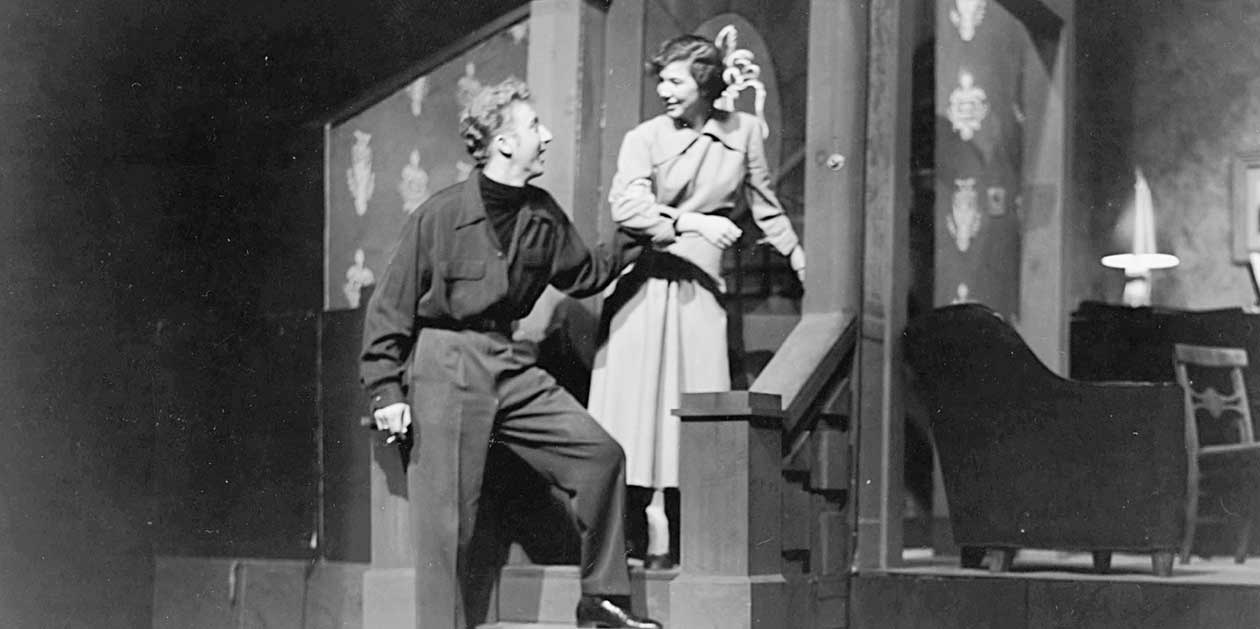 PHOTO: FREDERICK W. KENT COLLECTION OF PHOTOGRAPHS, UI LIBRARIES SPECIAL COLLECTIONS AND UNIVERSITY ARCHIVES
Gene Wilder (left) in the 1951 UI Theatre production of Stage Door
Golden Age of Iowa Theater
I read about Jim Hatch's incredible saga with great admiration and nostalgia; thank you for featuring his amazing story of unique achievement ["The Seven Ages of James V. Hatch," spring 2021, p. 22]. I had the pleasure and privilege of being an undergraduate speech and dramatic arts major while Hatch (55MA, 58PhD), Richard Schechner (58MA), Ted Shine (58MA), and J.P. Cochran (58PhD) were completing their graduate degrees—and Gene Wilder (55BA) was playing John Proctor in The Crucible (as Jerome Silberman).
I remember each of them very well. Although I stayed in touch with Hatch and Schechner briefly after Iowa, our paths diverged geographically, occupationally, and personally a few years later, and I lost touch with everyone except Wilder, whom I would see from time to time over the years. I did bump into Hatch and Camille Billops in New York about 15 years later. Hatch told me about their work and graciously invited me to come down to their loft, but, sadly, I never did. My loss.
Interestingly, I've spoken a few times with Alan MacVey, director of the UI Division of Performing Arts, about Shine's play, Epitaph for a Bluebird—about how remarkable it was that Iowa had featured a play by a Black author, with an entirely Black cast, years before many universities had even integrated their student bodies. I was proud of that.
By the way, my excellent theater training did not go for naught; while living in Providence in 1963, I was a founder of the award-winning Trinity Repertory Company, under Adrian Hall at the time, and acted in its resident company for several years. Love of the theater never wanes.
Roz Samberg Goldberg (58BA)
Sarasota, Florida
---
Stage Presence
The winter 2020-21 issue of Iowa Magazine celebrated the centennial season of the UI Department of Theatre Arts ["A Century of Drama"]. I was pleased to see so many alumni mentioned who have gone on to successful artistic careers. While I appreciate that not all of these artists could be included, it was a disappointment to not see my good friend since childhood, Iowa City native Rinde Eckert (73BA), mentioned.
Eckert continues to have a highly regarded artistic career as a celebrated writer, librettist, Grammy-winning composer, vocal and instrumental musician, actor, dancer, and director who has been a vital part of New York City's performance art community for four decades. This "total theater" artist's original music, operas, plays, librettos, and dance scores include many acclaimed one-man shows. His productions have toured throughout America and to major theater festivals in Europe and Asia. His teaching has included Princeton University; University of California-Davis; University of Nebraska; and his alma mater, the UI. At Iowa, he was twice an artist in residence—the second time when he created, directed, and performed the play Eye Piece, and was one of the honored artists to perform at the opening of the new Hancher Auditorium. He is even included in your UI Theatre Arts website history, and his picture is present on the wall of fame in the theatre arts department. In 2014, he received a UI Distinguished Alumni Award.
Other honors include the American Academy of Arts and Letters' Marc Blitzstein Award, a Guggenheim Fellowship, the Alpert Award in the Arts for Theatre, and being named an inaugural Doris Duke Artist. In 2007, Eckert was the finalist for the Pulitzer Prize in Drama.
Thank you for your issue celebrating the UI theatre history. I know that you are proud of the career of your alumnus, Eckert, who continues to grace us with his highly creative art.
Peter M. Spalding (74BA, 78DDS)
Santa Fe, New Mexico
---
Mantle in Iowa
I idolized Mickey Mantle as a young boy for the reasons Mike Wellman (76BGS) described in "A Lot Like Mickey", but Mantle's star took a fall in my mind after I read the Ball Four exposé by Jim Bouton. Wellman's article is a wonderful piece of writing that shares the stumbles of a star player and offers hope to those with similar struggles.
John Nevins (78BBA, 80MBA)
Glen Ellyn, Illinois
My husband, Richard Montross (66BA), worked at Amana Refrigeration and was host to Mantle at that VIP golf tournament. Mantle was Richard's childhood idol, and he was thrilled to host him. Sadly, it was a disillusioning experience because Mantle was rude to fans—particularly to children. He got into Richard's car still wearing his golf shoes, argued about the route Richard drove to the hotel, and was generally disagreeable. When the VIP ended, Richard was no longer a fan of Mantle.
Barb Montross
Iowa City
During my orthopedic residency at Iowa from 1978 to 1980, I lived on Emerald Street, right next to Finkbine Golf Course. I crossed Melrose Avenue many times to play golf on Finkbine, so reading this recollection brought back a lot of fond memories from those two years. I graduated from high school in Kentucky in 1971, so I am of the same vintage as Wellman. I always enjoy reading Iowa Magazine, so keep up the good work!
Jim Woods (80MS, 80OrthS)
Paducah, Kentucky
---
Pizza Town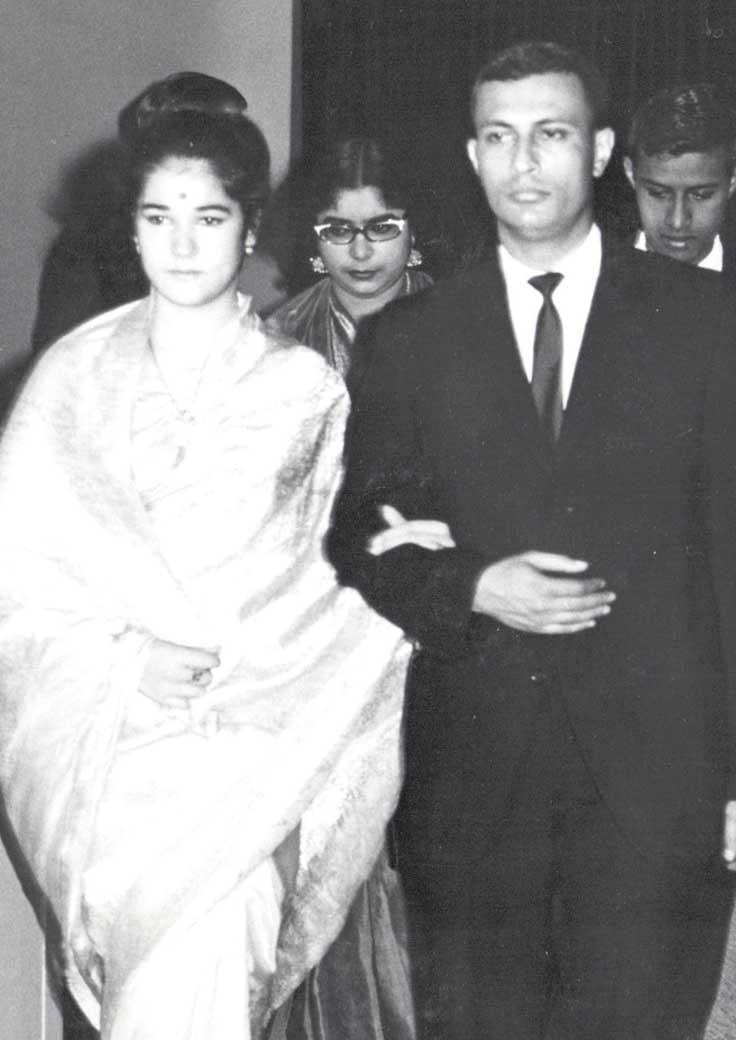 PHOTO COURTESY AMRUTUR SRINIVASAN
UI grad students Kamla Khuller and A.V. Srinivasan were engaged over pizza at George's Gourmet in the 1960s. Robert Michaelsen of the UI religious studies department officiated their wedding Aug. 7, 1965, at Danforth Chapel, while Paul Engle (32MA), Khuller's adviser at the Iowa Writers' Workshop, gave the bride away.
Your story on favorite pizza ["Pizza Pride"] brought back fond memories of my wonderful time in Iowa City many years ago. As a graduate student working toward a PhD in engineering, I spent four years in Iowa City and was a regular—along with many other students from India—at George's Gourmet. It looks like your story missed that great restaurant, always full, which served the most delicious pizza in town. Our favorite pizza was one with lots of finely chopped green pepper with extra cheese. Believe me, I have tried to find something like it in every state I have visited and lived since, and nothing comes even close.
George's Gourmet means something much more than pizza to me. This is where, over pizza, my wife, Kamla Khuller Srinivasan (66MFA), who was enrolled at the Iowa Writers' Workshop at the time, consented to marry me!
A.V. Srinivasan (65PhD)
Glastonbury, Connecticut
First of all, I love what you do. For true-blooded Iowa Hawkeyes, your magazine is the best! The "Pizza Pride" story in the summer issue, however, needs a correction. The article states, "The Airliner touts itself as the oldest bar in Iowa City." The Airliner may tout itself as that on its website, but there are at least three other bars that are older: The Hilltop is the oldest (1933), followed by Dave's Fox Head (1934) and George's (1939). The Airliner opened in 1944. Latecomers.
David A. Petreman (76MA, 84PhD)
Milford, Ohio
---
The Race From East Hall
I knew Seashore Hall ["Going Green," summer 2021] as East Hall when I attended the State University of Iowa from 1945 to 1949. It provided much-needed class space for the influx of students attending college after World War II. Looking at the building, one could tell where there once had been operating rooms. I had labs for a psychology course there three times a week, and the assistant professor always kept us late. I had to run from there to my job as an admissions clerk at University Hospital.
Pat Humphreys Johnson (49BSC)
Jamestown, North Carolina
---
Hearing Firsthand
Many years ago, the Rowan, Iowa, Lions Club gave its support to the UI's cochlear implant program, which you've written about in "Heard It Here First". As a result, Tim Brandau (07BSE) and his parents visited our club to express their thanks and to explain more about the program. Hearing more about Brandau and how this implant has affected his life was rewarding.
Wilma Aldrich
Des Moines
---
On the Olympic Track
I enjoyed reading the summer 2021 issue of Iowa Magazine. The layout is nicely done, it is easy to read, and the design is balanced and consistent.
In the "Golden Opportunity" spread about the Olympics on p. 14-15, I was disappointed that Coach Ted Wheeler (57BA) wasn't mentioned. He was a UI student, participated in the Olympics, and came back to the university to support Iowa athletes—especially through the recruitment and retention of athletes of color.
Coach Frank Cretzmeyer (1906MD) recruited Wheeler for the UI while seeing him run in Wheeler's hometown of Evanston, Illinois. Wheeler later ran the 1500 meters in the 1956 Melbourne Olympics. He became head coach of the Iowa men's cross-country team from 1979 to 1987, and head track coach from 1978 to 1997.
Renee Sueppel (87BA, 94MA, 97MFA)
Iowa City