Following my childhood idol from the 19th hole at Finkbine Golf Course to sobriety.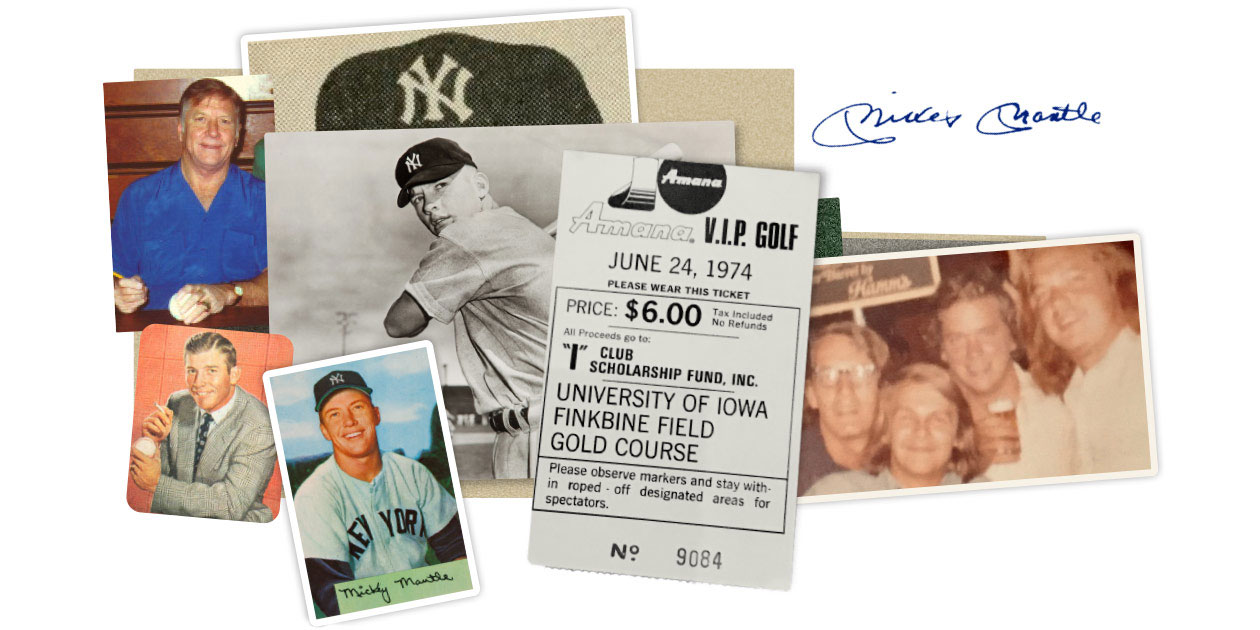 SOURCE IMAGES: WIKIPEDIA AND MICHAEL WELLMAN
Rediscovering his autograph from Mickey Mantle's appearance at the 1974 Amana VIP led University of Iowa alumnus Michael Wellman to reflect on 27 years sober—a milestone his boyhood hero never approached.
It only took me three years to graduate from the University of Iowa, but not because I was a bookish whiz kid. After graduating from Des Moines Roosevelt High School in 1972, I spent my freshman year as a collegian at St. Olaf College in Northfield, Minnesota. The following year, I transferred to Iowa. There were several reasons why, but high on the list was a social/civil right, one I abused until it was almost too late.
When I graduated from high school, the legal drinking age in Iowa was 19. In 1973 it was lowered another notch to 18. Minnesota also lowered its threshold to 18 that year, but I was gone by the time the change went into effect. Besides, St. Olaf remained a dry campus.
I'd had my fills of fun and trouble associated with bootlegging and bogus IDs as a schoolboy and eagerly anticipated rejoining cronies in Iowa City where we'd be able to drink legally. My drinking-related problems, I reasoned, would be solved by the law recognizing me as an adult. True adulthood proved elusive, however, and it would be many years before I realized and accepted what the solution to those problems actually was.
For a sneak peek at life in Iowa City, I hitchhiked there from Northfield in February 1973 to celebrate my 19th birthday with a Grateful Dead concert at the Iowa Field House. That weekend cemented my intention to transfer.
I did fine academically at Iowa despite an extracurricular lifestyle that was extra bibulous. The one blemish that stood out like a scarlet letter on my transcript was the C I received in a creative writing course. It was taught by bestselling novelist John Irving (67MFA), who was in residence at the Iowa Writers' Workshop. I wrote an account of my most notorious high school drinking escapade, and Irving's feedback was that it rang too implausible.
The fall semester of my senior year started spectacularly when Bruce Springsteen performed at the original Hancher Auditorium under the auspices of the Hancher Entertainment Commission. HEC was a student organization headed that year by a friend I met when we both lived in Currier Hall. Thanks to him, I got to help unload equipment for that show on September 26, 1975, right about the time the Born to Run album released that launched Springsteen to stardom. I had great comp seats for the concert, too. Alas, I barely remember it.
As a journalism student at Iowa, I had a part-time job with The Daily Iowan, covering intramurals and writing features about the athletic department. I got to travel with the football team to Northwestern and write about the Hawkeye victory.
Football victories were rare in those days. In 1973, my first year on campus, the team was 0-11, which led to the ouster of head coach Frank Lauterbur. He was replaced by Iowa alumnus Bob Commings (60BA), and the first home game of the Commings era was a stunning upset of 12th-ranked UCLA.
Fueled by high-octane beverages passed through the ranks in the student section, I climbed out of the stands as the final seconds ticked away. Weaving from the Iowa sideline across to UCLA's bench to taunt the Bruins at close range, I was just ahead of the mob that swarmed the field when the gun sounded.
The win proved to be something of a false positive for that football team, as would my 4.0 GPA in fall 1975, the only straight-A report card I ever achieved.
Another event that took place in Iowa City during my years there has risen dramatically in my rankings of most memorable in the years since it happened.
On June 24, 1974, I attended the Amana VIP. "The Masters of Pro-Ams" was hosted annually at Finkbine Golf Course from 1968 to 1990. It always drew a star-studded field of golfing greats who were paired with celebrities from other sports and showbiz. I was most excited by the prospect of seeing Arnold Palmer, although Mickey Mantle was among the other luminaries scheduled to appear. It was Palmer's first appearance at the event, a popular and pressure-free break from the regular PGA tour. A huge crowd turned out on an unusually mild day for late June in Iowa.
I parked in an ad hoc acreage of cars across Melrose Avenue from Finkbine, arriving just as Palmer emerged from the clubhouse to loosen up before his round. I managed to wriggle into a vantage point that offered a clear view of him on the practice range and could even hear his quips to "Arnie's Army." My primary mission accomplished sooner than expected, I spent the rest of the day wandering the course, indiscriminately stargazing.
Hiking through the rough somewhere on the grounds, I suddenly realized a cart coming right at me was piloted by Mantle in search of an errant shot. I'd not sought any autographs, not even Palmer's, but given the chance at Mickey's I was taken by the impulse to ask for it. There was nothing for him to scrawl it on besides the back of my ticket, and he readily obliged.
Mantle was five years retired from the Yankees, only weeks shy of his induction into the Baseball Hall of Fame. Though I'd grown up a Cub fan and a Yankee loather, there'd always been something irresistible about him. His aw-shucks persona and beach bum good looks, combined with his prodigious talents, made him the object of hero worship from lots of boomer little leaguers. The alliteration of his name seemed scripted for the PA announcer at Mount Olympus. Long before the marketing mantra "Be Like Mike" was inspired by basketballer Jordan, the fantasy for a generation of boys was to grow up and be like Mickey, "the blonde and blue-eyed bringer of truth" from B.H. Fairchild's epic poem, "Body and Soul."
Looking for something else, I recently rediscovered my autographed souvenir from that long-ago day, and it pulled me down a wormhole.
The Des Moines Register account of the event mentioned there'd been quite a party the night before. Bobby Nichols, one of the golf pros whose 68 was near the top of the leaderboard, said he'd been up almost all night partying with Mantle. Lou King (48BSC), the former Hawkeye quarterback and Amana executive who coordinated the event, joked that Mantle hadn't played well during his round. "I think our party was too much for him," King chuckled.
When Mantle and I briefly crossed paths at Finkbine in summer 1974, it was the random intersection of a couple of sots who'd not yet hit bottom. Twenty years passed before we both did, just as coincidentally as we'd met for that moment notarized by a signature on an event ticket.
On April 18,1994, Sports Illustrated published a personal essay by Mantle, who had just completed a course of addiction treatment and was trying to sober up and make amends. Two nights later, I went to a ballgame in Des Moines with some drinking buddies. I came to the next morning, on April 21st, hungover and remorseful on a date that's been an occasion for thanksgiving ever since. Fortunately, finally, I determined to change my lifestyle, but not because of Mickey. I'd simply had enough of myself.
It was about time.
By then, alcoholism had cost me jobs, money, relationships, self-respect, and nearly my life. There'd been car accidents, arrests, and a couple rounds of treatment for me, too.
A year after the Sports Illustrated article, Mantle received a controversial liver transplant. He was a celebrity whose illness was self-inflicted in the eyes of many moving to the top of the waitlist. Following the surgery, Mantle—candid and contrite—echoed the sentiments he'd expressed to Sports Illustrated.
"Don't be like me," was the message he shared at his hospital press conference, just two months before he died, sober, from a cancer the transplant couldn't stop. But I already was.
Broadcaster Bob Costas rose to the occasion of his boyhood idol's death with a stirring eulogy that lauded Mantle's "ninth inning." It also included a lighthearted reference to an editorial cartoon depicting God asking for Mickey's autograph. No wonder I had too, given the chance.
Occasionally I come to Iowa City for football and basketball games. Lately, I've attended the Iowa Summer Writing Festival. And a couple years ago, I accompanied a busload of high school students on a campus tour. They were "first gens," kids who would become the first in their families to attend college. I was along in my role as staff writer for the communications office of the Des Moines Public Schools, a position I retired from last fall.
When the group visited a dormitory, where should we be guided but Currier Hall. There I unexpectedly was again, standing right outside the door of N30, my old room. I noticed the light fixtures in the hallway don't hang from the ceiling now like they did in 1973-74 when someone in that corridor busted one out with a football.
That tour was an especially good one in a long and ongoing series of days, the worst of which have been better than my best day drunk. In April 2021, I marked 27 years of sobriety. I figure I'm rounding the bases toward a home run as triumphant as the last of Mickey Mantle's.
---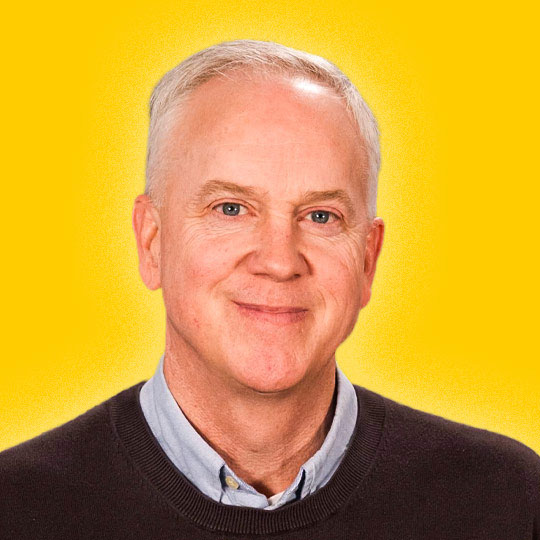 PHOTO COURTESY MICHAEL WELLMAN
Michael Wellman (76BGS) is the author of Far from the Trees: The Troubled Sons of an American Neighborhood, a finalist in the 2009 Indie Book Awards, and STUBS: A Father's Tickets to the Greatest Shows on Earth. Versus the Demons, his first novel, was a finalist in the 2014 Indie Book Awards. He is a regular contributor to the Des Moines Register whose work has appeared in The Iowan and on Iowa Public Radio.