Hawkeyes dish on their favorite pizza from their college days.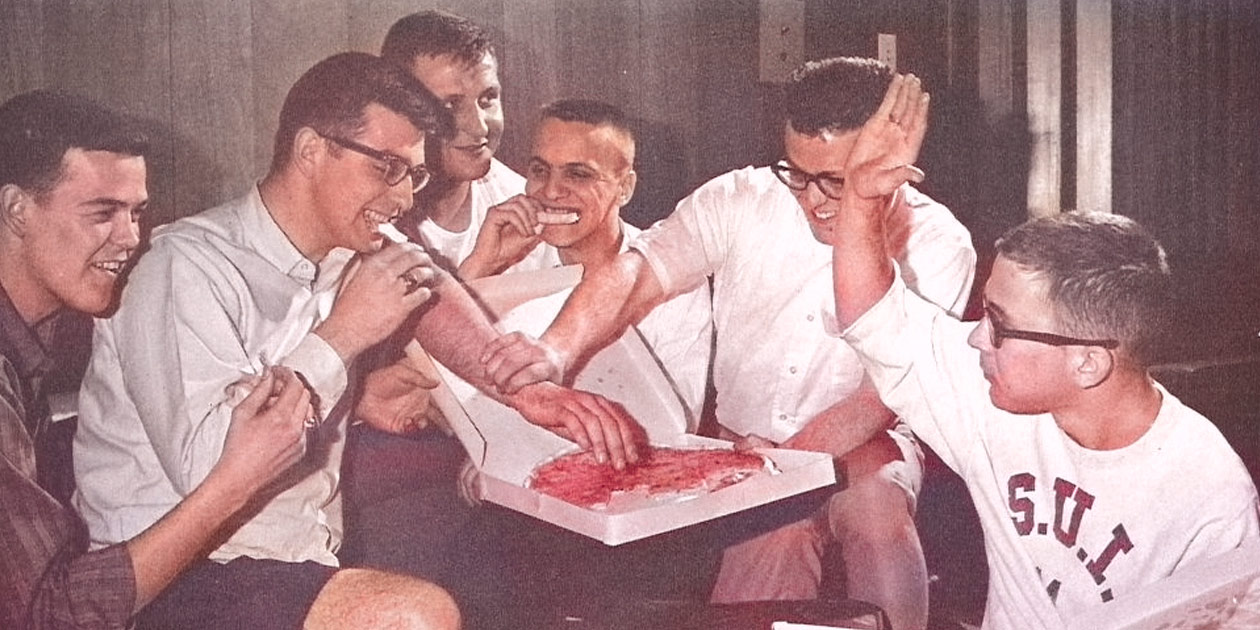 Photo: University of Iowa Hawkeye yearbook, 1962
Phi Kappa Theta members devour a pizza in this photo from the 1962 Hawkeye yearbook.
Greasy and gooey. College memories are made over a shared, late-night pizza. Whether cramming for an exam or closing out a fun night with friends, pizza is an essential food group for any college student. For this obvious reason, Iowa City is home to phenomenal pizza—just ask any Hawkeye (And we did! On Facebook).
They know their 'za. And they have strong opinions about it.
Favorite Pizza Places in Iowa City, According to Hawkeyes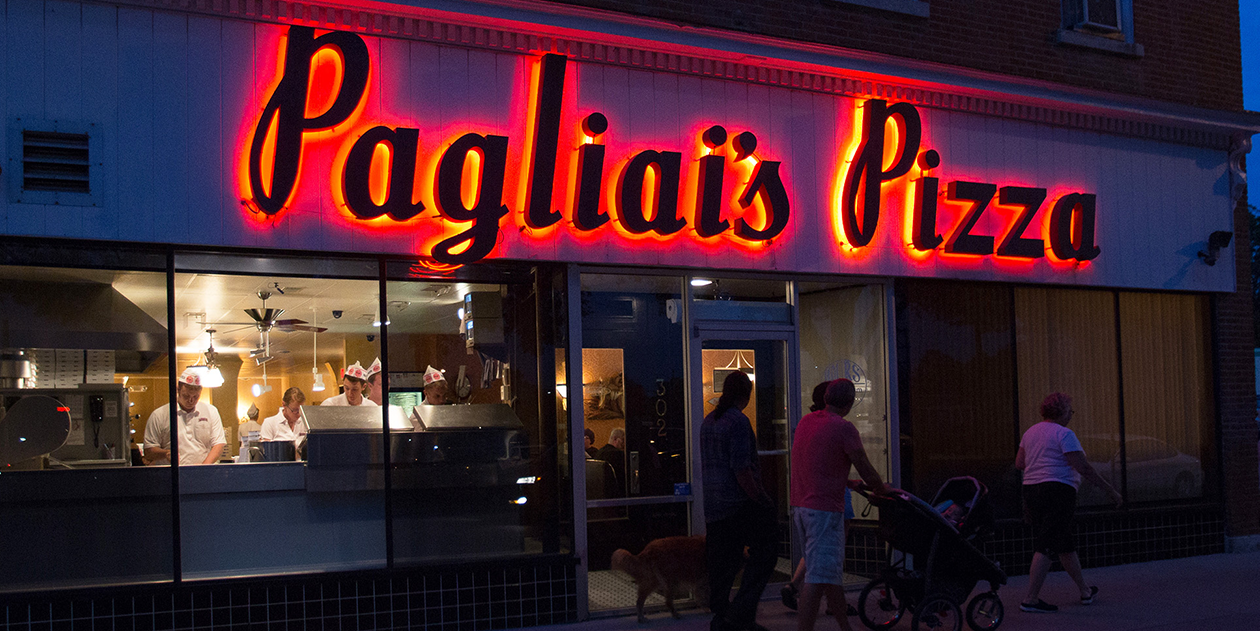 Photo: Think Iowa City
An exterior photo of Pagliai's Pizza, a popular pizza place among University of Iowa graduates.
302 E. Bloomington St.
Nestled in the heart of Iowa City's charming northside neighborhood, Pagliai's features a unique atmosphere almost as delicious as its pizza. In this shop, time seems to have stood still since its 1957 opening. Pizza makers adorn paper hats and clean, white aprons while they assemble thin-crust masterpieces in front of a picture window. Fans recommend the Palace Special, a supreme pizza with generous helpings of pepperoni, beef, sausage, and fresh veggies. Hawks suggest you let this pie cool before you dig in—it comes out piping hot!
Pagliai's Pizza always! <3 - Eileen West Patterson
There is only one pizza in Iowa City. Pagliai's. - Lee Riter
Still love Pagliai's! - Teresa Wickman
I CRAVE Pagliai's!! This makes me homesick! - Laura Cannon
22 S. Clinton St.
$1 slices on Sundays. Half-price pizza on Tuesdays. Need we say more? The Airliner touts itself as one of the oldest bars in Iowa City. Its tasty pizzas have kept this joint hopping since 1944—that's more than 70 years. Hawkeyes pack this hot spot on the weekends to socialize with friends and to watch Iowa sports on its flatscreen TVs. The Airliner menu is extensive, including the pizza it offers—from classics like supreme and vegetarian, to specialty flavors like taco, Thai, and buffalo chicken.
Airliner in Iowa City! - Jeff Rose
The Airliner dollar slices on Sunday!! - Rebecca Kay Fell Ranshaw
A lot of places but the Airliner gave the feels! - Akash Bhalerao
702 S. Gilbert St.
Named after the green clay cartoon character Gumby, this is a cheap, late-night favorite in Iowa City. More famous than the pizza is Hawkeyes' obsession with Pokey Stix, which are ooey gooey cheese sticks that come with dipping sauce. Several alumni ordered from Gumby's so frequently they still have the phone number memorized.
Ahh Gumby's Pokey Stix were life in college. - Penny Senra
We'd literally order Pokey Stix as we walked back from Kinnick after games. - Laura Avey
25 years later I still remember Gumby's phone number, 35-GUMBY. However, there are a number of late nights that I tried to dial, 35-POKEY. - Betsy Oakland-Garey
114 E. Washington St.
Newer to the Iowa City scene is this popular evening hangout for students. The line at 2 a.m. to snag a gigantic slice of one of these crazy flavor combinations is long. When we say crazy, we mean it. Gyro pizza? Check. Cheesy potato pizza? Check. Steak and fries pizza? Check. And most famously among the Hawkeye faithful—the mac and cheese pizza.
Mesa!!! - Grace Reske
The original location in Coralville is designed to replicate a London club of the same name. Since 1988, this restaurant has been delighting fans with its famous Flying Tomato-style pizza, which is thin crust-turned-deep dish, loaded with extra cheese and fresh tomatoes. You can order a Flying Tomato pizza as is, pile on your own toppings, or ask for it as the base for one of Wig & Pen's popular combination pizza offerings.
Wig & Pen. Damn that was good stuff – Flying Tomato! - Erica Slauson
Gone but Not Forgotten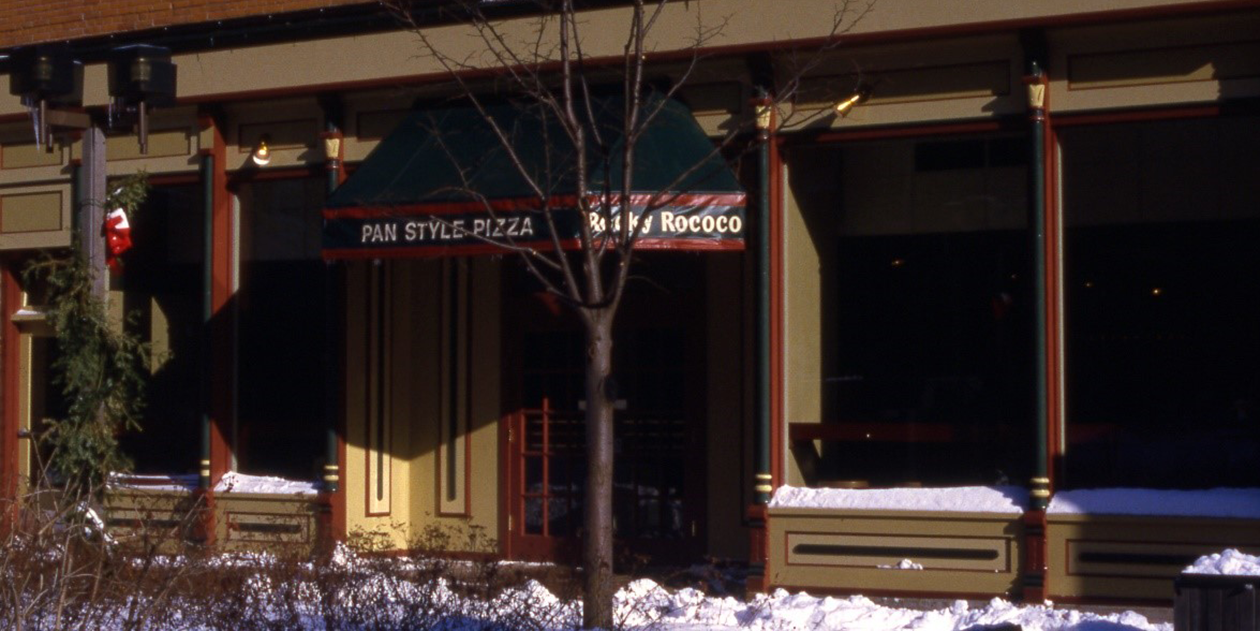 Photo: Iowa City Public Library Digital History Project
An exterior photo of what was then Rocky Rococo's restaurant in 1985.
Previously located at 118. S. Dubuque St.
While Rocky Rococo's may no longer be a staple in Iowa City, it is beloved and remembered by many Iowa graduates. Its pizza was famously served by the slice in individual slice boxes. If you really have a hankering, this chain is alive with franchises based out of Wisconsin. The space is now occupied by Fieldhouse, a sports bar.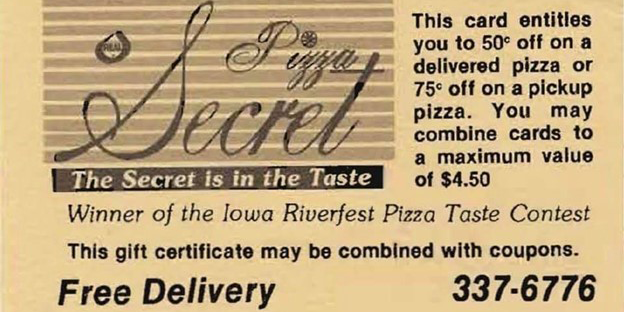 Photo: Nick Ridenour from Facebook
A picture of an old Secret Pizza coupon.
Secret Pizza
Shh. It is a secret. Kind of. 
Secret Pizza closed about 20 years ago, and was popular in the 1980s and 1990s, according to an article by Little Village. Hawkeyes say when it was open you could receive a reward for figuring out this mystical pizza place's actual location—often a free pie or  2-liter of generic pop. The former owner, Roger Larson, told Little Village, "It was just a fun thing to do, challenge people to find us." Secret Pizza is still talked about on corners of the internet, including on reddit, where fans continue to reminisce.
Secret Pizza. That dude rocked! 😊 Wasn't it a free bottle of generic soda if you guess the location? - Kevin DeCoster
Secret Pizza. Down on S. Dubuque by the train tracks. Sauce and crust were the bomb … if you stayed up long enough until he arrived ... good stuff. - Anthony Rollins
I was sure no one would remember Secret Pizza! Great pizza!!! - St. Clair Blackman
---
What is your favorite pizza place in Iowa City and why? Email uimagazine@foriowa.org.