With the postponed Tokyo Olympics approaching, we look back at Iowa's Summer Games legends, as well as a few of this year's contenders.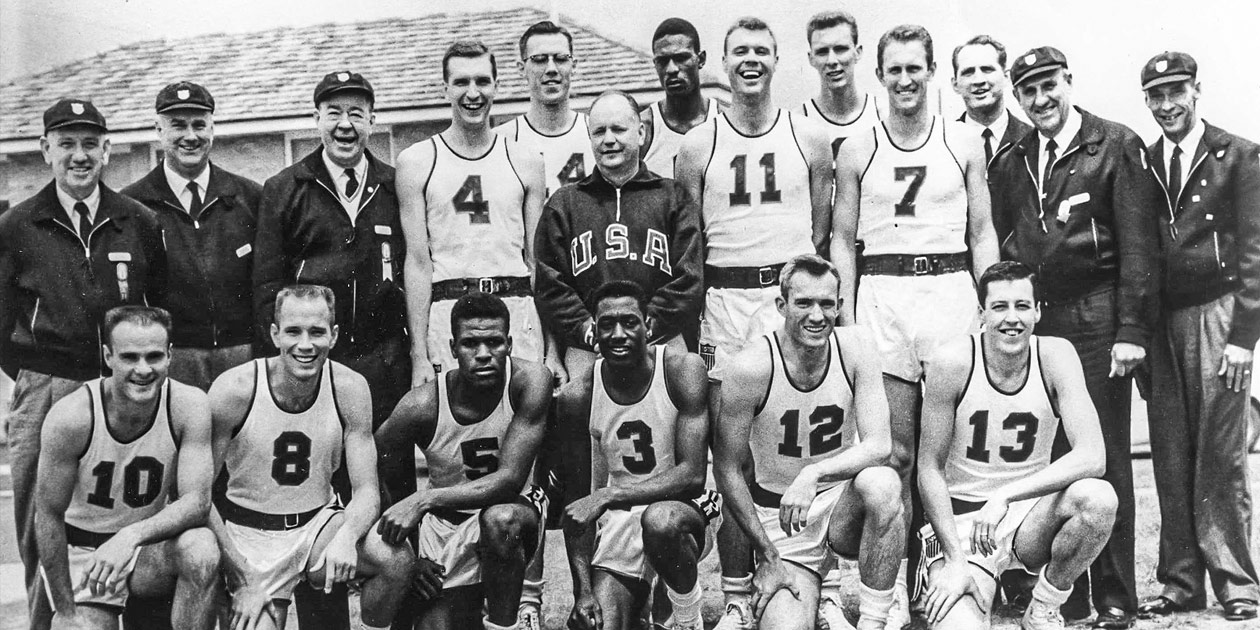 PHOTO: USA BASKETBALL
Two former Hawkeye basketball stars, Carl Cain (56BA) (first row, fourth from left) and Chuck Darling (56BA) (back row, fifth from left), helped the U.S win a gold medal at the 1956 Games in Melbourne, Australia. Led by future NBA greats Bill Russell and K.C. Jones, the U.S. averaged over 100 points a game.
Gold isn't just a team color at the University of Iowa. For many student-athletes, an Olympic medal represents the ultimate achievement in their sport. From Carl Cain and Chuck Darling capturing gold medals in basketball in 1956, to wrestling's Banach brothers in 1984, to sprinter Anthuan Maybank in 1996, Hawkeyes have a proud history of vaulting from NCAA success to Olympic glory.
Following in their footsteps, several current Hawkeyes and alumni are gunning for a trip to this year's Summer Games, which are July 23 through Aug. 8 in Tokyo. Originally scheduled for 2020, the Olympics were postponed a year because of the pandemic.
As we gear up for Tokyo, here's a look at the Hawkeyes' past Olympic heroes and this year's Summer Games hopefuls.
Hawkeye Medal Moments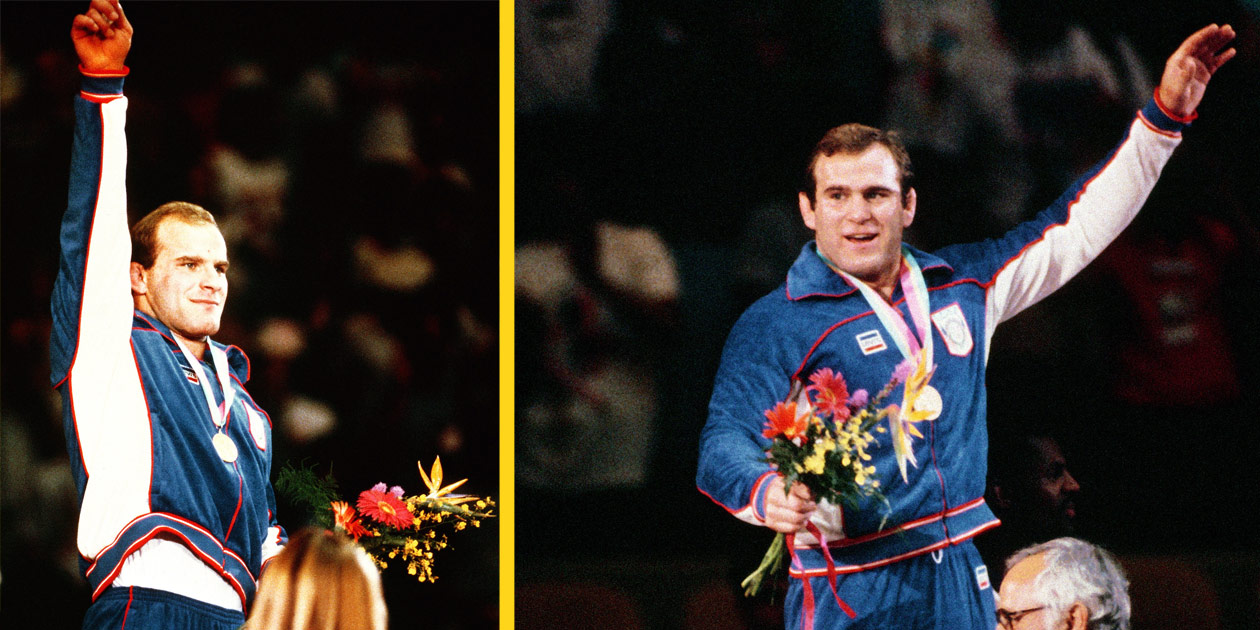 PHOTOS: WIKIMEDIA COMMONS
Lou (left) and Ed (right) Banach
The Banach brothers were two of the four Iowa wrestling alumni who captured medals at the 1984 Olympics in Los Angeles. A three-time national champion for the Hawkeyes, Ed Banach (83BGS) dominated the field at the Summer Games with four-straight victories and a 15-3 triumph in the finals. His twin brother, Lou Banach (83BGS), won two NCAA titles at Iowa before reaching the gold medal stand at the Olympics, culminating with a pin in the finals in 61 seconds.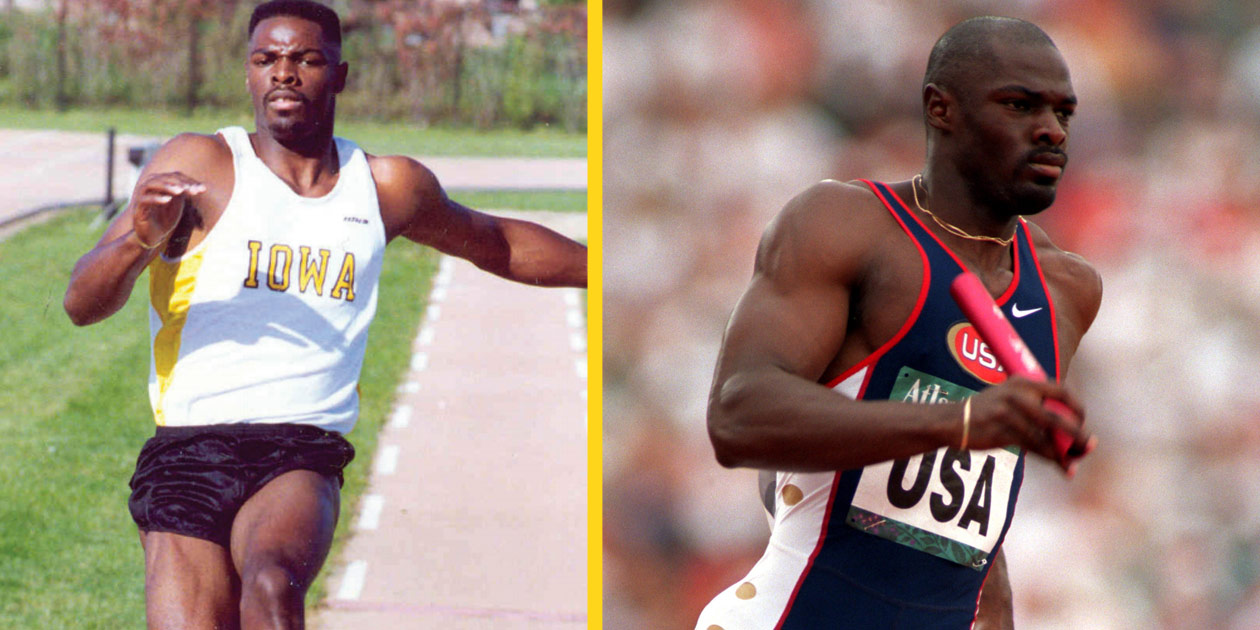 IOWA PHOTO: UI ATHLETICS; OLYMPICS PHOTO: TONY MARSHALL/PA IMAGES/ALAMY STOCK PHOTO
Anthuan Maybank
Anthuan Maybank (94BA) anchored the U.S.'s 4x400 relay team to a gold medal performance in 1996 in Atlanta, outlasting a late push by Roger Black of England in a thrilling finish. Before becoming an Olympic hero, Maybank was an all-time great at Iowa, where he was a four-time All-American and the 1993 Big Ten track and field athlete of the year.
Two former Hawkeye basketball stars, Carl Cain (56BA) and Chuck Darling (562A), helped the U.S win a gold medal at the 1956 Games in Melbourne, Australia. Led by future NBA greats Bill Russell and K.C. Jones from the University of San Francisco, the U.S. averaged over 100 points a game and had a 53.5-point average margin of victory. The Big Ten's MVP in 1952, Darling averaged 9.3 points per game for the U.S. Cain, an All-American for the 1956 Hawkeyes who finished as the national runners-up to San Francisco, saw limited action in the Olympics because of a back injury.
Master Motivators
Two Hawkeye coaching greats helped lead the U.S. to the top of the medal stand: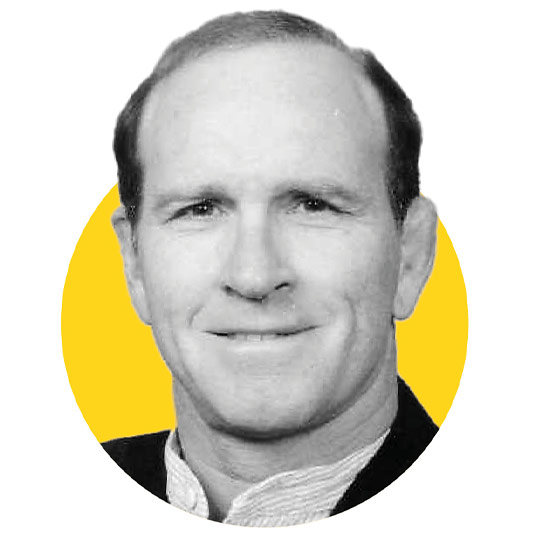 PHOTO COURTESY HAWKEYESPORTS.COM
Dan Gable
Dan Gable: Considered by many to be the greatest wrestler in Olympic history, Gable inspired the nation when he didn't yield a single point in six matches to win gold in 1972 in Munich. Gable went on to become a legendary coach at Iowa, winning 15 NCAA team titles in 21 seasons, but his Olympic days weren't over. He coached the U.S. freestyle wrestling teams at the 1984 Summer Games in Los Angeles and 2000 Olympics in Sydney. Gable also served as coach in 1980, when the U.S. boycotted the Moscow Summer Games. His Olympic wrestlers won a combined eight medals.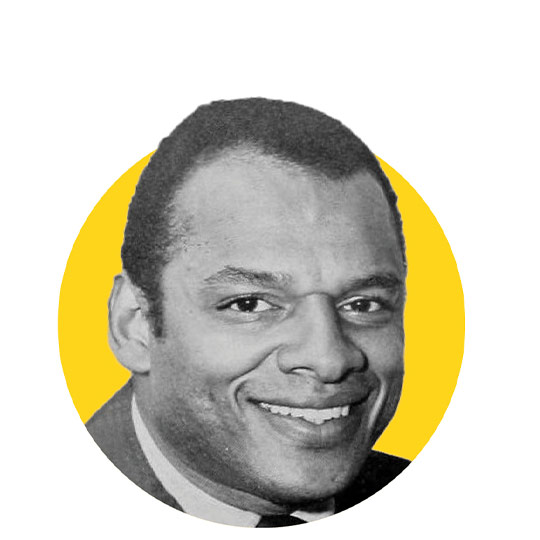 PHOTO COURTESY HAWKEYESPORTS.COM
George Raveling
George Raveling: Known for recruiting some of the nation's top talent to Iowa City as the Hawkeyes' coach in the mid-1980s, Raveling also played a key role in the nation's Olympic success that decade. Raveling served as an assistant coach for two U.S. Olympic teams. In Los Angeles in 1984, Raveling worked alongside head coach Bob Knight as Team USA went 8-0 and took gold, led by players Michael Jordan, Patrick Ewing, and future Iowa coach Steve Alford. Four years later in Seoul, Raveling and head coach John Thompson's U.S. team went 7-1 to earn the bronze with a roster that included David Robinson and Danny Manning.
Hawkeye Hopefuls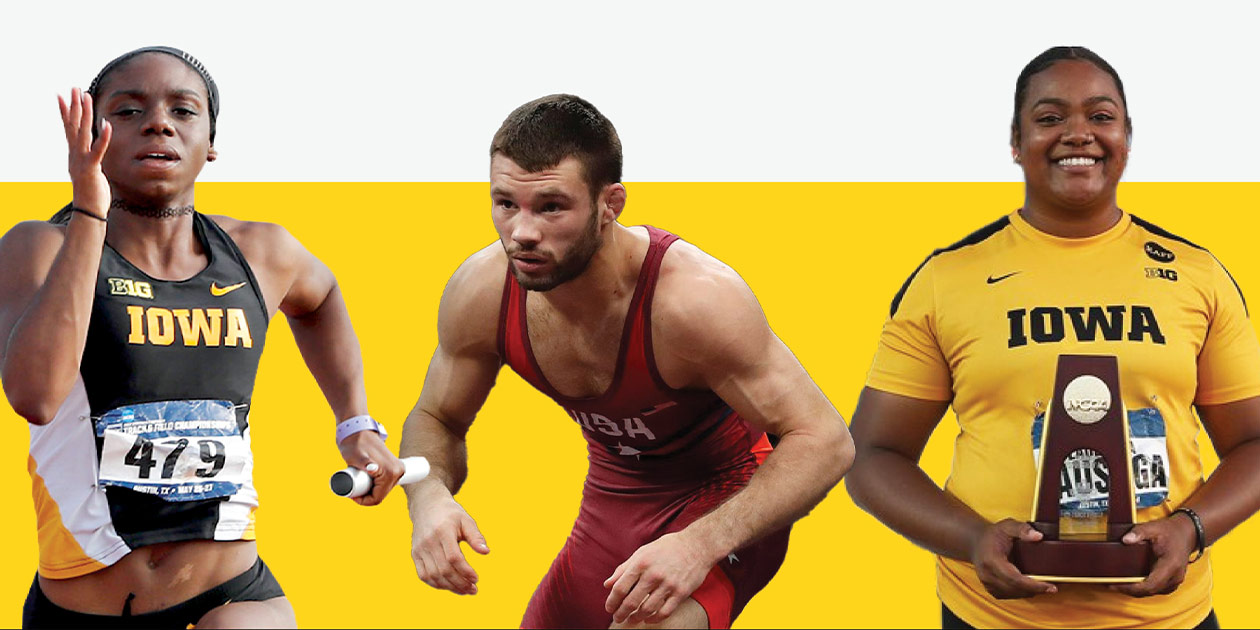 PHOTOS COURTESY HAWKEYESPORTS.COM
From left to right: Brittany Brown, Thomas Gilman, and Laulauga Tausaga
While the U.S. national team won't be finalized in many sports until later this summer, here are a few of the top Iowa alumni contenders for Tokyo:
Brittany Brown (17BA): An 11-time All-American at Iowa, Brown burst onto the international scene with a sensational performance at the 2019 World Championships in Qatar where she took silver in the 200-meter dash. Brown, who was Big Ten champion and school record holder in the 200 (22.30 seconds) at Iowa, won Team USA's first world medal in the women's 200 since 2011. Brown will vie for a spot on Team USA at the U.S. Olympic Track & Field Team trials beginning June 18 in Eugene, Oregon.
Thomas Gilman (17BA): After a dominating performance at the USA Olympic Team Trials, Gilman could become the first Iowa wrestling alumnus to medal at the Summer Games since 2000. Gilman won four straight bouts, including two technical falls and a pin, in the 57-kilogram bracket of the team trials in April to secure his ticket to Tokyo as one of six men's U.S. freestyle wrestlers. Gilman wrestled at Iowa from 2013-17, where he was a three-time All-American, a Big Ten champion, and an NCAA runner-up. Competing internationally, Gilman won silver at the 2017 World Championships. Three-time reigning NCAA champion Spencer Lee, who was Gilman's successor at 125 pounds for the Hawkeyes and potentially his biggest rival for the Summer Games, withdrew from the trials after tearing an ACL during this past collegiate season.
Aaron Mallett (17BS): In 2020, Mallett won a U.S. 60-meter indoors hurdle title and triumphed in the 110-meter hurdles at a prestigious international meet in Qatar to establish himself as an Olympic contender. A seven-time All-American and school record holder at Iowa, Mallett was team MVP in 2016 and placed fourth in the 110-meter hurdles at the NCAA meet as a senior in 2017. Since graduation, Mallett has continued to train in Iowa City with hopes of making the U.S. National Team.
Laulauga Tausaga: The California native became a national champion and All American during her record-setting discus throwing career at Iowa. Now after her senior season with the Hawkeyes, she's throwing herself into her bid for the Olympics. No stranger to international medal stands, Tausaga won a gold medal in the 2017 Junior Pan American Games, and she was a finalist in the 2019 World Championships.
International athletes to watch: Chicago native Troy Doris (12BA), who competes for his family's home nation of Guyana, made the finals in triple jump at the 2016 Rio Games and finished seventh. Chris Douglas (19BS), who was born in Australia, is a top contender to qualify for Tokyo in the 400-meter hurdles after placing first at the Australian Track & Field Championships in Sydney this past spring. Diane Nukuri (08BA) of Burundi is a three-time Olympian in distance running and competes professionally for Asics. Kazakhstan native Aleksey Tarasenko, who competed for the Hawkeye men's swimming team the past three seasons, posted an Olympic-qualifying time at the Open Uzbekistan Swimming Championships in the 100-meter freestyle in April.