The University of Iowa's pioneering work with cochlear implants has transformed the lives of generations of patients who are deaf and have hearing loss. Now a first-of-its-kind robotic device developed by Iowa researchers could result in even better outcomes for cochlear implant recipients.
One day when Tim Brandau (07BSE) was a toddler, he bolted from the fenced-in yard and into the cornfields on his family's farm near Osage, Iowa. It was midsummer, and the crops already stretched high above the boy's head. He felt the thick cornstalks brush against his arms. Smelled the earthy air. Saw the blue sky above.
But Tim didn't hear the frantic cries from his family. He couldn't.
A couple of years earlier, Tim's grandmother first noticed something was amiss. She was working in the kitchen with Tim sitting in a nearby highchair when some pans tumbled out of cupboard, raising a clamor. The child didn't flinch. Tim's parents took him to get his hearing tested by the Area Education Agency, which referred him to University of Iowa Hospitals & Clinics. It was there the family learned Tim was profoundly deaf in both ears.
Tim's family searched their farm that summer day in the 1980s with an extra layer of panic, knowing he wouldn't be able to hear their calls. Thankfully, the boy's legs didn't carry him far. As Tim tells the story today, his mother soon found him playing in the dirt, content and unharmed.
Keeping Tim safe on a farm bustling with tractors and other dangerous machinery was one of the reasons why the Brandau family expressed interest in a new device set to begin pediatric trials in Iowa City. In 1987, just before his fourth birthday, Tim became the first congenitally deaf child in the U.S. to receive a multi-channel cochlear implant, a small device that can provide a sense of sound to people who are profoundly deaf or severely hard of hearing. Today, Brandau is among the thousands of patients who have gained hearing with cochlear implants inserted by Dr. Bruce Gantz (68BS, 74MD, 80MS), a longtime UI professor of otolaryngology and neurosurgery.
"It's been life altering," says Brandau, who later earned a degree in biomedical engineering from Iowa and now works as a senior field engineer based in St. Louis. "If I didn't have implants, I wouldn't be able to have conversations without an interpreter or some other technology. I'm thankful Dr. Gantz took a chance on me."
For nearly 40 years, Gantz and his colleagues at the UI-based Iowa Cochlear Implant Center have worked to give their adult and pediatric patients the ability to experience the auditory world. Home to the only National Institutes of Health-funded clinical research center for cochlear implants, the UI not only transforms the lives of patients like Brandau, but also fuels advancements in the evolution of a device that's been described as a modern miracle.
This past year, the UI center ushered in a new era in the field when Gantz performed the world's first robot-assisted electrode implant in the cochlea of a patient. The robotic tool, devised by fellow Iowa otolaryngology professor Dr. Marlan Hansen (95R, 97F, 01R) and former resident Dr. Chris Kaufmann (17R), could transform how surgeons perform cochlear implantations in the future.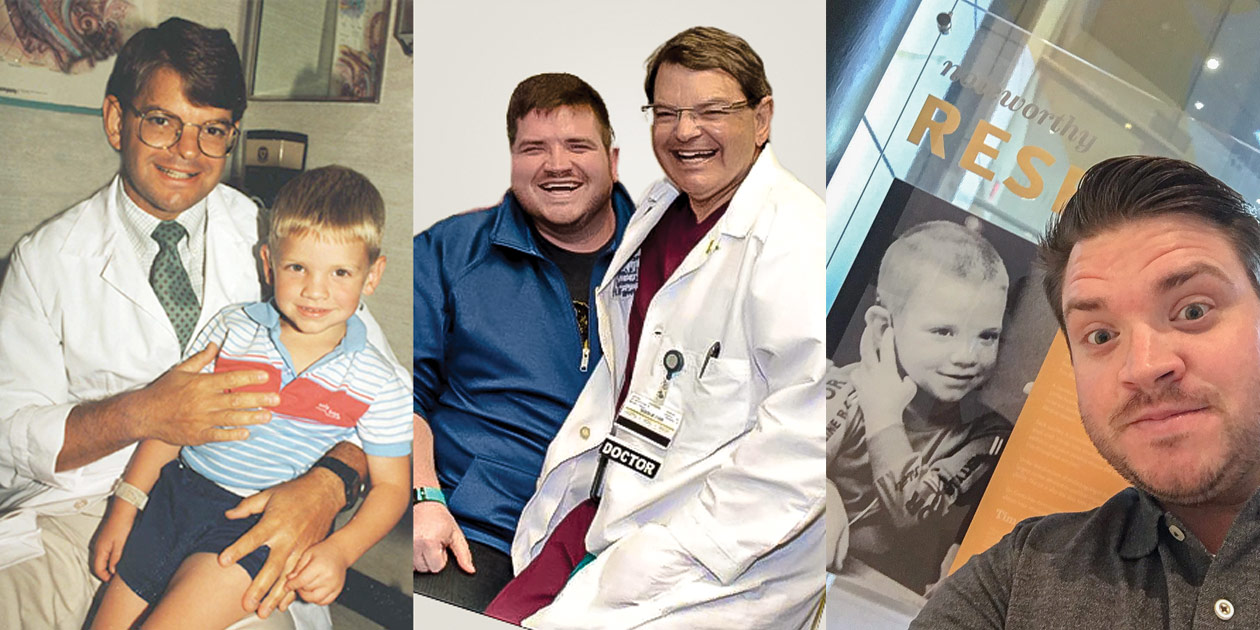 PHOTOS COURTESY UI HOSPITALS & CLINICS AND TIM BRANDAU
In 1987, UI patient Tim Brandau (pictured with Dr. Bruce Gantz in 1987 and 2016, and with his childhood portrait in 2018) became the first congenitally deaf child in the U.S. to receive a multi-channel cochlear implant, a small device that can provide a sense of sound to people who are profoundly deaf or severely hard of hearing.
BREAKING NEW GROUND AT IOWA
Nearly four decades ago, in his early days as a faculty member at Iowa, Gantz flew home from Europe with a bundle of promising new medical technology tucked away in his suitcase. Little did he know that his career path would be so closely tied to those small devices.
A Lake View, Iowa, native who worked as a butcher in his parents' grocery store as a teenager, Gantz came to the UI to study general science as an undergraduate and stayed for medical school. In 1982, he embarked on a clinical fellowship in Zurich, where he met European researchers working with the first generations of cochlear implants. Despite skepticism by many doctors, Gantz saw the life-changing potential of the devices, which an Australian researcher named Graeme Clark had implanted for the first time in patients only a few years earlier and dubbed the "bionic ear."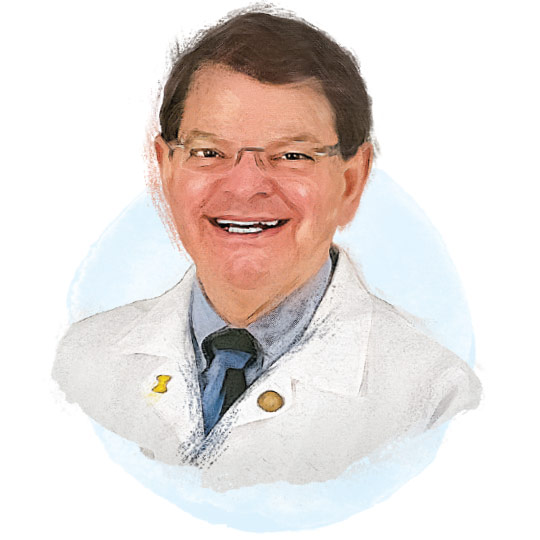 Bruce Gantz, MD, UI Professor of Otolaryngology and Neurosurgery
While hearing aids and their ability to amplify sound had been around since the late 1800s, cochlear implants were revolutionary in that they could partially restore hearing for those who were either born deaf or suffered from severe inner-ear damage. The battery-operated devices use a tiny microphone to pick up environmental sounds and a processor attached behind the ear that digitizes the signals and relays them to a surgically implanted receiver. The transmitter then converts the sound into an electrical pulse, which is sent via an electrode array that twists through the shell-like cochlea and stimulates the auditory nerve. The brain interprets the electrical signals as sound, and with practice, patients can begin to perceive speech and other environmental noises.
During his fellowship in Europe, Gantz acquired several cochlear implants developed in Vienna, which he brought back to his new hospital post in Iowa City. In an era before the Food and Drug Administration regulated medical devices, Gantz unpacked the implants from his suitcase, sterilized them, and with colleagues surgically placed them in four patients. Later that year, Gantz visited Clark in Australia and brought back two multi-channel devices built by the Cochlear Corporation that offered a richer spectrum of sound compared with the earlier devices.
Those UI surgeries marked the first time a U.S. hospital implanted a multi-channel cochlear device, and the results were dramatic. "People would cry," Gantz says. "Some of these people had never heard their kids' voice. That's a very emotional process for people."
Today, Gantz has placed more than 3,000 cochlear implants at Iowa, which for two decades has been ranked as one of the top otolaryngology programs in the nation. The center has brought in more than $60 million in research funding to study cochlear implants, leading to breakthroughs like the UI-patented hybrid implant in 1999 that was groundbreaking in its ability to preserve low-frequency acoustic hearing. Today, the Iowa Cochlear Implant Center partners with researchers from across the university for an array of studies related to cochlear implants, including those at the Wendell Johnson Speech and Hearing Clinic, the Department of Psychological and Brain Sciences, and the School of Music.
"Some of these people had never heard their kids' voice. That's a very emotional process for people." —Bruce Gantz
"When we started out, our objective was to be like a Consumer Reports for cochlear implants and figure out which device was better," Gantz says. "Now, we've developed some of our own devices, and we're trying to figure out how the brain processes this information—can we use strategies to actually enhance it?"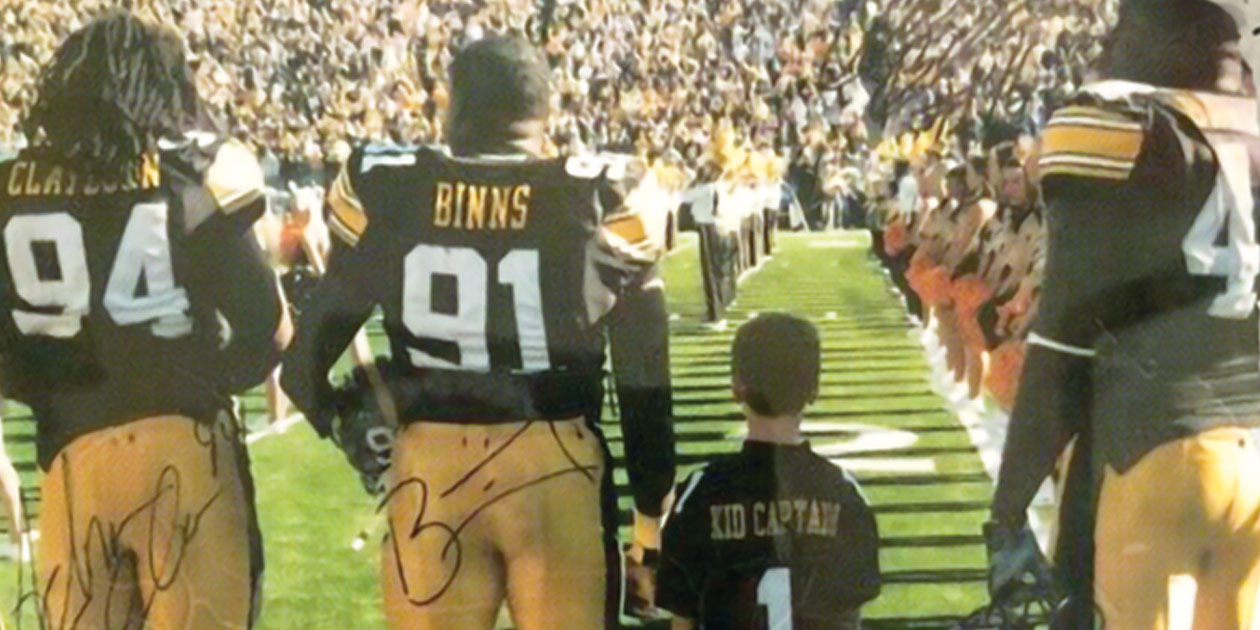 PHOTO COURTESY KELBY TELANDER
Kid Captain Kelby Telander stands on the sidelines at Kinnick Stadium in 2009 with former Hawkeyes Adrian Clayborn, Broderick Binns, and Christian Ballard.
MAKING NOISE WITH THE HAWKEYES
When Iowa football recruit Kelby Telander—a former patient of Gantz—joins the Hawkeyes this fall, it won't be his first time in uniform at Kinnick Stadium. In 2009, Telander was selected by UI Stead Family Children's Hospital as one of its first-ever Kid Captains for an Iowa football game, where he donned a No. 1 jersey and waved to the crowd before kickoff.
A North Liberty native and UI freshman-to-be, Telander has been connected to the children's hospital—and the Iowa Cochlear Implant Center—his entire life. Telander had severe hearing issues as a baby and early on was diagnosed with vestibular aqueduct syndrome. At age 3, he received a cochlear implant from Gantz in his left ear. Like Tim Brandau and many other young UI patients, the procedure successfully put him on a path toward normal speech development.
"Thanks to my parents' hard work, I was able to speak very clearly and develop a wide range of vocabulary," says Telander today. "Having a cochlear implant has allowed me to live a life not much more different than the typical person with hearing abilities."
Telander grew to become a gifted athlete and multi-sport standout at Liberty High School, where he graduated this past spring. Last December, the 6-foot-4 linebacker accepted a preferred walk-on offer from his hometown Hawkeyes, meaning he'll continue his football career across from the hospital where Gantz performed his surgery 15 years ago.
Because of the small device under his helmet, Telander can hear play calls in the huddle, the referee's whistle, and the roar of the crowd. "If it wasn't for the cochlear implant and my parents, I wouldn't be where I am today," says Telander, who plans to major in business and minor in sport and recreation management.
Now it's Telander's turn to inspire young patients—particularly cochlear implant recipients—at the children's hospital. "It will definitely be a dream come true and something I've worked hard for ever since that Kid Captain experience," he says.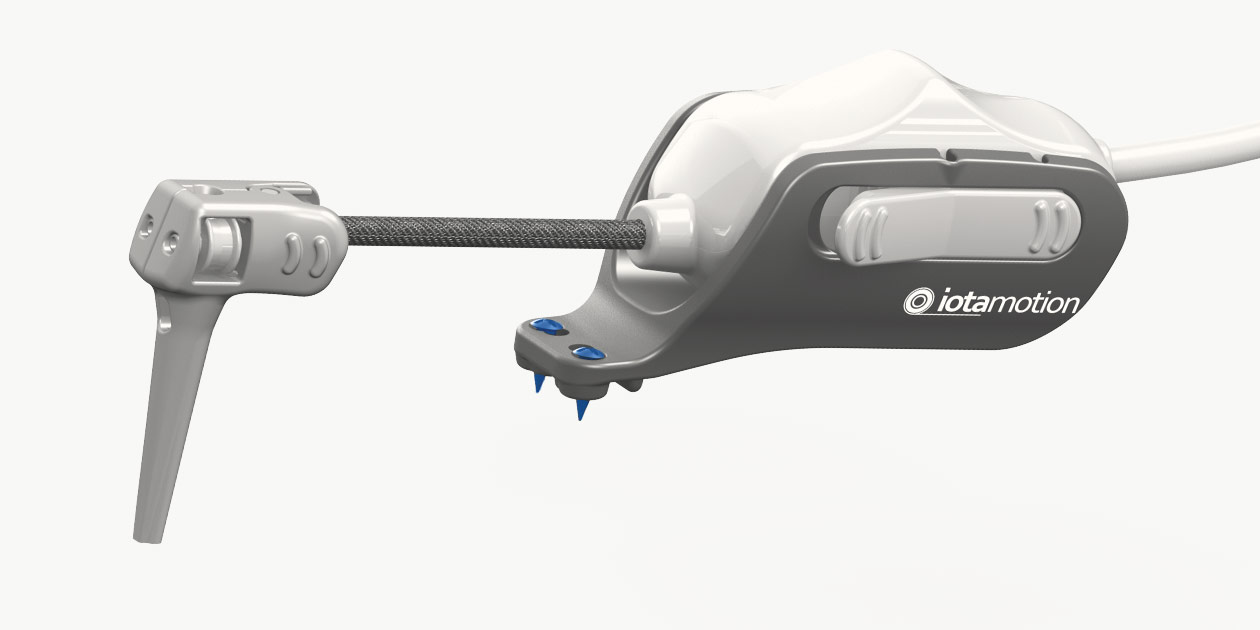 PHOTO COURTESY IOTAMOTION
This small device developed by UI spinout company iotaMotion assists with cochlear implant surgeries.
A MEDICAL FIRST: ROBOT-ASSISTED COCHLEAR IMPLANTS
Gantz has trained a long line of future surgeons in the art of threading tiny electrode wires through the delicate cochlea. Among those former residents was Marlan Hansen, who joined the UI faculty in 2003 and just last year took over for Gantz as chair of the Department of Otolaryngology.
Of their many key research findings, Hansen and Gantz have proven that the slower those electrodes are pushed through the cochlea, the less trauma occurs to the high-risk sections of the inner ear. By mitigating the damage caused by the electrode scraping against the walls of the cochlea, more functionality can be preserved in patients who have residual hearing. Studies show that between 15% to 50% of implant recipients may experience an additional loss of their natural hearing after surgery.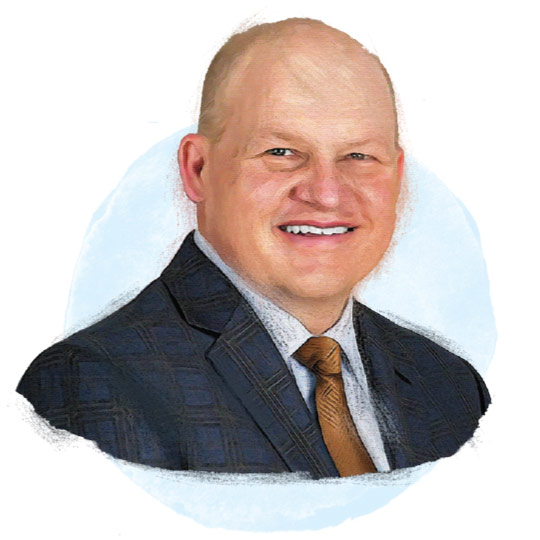 Marlan Hansen, MD, UI Professor of Otolaryngology, Neurosurgery, and Molecular Physiology and Biophysics
"What Bruce and the team at Iowa has done is demonstrated that any acoustic hearing you can save is really helpful for patients, especially to hear complex sounds, music, and in noisy situations," Hansen says. "It helps their brain process sound, and more importantly, they don't need as much cognitive effort to hear and understand."
With that goal in mind, Hansen and Chris Kaufmann, a former resident in his lab with a background in biomedical engineering, collaborated on a project to standardize electrode insertion and make the maneuver more precise. Their solution was the creation of a small robotic device to help guide the electrode through the spiraling cochlea, and in 2015 they founded a spinout company called iotaMotion to develop the tool, named iotaSoft. Today, the privately held company has grown into a nine-person operation based in Iowa City, with Hansen serving as chief medical officer and Kaufmann serving as president and leading research and development. The company has raised more than $4.5 million in private financing, and in 2017 it received a $1.5 million grant from the National Institutes of Health.
During cochlear implant surgery, the cigar-sized robotic device is affixed to a patient's head with small screws. The surgeon uses a fine, curved tool to help position the electrodes through the incision behind the ear, then presses a foot pedal that begins the robot's slow, motorized insertion process. At a rate of just 0.1 millimeters per second, the robot nudges the electrode into the inner ear with a gentle precision that surpasses even the most steady-handed surgeon.
"My hand, even though I've done this maybe 3,000 times or more, is not as good as a micromotor," says Gantz. "Electrodes that are the least damaging are very thin, so it's like putting a wet piece of spaghetti in a tube. What the robot does is stabilizes it."
At a rate of just 0.1 millimeters per second, the robot nudges the electrode into the inner ear with a gentle precision that surpasses even the most steady-handed surgeon.
Last fall, Gantz became the first doctor in the world to perform a robot-assisted cochlear implant surgery during a clinical trial at Iowa for iotaMotion's device. Since then, Gantz has used the device to successfully guide more than 15 cochlear implant procedures. As of this spring, iotaMotion was awaiting FDA approval of the device—a major hurdle in bringing their product to the market after years of research and development.
The device is one of several new technologies in the works at iotaMotion, which is also developing a robot-assisted control system that allows clinicians to reposition previously implanted electrodes without the need for another surgery.
While cochlear implants have traditionally been used to treat patients with complete hearing loss, patients with moderate hearing loss have increasingly turned to the devices in recent years. And with as many as 6.3 million people in the U.S. affected by moderate hearing loss, Hansen and iotaMotion see a growing market that could benefit from technology that preserves residual hearing. "It makes sense to have something that would be less traumatic than how we do things manually," Hansen says. "It's like car technology that avoids accidents. You have back-up cameras and alerts to warn you if you're going to get into an accident. It's a better outcome."  
FOR PATIENTS, A NEW WORLD OF SOUND
Tim Brandau's journey at the UI didn't end after becoming the first child patient to receive a multi-channel cochlear implant 34 years ago. He not only ended up graduating from the university, but he also regularly returns to the Iowa Cochlear Implant Center to take part in research studies.
As a kid, Brandau became proficient in both speaking and sign language through speech training and help at school. His family worked with him daily to recognize new sounds—silverware clinking against a plate or the tapping of a pencil, for instance—as he adjusted to life with the implant in his right ear. Brandau remembers fiddling with the radio dials while his older brother explained to him the difference between static and music. Eventually, he joined the school band and became skilled enough at the alto saxophone to land a spot in the Hawkeye Marching Band.
"You can't just turn the implant on and expect it to work," Brandau says. "You have to put in the time, effort, and practice in identifying new noises every single day. That's the most important thing to having success with it."
In 2016, Brandau returned to Iowa and Gantz for a cochlear implant in his left ear. Back in the 1980s, the two had posed for photos with the young Brandau on Gantz's knee to mark the medical milestone. This time, Gantz sat on Brandau's knee for a photo after the second device was successfully implanted.
While Brandau has yet to become as skilled with his new implant as he is with his original, he's happy with the slight improvement to his hearing. "Part of me was like, if I don't do it, I'd always wonder what my left ear was capable of," he says. "When I wear them together, it feels like I get more environmental awareness. Maybe not as much words and music and that sort of thing, but it certainly helps with the extra dimensions of general sound awareness. I get sound, and I'm grateful for that."
Brandau says that even as an adult, he often pauses when he hears an unfamiliar noise. Sometimes it's a simple pleasure like fresh-fallen snow crunching under his boots. Other times it's more mundane, like the mysterious noise he recently heard in his apartment that, upon investigation, turned out to be a neighbor shredding papers.
More than anything, though, Brandau considers himself fortunate that his family heard about Gantz, the University of Iowa, and a miracle device all those years ago.  
---
HOW DO COCHLEAR IMPLANTS WORK?
A cochlear implant is an electronic medical device for people with moderate to profound hearing loss that is designed to restore the ability to perceive sounds and understand speech. Unlike a hearing aid, which amplifies sound picked up acoustically, a cochlear implant bypasses the damaged hair cells in the cochlea and stimulates the auditory nerve using electrical current.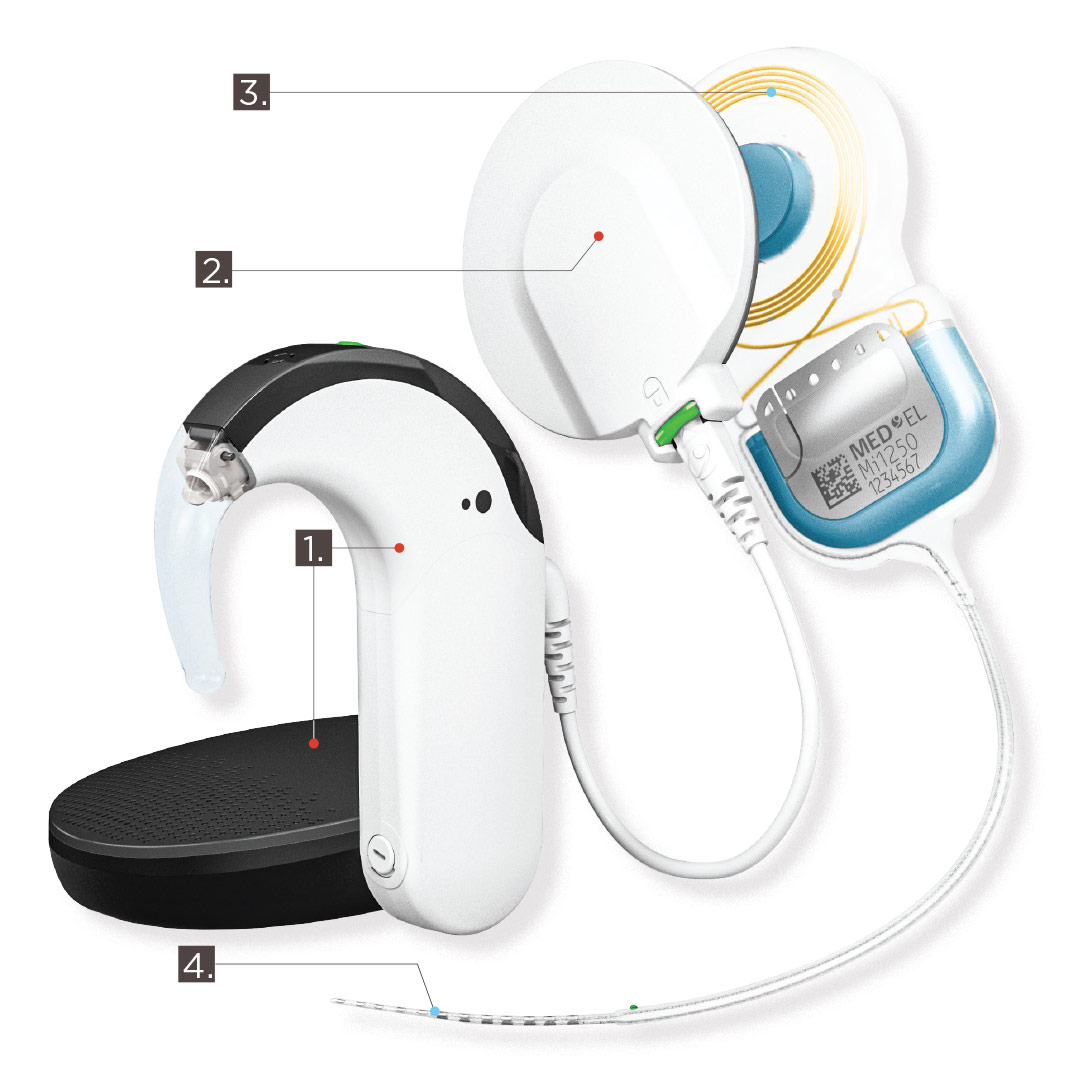 ILLUSTRATION COURTESY MED-EL MEDICAL ELECTRONICS
THE EXTERNAL COMPONENTS:
1) A speech processor with a microphone picks up sounds from the environment. The processor analyzes sound signals, digitizes them, and sends them to a transmitter that is worn on the head.
2) The transmitter sends the signal to the surgically implanted internal components.
THE INTERNAL COMPONENTS:
3) A receiver/stimulator placed under the skin near the ear receives signals from the transmitter and converts them into an electrical signal, then sends the information to an electrode array.
4) The electrode array is placed into the cochlea and stimulates the auditory nerve, which then sends information to the brain, to be interpreted as sound.