How former Hawkeyes are tackling issues of diversity, equity, and inclusion to strengthen the program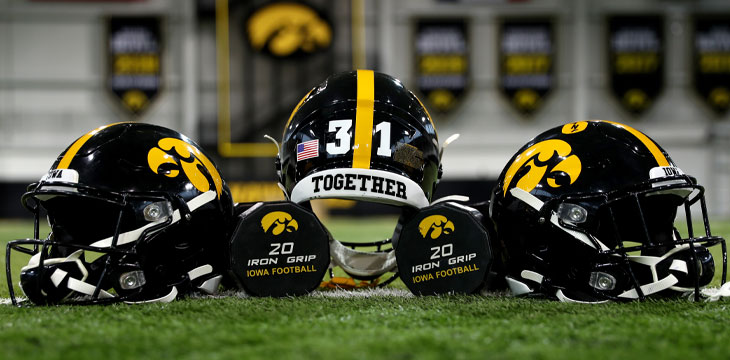 PHOTO: BRIAN RAY/HAWKEYESPORTS.COM
Hawkeye football players sport messages of unity on their helmets as part of the Big Ten's United As One social justice campaign.
In summer 2020, current and former University of Iowa football student-athletes used social media to share their concerns about racial disparities within the football program and advocate for a more inclusive culture. While the news sparked important discussions about the program, the conversations caught some former Hawkeyes by surprise.
"I thought most guys would have had a similar experience to the great one that I had at Iowa," says Jim Caldwell (BLS), a four-year starter for Iowa in the 1970s and a veteran college and NFL coach. "The murder of George Floyd last year sparked a lot of things across the country, and it was quite shocking for me to hear all of this about Iowa."
As a result, Kirk Ferentz, who holds the title of Moon Family Head Football Coach, brought a group of former players together who could help lead a positive change in the program.
"A year ago, I was confronted with some hard truths about our program," says Ferentz. "It became apparent very quickly that I needed to broaden the circle and include people with new perspectives and different voices, and this committee came from those talks. We had dozens of former players step up, willing to help, because of their love of the program. They are giving their time and expertise on how to make the program an even better experience for current players."
While the Hawkeye football program has faced some adversity in the past year, Ferentz was proud of how the entire team came together in 2020. After two heartbreaking losses to start the season, Iowa won six straight to end its season and earned its eighth consecutive bowl berth. Throughout the 2020 season and in the months that followed, the 11-person football advisory committee remained in frequent contact with Ferentz and reached out when a news event or issue may be weighing on the minds of some team members.
"When the court announced that a verdict had been reached in the Derek Chauvin trial—and it would be announced in the next several hours—I received a text from a committee member who said, 'While you may be focused on practice, many of your players are thinking about the verdict,'" says Ferentz. "This gave us an opportunity to pull the team together and discuss the verdict and its significance. These are opportunities for everyone within the program to come closer together through understanding."
David Porter (02BS) leads the committee of former Hawkeye football players who volunteer their time to help a program they love. The committee meets monthly with Ferentz and former and current student-athletes. Their role has been to look at existing rules, policies, procedures, and systems, and provide guidance and feedback to Ferentz, his staff, and student-athletes.
"We talk about everything—lay it on the table, weigh it, and don't mince words," says Caldwell, who played for Frank Lauterbur and Bob Cummings. "From our conversations, we are able to give Coach Ferentz some real solid perspective that he can utilize to make some of the decisions he and his players have to make."
In the past year, Iowa football has hired two Black alumni—Hawkeyes Ladell Betts (01BS) as running backs coach and Jason Manson (06BA) as director of player development. Recently, Iowa alumni Christopher Klein (85BBA) and Elise Klein (85BA) made a $1 million gift to endow Manson's position and advance his work.
Ferentz has also created a student-athlete advisory committee and brought the team together to update the motivational signs around the Stew and Lenore Hansen Football Performance Center to better encourage students and staff.
"Coach Ferentz has taken it upon himself to better the program, and I admire that he's willing to do the work. He's made a commitment to these young men and the program, and he wants to see it through."—COLIN COLE (03BA)
"Coach Ferentz has taken it upon himself to better the program, and I admire that he's willing to do the work. He's made a commitment to these young men and the program, and he wants to see it through," says Colin Cole (03BA), a member of the football advisory committee. "[The committee has] been a great opportunity to help with Coach Ferentz's decisions, and we're moving the needle in the proper direction."