Snapshots of how the pandemic affected the University of Iowa—and how Hawkeye students, faculty, staff, and alumni responded to this global health crisis.
Spring 2020 will long be remembered as the semester that campus closed down, graduation was held online, and self-isolation defined our days. But it will also be remembered as a time when Hawkeyes came together to inspire us through their work, volunteerism, and resiliency. Here are a few portraits of the pandemic at the UI.
---
Sign of the Times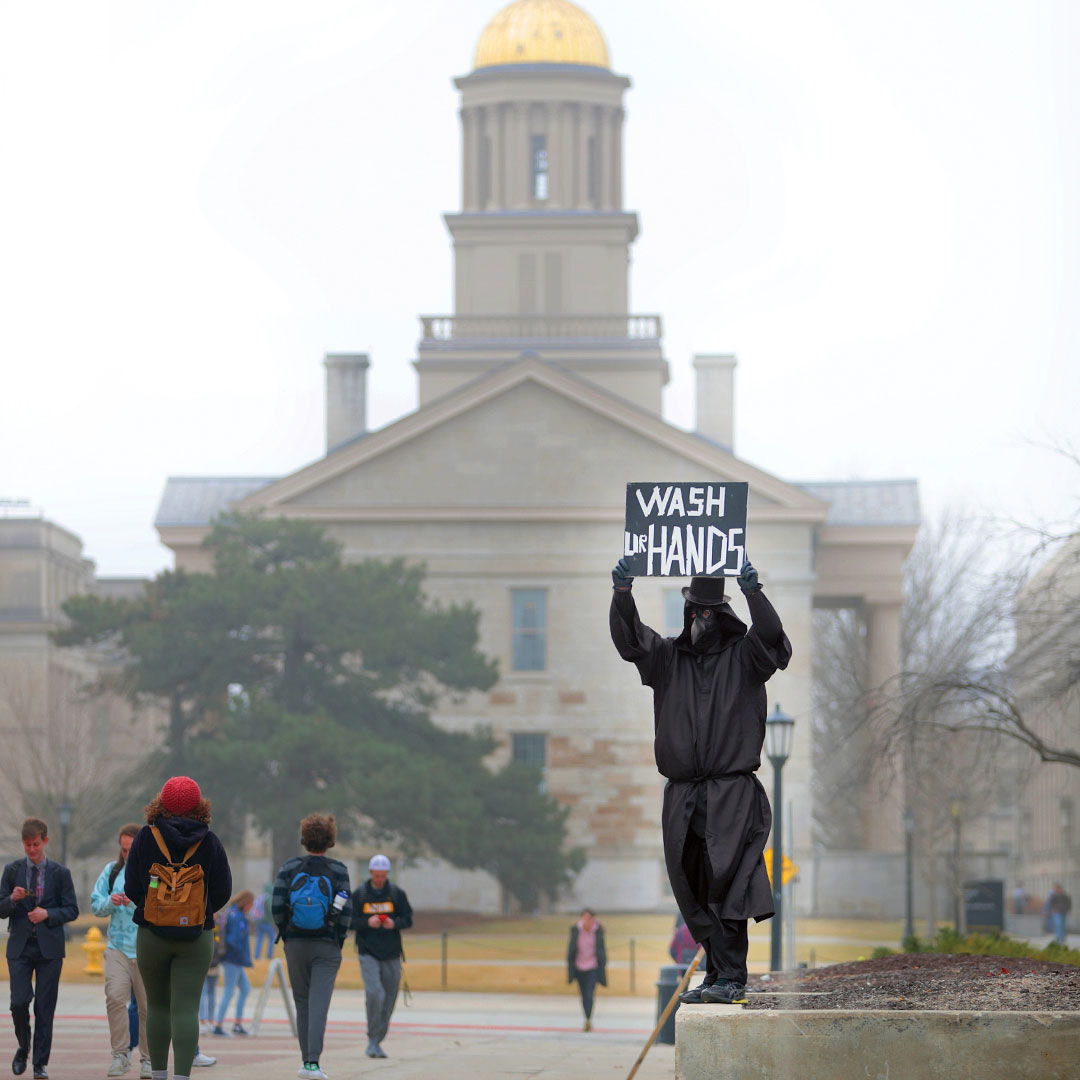 PHOTO: JOHN EMIGH
As the world began to see a pandemic looming in early March, pedestrians along the University of Iowa's T. Anne Cleary Walkway received a reminder about one of the best defenses against catching COVID-19. Students encountered the masked messenger on the penultimate day of classes before spring break, which proved to be their final week on campus. To mitigate the transmission of the coronavirus, the UI closed most on-campus housing and moved to virtual instruction for the remainder of the school year.
---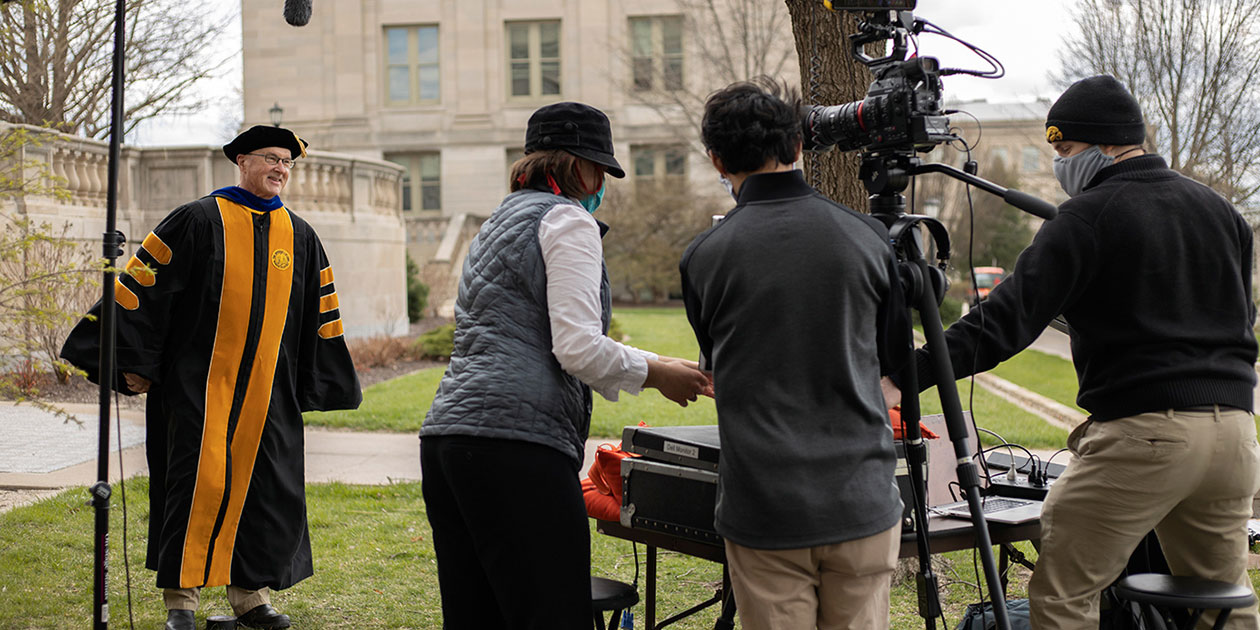 PHOTO: CALE  STELKEN/UI GRADUATE COLLEGE
Graduation Goes Virtual
There were no processions into Carver-Hawkeye Arena or campus auditoriums. But spring graduation ceremonies marched on—even amid the pandemic. UI colleges held virtual commencements via livestreams, providing a much-needed celebration while protecting the safety of those involved. The UI also sent a package to each of its graduating students that included a commemorative commencement program. Graduates who wish to take part in the traditional ceremony will have the opportunity to walk in the fall 2020 or spring 2021 commencements. Pictured here, Graduate College Dean John Keller records a commencement message on the Pentacrest.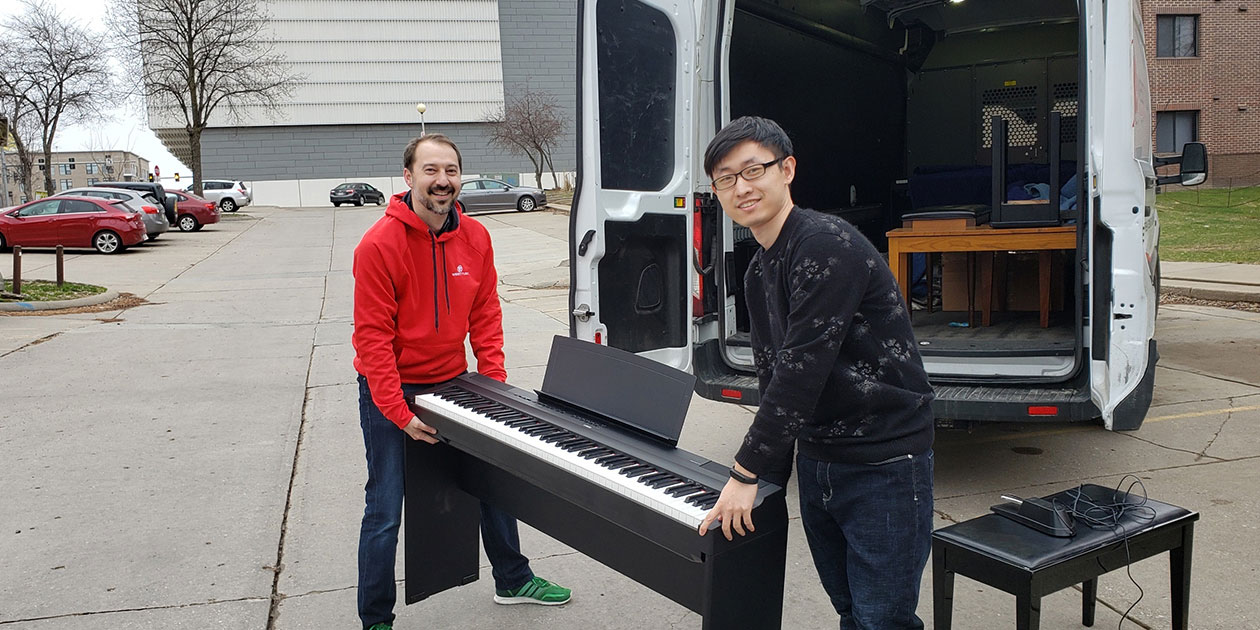 PHOTO: UI SCHOOL OF MUSIC
Special Deliveries for Piano Students
Even while social distancing, UI School of Music students kept their skills sharp. The school partnered with Coralville-based West Music to deliver electric pianos to the doorsteps of piano majors who were unable to practice after the closure of Voxman Music Building.
---
At Hancher and Beyond, the Stage Goes Dark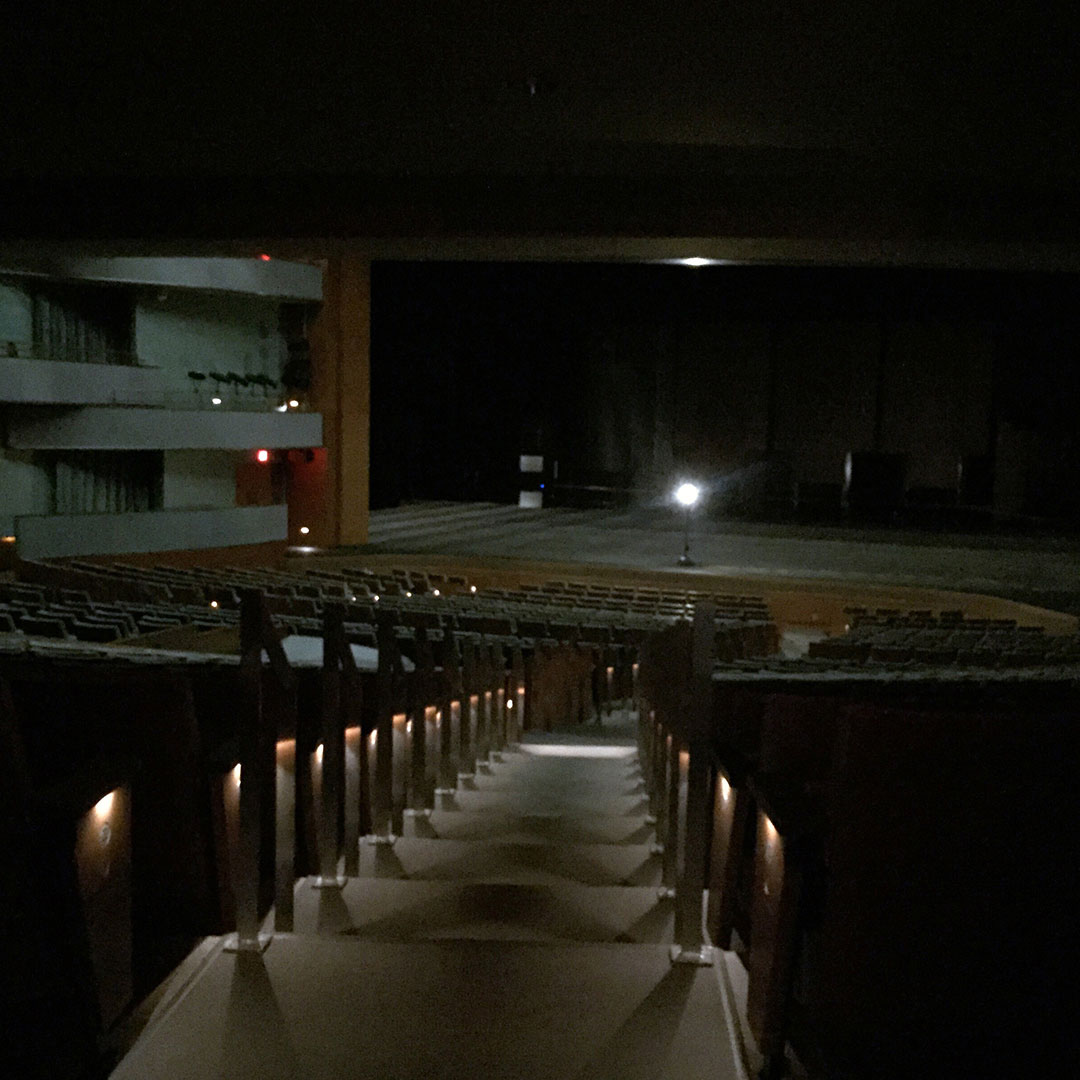 PHOTO: HANCHER AUDITORIUM
Seemingly overnight, a bustling campus came to a standstill during the pandemic. From lecture halls to performing arts stages to athletic venues, the UI turned the lights off as academic instruction and other programming went online during the pandemic. Pictured here is the empty Hancher Auditorium, which in March announced it was canceling shows and programs for the remainder of the spring semester.

---
Banding Together
College sports came to a standstill this past spring, but the Hawkeye Marching Band boosted the morale of UI fans everywhere by creating a video rendition of the Iowa Fight Song from their homes. Joining the band with virtual cameos were UI President Bruce Harreld and his wife, Mary, along with Herky, the Iowa Dance Team, Cambus drivers, and a host of other notable Hawkeyes. The band posted the video to thank and celebrate those serving on the front lines of the pandemic.
---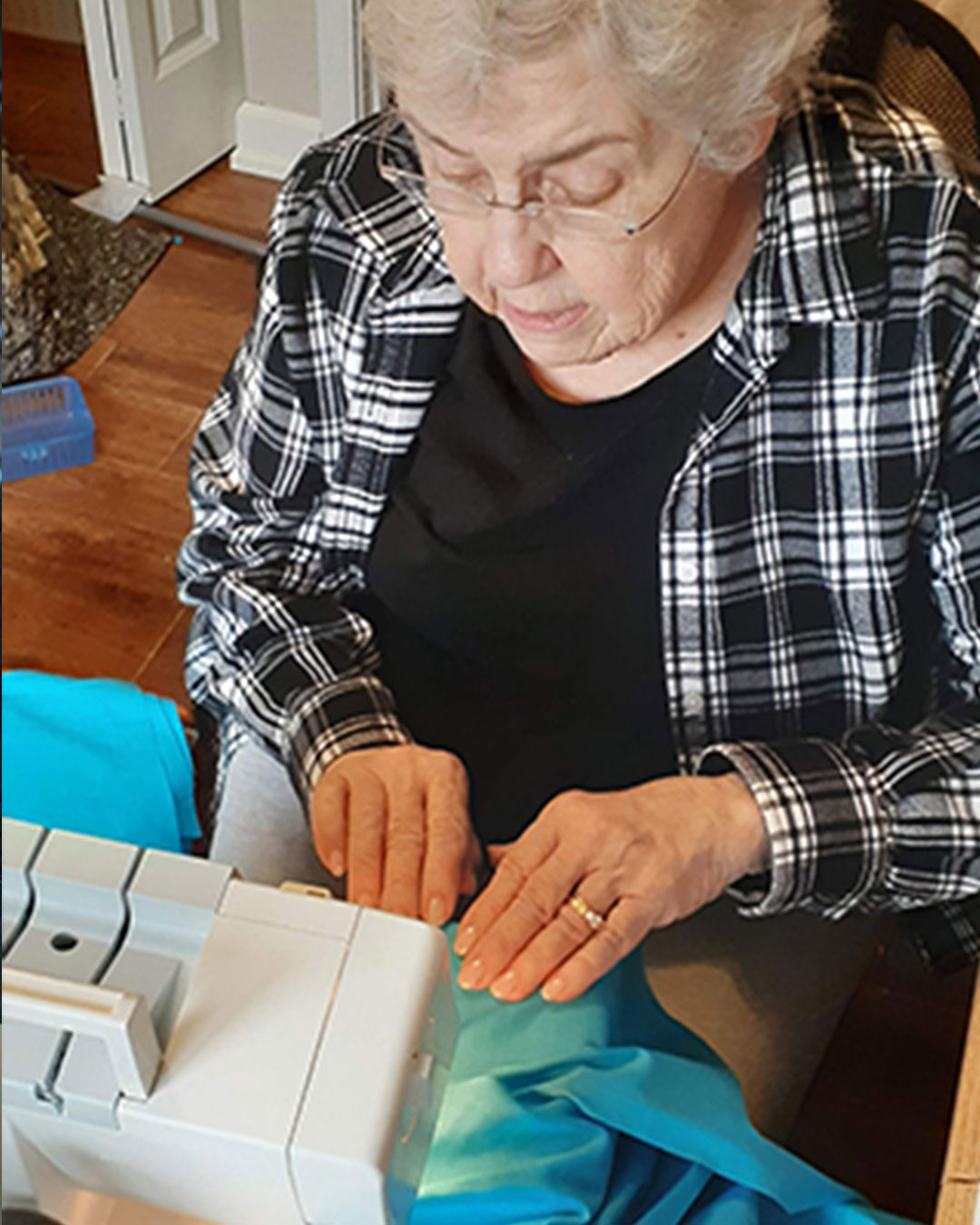 Photo courtesy of Pat Lehnertz and Rod Lehnertz
Oaknoll Residents Sew Masks for Behind-the-Scenes Workers
Laundry services workers at UI Hospitals & Clinics are stocked with face masks thanks to a unique production line at Iowa City's Oaknoll Retirement Residence. Pat Lehnertz (67BS) and Mary Mixdorf coordinated the assembly effort, which sent materials from one resident's room to the next for cutting, sewing, ironing, and quality control. "The laundry workers are really unsung heroes behind the lines handling all the linens," Lehnertz says. "It's neat that we can help them out."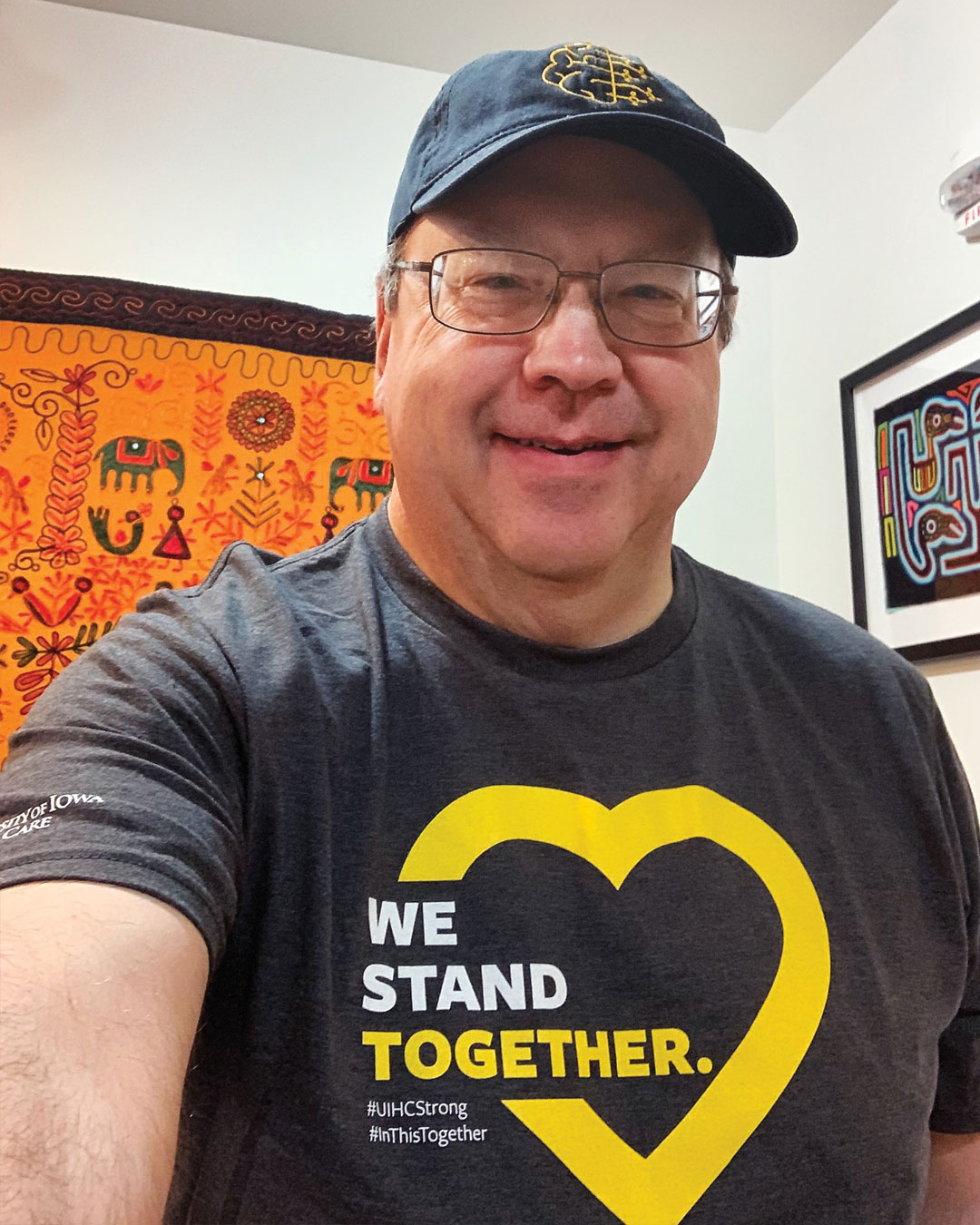 PHOTO: COURTESY TED ABEL
Community Solidarity
"We Stand Together." That was the rallying cry for UI community members this past spring, whether self-isolating, taking part in virtual learning, or serving as essential workers. Hawkeyes near and far showed their support on social media with the hashtag #inthistogether and by planting signs in their yards to salute our health care heroes. Here, Ted Abel, director of the Iowa Neuroscience Institute, Roy J. Carver Chair in Neuroscience, and chair and DEO of the UI Department of Neurology and Pharmacology, wears a "We Stand Together" T-shirt.
---
Hawkeyes Give Back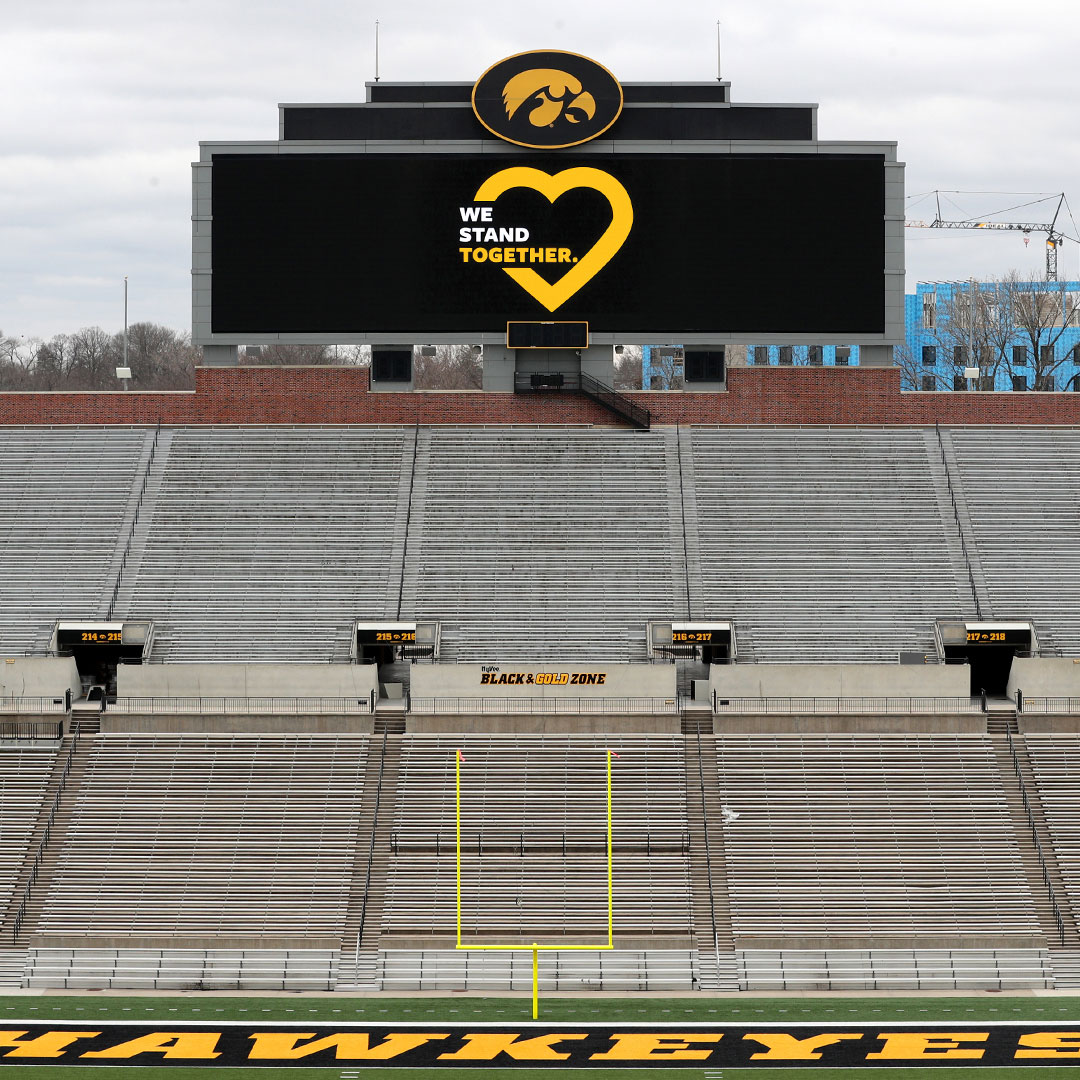 PHOTO: BRIAN RAY/UI ATHLETICS
Hawkeyes worldwide rallied this spring to support UI students and health care staff affected by COVID-19. Alumni and friends donated more than $195,000 to two funds established by the UI Center for Advancement in collaboration with the university.
The UI Health Care Staff Emergency Fund covers the most urgent needs of front-line providers at UI Hospitals & Clinics, such as personal protective equipment, food, supplies, and childcare. The UI Student Life Emergency Fund addresses unexpected challenges students encounter from the pandemic, including housing and food insecurity, travel expenses, and technology costs associated with online learning.
Alexa Gilbert, a UI environmental policy and planning major, was temporarily laid off from work and received aid through the Student Life Emergency Fund to help cover her rent, utilities, and groceries. "These funds can help push a student toward stability," says Gilbert. "Saving for emergencies can only stretch so far. In unforeseen circumstances, this grant provides hope."
---
UI Antibodies Could Offer Answers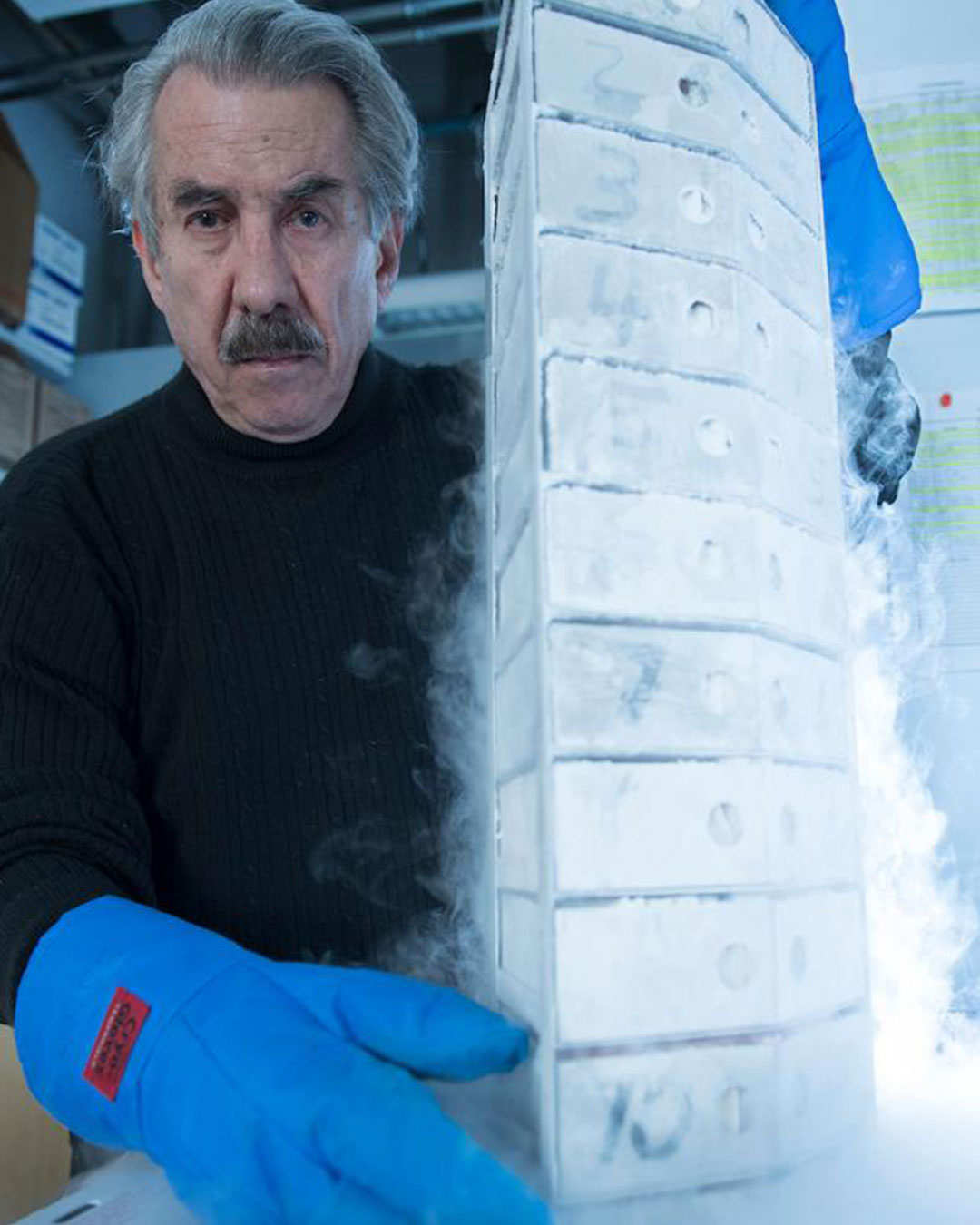 PHOTO: TIM SCHOON/UI OFFICE OF STRATEGIC COMMUNICATION
A reservoir of biological agents at the University of Iowa is being enlisted to fight the novel coronavirus. The Developmental Studies Hybridoma Bank (DSHB) at Iowa was created by the National Institutes of Health in 1986 to store and distribute laboratory-produced antibodies used for cancer research and other scientific pursuits. The bank has some 60,000 active clients worldwide, and it sets Iowa apart from other research institutions. But this year, the bank has pivoted to an additional, critical mission: distribute antibodies to researchers racing to learn more about the coronavirus and potentially find ways to blunt its ability to wreak havoc in humans.
David Soll, professor in the Department of Biology and the DSHB's director, and his team have more than 75 monoclonal antibodies that can be used for COVID-19 research. Soll is working with multiple pharmaceutical companies interested in using select antibodies to study COVID-19. — RICHARD C. LEWIS
---
UI Police Brighten a Stay-at-Home Birthday
University of Iowa Police Help Boy Celebrate Birthday

When the University of Iowa Police and Iowa City Police Department bring you the love on your 5th birthday after your party is cancelled because of COVID-19. Happy birthday, Oliver!

Posted by University of Iowa on Wednesday, April 15, 2020
When the UI Police Department heard about a local boy's birthday party being canceled because of the pandemic, officers responded to the scene. More than a dozen UI and Iowa City squad cars paraded past 5-year-old Oliver Watson-Mendoza's home with their lights flashing, wishing him "happy birthday" as he waved from his driveway. Pictured here is Officer Nate Monter with Oliver.
---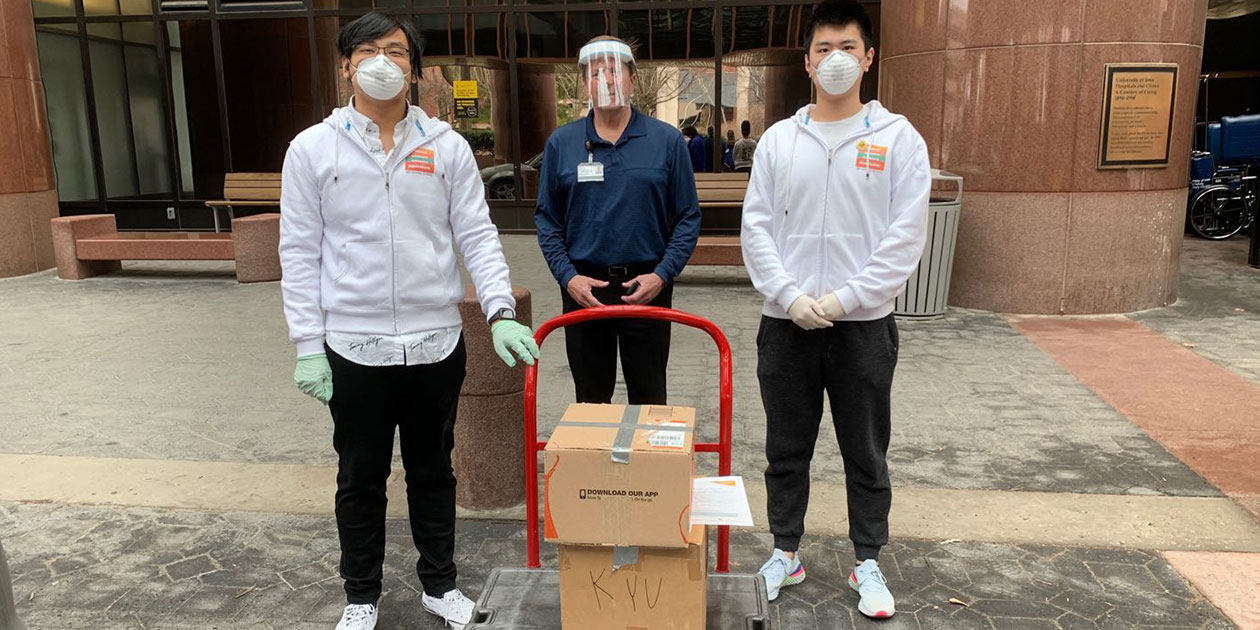 PHOTO COURTESY INTERNATIONAL PROGRAMS
Chinese Student Group Answers the Call for Help
As UI Hospitals & Clinics braced for an influx of coronavirus patients earlier this year, it put out a call for PPE, or personal protective equipment. Members of the UI Chinese Students and Scholars Association were among the organizations that stepped up, donating more than 700 medical masks to UI Health Care workers.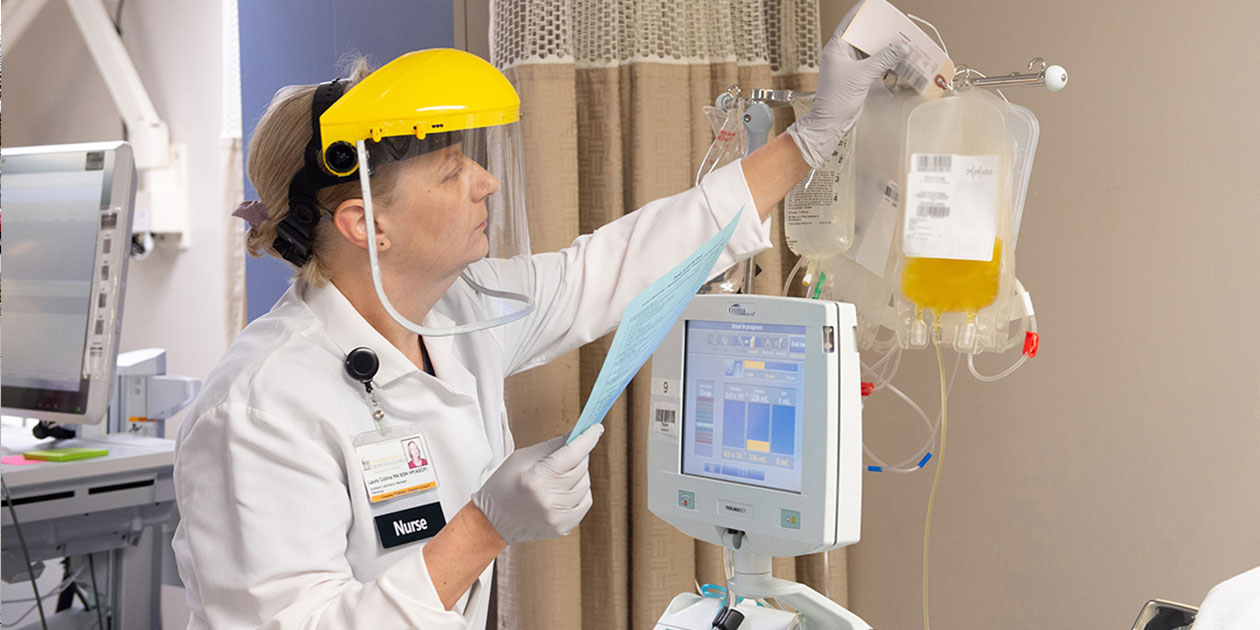 PHOTO: SUSAN MCCLELLEN/UI HEALTH CARE
Plasma Transfusions Could Hold Treatment Key
In April, UI Health Care researchers began a new clinical trial to determine if plasma from recovered COVID-19 patients can be used to treat patients currently hospitalized with the disease. The key to this "convalescent plasma" approach are the antibodies produced in people when they fight off COVID-19. These so-called neutralizing antibodies can be collected in plasma donations from the recovered patients and transfused into hospitalized patients with the goal of helping them more effectively fight the disease.
---
Sports Stars Drop Into Classes
Students taking online courses this spring were surprised by some special guests in their Zoom sessions. NFL players George Kittle (16BA) and Josey Jewell (17BA) and WNBA player Megan Gustafson (19BBA) recently chatted via video with classes about their pro sports careers and time at Iowa. Pictured here, Kittle talks with students from his garage.
---
Undergrad Connects Families with Free Meals
Thousands of K-12 students rely on meals served at schools across Johnson County—schools that were closed due to the COVID-19 pandemic. To connect students, parents, and other community members with resources to help them find meals, Russell Martin created a website that maps food and meals available at area schools, food banks, and soup kitchens. "Helping people find their next meal serves a need which everyone can support. People should not be hungry," says Martin, a senior in the Roy J. Carver Department of Biomedical Engineering. —JASON KOSOVSKI
---
Quaran-Team Spirit
March Madness was called off, but Hawkeye Marching Band alumnus Aaron Gibson (94BBA) and his wife, Kari (96BS), didn't let that stop them from showing their Hawkeye spirit. The Gibsons and their family formed an impromptu pep band in their Iowa City living room and recorded their brassy version of the Iowa Fight Song. The video blew up on social media, where it received tens of thousands of views and was highlighted by CBS Sunday Morning.
---
Researcher Creates Videos for Spanish Speakers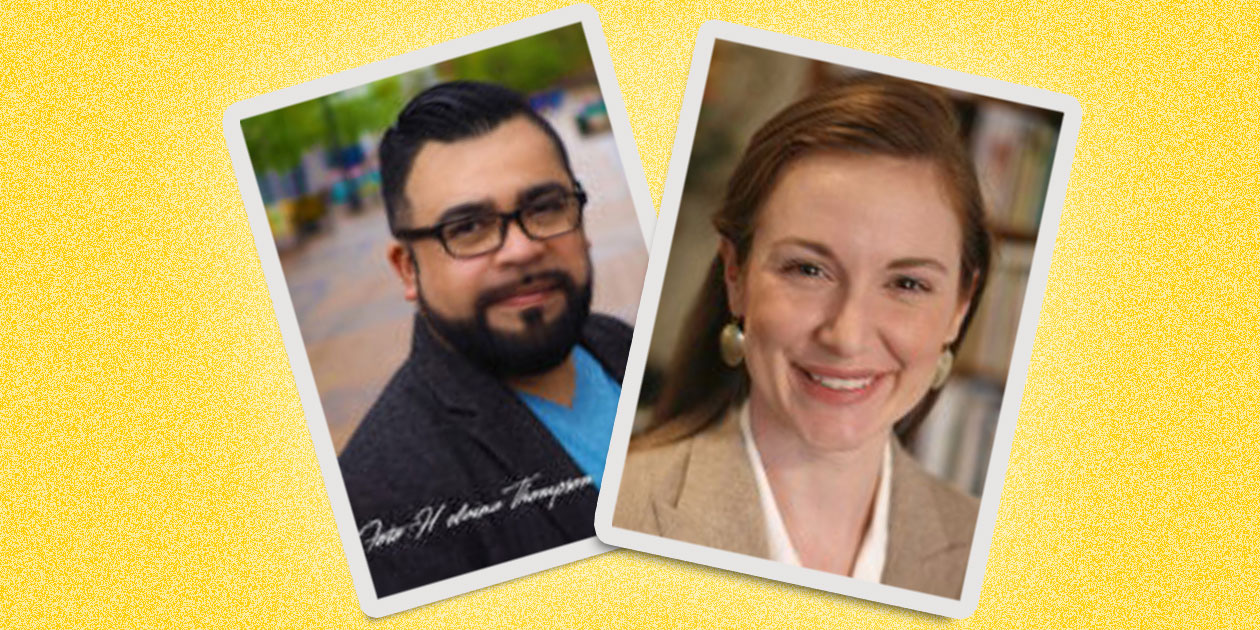 Nicole Novak, an assistant research scientist in the College of Public Health, collaborated with Manny Galvez, owner and editor of El Trueque Iowa magazine, to produce a series of COVID-19-related informational videos for Iowa's Latino community. Novak is an expert in the historical, structural, and policy influences on the health of immigrants, Latinos, and rural residents.