Here's what you had to say about the stories in Iowa Magazine.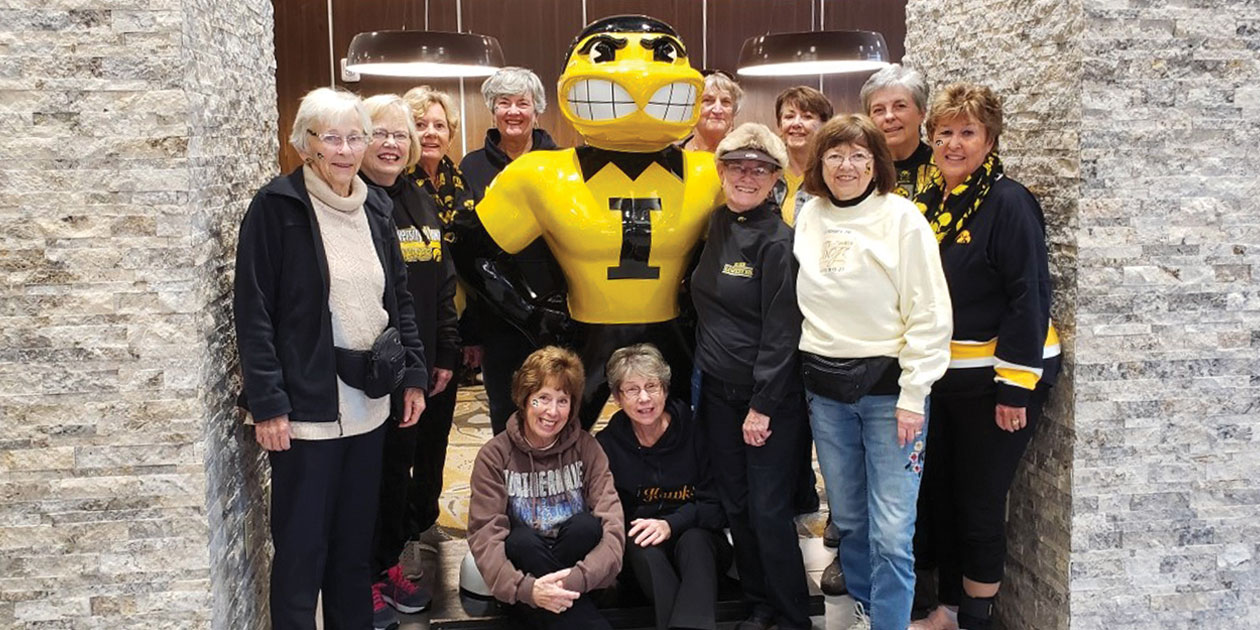 PHOTO COURTESY SALLY HAKES
Forever Friends
Every other year for a half-century, the UI Delta Zeta Iota chapter sisters from the graduating classes of 1966 through 1970 have held a reunion. This past fall, the group gathered in Iowa City for homecoming.
Tribute to a Game Changer
On Sept. 8, 1979, I was in my seat at Kinnick Stadium near the 37-yard line, about a third of the way up the west stands. It was Hayden Fry's first game as coach of the Iowa Hawkeyes. What happened astonished the almost 60,000 Hawkeye fans in attendance: Iowa was ahead 26-3 at halftime. We were delirious. By the time the game ended, though, Indiana made a huge comeback and won 30-26.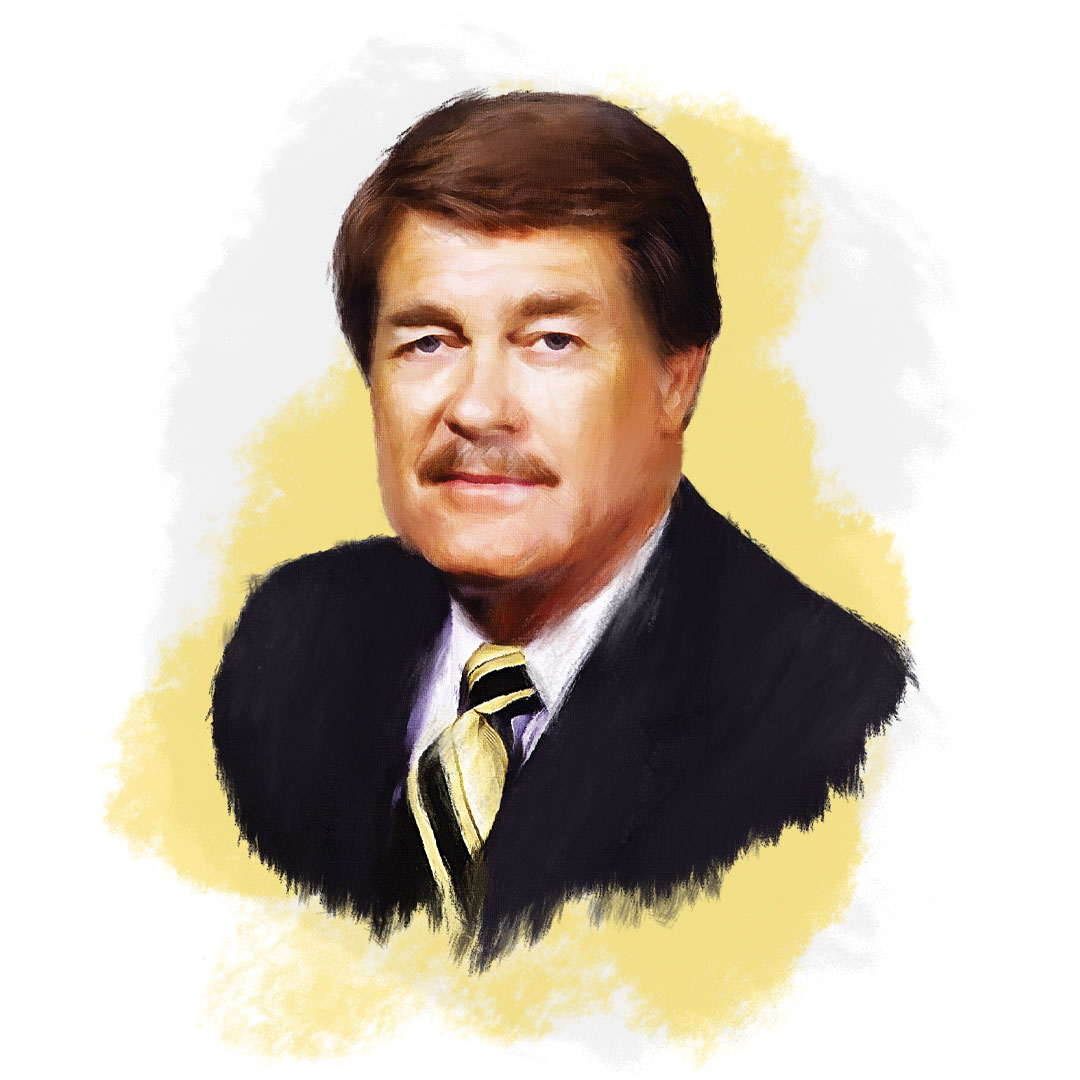 What I saw in the first half of that game was the most exciting Iowa football I had ever seen since I first bought season tickets in 1970. I wrote Fry the next day and told him that. He ended up reading a portion of my letter on his first talk show.
I tutored some of the Iowa football players in 1979 while I was working on my PhD in Spanish. In Fry's office one day in September, he welcomed me like an old friend. We talked about the players in my classes and my progress as a doctoral student. Fry told me, "If a player misses one class, I want you to let me know." He ran a tight ship and a clean program.
We all know what Fry did for Iowa football, for his assistant coaches who became head coaches, for the Tigerhawk, and for America Needs Farmers. He was an outstanding coach and an even better person. He will never be forgotten.
David A. Petreman (76MA, 84PhD)
Milford, Ohio
Mesmerized by Mural
Congratulations on one of the best articles I've read in your magazine lately. I read every word of Josh O'Leary's "Art Movement: Sharing Iowa's Mural with the World".
I was a PhD candidate in musicology at the UI School of Music in the late 1970s until summer 1981. I walked many days from the School of Music to the Iowa Memorial Union for lunch, and if I had a few extra minutes after lunch before returning to my studies, I would walk into the museum and sit a few minutes in front of the Pollock mural—always amazed. If I had even more time, I looked at other artwork. I even remember seeing the Picasso drop curtain when it was installed; that must have been at the very end of my stay in Iowa City.
I hope I can attend the future opening of the new museum—and see the Pollock once more.
Caroline Cepin Benser (81PhD)
La Crosse, Wisconsin
Your piece on Pollock's Mural was exceptional. I have had the opportunity to enjoy this painting on numerous occasions, but your article and embedded videos brought a new perspective that was very powerful. While I knew the background and history, I had never heard it told so thoroughly as the article and videos provided. Our family has long treasured the UI and its richness, but this piece made us exceptionally proud.
Steve Wohlwend
Bettendorf, Iowa
I was a 9-year-old kid in June 1953 when my father, Lester Longman, with the whole family, visited Peggy Guggenheim in her home on the Grand Canal in Venice. As you mention, he was the one who got Mural and many other works to the UI museum. During our visit, she opened a closet, pulled out several paintings, and said she would donate them to Iowa.
In our hotel room during that trip, we were visited by artist Emilio Vedova, who made multiple sketches on paper while we all watched and chatted with him. My brother has the sketches. There used to be a Vedova in Guggenheim's museum at the top of the steps, but it was not there last time I visited.
At the end of the visit, Guggenheim had her chauffeur take us to islands just outside of Venice to see some paintings in churches, taking us in her beautiful, glistening wood speedboat. They don't make speedboats like that anymore!
Richard Longman
New York
A Class Act
My time competing as a student-athlete at the UI ended 20 years before B.J. Armstrong's did. I then also had a career in business. Therefore, I think I can put Armstrong's extraordinary accomplishments ["From Playmaker to Dealmaker," winter 2019-20] into perspective. Armstrong (89BA) rose above his athletic accomplishments and then used his skills, talents, and credibility to help others grow and succeed. No greater gift can a person give another person than providing knowledge and assistance, so that others succeed and enjoy a much better life. Armstrong is a former UI student-athlete who has earned the praise and recognition he receives.
Richard Gibbs (68BBA)
Lake Forest, Illinois
On the Ball
"For Patrick McCaffery, 22 is More Than a Number" [winter 2019-20, p. 14] is an inspiring story. I know McCaffery will have the fighting spirit of Austin Schroeder and Bill Seaberg (60BBA) on and off the court. Go, Hawks!
Kim Jackson (82BA)
Des Moines
While reading the story of McCaffery in the magazine, I was reminded of the Iowa men's basketball team of winter 1961, just after I graduated. The team was decimated by the loss of four starters due to their grades. The only starting player left was future Celtics star Don Nelson (64BS). The team was then filled with the remaining previously non-starters. That team competed against Ohio State, which was No. 1 in the country at the time with players like John Havlicek, Jerry Lucas, and Bobby Knight. The matchup, played in Iowa City, was a game for the ages, with Iowa losing on a last-second missed shot by Nelson. The crowd, of which I was one, was stunned. An Iowa team of substitutes nearly beat the best team in the country and would have had that last basket dropped. It was a game to remember.
Strangely enough, during that season, freshmen were not allowed to play on the varsity squad, so a young man named Connie Hawkins who had just come to Iowa was so versatile that his dribbling and shot making became the halftime show. Sadly, he never played for Iowa and left after his first year.
Martin Waldinger (61BBA)
Scottsdale, Arizona
Green Roots
I read your recent article about sustainable practices ["Does Green Mean More Than Money in Business?" winter 2019-20, p. 9] with great interest. You should be aware that the UI has been way ahead of that curve for decades.
During my senior year in 1975, I took a course titled Planet in Crisis that changed my life forever. Environmentalism was a relatively new concept then, and this course was team-taught by professors in chemistry, physics, and another science. That course gave me knowledge and habits that I have practiced and passed along to friends, clients, and family throughout my life. Who says you don't remember things you learned in college?
John Whaley (75BA)
Johnston, Iowa
Lessons From Television
The TV studio in the Old Armory pictured on p. 61 of the fall issue of Iowa Magazine ["Reflect"] was the location for 60 half-hour lessons I taught for TV Schooltime, produced by students at the university. The purchase of the videotape recorder meant the lessons no longer had to be produced by kinescope as had been the case in 1961-62. However, it did not mean that taping could be interrupted, because the students had only one class period in which to produce the finished project.
The topic for 1963-64 was American biography. Two lessons featured the assassination of President John F. Kennedy and the space mission of John Glenn. The filming was done in black and white, so graphics were difficult. Director R. Shepherd Morgan (64PhD), Professor Sam Becker (47BA, 49MA, 53PhD), and the students were groundbreakers at the time.
The state did not have public television, so the TV Schooltime lessons were broadcast during school hours by three commercial stations: WOI, KWWL, and WMT. Once when I was shopping with my husband, a woman came up to me and said, "You come on my TV after Captain Kangaroo." That was my one experience with a fan. I was teaching social studies at University High School at the same time.
B. Kay Stientjes Ramseyer (58BA, 63MA)
Normal, Illinois