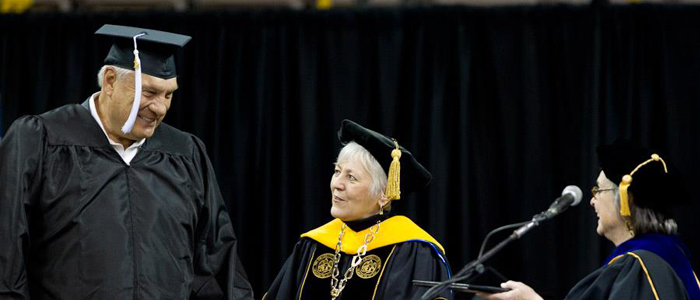 PHOTO: UNIVERSITY COMMUNICATION AND MARKETING
Former Iowa basketball all-American Don Nelson has played for five NBA championship teams, won more games than any NBA coach in history, and secured his place in the Naismith Memorial Basketball Hall of Fame. Yet only last month did the retired coach fulfill his "dream of a lifetime": to receive his bachelor's degree from the University of Iowa.
Three days before his 72nd birthday, Nelson returned to Iowa City to participate in the College of Liberal Arts and Sciences' spring commencement ceremony. Former UI teammate Joel Novak, 62BA, 65JD, as well as 45 members of Nelson's family, cheered on "Nellie" as he walked across the Carver-Hawkeye Arena stage in cap and gown.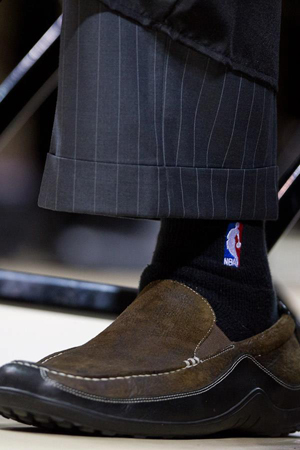 PHOTO: UNIVERSITY COMMUNICATION AND MARKETING
Nelson, a Hawkeye forward and center under Coach Sharm Scheuerman [deceased], 56BA, from 1959 to 1962, was eight credits short of graduation when he left Iowa to play for the Chicago Zephyrs. Afraid that he'd fail Spanish and be ineligible to compete in college basketball, he delayed earning his physical education diploma. "I always knew I'd get my degree someday," says Nelson (now considered a 64BS), "but someday ended up being 50 years later."
While in the NBA, Nelson juggled a couple Spanish classes to complete Iowa's foreign language requirement. Although he planned to finish the required practice teaching after retiring in 2010, the UI considered his decades of coaching experience satisfactory.
This year has proved to be momentous for Nelson, who will also be inducted this September into the national Basketball Hall of Fame. After leaving Iowa as the school's all-time leading scorer with 1,522 points (a record that stood until Ronnie Lester, 81BGS, overturned it in 1980), Nelson played for 14 years in the NBA, winning five championships with the Boston Celtics. He then earned 1,335 victories in 31 seasons as an NBA coach for such teams as the Milwaukee Bucks, Golden State Warriors, and Dallas Mavericks. At the 1994 FIBA World Championship, the three-time NBA Coach of the Year also led Shaquille O'Neal and the rest of the USA's second Dream Team to a gold medal.
Nelson's post-graduation plans include co-founding a company that sells watches, bikes, and other goods made in America. Now that he has received his degree—the one dream that has eluded him all these years—Nelson calls himself the "luckiest man in the world."