The three-time NBA champion shares his path from Hawkeye star to professional basketball agent.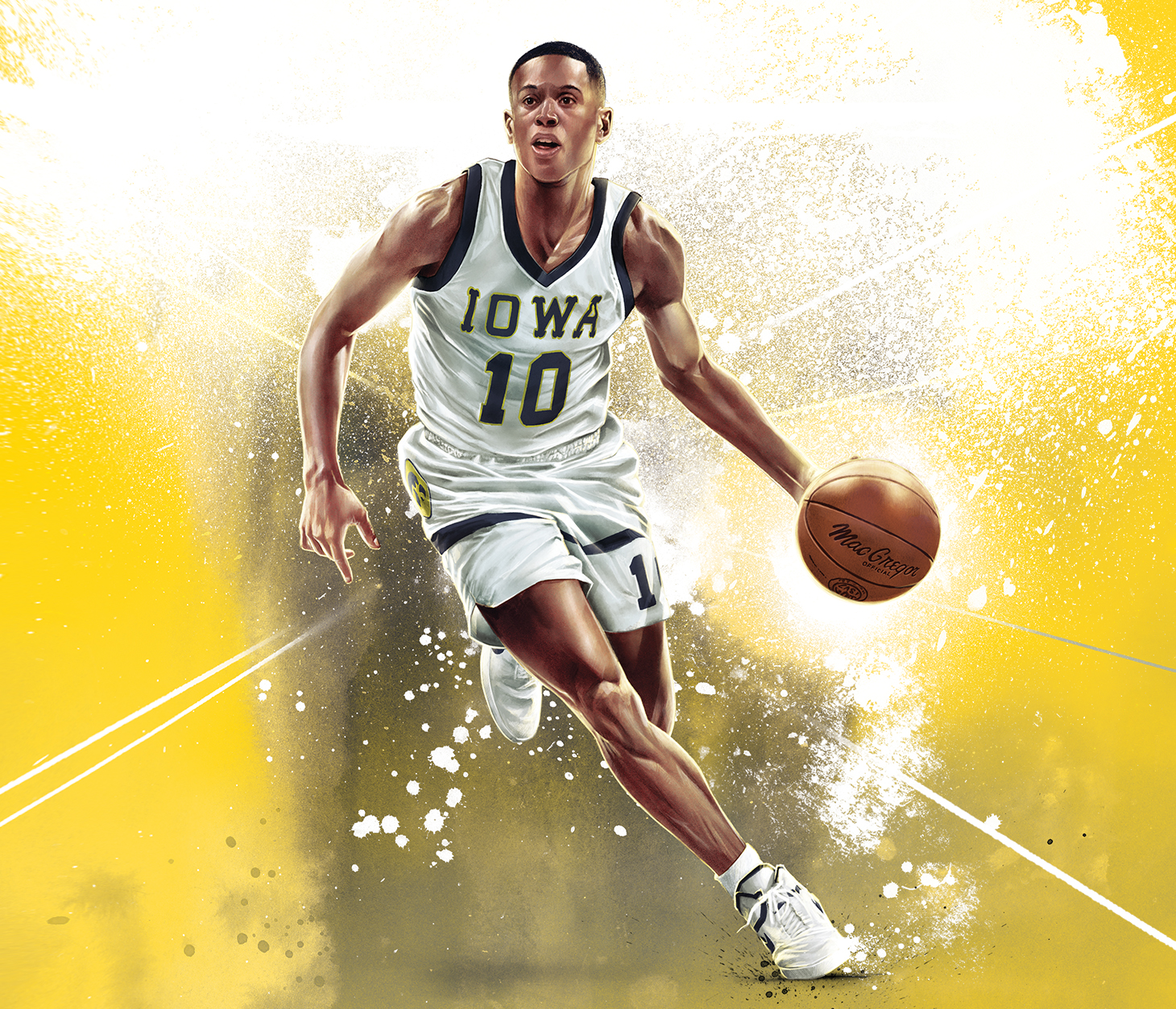 ILLUSTRATION: DAVE MERRELL
B.J. Armstrong became a Hawkeye fan favorite from 1985 to 1989 before playing 11 seasons in the NBA.
He played on Iowa's winningest basketball team, won three NBA titles alongside Michael Jordan, and worked as a front office executive for the Chicago Bulls. Still, B.J. Armstrong (89BA) brings an open mind and passion for learning to his current basketball pursuit: serving as an agent for professional players across the globe.
Armstrong's interest in the business of basketball started long before he hit the court at Carver-Hawkeye Arena—and continues in his 13th year with Wasserman, a sports marketing and talent management company based in Los Angeles, where he's executive vice president. The Detroit native grew up with a natural curiosity of the media and wanted to know how sponsorships, naming rights, and television coverage all converged in basketball. Says Armstrong: "I'm just that curious kid who's always asking why and trying to understand how things really work."
Armstrong, who was honored as grand marshal at UI Homecoming this past October, became a Hawkeye fan favorite as a two-time team MVP and three-year starter at Iowa. Ranked fifth in all-time points and assists, he helped the 1986–87 UI squad earn the program's only No. 1 ranking. The Hawkeyes won a school-best 18 straight games, reached the Elite Eight, and finished 30-5. Seven members of that team played in the NBA, though Kevin Gamble left the biggest impression on Armstrong. Says Armstrong: "I owe a lot to him because I was able to see firsthand what it meant to be a leader and the responsibility of it."
Armstrong was selected by the Bulls in the first round of the 1989 NBA draft and was a key contributor to the franchise's first three-peat, led by all-time greats Jordan and Scottie Pippen. "The common denominator was the professionalism of that entire group," says Armstrong. "You didn't come to the gym to play the game; you came to perform and you understood your job."
Armstrong earned an All-Star selection in 1994 and played 11 NBA seasons before transitioning to the Bulls' front office. Since 2007, Armstrong has leveraged his basketball experience to serve as a resource for a new generation of players, including former NBA MVP Derrick Rose.
"I had questions that I wished I could have asked my agent, but he wasn't an ex-player, and that's probably what brought me here," says Armstrong, whose company manages more than 50 clients globally. "No one ever sits you down and explains to you how the business really works."
The former communication studies major admits he learns more from his clients than they do from him as they navigate new challenges in an age of social media and increased visibility. Serving clients in the NBA and international leagues, Armstrong finds his demanding work requires adaptability to an ever-changing industry that's growing increasingly global.
Says Armstrong: "Being able to ride on the wave of change is probably my biggest asset."