Since Iowa's floods of 2008, more than 2 million museumgoers around the globe have viewed Mural, Jackson Pollock's midcentury masterpiece. Transporting the University of Iowa Stanley Museum of Art's crown jewel, however, has been nothing short of a monumental task. As construction begins on a permanent home for the painting, here's how the UI has orchestrated its unprecedented world tour.
Two winters ago, Katherine Wilson (12MA), manager of collections and exhibitions for the UI Stanley Museum of Art, boarded a ferry alongside a large but otherwise nondescript truck in Portsmouth, England. In Wilson's care was a single piece of cargo—an unmarked steel-framed crate weighing a ton and a half—strapped down inside the truck's trailer.
Video: John Emigh
Watch a video about Mural's unprecedented world tour.
The winter weather was harsh and the water rocky. For much of the next 24 hours, Wilson and other passengers battled seasickness while the ferry lurched through the English Channel and Bay of Biscay en route to northern Spain. At one point, Wilson's laptop flew across her cabin when the ship hit a particularly violent swell. Wilson had traveled extensively as an art courier for the museum, but this voyage proved more stomach-churning than any flight or long haul.
The rough passage wasn't the only reason Wilson was uneasy. Unbeknownst to others on board, Wilson was escorting one of the world's most valuable paintings. Jackson Pollock's Mural, the UI-owned masterpiece, was secretly traveling from the Royal Academy of Arts in London to the Guggenheim Museum in Bilbao, Spain.
As has often been the case since Iowa's historic floods of 2008 washed out the UI art museum's original building—and for much of the painting's nomadic history—Mural was once again on the move.
---
The notion of movement is soaked into Mural's canvas—both in its artistry and its life's story. And if any painting can be considered a living, breathing thing, it's 76-year-old Mural, with its galloping brushstrokes and dense cacophony of color—"a stampede" of "every animal in the American West, cows and horses and antelopes and buffaloes," as the Wyoming-born Pollock once explained it to a friend.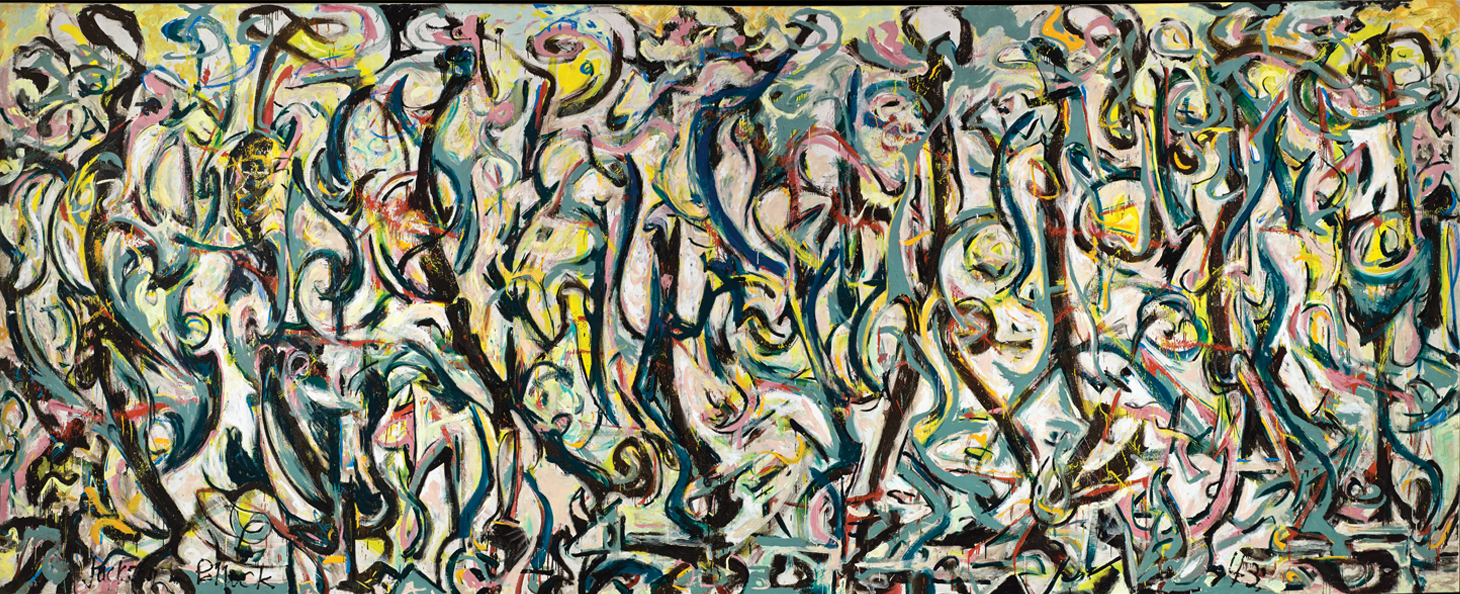 PHOTO: UI STANLEY MUSEUM OF ART
For years, the legend persisted that Pollock painted Mural in one frenzied 24-hour session. But an 18-month technical study and conservation from 2012 to 2014 at the Getty Museum in Los Angeles debunked that myth. The Getty's analysis of the 8-by- 20-foot painting's intricate layers definitively showed it was created in a sequence of campaigns over time, though the possibility remains that an initial composition was done overnight and served as a base for later sessions.
Even before beginning work on Mural in the latter half of 1943, the up-and-coming artist had the painting's mobility in mind. Commissioned by New York art impresario Peggy Guggenheim to create a mural for the foyer of her ritzy East 61st Street townhouse, Pollock opted to work with a massive swath of stretched, Belgian canvas rather than the wall itself so the piece could later be relocated, if needed. If not for that foresight, Mural's history may have been fleeting. After the Second World War, as Guggenheim left New York for Venice, the painting was rolled up and shipped to Yale, which declined to keep it. Guggenheim ultimately donated it to the University of Iowa's innovative School of Art and Art History. In Iowa City, Mural shuffled between the old Art Building and Main Library before becoming a fixture in the UI Museum of Art when it opened in 1969.
Beyond that history of movement, there's also the motion on the canvas to consider. It was Pollock's wild, sweeping brushwork in his New York flat—he had to surreptitiously knock out a partition to make room for the 8-by-20-foot canvas—that resulted in a work unlike anything he'd ever created. "It looks pretty big, but exciting as all hell," Pollock wrote in a letter to his brother that summer. It was his first commissioned work, and Mural would prove to be the largest painting of his career.
Further, experts point to Mural as the birth of an entire art movement. The painting marked the moment when Pollock pivoted away from surrealism toward a spontaneous and gestural style that would be called abstract expressionism. Mural was a watershed in 20th century American art and a precursor to the horizontal drip paintings that made Pollock famous by the 1950s. "It was a breakthrough," says Stanley Museum of Art Director Lauren Lessing. "The idea that he had to tell a story, or be mythical, or reach into this long narrative tradition of European art going back to the Greeks and Romans—he kind of let it all go. That was Mural. It was pure abstraction, free of the influence of surrealism.
---
Even as waves buffeted the ferry during that 2016 channel crossing to Spain, Wilson's anonymous traveling companion was faring just fine, it turned out. Mural sat undisturbed within the temperature-controlled truck and its specially cushioned crate.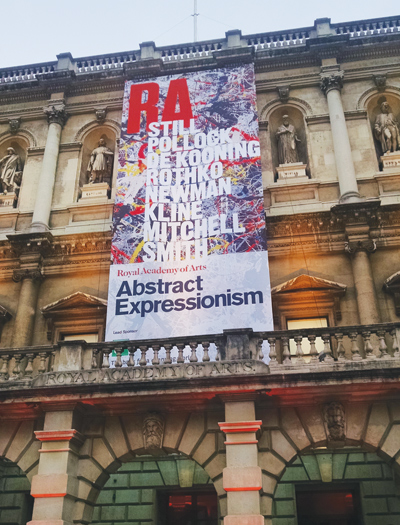 PHOTO: SEAN O'HARROW
Mural has headlined shows at some of the world's most prominent museums, including the Royal Academy of Arts in London in 2016-17.
After nearly 24 hours of travel, the ship ported in Bilbao, Spain. The painting was trucked to the Guggenheim Museum—a fitting stop given Mural's lineage. In the coming months, more than 350,000 visitors viewed Mural in the famed Spanish gallery, a high-water mark for attendance on its decade-long odyssey. (The museum was a familiar sight for Wilson; it was created by architect Frank Gehry, who designed the UI's similarly styled Iowa Advanced Technology Laboratories across the river from the old UI Museum of Art.)
The ferry trip was just one leg of Mural's logistically complex world tour, unprecedented in the UI Stanley Museum of Art's 50-year history. All told, since 2008 Mural has traveled nearly 20,000 miles to 13 museums across Iowa, the U.S., and Europe, including for a major conservation effort at the Getty Museum in Los Angeles. More than 2 million museumgoers have viewed the painting, setting attendance records at several venues. That total will only grow after its current exhibition at the Boston Museum of Fine Arts, where it will be on display through February.
Akili Tommasino, associate curator for contemporary and modern art at the Boston MFA, says Mural's arrival this past summer marked the first time he'd worked with a painting so massive that it required a crane to move into place. While previous exhibitions have showcased Mural alongside other works from Pollock or his contemporaries, Tommasino says his museum wanted to show how the painting speaks to today's audiences and artists. With that in mind, the Boston MFA commissioned a new painting from German artist Katharina Grosse in response to Pollock—a 48-foot-long, spray-painted drapery that currently hangs perpendicular to Mural.
Tommasino says Mural has drawn big crowds in Boston as it continues to thrill art lovers of all generations, which is a testament to its timelessness. "It's such a fresh-looking painting," the curator says. "There's depth, there's palpable energy. And it's also a crucial moment in a painter's career. He became known for his drip paintings, but this is a lesser-known moment for us and a real apex of his work."
---
Mural has traveled by truck, boat, and cargo plane. Cranes, forklifts, and teams of gloved preparators have hoisted it into galleries. Museums have built special platforms and removed building fixtures to squeeze it through its doors. At the Sioux City Art Center, the museum tore down walls and expanded doorways to accommodate the leviathan for its nine-month stay beginning in 2014. The following year for Venice's famed Biennale exhibition, a barge carried the painting down the city's Grand Canal before it was craned into Peggy Guggenheim's gallery.
Every inch of Mural's travels are mapped out months, and in some cases, years in advance. Wilson works with museums to hammer out the loan agreements, including the six-figure insurance policies necessary to host the painting. She and other staff members also accompany Mural as couriers during installations, move-outs, and transit, although they joke that they aren't required to be handcuffed to Mural; police escorts and armed guards handle the tight security.
"Traveling with any work of art is nerve-wracking, not due to the value, but due to the fact that it is a unique work of art that I have been entrusted with," Wilson says. "Whenever we loan a work of art, the piece is fully insured because of this, so I don't really think about how valuable the work is. I usually think about the age and the uniqueness of the piece. Money can be replaced, but the art cannot."
Even so, few works of art are as valuable as Mural. The painting is insured by the UI for $140 million through Lloyd's of London, but given today's market for ultra-exclusive art, its value may well be greater. Pollock's drip painting No. 17A, for example, reportedly sold for $200 million in 2015. While the prospect of selling Mural to fund various university needs is raised every so often by legislators and others, UI leaders have remained steadfast to the university's original commitment to Guggenheim to use the painting to forward its educational mission.
That mission had to be reimagined when the museum became a self-labeled "museum without walls" in 2008. Instead of storing Mural and other key pieces from its 15,500-piece collection as it sorted out funding for a new building, the museum opted to take its artistic gems to new audiences. Mural hit the road for the first time since 1999, when it had last been loaned to the Museum of Modern Art in New York.
The challenges inherent to moving Mural begin with its sheer size, says Steve Erickson (92MA, 93MFA), manager of design and installation for the Stanley Museum of Art. Erickson says the painting is just inches below the threshold of being too large for most modes of transport. Because it must be moved vertically, Mural's 10-foot-tall crate can only fit in extra-tall semis and a select few cargo planes. Had Peggy Guggenheim's foyer been any bigger, it would have been necessary to roll the painting up to be moved—precluding it from touring.
Over the past decade, Erickson has become well-acquainted with the floor plans of some of the world's most prestigious museums. "Most of the European venues, because the buildings are older, are not set up to take a painting this size," Erickson says. "So most of them had complications—having to use a crane or coming through a side door. In London, we had to carry the travel frame up a very narrow stairwell. It took about 15 big guys to get it up the stairs."
Before Mural moves to a new location, preparators use a wooden stand-in to simulate its movement and installation. "So if they're going to bump a doorway, they do it with a piece of plywood," Lessing says. "It's like rehearsing a dance where they can get all the muscle memories in place before the actual painting is in play."
Handling a priceless and irreplaceable world treasure would give anyone sweaty palms, but Wilson and Erickson say their biggest worry is keeping preparators safe. After all, the monolithic Mural weighs 345 pounds, and 3,200 pounds in its crate—big enough to be catastrophic should it tip over. The painting itself, meanwhile, is well-insulated from potential pitfalls in transit. As part of its restoration while at the Getty Museum, experts engineered a custom crate lined with a special vibration-dampening material called Sorbothane that has several times greater shock resistance than ordinary foam rubber.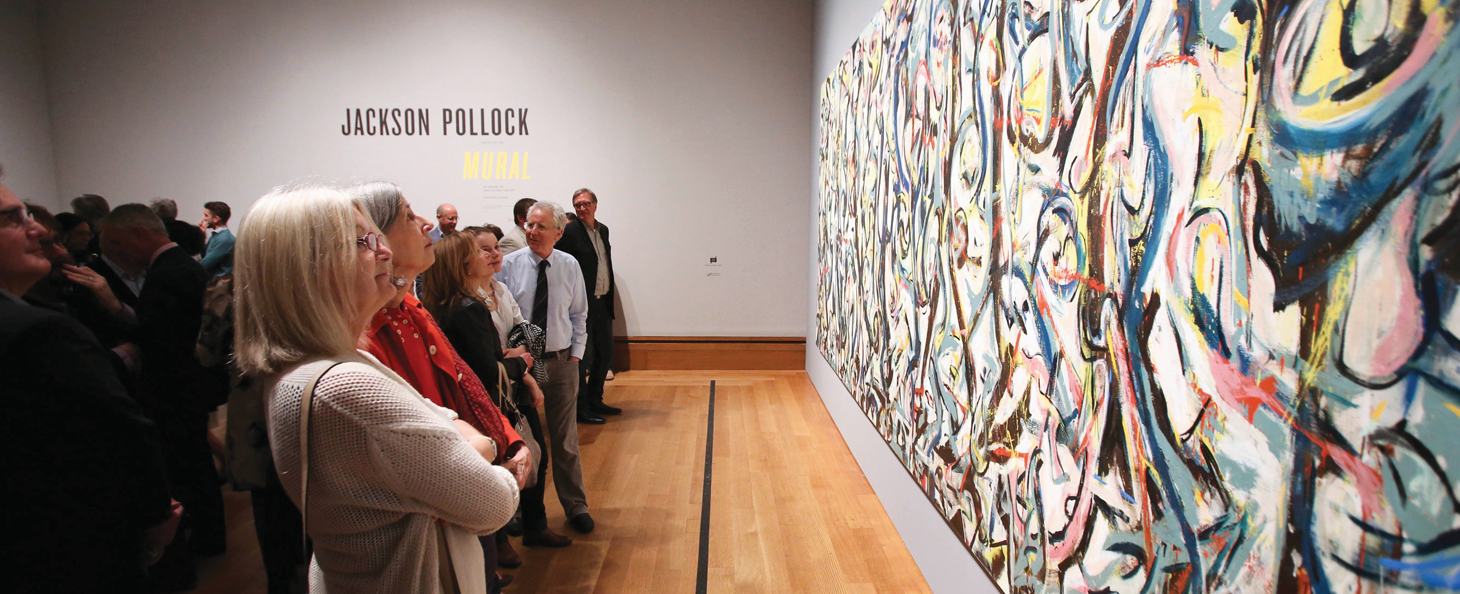 PHOTO: J. PAUL GETTY TRUST
Mural at the Getty Museum in Los Angeles in 2014.
Even more, Mural's stay at the Getty from 2012 to 2014 rejuvenated a painting that was showing its age. In an ambitious conservation effort, experts used cotton swabs to painstakingly remove surface grime, as well as a layer of varnish applied in the 1970s by a UI-hired conservator. While it may have saved the painting from serious deterioration, the coating gave Mural a flattening, cloudy sheen as it aged. The Getty team also built a new stretcher to correct a pronounced sag that had developed in the heavy canvas. The results were dramatic. After a year and a half in the lab, the Getty's work revealed a depth of brushwork and vibrancy unseen for decades.
"The dark paints became darker, and the reds and yellows and all the colors became brighter," Yvonne Szafran, the Getty's former head conservator, said in a 2016 talk in Iowa City. "You don't have that reflection anymore, and you become much more aware of the variety of the surface."
---
Look closely and you can still see it, points Lessing. There, imprinted on the concrete wall beneath the sunburst skylight, is the faint outline of where Mural had hung—the fulcrum of this old UI art museum. It's a ghost of a painting, a half-shade lighter than the rest of the wall.
"This is where I feel the saddest," says Lessing, who is standing in the dim gallery on a recent morning. She points to the opposite side of the empty room, where another subtle demarcation divides a wall. It's the water-level line from the historic flood of 2008, a reminder of those fraught days when museum staff raced against the rising Iowa River to evacuate its treasures.
Today, the building houses a costume shop for the nearby theatre arts department and offices for museum staff. While the building was salvaged, returning the art collection to the floodplain would have rendered it uninsurable. Instead, the museum has operated a gallery at the Iowa Memorial Union in recent years and taken pieces on the road through numerous outreach programs, partnerships, and traveling exhibits. Most notably, the Figge Art Museum in Davenport has partnered with the UI to provide gallery space and storage since the flood.
Any wistfulness for the old building, however, is buoyed by excitement for what's happening during this 50th anniversary year for the museum. Across the river, construction crews have at last broken ground near the northwest corner of Madison and Burlington streets, four feet above the 500-year flood plain. The new $50-million, three-story Stanley Museum of Art is scheduled to open in 2022, when Mural is set to make its long-awaited homecoming. The Chris and Suzy DeWolf Family Gallery—named for the Cedar Rapids benefactors who donated $1.5 million to fundraising efforts—will house the pièce de résistance in a dedicated second-floor space. BNIM, a Des Moines-based architecture firm, has designed the museum with Mural as its centerpiece, including an extra-deep service elevator that can fit the painting, much to Erickson's excitement.
Curators have already begun planning for an opening exhibition around Mural that will spotlight the museum's extensive collection of 20th century abstract art. That includes a second UI-owned Pollock painting—Portrait of H.M., also donated by Guggenheim in the 1940s. "We want to bring home all the wonderful works of art that people have missed so much—the rock stars of the Stanley Museum of Art," Lessing says. "We're well positioned with our collection, and a few strategic loans, to tell a very complex story about abstraction in the 20th century."
In the meantime, Mural's world tour is in its homestretch. UI museum leaders have finalized one last major exhibition following the Boston show: March 28, 2020, through February 28, 2021, at the Solomon R. Guggenheim Museum in New York. Beyond that, Lessing expects Mural to go off-view and be placed into storage until the ribbon is cut on the new Stanley Museum of Art.
"I've had inquiries from other museums, but it has traveled a lot," Lessing says. "It's in great shape still from its conservation treatment at the Getty, but I don't want to risk it. I want it to be looking its best when we debut it here in 2022."
After years of bringing Mural to the world, Iowa is poised to once again bring the world to Mural.