After getting the blessing of a member of the 1950s "Fabulous Five" Hawkeye basketball team, Patrick McCaffery pays tribute to his late friend by wearing No. 22.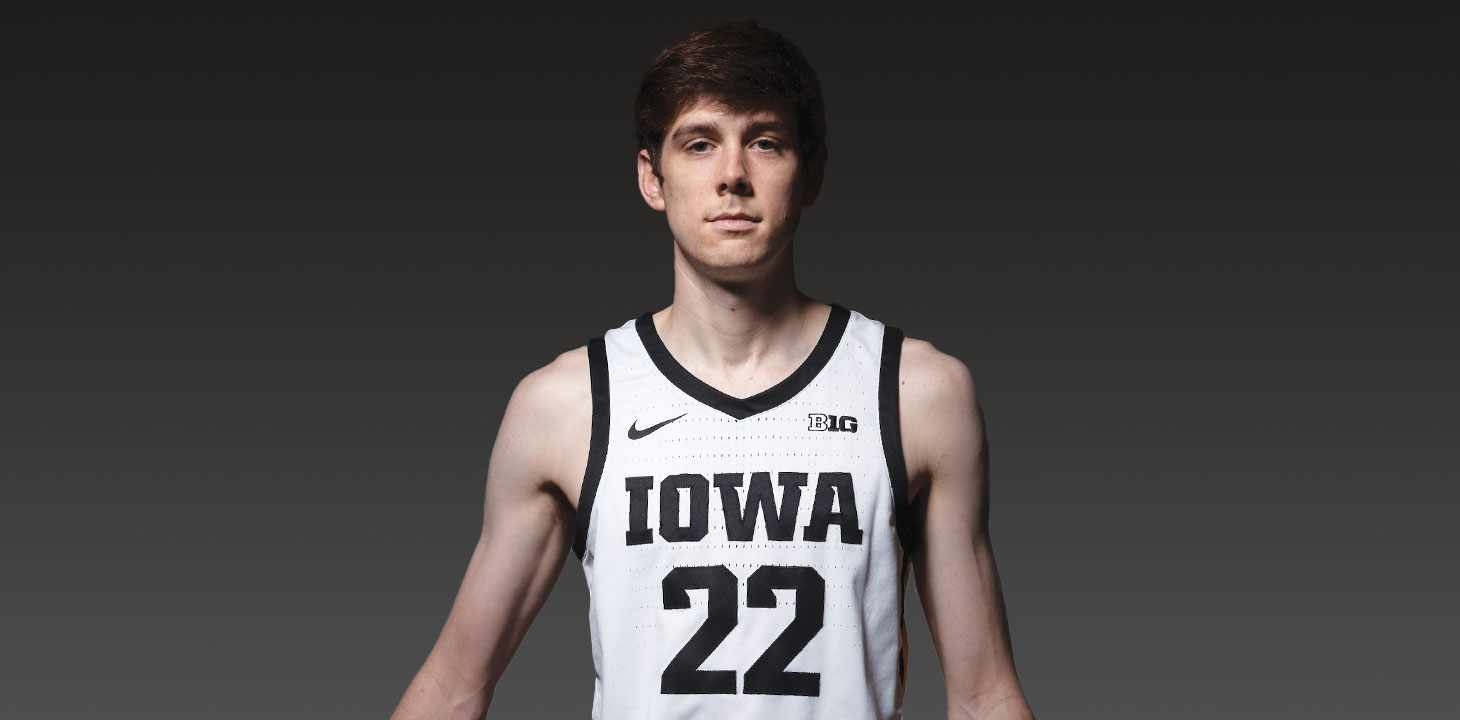 PHOTO: BRIAN RAY/UI ATHLETICS
Patrick McCaffery models Iowa's new uniform for the 2019-20 season.
Childhood friends Patrick McCaffery and Austin Schroeder shared a special bond. They loved sports. They loved the Hawkeyes. They even wore the same jersey number. Austin was No. 22 in his favorite sport, baseball, and Patrick was No. 22 on the basketball court.
Together, they also battled cancer. In 2014, on the same day that Patrick underwent surgery to remove a malignant tumor from his thyroid, Austin discovered a lump in his groin while on vacation with his family. Austin—nicknamed "Flash" for his speediness on the base paths and energetic spirit—was stricken with a rare and aggressive form of non-Hodgkin lymphoma. After a yearlong fight, Schroeder died in 2015 at age 15.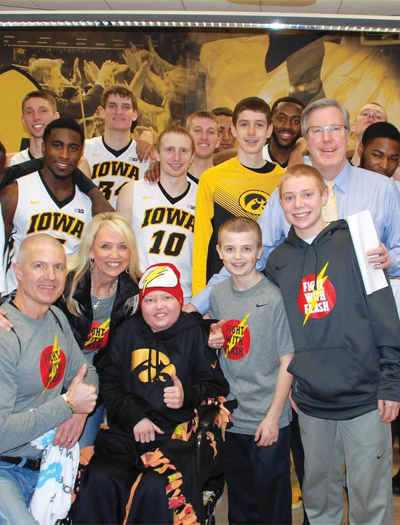 PHOTO COURTESY CRAIG SCHROEDER
The Schroeder family with the Hawkeyes during the 2014-15 season.
So when McCaffery—today a thyroid cancer survivor and UI freshman—donned his Hawkeye uniform for the first time this season, it represented more than just the next step in his basketball career. The No. 22 was a tribute to a friend who made a lasting impact on the McCaffery family, as well as the Iowa City and UI communities.
It also marked the first time in more than 60 years that an Iowa player has worn No. 22—a gesture made possible by the graciousness of an all-time great Hawkeye. Bill Seaberg (60BBA), an All-American for Iowa's fabled "Fabulous Five" teams that reached back-to-back Final Fours in 1955 and 1956, has given his blessing for his retired number to be lowered from the rafters.
"I said as long as he's a good kid, an honorable person, and has good morals, I'll take it out of retirement," says Seaberg, now 85 and a retired real estate developer in Evergreen, Colorado. "I think he intends to honor the good tradition of Iowa basketball."
McCaffery, who overcame his health struggles to become Iowa City West High School's all-time leading scorer and one of the state's top recruits, joins a Hawkeye team led by his father, Coach Fran McCaffery. He also reunites with his brother, redshirt sophomore Conner McCaffery. It's the first time Fran has coached his sons together since they played on a grade school AAU team in New York.
Patrick says Austin's memory serves as a steady reminder to never take his opportunities—both in basketball and in life— for granted. Under his jersey, Patrick has a tattoo of a symbol Austin once drew of a lightning bolt and his nickname. "I've always worn this number, but it's something that took on new meaning back when Austin and I shared it together," says McCaffery. "It's a lot deeper than basketball, and something I hold very close to my heart."
In 2015, Austin's parents, Craig (93BA) and Stacy Schroeder, established the Fight with Flash Foundation, which has since raised $380,000 for the Adolescent and Young Adult Cancer Program at UI Stead Family Children's Hospital. The McCafferys have also been staunch supporters of the emerging AYA program through their own philanthropic and fundraising efforts. This past fall during a football game at Kinnick Stadium, the families each presented $100,022.22 checks to the program.
"We're so blessed and thankful that they both had each other to go through this," Craig Schroeder says of his son's friendship with Patrick. "They spent hours together in the hospital and more at home hanging out and just playing video games and being kids when others were at school."
In October, Patrick received the Mary Ann Raymond Donnelly Fighting Spirit Award at the Coaches vs. Cancer Basket Ball, an annual fundraiser in Albany, New York, that Fran helped found while coaching at Siena College. "I want to help as many people as I can and use my platform to inspire others who have went through the same thing," Patrick said at the event.
As for his jersey number, Patrick wrote Seaberg a letter of thanks earlier this year. When his Iowa playing days are over, the number will go back into retirement. Until then, the 6-foot-9 forward plans to make Seaberg and the Schroeders proud.
Says Craig Schroeder: "I know Austin will be smiling down and be there at every single game with Patrick and rooting him on."
---
To support the Adolescent and Young Adult Cancer Program, visit givetoiowa.org.