The daughter of a UFC champion helps lead the inaugural Hawkeyes women's team.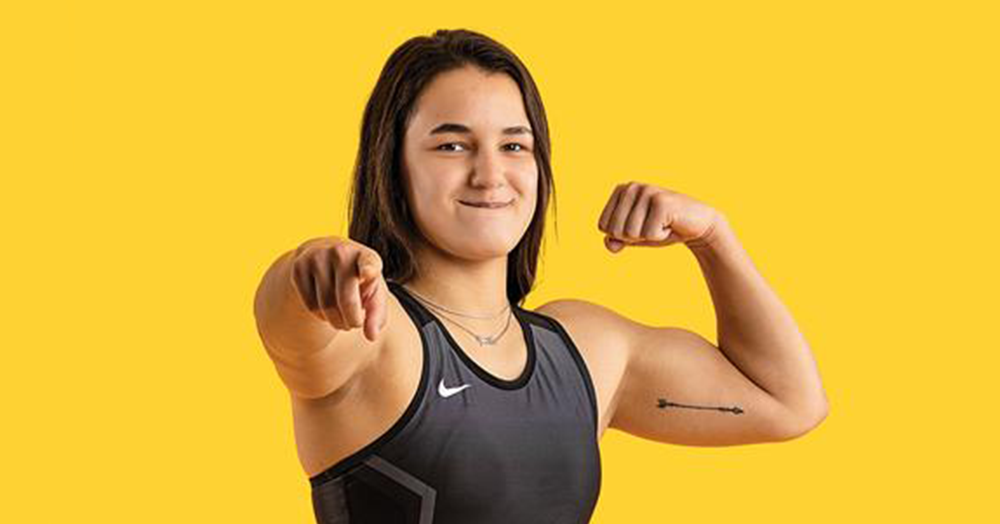 PHOTO: HAWKEYESPORTS.COM
Iowa sophomore Bella Mir won a U20 national championship earlier this year and earned a spot on USA Wrestling's U20 world team.
Bella Mir grew up throwing punches and kicks. The daughter of former UFC heavyweight champion Frank Mir, she competed in combat sports like jujitsu, kickboxing, and mixed martial arts since she was a young child. Those experiences shaped her into becoming the UFC's first NIL-sponsored athlete and a leader for the Iowa women's wrestling team, which begins its inaugural season this fall.
At her father's request, Mir used to play sports with less contact like softball, track, and soccer, but she was naturally drawn to one-on-one athletic confrontations. Mir quickly excelled in seventh-grade wrestling, delivered crushing hits as a linebacker on her high school's freshmen football team, and thrived in sparring sessions with experienced MMA fighters. "It's just you and me on a mat or in a cage or ring—and it's who's better," says Mir. "I love that aspect of combat sports."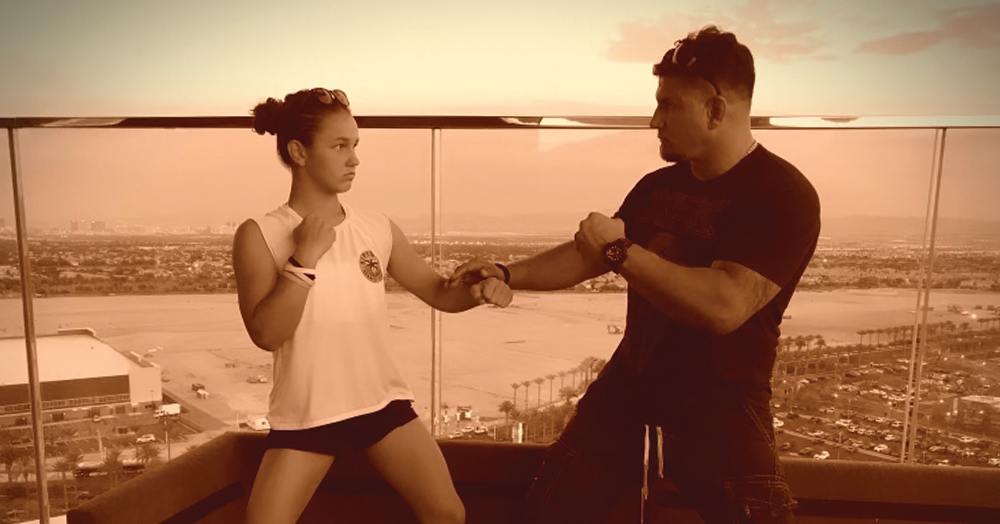 PHOTO COURTESY OF THE MIR FAMILY
A family photo shows Bella Mir training with her father, former UFC heavyweight champion Frank Mir.
Wrestling is the foundation for the Las Vegas native's most recent endeavors. Mir captured four Nevada high school state titles, a junior folkstyle national title, and became the sixth-ranked national recruit at 144 pounds. She also won three professional MMA fights and a national and international jujitsu title before turning 19. Mir came to Iowa for the opportunity to compete on the first women's wrestling team at a Power Five institution and fell in love with the community's support for women's sports.
Last season, before the program's official start, the Hawkeye women wrestled unattached in unmarked black singlets—and without coaches in most of their competitions. "We bonded more as a team because we were learning who we were on and off the mat," says Mir.
"It's really inspiring having little girls ask us for pictures and [hearing that] they're wrestling." — Bella Mir
As a freshman, she won 19 of her first 24 matches and claimed a title at 68 kilograms in USA Wrestling's U20 freestyle national championships—earning a spot on USA Wrestling's U20 world team. With popularity and participation in women's wrestling soaring, the sophomore embraces opportunities to encourage the next generation.
"It's really inspiring having little girls ask us for pictures and [hearing that] they're wrestling," says Mir. "I hope they see that I love what I do and put everything on the mat."