The largest crowd in NCAA women's basketball history witnessed an event for the ages at Kinnick Stadium. Here were our favorite moments.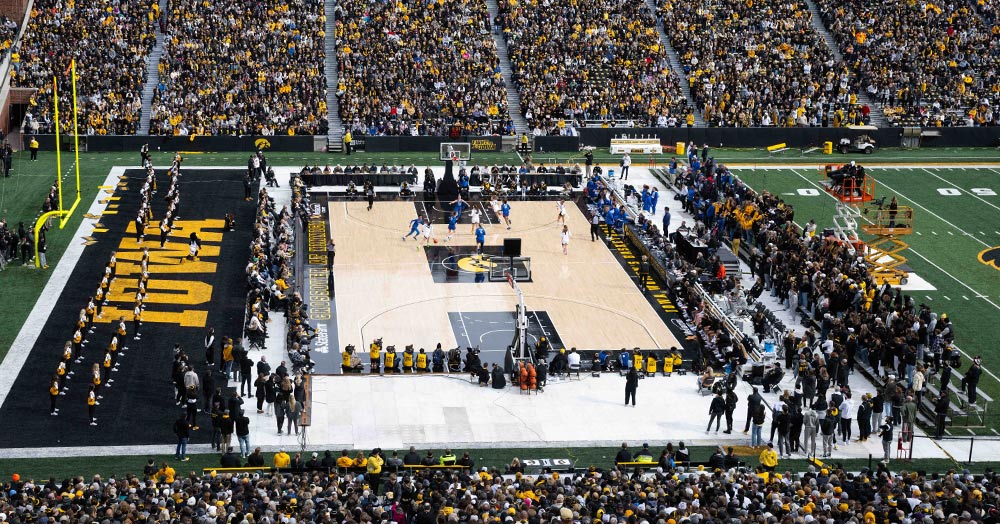 PHOTO: TIM SCHOON / UI OFFICE OF STRATEGIC COMMUNICATION
The Crossover at Kinnick drew 55,646 fans and raised $250,000 for UI Stead Family Children's Hospital.
Caitlin Clark said after Sunday's Crossover at Kinnick—the University of Iowa's first-ever outdoor basketball game—that she and her teammates were "giddy" with excitement as they waited in the tunnel before tipoff.
"Just a special experience; the amount of people just screaming for us, it takes your breath away for a moment," Clark said following a 94-72 exhibition win over DePaul.
More than 55,000 people were on hand for the history-making event at Kinnick Stadium, which set a new NCAA single-game attendance record for women's basketball. Here are 10 moments from the game that those fans won't soon forget:
---
1.
The 'Back in Black' Tunnel Walk
The Hawkeyes borrowed a football game day tradition when fifth-year senior Molly Davis led the swarm onto the field, er, court.
---
2.
A Standing Ovation for the Kid Captain
Fans saved one of their biggest cheers for honorary Kid Captain Krysty Bujakowska, a 12-year-old from Coralville who's undergoing treatment for osteosarcoma at University of Iowa Stead Family Children's Hospital.
---
3.
Waves of Love to UI Stead Family Children's Hospital
The best tradition in college sports made a feel-good day even more special, as women's basketball fans took part in the Hawkeye Wave.
---
4.
A Record-Shattering Total
An announcement midway through the game made it official: 55,646 fans were in attendance, almost doubling the previous NCAA record for a women's basketball game of 29,619 fans set at the 2002 Final Four.
---
5.
Caitlin Clark's First Long-Range Bomb
Even wind gusts couldn't keep the nation's best shooter from connecting from deep as Clark delivered a 3-pointer in the second quarter—her first of three triples on the day—that electrified Kinnick.
---
6.
Ticket Proceeds Support Children's Hospital
UI President Barbara Wilson and Interim Athletic Director Beth Goetz presented the game's proceeds—a check for $250,000—to UI Stead Family Children's Hospital.
---
7.
Marching Band Salutes Clark
The Hawkeye Marching Band delighted fans at halftime with a routine that featured No. 22 sinking a jumper.
---
8.
Hawkeye Greats Watch Courtside
Two of the best players in program history returned to Iowa City for the historic event: the WNBA's Megan Gustafson (19BBA) and international player Kathleen Doyle (20BA).
---
9.
Clark Posts a Triple Double
The reigning national player of the year picked up right where she left off in last year's run to the Final Four, finishing with 34 points, 11 rebounds, and 10 assists.
---
10.
Bluder Praises Fans After the Game
"Nowhere in the country could this happen except for the University of Iowa," the Hawkeye coach and mastermind of the event said at midcourt as she soaked in the scene.