The latest University of Iowa alumni and faculty achievements, including spotlights on musician Emily Duncan and artist Chunghi Choo.
2020s
Xochitl Gonzalez (21MFA) was a finalist for the 2023 Pulitzer Prize in commentary for her columns in The Atlantic.
Noah Zach Laird (22PhD), co-founder of Petrost Therapeutics, a bone regeneration company in Coralville, won a first-place UI John Pappajohn Entrepreneurial Center Innovation Challenge Award to help fund his startup business.
Connor McCaffery (22BA, 22BBA) is a team assistant for the Indiana Pacers.
Glen Waters II (23MFA) is an adjunct poetry professor at the Iowa Writers' Workshop.
2010s
Tania Davis (19BA), a former Hawkeye guard, is director of player development for the Iowa women's basketball program.
Kelly Hoffer (17MFA) received the 2021 Lightscatter Press Prize for her first book of poetry, UNDERSHORE.
Kathryn Reynolds (14BBA, 17JD) is president and commissioner for Northwoods League Softball, the first for-profit women's summer collegiate softball league beginning play in the upper Midwest in summer 2024.
Kelsey Ryder (14MA), an associate director at the UI Office of Student Financial Aid, received the 2023 Lola Lopes Award for Undergraduate Student Advocacy.
Vauhini Vara (10MFA) was a finalist for the 2023 Pulitzer Prize in fiction for her debut novel, The Immortal King Rao.
---
Music at the Met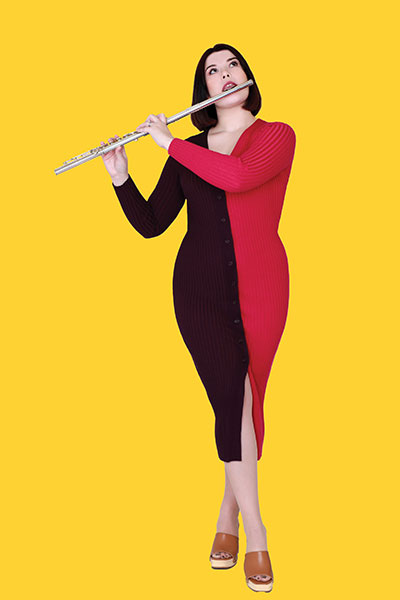 PHOTO: REX LOTT PHOTOGRAPHY
Musician Emily Duncan
Emily Duncan (16BA, 16BM) played flute alongside Grammy Award-winning artist Lizzo this past spring during a star-studded night at the Met Gala.
Duncan, a New York-based performer who studied music, theatre arts, and creative writing at Iowa, wrote on Instagram following the event: "I'm still pinching myself because I don't believe this actually happened! To work with such incredible talent AND be directed by Baz Luhrmann AND to share the set with Sir James Galway all while wearing a fabulously beaded cape?! That's like four dreams come true."
A contemporary flutist and producer who incorporates theatrical elements into her work, Duncan is also founder of GigCrunch, a financial literacy web app that helps musicians check if they are being paid fairly. She says the UI Center for New Music ignited her passion for working with living composers, while an Iowa acting course influenced the way she views her craft.
"It took me to a place of vulnerability that I was never able to get to with music before," says Duncan, "and it made me approach artmaking in a different way and form a deeper relationship with the material." —SHELBI THOMAS
---
2000s
Brad Banks (03BA) is sports sales manager for the Aurora Area Convention & Visitors Bureau in Illinois.
Nick Benson (06BA, 10JD, 12MS), executive director for the UI Office of Community Engagement, received the university's David J. Skorton Award for Staff Excellence in Service.
Nicole Johnston (94BBA), chief sales officer in the food division of Newell Brands in Atlanta, received the UI Tippie College of Business's 2023 Alum of the Year award.
Karunya Kandimalla (04PhD) is an associate dean for graduate education for the University of Minnesota Department of Pharmaceutics and Brain Barriers Research Center.
Edan Lepucki (06MFA) is author of Time's Mouth: A Novel, named by Salon and Library Journal as one of the most anticipated books of the year.
Yiyun Li (00MS, 05MFA), a writer, professor, and director of the creative writing program at Princeton University in New Jersey, recently received Princeton's Howard T. Behrman Award for Distinguished Achievement in the Humanities.
Karen Dunn Lopez (08PhD), an associate professor at the UI College of Nursing, director of the UI Center for Nursing Classification and Clinical Effectiveness, and leading expert in the emerging field of nursing informatics, recently received a 2023 Iowa Mid-Career Faculty Scholar Award.
John Mikelson (07BA, 08MA) is a 2023 National Small Business Week Winner, receiving the Small Business Association's 2023 Veteran Small Business Champion of the Year award.
Katherin Nolte (03MFA) released her debut novel, Back to the Bright Before, a magical-realism middle-grade adventure.
Susie Beederman Regan (02BBA, 05MA), associate director of academic and leadership programs at the UI Pomerantz Career Center, received the university's Staff Award for Distinguished Leadership in Diversity, Equity, and Inclusion.
Lorie Reins-Schweer (03JD), professor of legal analysis, writing, and research at the UI College of Law, received the 2023 President and Provost Award for Teaching Excellence, the university's highest teaching honor.
Abby Emmert Stamp (08BA, 17MBA), an assistant coach for the UI women's basketball team, has been named one of Silver Waves Media's 50 Most Impactful High Major Assistants: Women's Division I.
1990s
Lan Samantha Chang (93MFA) received a 2023 Anisfield-Wolf Book Award, which recognizes books that raise awareness of diversity and racism, for her novel The Family Chao.
Jane Dalton (92SE), a professor of art education at the University of North Carolina at Charlotte, is author of The Mindful Studio.
Brian Farrell (98JD), director for the Citizen Law Program, associate director of the Center for Human Rights, and associate professor of instruction at the UI College of Law, received the 2023 Board of Regents Staff Excellence Award.
Derek Gaskins (94BBA), chief marketing officer at Yesway, was named to C-Suite Spotlight's 2023 list of the Top 25 executives of Washington, D.C.
Rick Gates (95BSPh) is the chief pharmacy officer at Walgreens.
Martha Sixt Kirby (95BLS, 97MA), senior academic advisor for the UI political science department and creator of the UI Law School Readiness Program, received the university's 2023 Staff Award for Distinguished Leadership in Diversity, Equity, and Inclusion.
Timothy Krabill (93BA), a member of the State Hygienic Laboratory central services team, received the UI's 2023 Richard E. Gibson Merit Staff Award for Innovation and Excellence in Customer Service.
Jolette Law (90BS), assistant coach for the University of South Carolina women's basketball team in Columbia, South Carolina, has been named one of Silver Waves Media's 50 Most Impactful High Major Assistants: Women's Division I.
Rebecca Lee (92MFA) a professor of creative writing at University of North Carolina Wilmington, received a 2023 Guggenheim Fellowship to support an upcoming novel.
Zina Manji (98BSPh, 98MS, 00PharmD) is head of North American regulatory affairs for Ellume Health in New York.
Stephen McCahon (96PhD) is the chief science officer of Applied Energetics, a company that develops laser and optical technologies.
Jessica Meeske (99MS, 99PedoS), a clinical instructor at the University of Nebraska Medical Center's College of Dentistry, has been named 2023 Pediatric Dentist of the Year by the American Academy of Pediatric Dentistry.
Tom Piazza (93MFA) is author of The Auburn Conference, a novel published by UI Press.
Gabriela Rivera (99MA), an associate director of engagement and belonging at the UI Tippie College of Business, received the university's 2023 Diversity Catalyst Award.
Kelby Scandrett (94BS, 01BSN), nurse manager in the periodontics department for the UI College of Dentistry, received the 2023 Board of Regents Staff Excellence Award.
Roxanna O. Pellin Scott (96BA), executive editor and vice president for USA Today Sports, has been inducted into the UI School of Journalism and Mass Communication Hall of Fame.
Karin Weber-Gasparoni (99MS, 99PedoS, 03PhD), professor and chair of the pediatric dentistry department in the UI College of Dentistry, received the 2023 Regents Award for Faculty Excellence.
---
Visionary Artist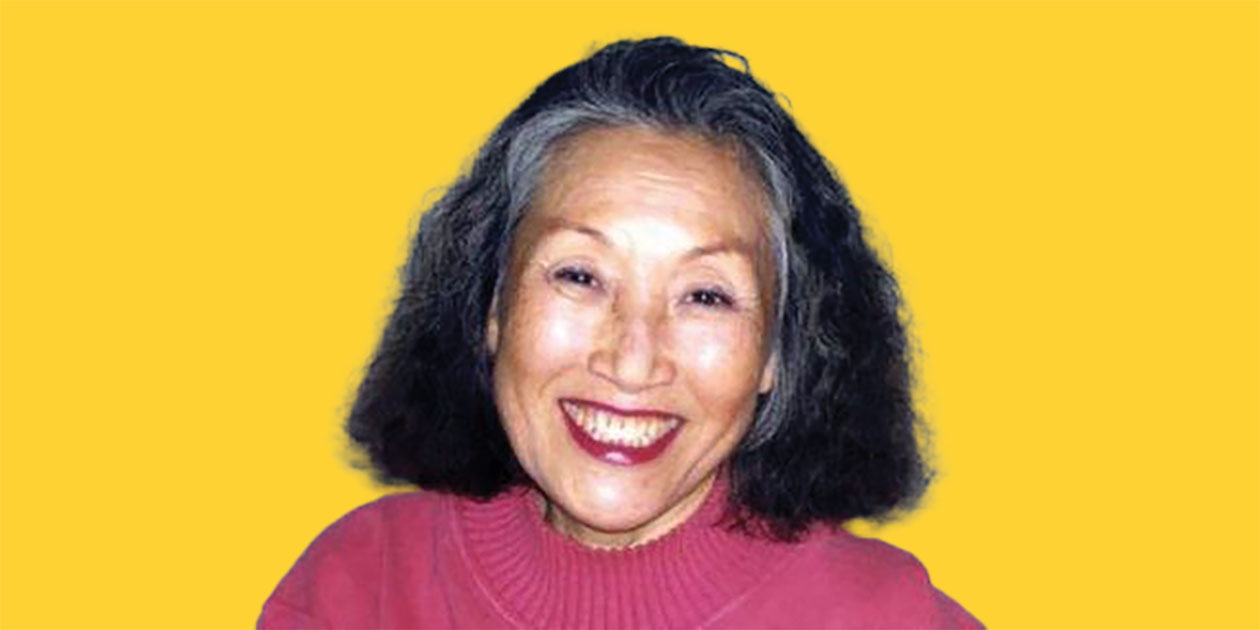 PHOTO COURTESY SMITHSONIAN
Chunghi Choo
Chunghi Choo, distinguished professor emerita at the UI School of Art and Art History, received the Smithsonian Visionary Award earlier this year in recognition of her innovative work as a world-renowned metalsmith and jewelry artist.
Choo established a metals program at Iowa that rose to international prominence and has mentored many students to become acclaimed artists. Together, their works are featured in art curator Jane C. Milosch's latest book, Chunghi Choo and Her Students: Contemporary Art and New Forms in Metal.
A leading figure of the American Studio Craft Movement, Choo incorporates special techniques such as electroforming and electro-applique to produce fluid, natural shapes in her art. Her work is on display at the UI Stanley Museum of Art, as well as the Metropolitan Museum of Art in New York, the Victoria and Albert Museum in London, and the Musée des Arts Décoratifs in Paris. —SHELBI THOMAS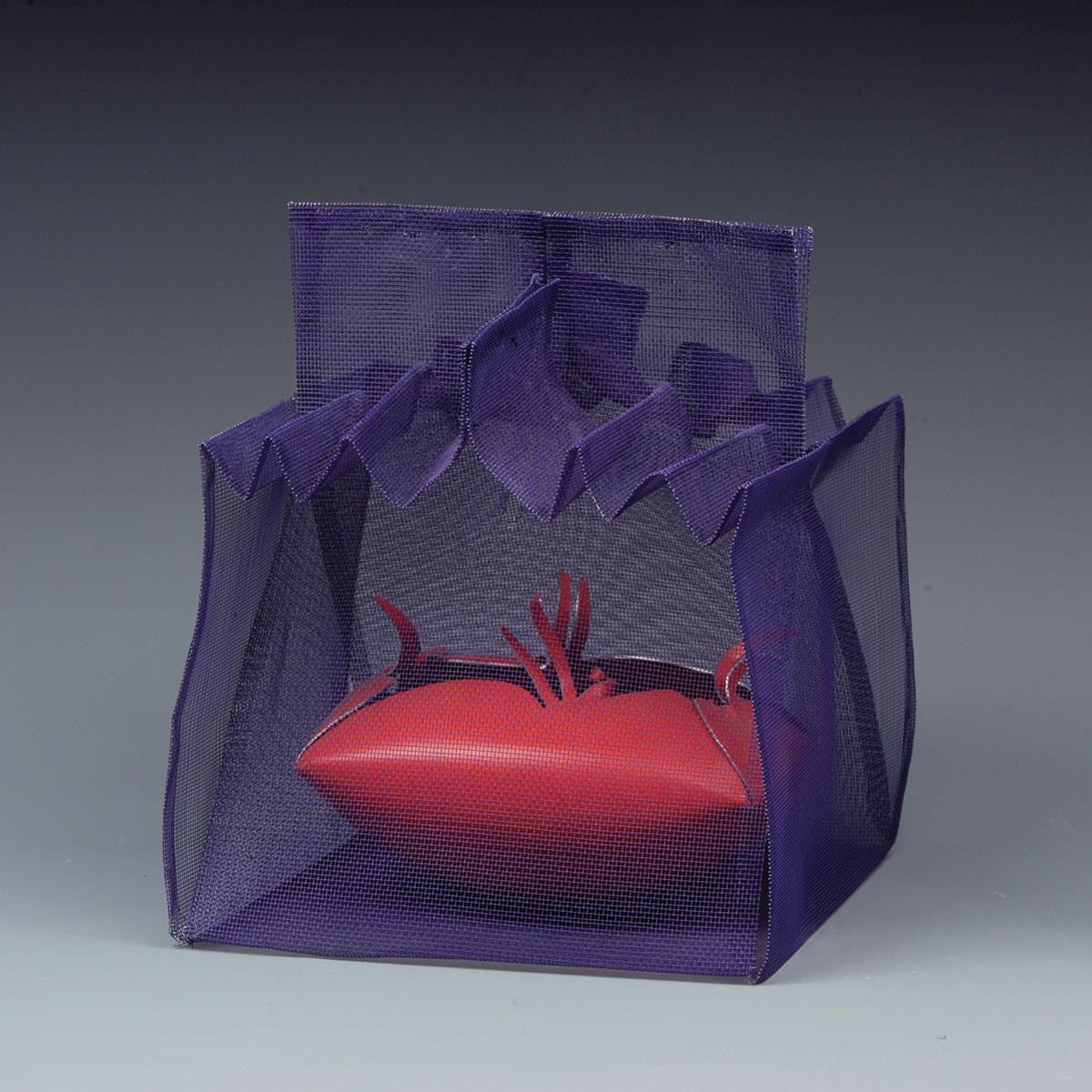 CHUNGHI CHOO, UNTITLED (VESSEL OBJECT) C. 1990
IO 1/4 X 8 1/2 X 9 IN. (26 X 22 X 23 CM)
GIFT OF CHARLES READ M.D.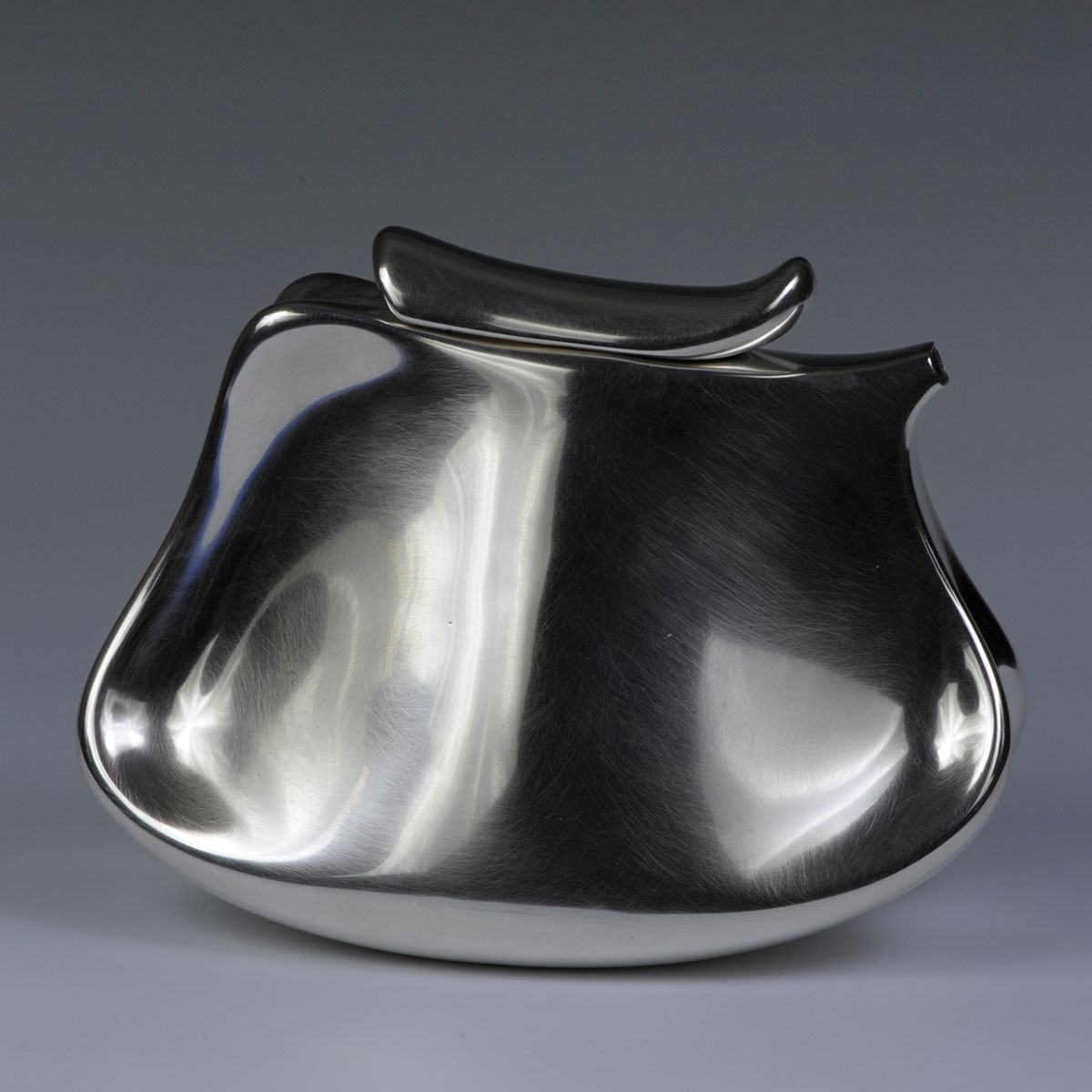 CHUNGHI CHOO UNTITLED (DECANTER) C. 1990
SILVER PLATE ON COPPER
6 X 7 3/4 X 4 1/4 IN. ( I5 X 20 X II CM)
GIFT OF CHARLES READ M.D.
---
1980s
Kevin Gruneich (80BBA), a retired publishing analyst, received a Hancher-Finkbine medallion for his giving to the UI and commitment to helping students make connections in the professional world.
Dan Hauser (86BA), a writer based in Minneapolis, recently released She Left the Party Early: A Memoir about his wife's death from metastatic breast cancer.
Mitch J. Kelly (87BA, 91MSW, 95PhD), a clinical professor at the UI College of Education, received the 2023 President and Provost Award for Teaching Excellence, the university's highest teaching honor.
Jim Skogsbergh (82MA), co-CEO of Advocate Health, a non-for-profit health system, received the American Hospital Association's 2023 Distinguished Service Award.
Catherine J. Kenney Welch (80BBA, 84MA, 90PhD), professor of educational measurement and statistics at the UI College of Education, received the 2023 Regents Award for Faculty Excellence.
1970s
Thomas Colbert (73BS, 78MA, 79MFA) is trustee and treasurer of the Wayne County, Pennsylvania, Historical Society and chair of the Delaware & Hudson Canal Park at Lock 31 committee that created for the park a full-scale model of the canal boats that once transported the state's coal to New York.
David Goist (72MA), a conservator of paintings through Goist Art Conservation in Raleigh, North Carolina, received the American Institute for Conservation's David Magoon-University Products Conservation Advocacy Award this past spring for advancing the field of art conservation.
Jeffrey D. Nelson (79MD), a retired family doctor based in Minnesota, has published two books: I Got to Live with an Angel and What Should I Do? A Family Physician Discusses Abortion, Religious Freedom, and Difficult Decisions.
Carla Nesbitt Perry (70BA) is author of The Jew Girls Adventure Series: You Can Call Me Andy.
Richard Tyler (78PhD), a UI professor of otolaryngology, manages and restores the Secrest 1883 Octagonal Barn in Johnson County, Iowa, which is on the National Register of Historic Places.
1960s
Rolena Klahn Adorno (64BA) Sterling Professor Emerita at Yale University in New Haven, Connecticut, received an honorary doctorate from the University of Rome last year and delivered the Josephine Waters Bennett Lecture this past spring at the annual meeting of the Renaissance Society of America.
George W. Counts (65MD), a retired professor of medicine, has been honored by the Infectious Diseases Society of America Foundation with an executive conference room named after him in recognition of his contributions to patient care, research, and medical education.
FACULTY & FRIENDS
Dean Bakopoulos is an associate professor of screenwriting in the UI department of cinematic arts.
Sara Baume, a former resident of the UI's International Writing Program, had her novel Seven Steeples named to the shortlist for the 2023 Swansea University Dylan Thomas Prize, which showcases exceptional young writers.
Meenakshi Gigi Durham, a UI professor of journalism and mass communication and gender, women's, and sexuality studies, is featured as an expert commentator in the Hulu docuseries Pretty Baby: Brooke Shields.
Louisa Hall, UI assistant professor of creative writing, is author of Reproduction: A Novel, published by Ecco.
Robert Kirby, director of the Iowa Center for Research by Undergraduates, received a Hancher-Finkbine Medallion for his leadership in the UI honors program.
Cornelia Lang, UI College of Liberal Arts and Sciences associate dean for undergraduate education and professor of physics and astronomy, serves as chair of the National Science Foundation's mathematical and physical sciences advisory committee.
Christopher Merrill, director of the UI's International Writing Program, received a Hancher- Finkbine Medallion for his service to the university and success as a poet.
Liz Tovar, UI executive officer and associate vice president of the Diversity, Equity, and Inclusion Division and senior associate athletics director for student-athlete academic services, has been named a 2023 HER Women of Achievement honoree by The Gazette.