Former Michigan captains Cade McNamara and Erick All bring their tight bond to Iowa City.
PHOTO: Jason Smith
Tight end Erick All and quarterback Cade McNamara bring their leadership, friendship, and competitive drive to Iowa.
With Michigan's season hanging in the balance, teammates Cade McNamara and Erick All were laughing on the sidelines.
"I don't even remember what we were laughing about," says All of his former team's November 2021 clash at Penn State. "We just knew we were going to win that game."
The Nittany Lions had just taken the lead late in the fourth quarter on a field goal. But on the ensuing possession, as a white-out Happy Valley crowd roared, McNamara calmly connected with his roommate and tight end for a 47-yard game-winning touchdown.
Cade McNamara throws a touchdown pass to Erick All in November 2021 to help Michigan capture a comeback victory at Penn State.
"Before we scored, Erick and I looked at each other, and we knew we were going to do that," says McNamara. "That's just a part of our chemistry—we both have fun and are super comfortable with each other. But also, when it comes to crunch time, we can count on one another."
Three weeks later, the former four-star recruits helped lead the Wolverines to a Big Ten championship game victory over Iowa.
McNamara and All were voted as captains ahead of the 2022 season, but the duo missed most of the year with injuries. McNamara suffered a right knee injury, and All injured his back. McNamara announced in December 2022 he was transferring to Iowa, and All made the same decision two weeks later. Reconnected and rejuvenated in Iowa City, the seniors—who each have two years of eligibility—are driven to capture another conference title with the Hawkeyes this fall.
Close Competitors
McNamara and All first met in January 2019 as early enrollees in Ann Arbor. They argued, wrestled, and quickly gravitated toward one another's competitiveness and work ethic. They witnessed those same traits in the Hawkeyes during a bowl practice last December on their official campus visit after entering the transfer portal.
"The hairs on my neck were standing up watching these dudes," says McNamara. "It's cold outside, they weren't even in pads, and they're hitting full speed. I thought, 'There's some fire here, and I want to be a part of that.'"          
"That was one of the best practices I've ever seen," added All.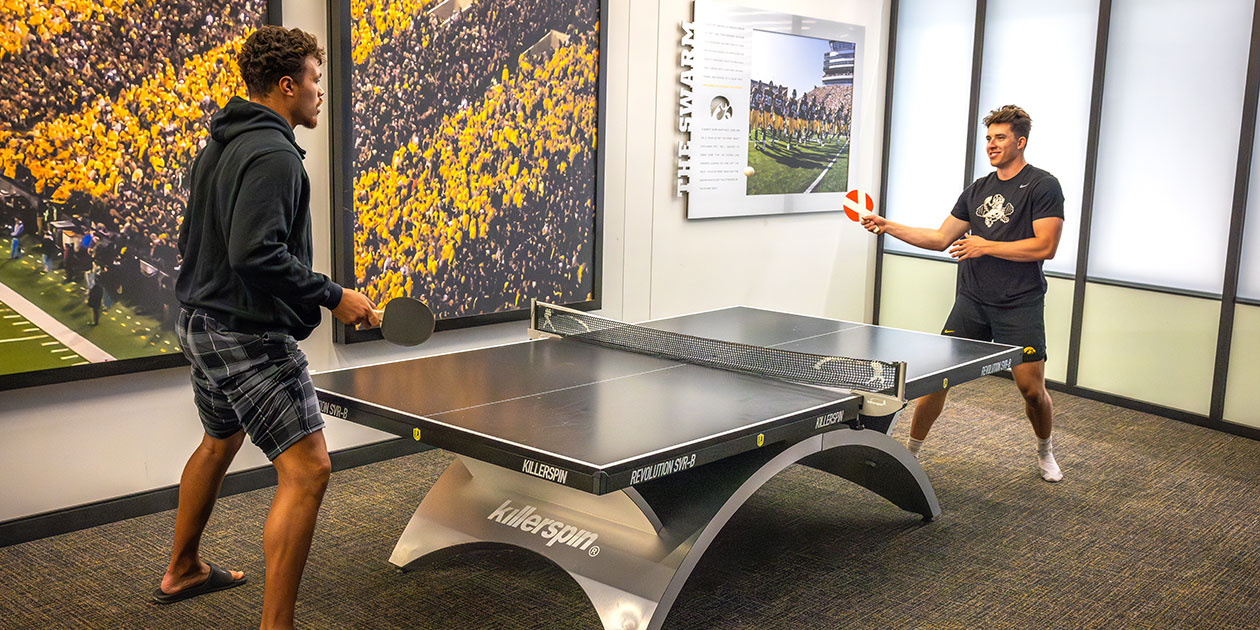 PHOTO: Jason Smith
Erick All and Cade McNamara play table tennis at the Hansen Football Performance Center.
Since arriving in Iowa City, McNamara and All haven't stopped competing—on the golf course, at the ping-pong table, in the weight room, or on the practice field. They know exactly what to say to playfully get under each other's skin and inspire the other.
"It's real easy to meet people here and get along with everybody. That's what I love the most about being here—everyone is so cool, and it's almost like a big family. It's like that Southern hospitality feeling, but we're not in the South." —ERICK ALL
They've also continued to invest in relationships, knowing the impact a brothers-like bond and sense of humor can have when adversity strikes. This past June, McNamara invited All and several of his new pass catchers to California to strengthen their chemistry. One day the group went surfing, and All spent hours fighting the waves to get on his board. Once the Fairfield, Ohio, native finally found his footing, McNamara inadvertently whacked him in the head with his own board while trying to catch the same wave, and they fell back into the water. Moments later, they were laughing once again.
"I feel like I've been here forever. The relationships that I've built here, the experiences I've already had, I just can't wait to continue to make more. … We're both really enjoying not just our teammates and the program but also the area, the people, and Iowa City." —CADE MCNAMARA
As McNamara and All begin a new chapter, they feel right at home in black and gold. "I love being on a team with a chip on our shoulder; that's a dangerous team," says McNamara. "This team has a lot to prove this season, and we're well aware of that."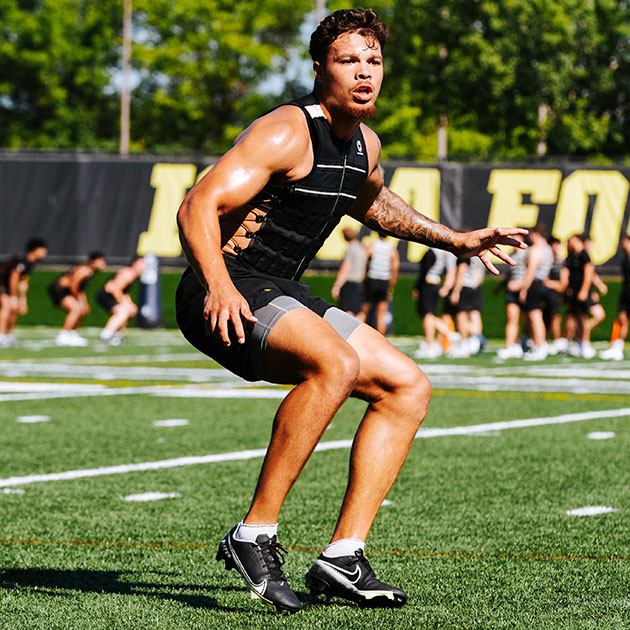 PHOTO: JUSTIN ELSNER/HAWKEYESPORTS.COM
Tight end Erick All practices with the Hawkeyes in advance of his first season at Iowa.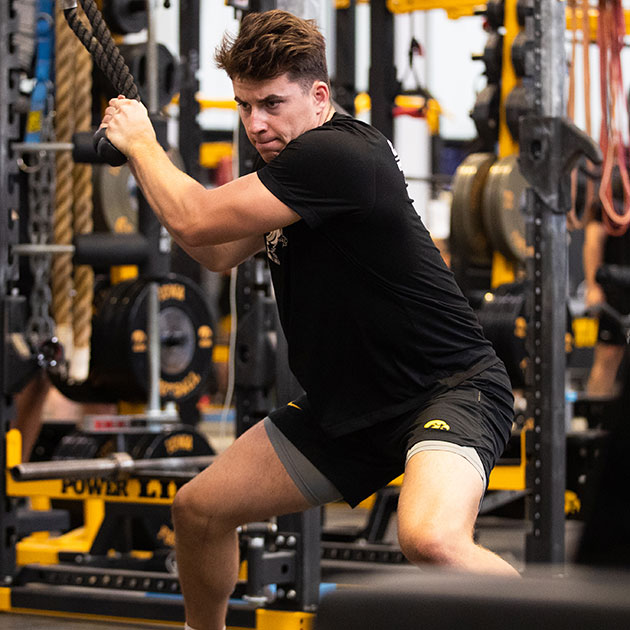 PHOTO: JUSTIN ELSNER/HAWKEYESPORTS.COM
Quarterback Cade McNamara trains in preparation for the Hawkeye football season.