The former Hawkeye men's basketball coach is depicted by Marlon Wayans in an acclaimed new film.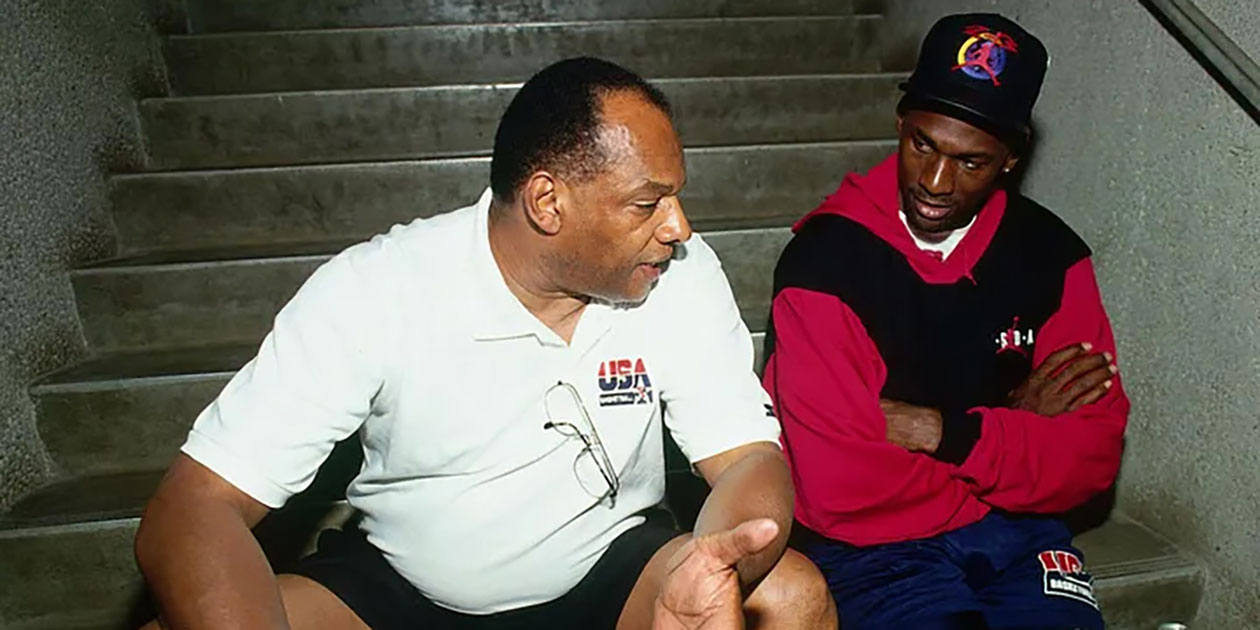 PHOTO COURTESY USA BASKETBALL
Former Iowa basketball coach and retired Nike director of international basketball George Raveling talks with Michael Jordan in 1992.
Sixty years ago this August, George Raveling made a bold request to civil rights leader Martin Luther King Jr.
As a volunteer event security guard for the 1963 March on Washington for Jobs and Freedom, Raveling stood near King while he gave his stirring "I Have a Dream" speech. "Just as he was finishing, he started to fold the speech," Raveling once told the Pac-12 Network. "I said to him, 'Dr. King, can I have that speech?'"
The rest is history.
Now that story—and Raveling's connection with another famous American, Michael Jordan—is being told in the new film, Air. The movie depicts Nike executive Sonny Vaccaro seeking advice from Raveling, Jordan's trusted Olympic coach, to help sign the NBA rookie to a blockbuster shoe deal in 1984. Jordan credits Raveling (played in the film by Marlon Wayons), a Naismith Memorial Basketball Hall of Famer who in 1983 became Iowa's first African American men's basketball coach, for convincing him to consider Nike.
"George Raveling was with me on the 1984 Olympics team [as an assistant coach under Bob Knight]," Jordan once told USA Today. "He used to always try to talk to me. 'You gotta go Nike. You gotta go Nike. You've got to try.'"
Today, Nike's Air Jordan brand nets around $400 million per year. Raveling, meanwhile, left Iowa in 1986 and coached for eight seasons at USC before he became Nike's director of international basketball. In 2021, Raveling donated the "I Have a Dream" speech to his alma mater, Villanova University.