The former two-sport athlete, whose fastball has been clocked at 104 mph, shines on the mound for the Hawkeyes' resurgent baseball program.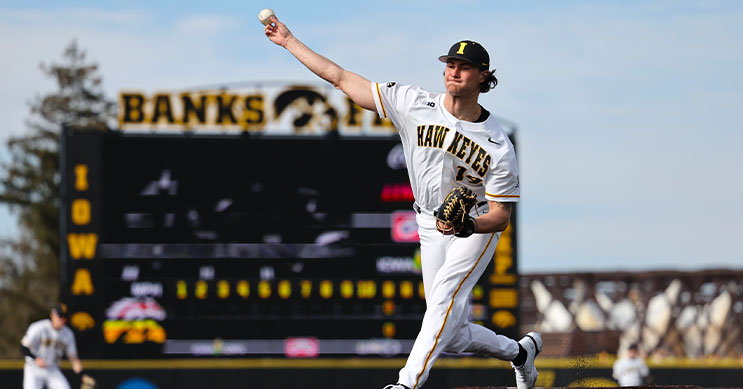 PHOTO: STEPHEN MALLY/HAWKEYESPORTS.COM
Iowa's Brody Brecht delivers a pitch earlier this season at Duane Banks Field in Iowa City.
Brody Brecht throws 100-mph fastballs for Hawkeye baseball, but the University of Iowa student-athlete started as a football recruit.
"The early mornings, hours of conditioning and practicing, and bonding with teammates are what I loved," says the sophomore from Ankeny, Iowa, about his gridiron career.
Brecht let football drive his college plans, which is why he committed to Iowa and spent the past two years competing for the Hawkeyes' baseball and football programs. In March, Brecht—the Big Ten Conference's top Major League Baseball prospect in the class of 2024, according to scouting service Perfect Game—announced that he's focusing on baseball.
"Football is my first love," says Brecht on Twitter. "But in the past few years, baseball has become my true passion."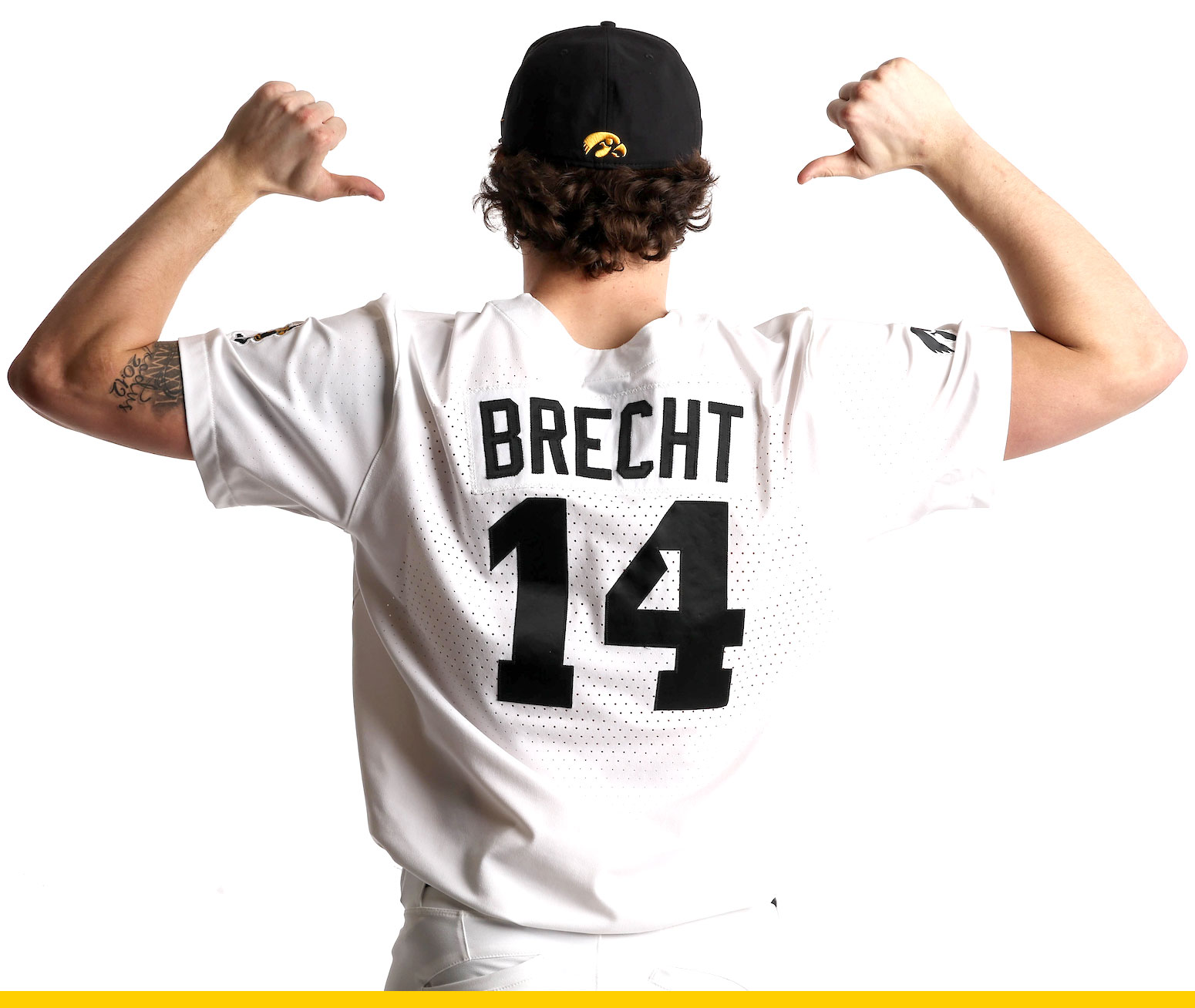 PHOTO: Brian Ray/Hawkeyesports.com
Injuries limited his playing time as a freshman, but Brecht played a bigger role on Iowa's baseball team this spring. In his first start of the season as pitcher, Brecht struck out 10-of-15 batters and was clocked at 100 mph on the radar gun in a 7-1 victory over Quinnipiac. He threw six strikeouts in a win over top-ranked LSU and only surrendered a combined seven runs in his first six starts. In a March home game against Maryland, Brecht registered an astounding 104-mph pitch while fanning 13 batters.
He attributes his growth and success to lessons he's learned at Iowa. Making changes to his diet, Brecht gained 25 pounds of muscle and now weighs 218 pounds. He credits Raimond Braithwaite, director of strength and conditioning for UI football, for developing a tailored workout plan for him.
"I tried to eat healthy as a freshman, but I had more than one cheat day a week," says Brecht, who said his cheat meal would be the chicken lips from Graze in downtown Iowa City. "I had to take a hard look at what I was eating, and I met with a nutritionist to put a plan together. Now my body is feeling good."
Brecht will keep a close eye on the MLB Draft in July and isn't making any decisions about his professional aspirations just yet.
"I'm going to talk with my family and adviser and see what the best options are," says Brecht. "It's been my dream to play in the league, and if the opportunity presents itself—and I'm happy about it—I'm going to go."