National Fastpitch Coaches Association executive director Carol Bruggeman helps grow the sport.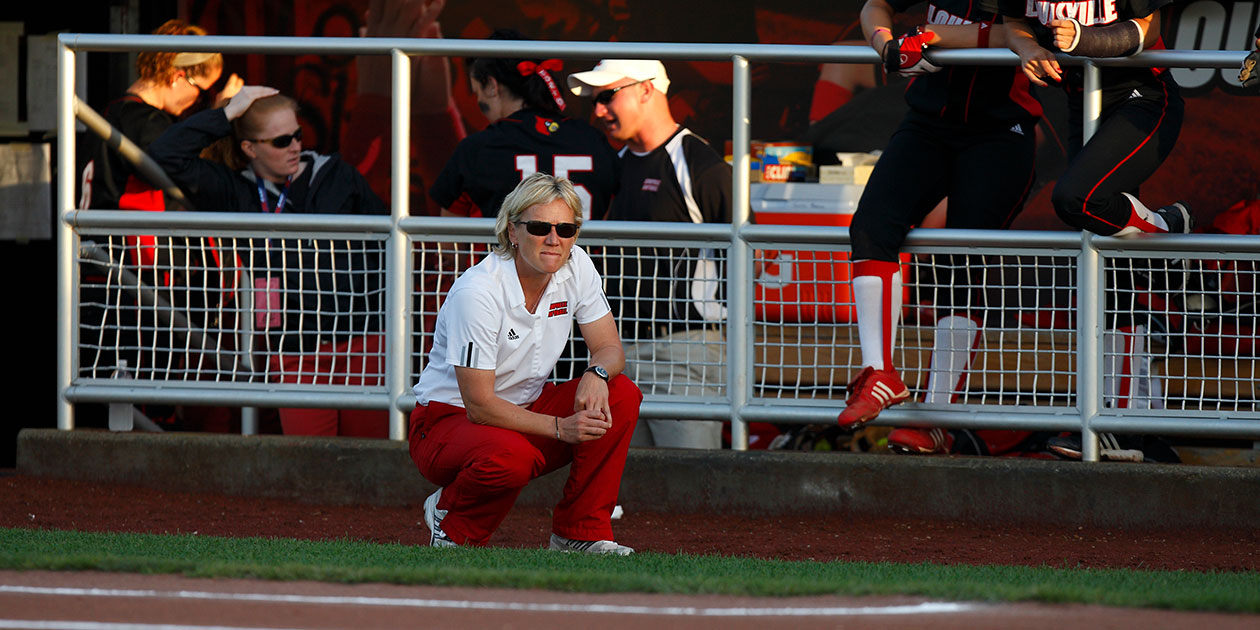 Photo: University of Louisville Athletics Department
University of Iowa graduate Carol Bruggeman coaches Louisville in a 2009 Big East Tournament softball game against Notre Dame in Louisville, Kentucky.
Carol Bruggeman (87BBA, 90MA) thought she was on the path to work in corporate America. But after playing softball at Iowa and receiving a graduate assistant opportunity in 1987 with the Hawkeyes' new coach Gayle Blevins, one of the most successful coaches in college softball history, Bruggeman decided to continue her journey on the diamond. That decision began Bruggeman's storied softball career as a coach, broadcaster, speaker, author, and executive director of the National Fastpitch Coaches Association—a professional growth organization for coaches at all competitive levels of the sport. In December, the former All-Big Ten and All-Mideast Region selection and Academic All-American will be inducted into the NFCA Hall of Fame.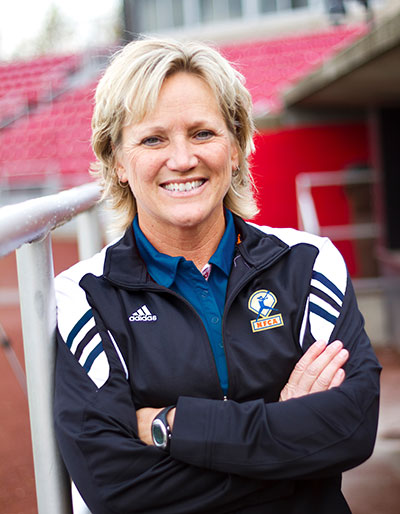 PHOTO: National Fastpitch Coaches Association
After totaling more than 700 victories as a softball coach, Carol Bruggeman is working to grow the game as executive director of the National Fastpitch Coaches Association.
Model Mentors
Not only did Bruggeman learn coaching at Iowa under Blevins, but she also forged a lasting relationship with her graduate school adviser, Christine Grant (70BA, 74PhD), an international advocate for women's sports. "I was fortunate to learn from her and have her in my circle of people throughout my life," says Bruggeman, an infielder and four-time letter winner at Iowa. "Every professional move I made, I always sought her advice."
On Deck
Grant's encouragement helped Bruggeman embrace new challenges throughout her career. In fall 1990, Bruggeman balanced serving as assistant coach at the University of Michigan with completing a master's degree at Iowa via distance learning. In 1994, she started the Purdue softball program from scratch.
From 2006 to 2014, she helped lead Louisville to nine straight NCAA Tournament appearances and coached the USA Athletes International team in the Czech Republic and Australia. After stepping back from coaching in 2014 with more than 700 victories, Bruggeman joined NFCA leadership and became its executive director in February 2016. She also began working as a softball color commentator for the Big Ten Network and ESPN.
With the NFCA, Bruggeman works to grow softball through education, events, awards, networking opportunities, and legislative changes. The Charter Oak, Iowa, native aspires to connect more athletes to the game that captivated her from an early age. Says Bruggeman: "My goal is to have softball become the most watched and played sport in the country."