The former Hawkeye All-American was the world's top runner over 30 in the 800 meters last year and serves as a professional pacesetter.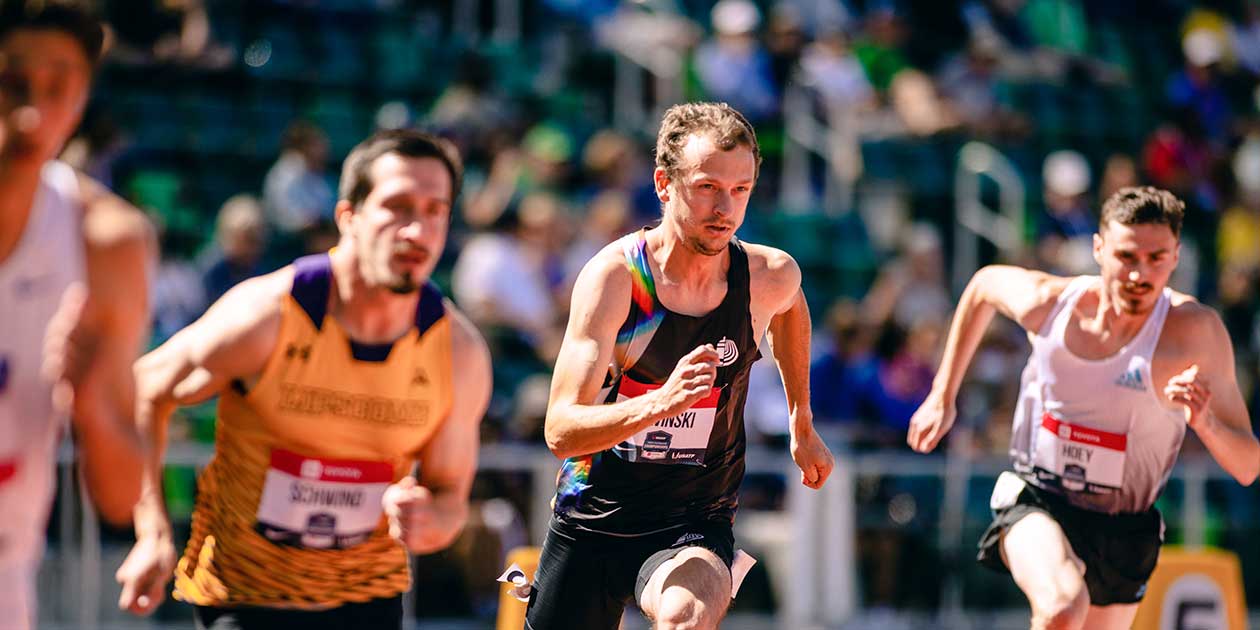 PHOTO: MATT PARKER
Erik Sowinski (center) competes in the first round of the 800 meters at the 2022 USA Track and Field Outdoor Championships in Eugene, Oregon.
As a globe-trotting, professional middle-distance runner, Erik Sowinski (12BS) has ranked among the world's top 800-meter runners throughout the past decade and paced an Olympic champion to an indoor world record last year. A former five-time All-American for the Hawkeyes, Sowinski continues to train with University of Iowa track and field coach Joey Woody as he enters the homestretch of his career.
LATE KICK
In high school, Sowinski didn't receive any Division I scholarship offers until a breakout senior year performance at the Wisconsin state track meet. The Waukesha, Wisconsin, native came to Iowa on a partial scholarship and set a pair of school records in his first two seasons. As a junior in 2011, Sowinski helped the Hawkeyes claim their first Big Ten conference outdoor title since 1967 with two runner-up finishes. He closed his senior campaign with a surge of 800-meter success, including a school record-setting victory at the Big Ten conference meet and runner-up at the NCAA championships. When Sowinski reached the semifinals of the 2012 U.S. Olympic trials, Woody told the young runner he believed he could compete professionally.
MILLROSE MAGIC
Sowinski interviewed with several medical schools while completing his integrative physiology degree at Iowa but ultimately heeded Woody's encouragement to go pro. "He's been like a father figure to me," says Sowinski. "I take any advice he gives me because he has my best interest at heart and has a good feel for what I'm capable of."
Sowinski gained global track and field attention in February 2013. Invited to compete in the prestigious Millrose Games three days before the meet, Sowinski outran a pair of U.S. Olympians to win the indoor 600 meters in an American record time. Three weeks later, he won the 800 meters at the U.S. Indoor Track and Field Championships and signed a Nike contract that continued for seven years.
MR. CONSISTENT
Sowinski remains a model of consistency and was the only 800-meter runner older than 30 to rank in the top 35 of last year's final World Athletics rankings. The 2016 world indoor bronze medalist has qualified for three Olympic trials, reached 16 U.S. Championships finals, and broken 1:50 in the 800 meters more than 200 times. That steadiness has also helped Sowinski excel as a pacesetter who sets the pace at the beginning of races to lead other runners toward their goal. It's another source of income for Sowinski, whose pacing has paved the way for two world records.
Through it all, Iowa remains a training site for Sowinski and holds special meaning as the place where he got his start. "It's like a family atmosphere," says Sowinski, a former volunteer assistant coach for the Hawkeyes. "The community has been so supportive that I couldn't have imagined doing it anywhere else."