Diabetes care, Jay Holstein, and Hawkeye basketball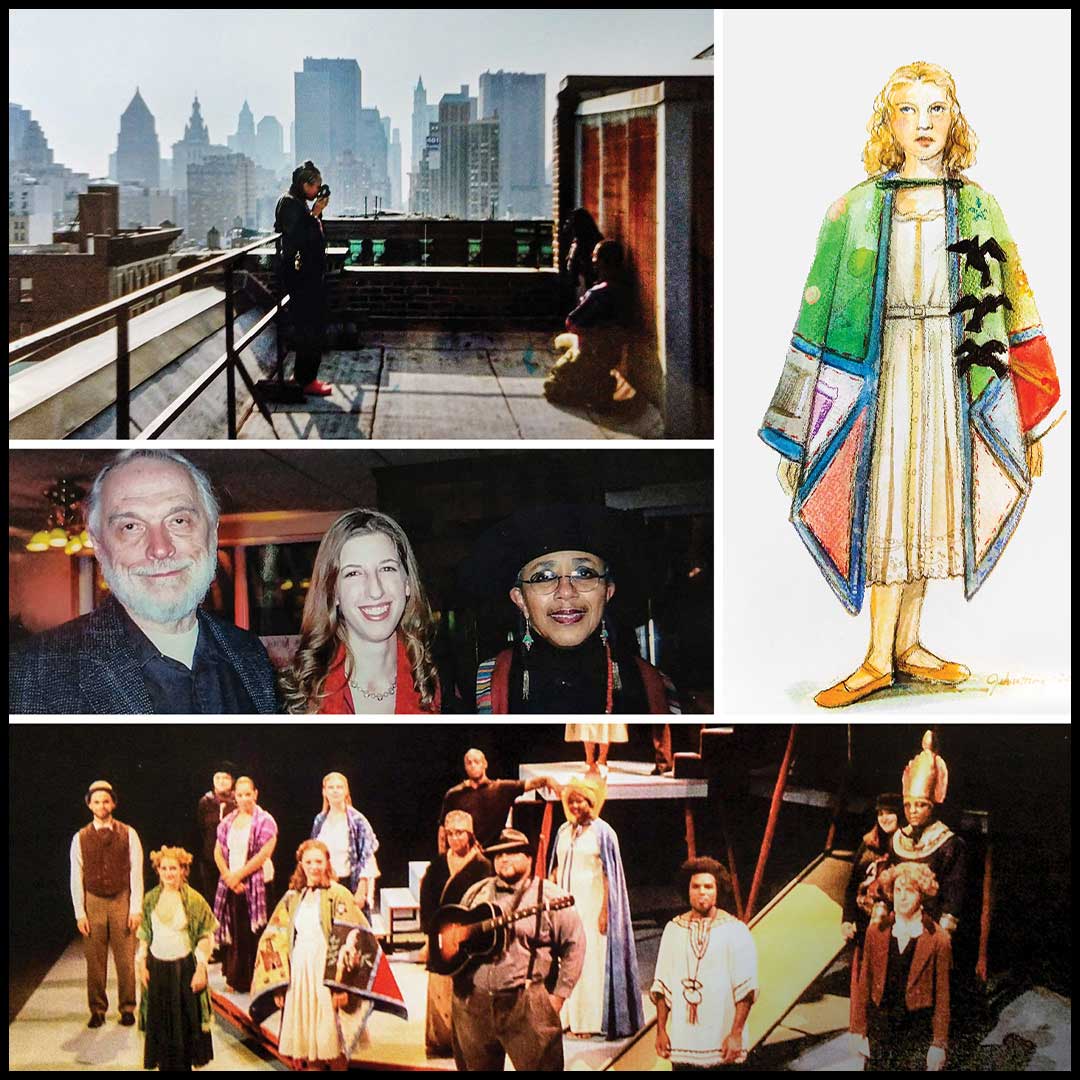 PHOTOS COURTESY JENNY NUTTING KELCHEN
Clockwise from top-left: Outside the Hatch-Billops loft in New York City. Costume rendering from Klub Ka. From the 2002 UI production of Klub Ka, directed by Tisch Jones. Kelchen (center) with Hatch and Billops.
Memories Backstage
Thank you so much for the tribute article on the amazing Jim Hatch (55MA, 58PhD) and Camille Billops ["The Seven Ages of James V. Hatch," spring 2021, p. 22]. This was a sad and beautiful way to find out they have both recently passed. I had the privilege of designing the costumes for Klub Ka: A Blues Legend as a graduate student in 2002 for the UI Department of Theatre Arts and stayed with Hatch and Billops at their legendary loft in New York when we remounted the production at La MaMa E.T.C. the next year. They were kind, creative, welcoming artists, and I will always cherish the time I spent working with them early in my career.
Jenny Nutting Kelchen (04MFA)
Iowa City
---
A New Lease on Life
Twenty years ago, as an undergrad at Iowa, I was diagnosed with Type 1 diabetes, even though we all thought I had Type 2. The semester just started, and my mom almost pulled me out of school to be treated closer to home. Thank God for my dad and the doctors at University of Iowa Hospitals & Clinics who immediately got me into the health education program. I remember on that first day someone was doing a trial on insulin pumps. Who would have thought today that I would not only use an insulin pump but also a continuous glucose monitor? What a game changer!
I literally owe my life to Iowa, and I have donated to the Fraternal Order of Eagles Diabetes Research Center [featured in "Iowa Research Injects Hope for People With Diabetes," Iowa Magazine, spring 2021, p. 36] for the past couple of years and will continue to do so in the future.
Tamaria Crider (03BA)
Chicago
I enjoyed the article in Iowa Magazine about the Ivory family. It mirrored the life of my grandson. He was diagnosed with Type 1 diabetes at age 13 after a viral infection. He currently has an Insulet pod that administers his rapid acting insulin 24 hours a day. He also has a scanner that reads his interstitial fluids' glucose levels. He used to finger prick 10 times per day; now it's twice daily to titrate his scanner.
My grandson is now 22 and is self-managed with regular visits to an endocrinologist. While at Washington University, he was on the track and cross-country teams and still runs 8 miles a day. Thanks to major advancements, his life has improved greatly since he was 13.
James Vugteveen (60BSP)
Monmouth, Illinois
---
Fashionable Fathers
I was mesmerized by "Dressed Up" by Esther Ifesinachi Okonkwo (20MFA) in the spring edition [p. 44]. This essay is a wonderful tribute to a dad and captured so many emotions.
My dad, Raymond W. Stober Jr. (52BA), who was a world away from this father, loved to shop for himself. He was thrifty and always looking for a deal. In spite of a career with numbers, his first love was music. He played in many jazz bands at the UI and in his early years of marriage. I suspect that wearing the dressy clothes for gigs was a big part of the allure of music! Thank you for this beautiful story.
Sara Stober McAuley (78BBA)
St. James City, Florida
---
Chance Encounter
I was recently shopping at a local store when a customer and the owner's daughter were discussing the UI. I overheard the fellow customer say her favorite professor was Jay Holstein. At that point, I had no choice but to join the discussion. We had an instant connection.
Holstein [featured in "Legacy of Opening Minds and Hearts," spring 2021, p. 50] was my favorite professor throughout my academic studies. He challenged all of us to look at the world differently and identify our quest.
Martha Van Sickle Owen (88BA)
West Des Moines
---
Net Gain
Your article on Dean Oliver ["From Assists to Assistant," spring 2021, p. 21] was about a young man who has a great story to tell, not only about his experiences as an athlete but also about becoming a leader in the larger society as a man of color. The UI has a rich history of having athletes of color like Oliver (01BBA) go on after graduation to achieve in their professional pursuits. Many of these athletes came from humble beginnings and were provided an opportunity to flourish at the university.
This is a story that needs to be told, especially during this time of great racial division in this country. Oliver is on his way to realizing his dream of becoming an NCAA Division I head basketball coach after having the opportunity to gain access to the complex system of intercollegiate athletics.
Dale Jackson
North Liberty, Iowa
---
Caring Professionals
UI Health Care nurse Nicholas Klein and his colleagues [featured in "Nurse Recalls Toughest Moment of COVID-19 Crisis," spring 2021, p. 7] show why nursing has been voted the most caring profession for 19 straight years. In fact, nursing has been No. 1 every year except 2001 following the 9/11 attacks when firefighters received 90% of the votes. The 2020 Gallup Poll showed an increase in nursing's rating, reaching 89%. The care of our Iowa nurses supports Florence Nightingale's thoughts about nursing being an art—not just a science. She said, "It is one of the fine arts; I had almost said the finest of the fine arts."
Mary B. Kerdus (66BSN)
Silverdale, Washington
---
Director of Note
I was moved by Mary L. Hubbard's words ["Memories of the Theatre," winter 2020-21, p. 2] that former UI theatre arts professor Cosmo Catalano's production of The Merchant of Venice touched her heart. Catalano was one of the best directors I ever worked with, and a genuinely nice and gifted man. I'm very proud of the productions I was in while at Iowa and feel that anyone who worked with him—and some of the other fine people in the department—was lucky to be there.
Henry Strozier (70BA)
North Egremont, Massachusetts
---
Hawkeye Basketball Favorite
Thank you for a great story on a great athlete ["Bohannon Shoots for a Season to Remember," winter 2020-21, p. 19]. We've been fortunate that so many Iowa games have been available here in Arizona this past season and have enjoyed watching Jordan Bohannon (20BA). Frankly, we're in awe of his physical capability. It has been wonderful to see him performing at such a high level, especially considering what he had to endure to get to this point. Thanks for letting us hear from him about his struggles and his positive outlook.
Eugene Schwarting (63BSEE, 82MBA)
Tucson, Arizona
---
Mill Memories
The Mill [featured in "Closing Time," winter 2020-21, p. 61] will always hold a special memory for us as the place we went on our first date. It was fall 1974. We sat and talked for hours over pizza and beer.
Tim (78BSME) and Maureen (77BBA) Zaspal
Fountain Hills, Arizona
---
The Hawks from a Badgers' Perspective
I was a freshman at Wisconsin during the 1969-70 season and saw the Hawks come into the old University of Wisconsin field house and destroy the Badgers. My memories of the game in Madison line up with what was written in your article, "Peace, War, and Basketball" [spring 2020, p. 25]; Iowa was a sensational passing team and the best Big Ten visiting team I saw in five years of attending games.
Having grown up in Milwaukee, my high school was in the same conference as Fred Brown's team. John Johnson went to a Catholic school, Milwaukee Messmer, and I got to see him play as well when our high schools played a preseason scrimmage.
I can't say I was really a Hawks fan, but that loss to Jacksonville in the NCAA tournament must have been crushing. Schools like Iowa and Wisconsin aren't Kentucky or North Carolina. Kentucky and North Carolina are teams that, over the years, will have dozens of chances to win big tournament games. Iowa and Wisconsin won't get as many opportunities, so games like the Jacksonville encounter are must-wins.
David Schneider
Portland, Oregon
---
Critic's Choice
I don't like magazines. As is the case with newspapers, they represent an antiquated technology for delivering information. I don't buy them. I don't read them.
And yet they survive.
I do make a slight exception for Iowa Magazine. It is a brilliant example of what an alumni magazine should be.
I'm a critic of publications ... and pretty much everything else. I don't usually find much to praise. So I thought the least I might do is give five stars to all those responsible for a first-class magazine. Well done.
F. Dennis Williams (72MA)
New Berlin, Wisconsin