Back from his second hip surgery, the senior marksman believes he's ready to lead the Hawkeyes to Big Ten and NCAA title runs.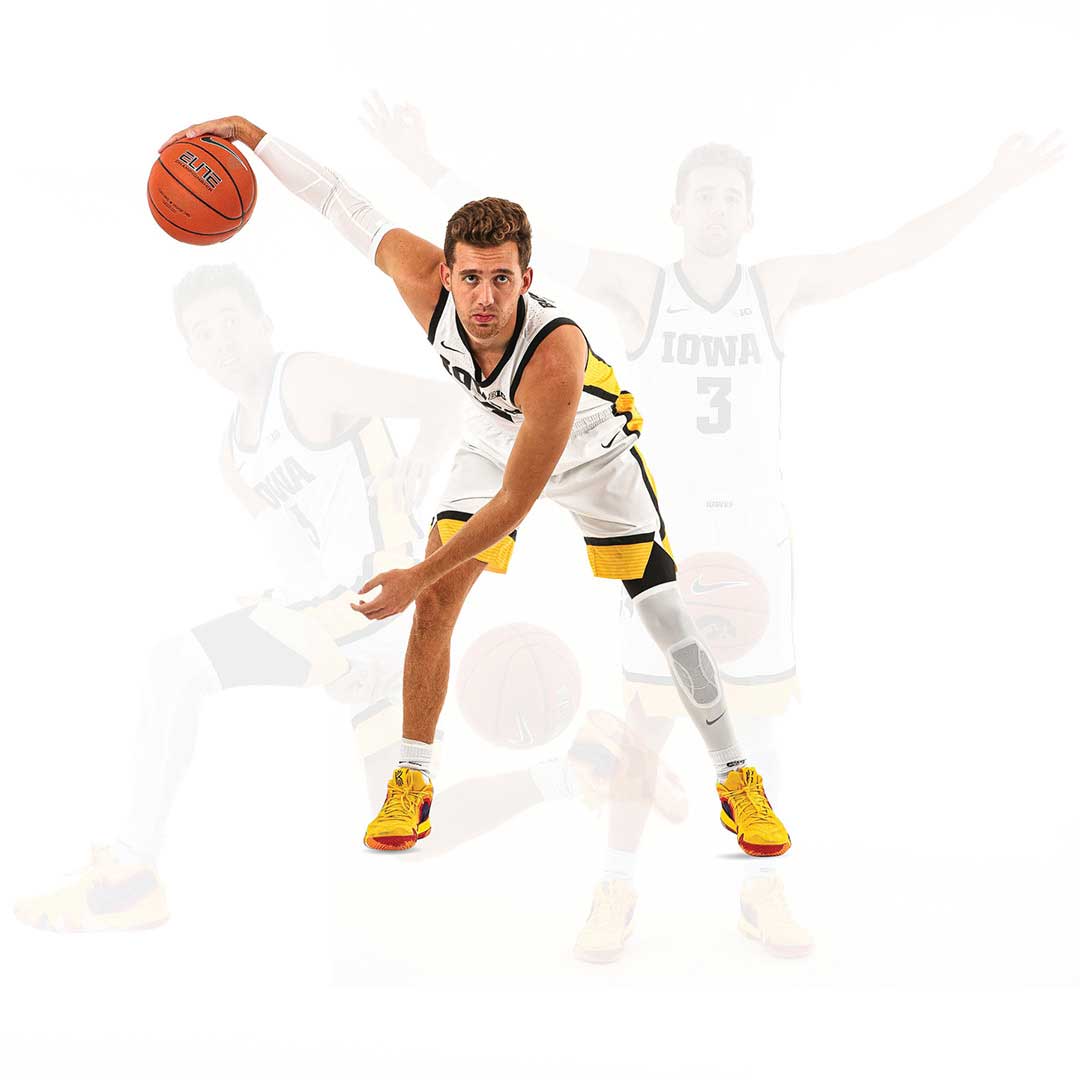 PHOTO: BRIAN RAY/UI ATHLETICS
Hawkeye guard Jordan Bohannon shares his thoughts on Iowa's upcoming season and his highly anticipated return to the court.
After stomping Iowa State last season, veteran Iowa guard Jordan Bohannon (20BA) famously slipped off his Nikes, inscribed them with a Sharpie, and laid them on the Hilton Coliseum hardwood. "To ISU: Thanks for memz," he wrote.
As it turned out, Bohannon was far from done making memories as a Hawkeye. Following that December 2019 victory over the Cyclones, Bohannon made the difficult decision to shut things down after just 10 games to undergo his second hip surgery in seven months. Now, after taking a redshirt, a healed Bohannon is rebooting his senior season, and he says he's feeling as good as ever. The return of Iowa's all-time leading 3-point shooter is a key reason why the Hawkeyes are being called a Big Ten title contender and Final Four hopeful this season.
A Marion, Iowa, native, Jordan is the son of former Iowa quarterback Gordy Bohannon (82BBA), who helped guide Iowa to a Rose Bowl berth in 1981. He's also a brother to three former Division I basketball players: Jason and Zach played at Wisconsin, while Matt played at Northern Iowa. The youngest Bohannon, however, has forged his own basketball legacy. After breaking Jeff Horner's (06BA) school record for most career 3-pointers, he enters the year just 14 assists away from passing B.J. Armstrong (89BA) for fifth in all-time assists.
Iowa Magazine recently spoke with Iowa's sharpshooter about playing during a pandemic, his grueling rehabilitation, and his thoughts on the rights of student-athletes.
What have the past few months been like for the team, not knowing if you'd even have a season?
JB: The last four or five months have been crazy for all of us trying to get ready for a basketball season, and on top of that the stress and frustration of what the future might hold. But we got through summer workouts and have been practicing the last couple weeks getting ready for the upcoming season. We've been doing everything we can to keep staying together during this difficult time and making sure we're ready for when the first game hits.
We were waiting on a plan from the NCAA and Big Ten to announce the start date, and they finally did. We just kept working, and we knew the day would come when they could figure out something for us to play. We continued to stay ready.
How challenging was rehab after your latest surgery?
JB: It sucked, to be honest with you, to go through it a second time. The first time was difficult in its own right, but the second time I had to be on the sidelines and not travel with the team for most games so I could rehab and get my body right. It was mentally draining to not be out there on the court with my guys and compete. But I always knew God had different plans for everyone, and I figured I'd have to stay the path and continue to stay positive every day. That's what I did, and now I'm 100 percent for the first time in a long time. I'm happy I decided to have the hip surgery and get myself ready for one final go-round.
What was it like watching from the sideline?
JB: I've always been battling some sort of injury since I began playing basketball. But this was really the first time I had a surgery where I missed a good portion of games, or games at all. It was the first time in my life that I experienced basketball from the sidelines and cheering on my teammates.
It was really tough at first. I went through a rough patch the first couple weeks after surgery just because of where I was mentally. I wasn't able to walk or even do much. But all of my teammates gathered around me and helped me out. I thank Jack Nunge for getting me through that second hip surgery, because he went down with a painful ACL injury. The bond we formed as we went through the rehab process, we were able to share our dark times, our struggles, and our frustrations. We helped each other get through the grueling process, and we formed a bond that will last a lifetime.
You've also battled COVID-19 recently. What was your experience fighting the virus?
JB: For some reason I got the worst symptoms out of everyone on the team who's gotten it. It was close to a week or week and a half that I was on my bed. It was just another challenge I had to work through, and we have great medical professionals here who helped me get through it. Our trainer, Brad Floy (02BS, 04MS, 12PhD), did a great job of checking up on me and making sure I was OK.
Of the four Bohannon brothers, you were the only one to come to Iowa. How special is it to share that bond with your dad as Hawkeyes?
JB: My brothers went their own ways—two went to Wisconsin and one went to Northern Iowa. The baby of the family went full circle to where my mom and dad went to school. I was their last hope to go to Iowa. It's funny, because I grew up a Badger and Panther fan watching my brothers play. But for some reason growing up I always felt like I was destined to play basketball at Iowa. I was just waiting on that chance from Coach McCaffery to offer me a scholarship. Having my dad talk to me about his experience and how Iowa changed his life, how he met my mother, and how it all worked out, it's pretty cool that I grew up and made that full circle back to Iowa City.
I'm only 45 minutes from my house, so it's a home environment. Everyone talks about "Iowa Nice," and that's truly what I've experienced here at the University of Iowa. It's a big family environment on campus, and it's been truly home these past years. It's definitely flown by, but knowing I've made the best decision of my life is what I wake up thanking God and my family every day for.
How did it shape you as a player and competitor to grow up in a big basketball family?
JB: If it wasn't for my brothers, I wouldn't be the type of person and competitor that I am today. They provided me with an advantage growing up. I watched my brother Jason play against Steph Curry, I sat behind the bench for the Final Four when my brother Zach played at Wisconsin, and I watched my brother Matt making the NCAA Tournament. So I experienced all of these things that helped me grow as a person and give me a competitive edge when I got to college that really helped me mold a role with the Iowa Hawkeyes to help this team the best I could. I owe everything to my brothers and how they helped me grow up and all the competitive battles we had with each other.
You've been a fan favorite over the years. What do you think it will it be like playing in front of fewer fans or even no fans because of the pandemic?
JB: With our expectation of being in the top five in the country coming into this season, everyone on the team will agree that we hope fans can be there. The type of environment that fans bring to Carver is something that not a lot of people who play basketball can experience. That place can get really loud, and we have some of the best fans in the country, so it's going to be really different. We'll be ecstatic either way knowing that the fans who can't be there at games will be watching us on television cheering their heart out like they always do.
What's it like to play with a group that, from top to bottom, has this much talent?
JB: It's definitely a fun environment in practices because they're so competitive. Every time you line up against someone, they're going to give you their all. That's going to help us at the end of the season when we want to make a run. College basketball teams are a big puzzle, and Coach McCaffery has figured out all the right pieces to fit this year. I think things will line up for us to make a huge run at the end of the season.
Do you have a favorite moment as a Hawkeye?
JB: Every game and trip has so many memories, but definitely the Wisconsin game my freshman year when I hit the game-winner. It was at Wisconsin, which is two of my brothers' alma mater. They were all sitting behind the bench, so it was really to cool to have a chance to be in that position. It's hard to write a better story than that.
How have you grown as a player since that freshman year?
JB: When I was freshman, I was always just go, go, go. I wasn't really thinking about reading a defender, or what plays would be best for this part of the game, or when should I slow the ball down to get a good shot. Now that I'm a fifth-year—and getting to see things from the sidelines from a coach's perspective, as well—I'm able to return to the court with all this experience under my belt and be a leader. I'm able to be even more of a coach on the floor. Coach McCaffery can be the best coach in the world on the sideline, but at the end of the day, you need someone on the floor who can control everything.
You've been outspoken about the rights of student-athletes. What changes do you hope to see?
JB: For sure it's name, image, and likeness. It's the basic right that every college student has on campus. It shouldn't even be a debate about whether we should be able to go into the public and profit from our name, image, and likeness. That should be a basic right for every college athlete, and I think in the next couple years we'll see that shift.
What's next for you after graduation?
JB: I'm hoping that if everything goes well this year, I'll have a chance to play in the States. If not, overseas definitely is a great option. The goal is to play as long as I can. I still love the game. Every time I wake up, I'm thinking about basketball. As long as I keep that mindset, I'll keep trying to play.