How an Iowa team brought a divided state together during one raucous, high-flying season 50 years ago.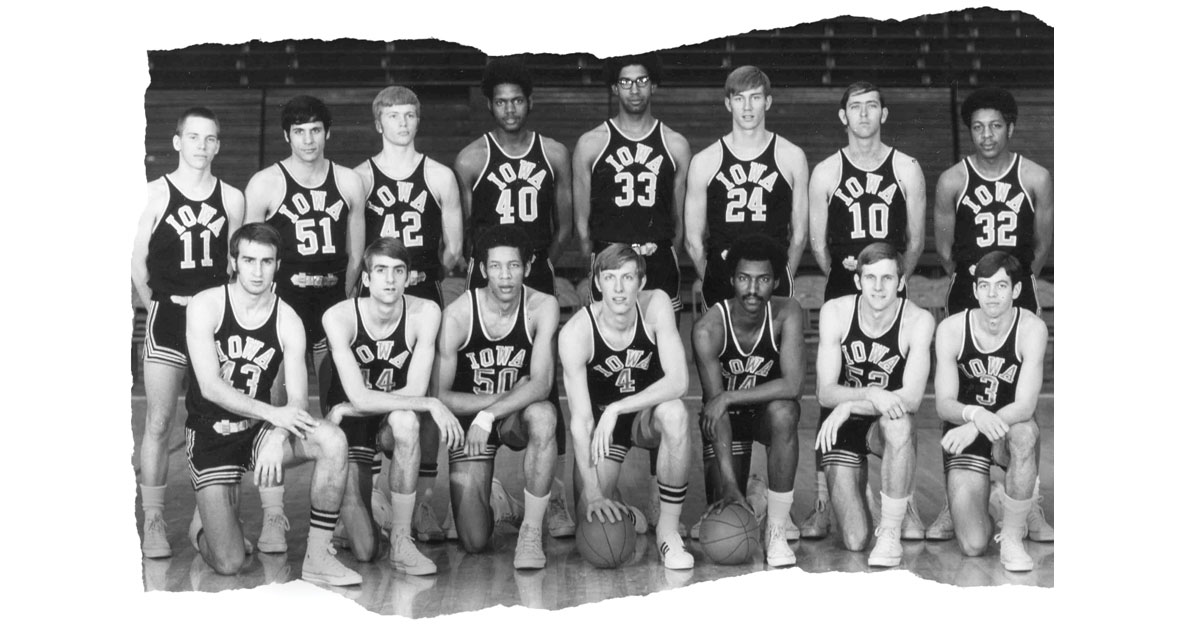 PHOTO: UI ATHLETICS
J.J. and the Dealers pose during the 1969-70 season. Bottom row (from left): Chad Calabria, Glenn Vidnovic, John Johnson, Dick Jensen, Ben McGilmer, Tom Schulze, Jim Hodge. Top row (from left): Gary Lusk, Joe Miranda, Lynn Rowat, Omar Hazley, Tom Miller, Ken Grabinski, George Conway, Fred Brown.
Dick Jensen—starting center on arguably the greatest team in Iowa men's basketball history—protected the ball like a newborn, releasing it only after the buzzer sounded to catch the cheerleader who leapt into his arms.
Coach Ralph Miller had directed his 1969-70 Iowa team to let Purdue's Rick Mount score a few seconds before time expired, a meaningless layup with the Hawkeyes up three on the road and the Boilermakers out of timeouts.
"Miller told me, 'Jensen, Mount is going to make that shot,'" recalls Jensen. "'Go out of bounds and hold that ball. Don't let anyone touch it.'"
He didn't, and the Hawkeyes won 108-107 to claim the outright Big Ten title 50 years ago this season, the last time an Iowa basketball team sat alone atop the league.
The Hawkeyes won their final two conference games to finish a perfect 14-0, the only Iowa squad ever to make it through the league without a loss. Winning the Big Ten meant an invitation to the NCAA Tournament, which then took just 25 teams. It was the first time since 1956 that an Iowa team would play in the tournament.
The 1969-70 Hawkeyes were exceptional in other ways, too. They scored an astonishing 102.9 points a game in conference play—an all-time Big Ten record—without the benefit of a shot clock or 3-point line. The team's star, John Johnson, still holds the school's high mark for most points scored in a game—49, against Northwestern on Feb. 24, 1970. He also held the school record for the most points in a single season (699) for 50 years, until it was beaten by Luka Garza in March 2020.
But perhaps as remarkable as the scoring records was the fact that the team found such smooth harmony on the court during an otherwise trying time in American history.
The Vietnam War was raging. A new draft lottery hung over the heads of graduating seniors. Racial turmoil divided communities across the U.S., including Iowa City.
Come game day, though, hippie students, crew-cut dads, fashionable coeds, and farm moms all gathered for two hours of peaceful coexistence in the University of Iowa's Field House. Thousands more huddled around radios and TV sets to support the Hawkeyes, which by then went by another nickname: J.J. and the Dealers, after their superstar Johnson and the team's smooth passing.
"I didn't quite know how enthusiastic to be about the team in light of all the serious issues going on back then," says Jensen (70BA), who grew up in Madrid, Iowa, and later became a top executive at DirectTV and Sirius Satellite Radio. "But that changed when you were in the game itself. It was a thrill to play on that team."
The Greatest Day
When the Hawkeyes arrived back in Iowa City the night after the win at Purdue, more than 4,000 fans as jubilant as the Iowa cheerleader greeted them at the airport. Traffic was backed up for two miles, according to an account in the Des Moines Register.
As they had a few times that season, the Hawkeyes came from behind to win. Mount's final layup gave him an incredible 61 points, a Big Ten single-game scoring mark that still stands. His hot shooting (Mount took an astonishing 47 shots, making 27 of them) put Purdue up by nine with four-and-a-half minutes to go.
But leads in that game were, in the words of Register sportswriter Maury White, "as safe as a sombrero in a hurricane," and Iowa came roaring back.
A bucket by Johnson put Iowa up by one. Iowa forward Glenn "The Stick" Vidnovic was fouled after rebounding a Purdue miss. His two free throws sealed the win.
Chad Calabria (70BBA), who had hit four clutch free throws down the stretch, recovered the ball after Jensen dispensed of the duty and presented it to the Hawkeyes' demanding coach in the visitors' locker room. He told Miller to frame the "gosh-darn" thing, according to a presumably cleaned-up account in the Register.
Gov. Bob Ray (12LLD) called that day the greatest in the history of Iowa basketball.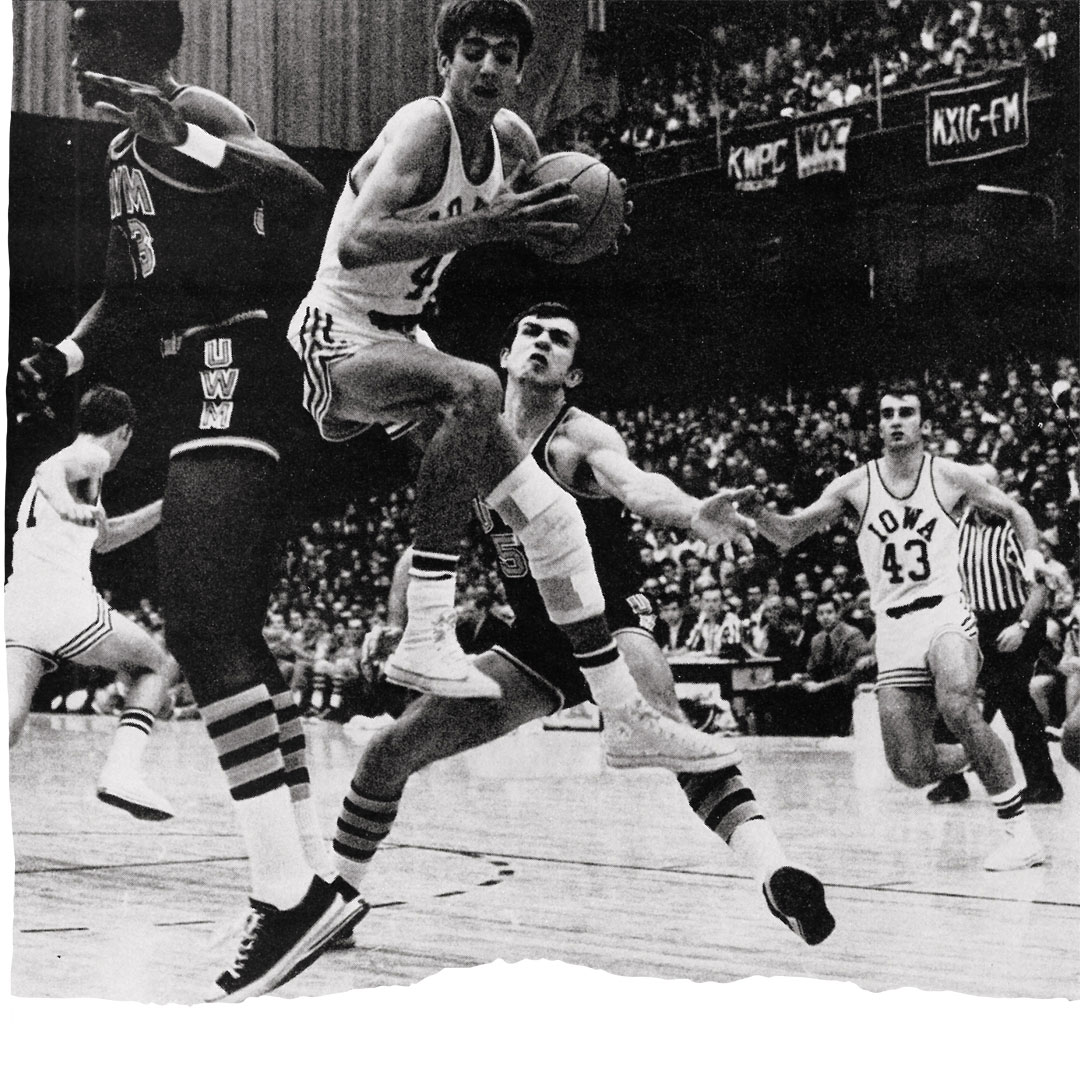 PHOTO: 1969 HAWKEYE YEARBOOK
Iowa forward Glenn Vidnovic grabs a rebound against University of Wisconsin at Milwaukee during the 1968-69 season, while guard Chad Calabria (43) looks on.
Reason to Celebrate
The fans at the airport seemed to agree. Or maybe they just welcomed a chance to express a collective euphoria at a time when crowds more typically formed in an act of protest.
Though political divisions today seem stark, the country was even more divided back then. Riots fueled by the assassination of Martin Luther King Jr. in 1968 and pent-up fury over decades of racial oppression had left dozens dead in cities across the U.S.
The players said Iowa City was generally a welcoming place, but it didn't escape racial division. The spring before the start of the basketball season, 16 black members of the Iowa football team—including Dennis Green (71BS), a tailback who later coached the Minnesota Vikings and the Arizona Cardinals—boycotted practice to push for more support from the university, such as an African American student center and improved academic counseling.
African American athletes also participated in similar boycotts that year on other campuses, including at Indiana University and perhaps most famously, the University of Wyoming, where 14 black players were cut after asking to wear armbands in a game against BYU to protest the Church of Jesus Christ of Latter-day Saints' racial doctrines at the time.
"It was like pouring syrup over melted butter on a pancake. It was just perfect." —Jim Hodge on the team's chemistry
The Iowa players, too, were immediately dismissed from the team. Seven of them, including Green, were reinstated that fall.
And then there was the war. The day after the Iowa basketball team began its historic Big Ten run in January 1970, a story in the Register tallied the number of Iowans who had been killed in Vietnam up to that point: 662.
Jim Hodge (70BA), a senior reserve guard from Danvers, Illinois, remembers frequent unrest on campus and his own recurring sense of dread about the draft. He had drawn number 39 in the December 1969 lottery, the first held for Vietnam. That meant he was certain to be drafted after his student deferment ended, he says.
So, instead of returning home with the team after a February 1970 win at Illinois, Hodge went with his father to a local recruiter to sign up for the National Guard, delaying law school but enabling him to avoid being sent to war after he graduated in the spring.
"It was an incredibly confusing time in my young life," says Hodge, who now works as a mortgage banker in Dallas.
A Slow Start
The season didn't start out in any way to suggest the heights the Hawkeyes were to reach. The team finished with a 20-5 record but were just 4-4 heading into the Big Ten.
Jensen and guard Fred Brown were sick to start the year. Jensen blamed his illness on frigid conditions the team practiced under. The Field House was a warm and welcoming place during games, when it was filled with more than 13,000 screaming fans. But empty, the former armory was impossible to heat. Jensen says he had to double layer to stay warm.
Team chemistry also lacked at the start. This was the first year Brown played with the team after spending the previous two years at Southeastern Community College in Burlington, Iowa. Quick and pass-oriented, Brown would become the "missing link," Miller later said. But it took time for the team to jell.
After a loss to Cincinnati early in the season, Johnson called a players-only meeting. The message—according to Ben McGilmer, a reserve forward on the team—was that it was time to get serious. No smoking. No drinking. No romantic distractions.
Eventually, Miller settled on a core group of six players: Johnson, Jensen, Calabria, McGilmer, Brown, and Vidnovic. They were known as the Miller Six Pack. Four players—Johnson, Brown, Calabria, and Vidnovic—would average more than 17 points a game. Five would be drafted in the NBA, with Brown and Johnson enjoying long professional careers.
In the 1970-71 Hawkeye basketball season, Brown would emerge as the clear star. He averaged 27.6 points a game at Iowa, second all-time only to the 27.9 points a game Johnson rang up during the 1969-70 season.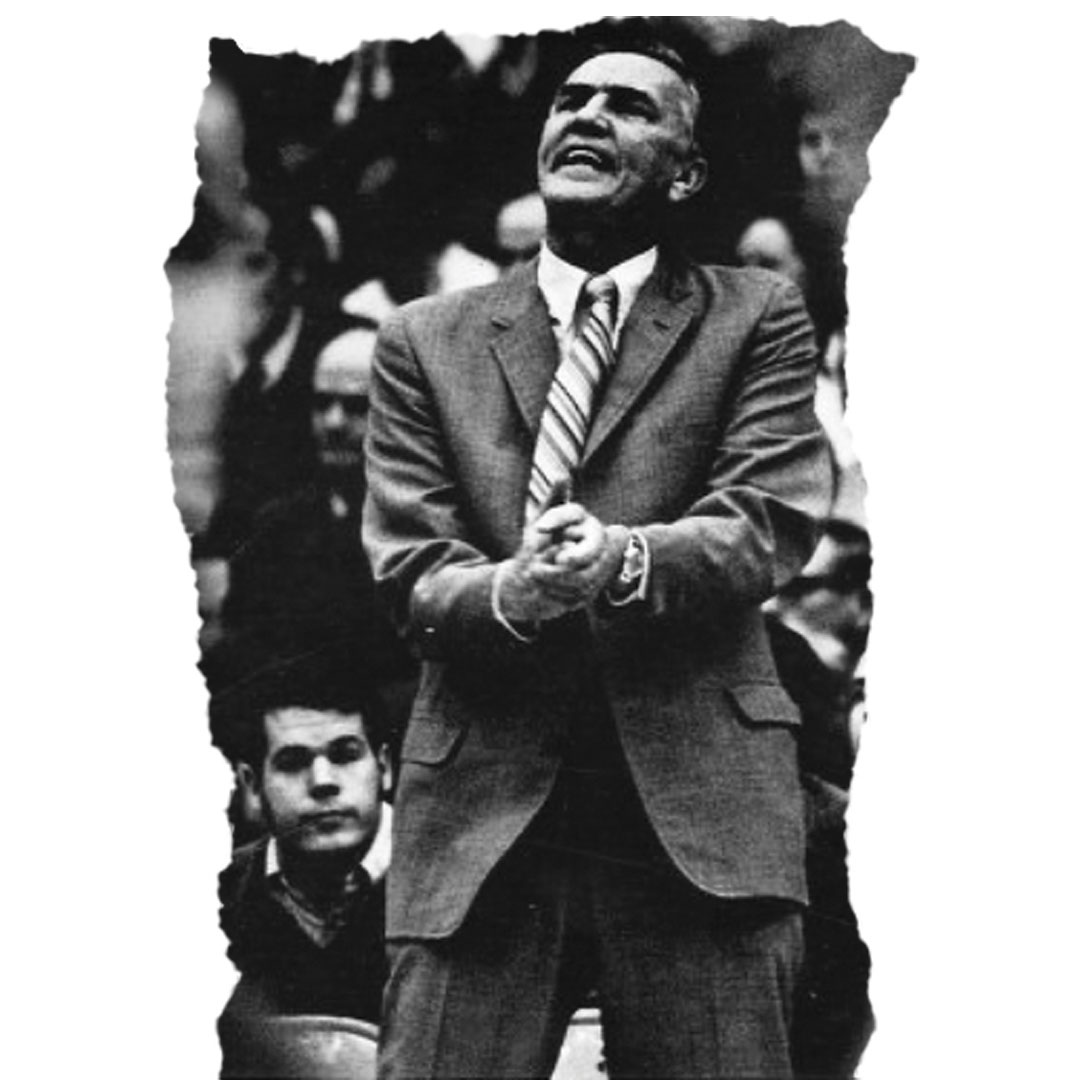 PHOTO: 1970 HAWKEYE YEARBOOK
Coach Ralph Miller led the Hawkeyes to an undefeated season in the Big Ten in his last year at Iowa.
A Frantic Following
Johnson's pep talk early in the season seemed to work. As victories piled up, articles on the team took up an increasing number of column inches in local papers. The Field House grew louder and louder.
Ken Grabinski (72BBA), a reserve forward from Clear Lake, Iowa, says the fans made so much noise that they created a suction effect: "It felt like your ears were moving from north to south."
Fans "almost wore themselves out with standing ovations," Bill Bryson Sr., a Register sportswriter and father of the author of A Walk in the Woods, wrote in an account of the game against Wisconsin. A Sports Illustrated article after the Purdue game called state interest in the Iowa team "frantic."
News accounts describe half-court, behind-the-back passes from Johnson; full-game, full-court presses topped by the 6-foot-8 Jensen; and the "indomitable spirit" of a group that pulled off several come-from-behind victories, validating Miller's coaching philosophy that constant pressure leaves an opponent vulnerable for two- to three-minute stretches.
"It was like pouring syrup over melted butter on a pancake," says Hodge. "It was just perfect."
The Commanding Coach
The cook in the kitchen was a tough Kansan who allegedly could finish an extra-long Tareyton cigarette in three drags. "The smoke would disappear," says Hodge, "It was like he ate it."
Miller came to Iowa in 1964 after 13 years at Wichita State, where he developed a reputation as a brilliant offensive basketball mind. He was said to resent the air in the ball because it encouraged players to dribble—a no-no in his fast-paced offense that placed an emphasis on getting a teammate a shot.
The players remember Miller as a demanding father figure whom they strove to please. Compliments were so rare that criticism became a sign of affection.
Grabinski, who after school started a successful small business outside of Chicago furnishing hotels, says he knew his position on the team was secure when, following a freshman game (first-year college students were ineligible to play varsity), Miller stormed into the locker room and told him he looked like a gosh darn—to borrow the contemporary newspaper euphemism—locomotive on the court.
"He was like a fifth-grader who just learned how to swear," Grabinski says, meaning Miller did it with frequency and fervor.
But Miller engendered a fierce loyalty for sticking up for his players against outside critics and by treating stars and subs alike. He also encouraged white and black players to room together at a time when the two groups didn't often mix.
Growing up in a small town in Iowa, Jensen says he hadn't played with or against a black player until college and was intimidated at the prospect. At Iowa, he roomed with reserve forward Omar Hazley (71BBA) on road trips. The two bonded over everything but music.
"It was an incredible learning experience for me," says Jensen. "Once you meet someone face to face, there's really no problem."
The players say they became a group of friends who, like young men everywhere, teased each other ceaselessly. Brown dubbed Hodge, who rarely played, "Big Ten"—as in "All Big- Ten," a status he was unlikely to achieve—and asked him to lead the team out during home games to the thundering applause that awaited.
McGilmer named his first son after Chris Phillips, a white teammate from an earlier year. "Sometimes sports transcends all that other bull----," says McGilmer, who played basketball in Europe for 20 years, opened two basketball schools in Turkey, and now works as a substitute teacher in DeKalb County school district in Georgia. "We really were a team".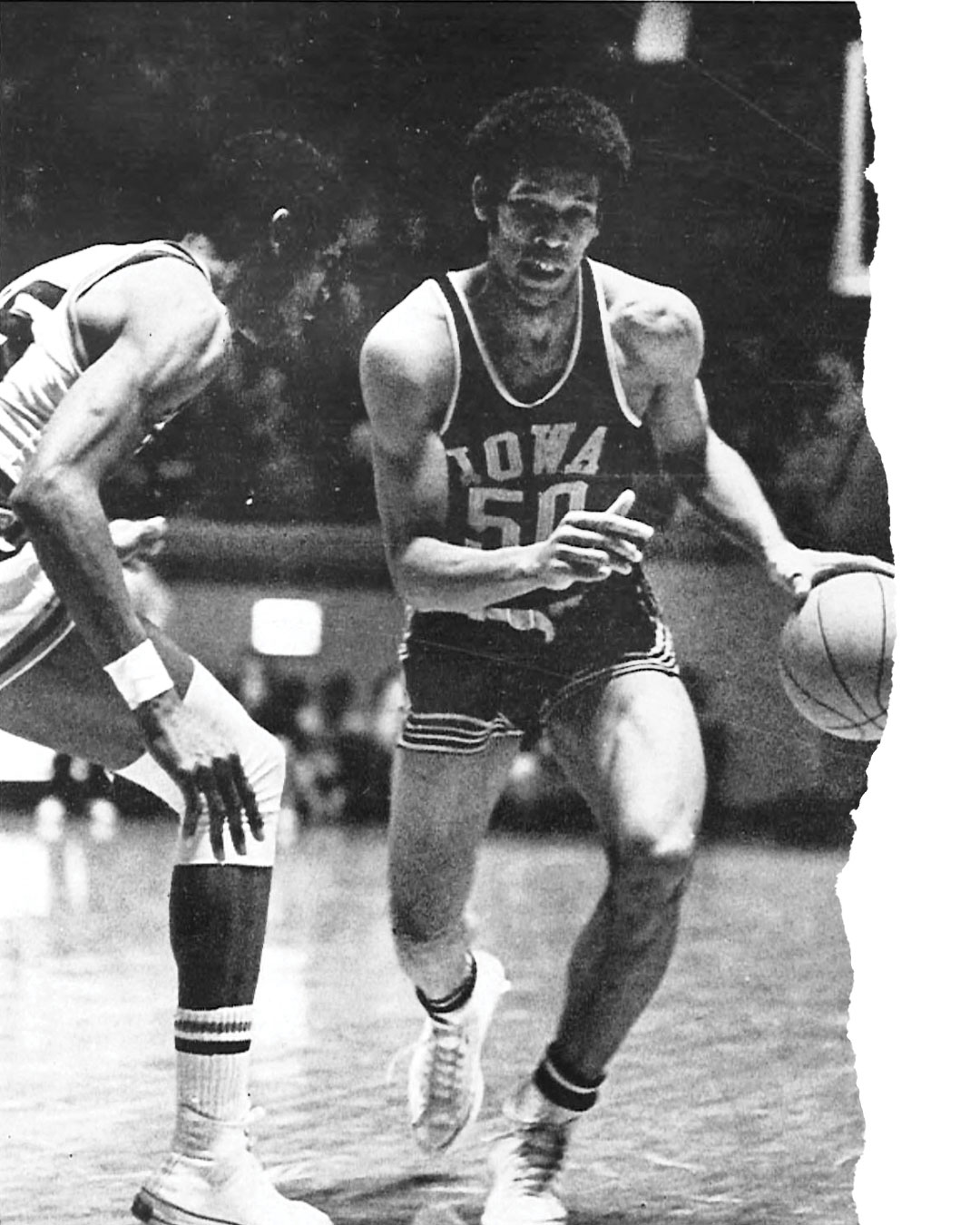 PHOTO: 1970 HAWKEYE YEARBOOK
All-American John Johnson leads the 1969-70 Hawkeyes to a Big Ten title following a 108-107 victory over Purdue.
The Supersonic Star
The team was heavy on talent. But the undisputed star was Johnson, a 6-foot-7 Milwaukee native who came to Iowa from a junior college in Wyoming. He led the team in scoring and rebounding in each of the two years he spent in Iowa City. In his senior season, he averaged 28 points and 10 rebounds a game.
"He was a great ball handler and a good shooter, but his passing was what made him special," says Lynn Rowat, a reserve guard from Des Moines who later served as a bank executive in Iowa City.
Johnson, who died in 2016 at age 68, was one of the first "point forwards"—tall players who can pass and handle the ball like a guard, such as Magic Johnson and LeBron James.
Off the court, Johnson's sense of humor kept players loose and built camaraderie, says Grabinski. On it, Calabria says Johnson brought a competitive will to win.
"If you tried to guard the guy, he'd put an elbow up where your face is supposed to go," says Hodge.
In a July 2007 interview with The Seattle Times, Johnson said his competitiveness was a consequence of a tough upbringing in a poor part of Milwaukee. "I've always had to fight," he said.
Johnson's competitive fire shone through after Iowa's 1970 win at Purdue. Mount—the eventual Big Ten Player of the Year—could shoot, Johnson acknowledged in a postgame comment to the Register. But Johnson told the paper he found the Purdue player's game limited in other ways: "He can't rebound, he can't assist, and he can't play defense."
Johnson was drafted No. 7 by the Cleveland Cavaliers in 1970 and spent 12 years in the NBA, making the All-Star team twice. After his senior year with the Hawkeyes in 1971, Brown was picked No. 6 by the Seattle SuperSonics. Johnson and Brown won a championship together with the SuperSonics in 1979. Brown later had a successful business career, including an executive position at Bank of America.
The Tip-In That Ended It
Iowa was picked for the Mideast Regional in the 1970 NCAA Tournament, which meant a trip to Columbus, Ohio, to face the Associated Press' sixth-ranked team, Jacksonville University. The bracket also included future NBA stars Austin Carr of Notre Dame and Dan Issel of Kentucky.
Jacksonville also was laden with talent, like 7-foot-2 Artis Gilmore, who would go on to a long career with the Chicago Bulls. Gilmore, at least 6 inches taller than any of the Miller Six Pack, racked up 30 points and 17 rebounds before fouling out with more than eight minutes to play in the opening round of the NCAA Tournament. McGilmer took the charge that sent Gilmore out, patting him on the shoulder as he left.
But Jacksonville had other skilled players. Iowa was still down by seven with less than five minutes to go.
"It was like watching Patton break down." – Jim Hodge on Coach Ralph Miller's reaction to the Jacksonville game
Miller's attack-at-all-times philosophy again paid off. Iowa clawed back. A pair of free throws by Calabria tied the score at 100 with just over a minute to play. It was still tied when Iowa regained the ball and Brown was fouled. He made one of two to give Iowa a 101-100 lead.
Jacksonville guard Rex Morgan, who would play two years with the Boston Celtics, made a bucket to put the Dolphins on top with 35 seconds left. Iowa reclaimed the lead when Brown rebounded his own miss and scored his 26th and 27th points with just 18 seconds left. The largely Iowa crowd went wild, according to an account in the Register.
Then the Hawkeyes' luck ran out. As the seconds ticked away, Jacksonville guard Vaughn Wedeking heaved a shot from deep outside. He missed.
From that distance, the ball should have bounded far away from the bucket, says McGilmer. Instead, it fell straight down, where Jacksonville's second twin-tower, Pembrook Burrows III, was waiting.
"He was 7-feet high and could stick his arm up in the air, and some of us couldn't jump that high," says the 6-foot-1 Calabria.
Burrows' tip-in gave Jacksonville a 104-103 victory. The Dolphins then beat Kentucky in their next game and made it all the way to the finals, where they lost to John Wooden's UCLA Bruins.
Iowa was done in by a relatively poor performance by Johnson, who was battling a cold. He still scored 19 points. Poor free-throw shooting also hurt. An Iowa team that shot 78 percent from the line that season hit just 19-of-31, or 61 percent.
After the game, Hodge remembers Miller crying by himself in the corner of the locker room. "It was like watching Patton break down," he says.
There was a small shot at redemption. Back then, losing teams played consolation games. In theirs, the Hawkeyes were determined to win for Miller, who had—in an uncharacteristic show of sentimentality—told them at their final practice how sorry he was they wouldn't be advancing in the tournament. Calabria told the Register that he hadn't heard Miller talk like that in the four years he played for him.
The Hawkeyes responded by trouncing Carr's Notre Dame team, leading at halftime by the remarkable score of 75-42. They eventually set a then-NCAA Tournament record by scoring 121 points in the game. Johnson ended with 31 points, Calabria scored the same, Vidnovic had 24, Brown 16, and McGilmer 12.
Hodge, inserted late in the game, scored the final two points to set the record. The 149 points that Loyola-Marymount scored in a 1990 tournament game is now the record, although Iowa's 52 field goals mark still stands.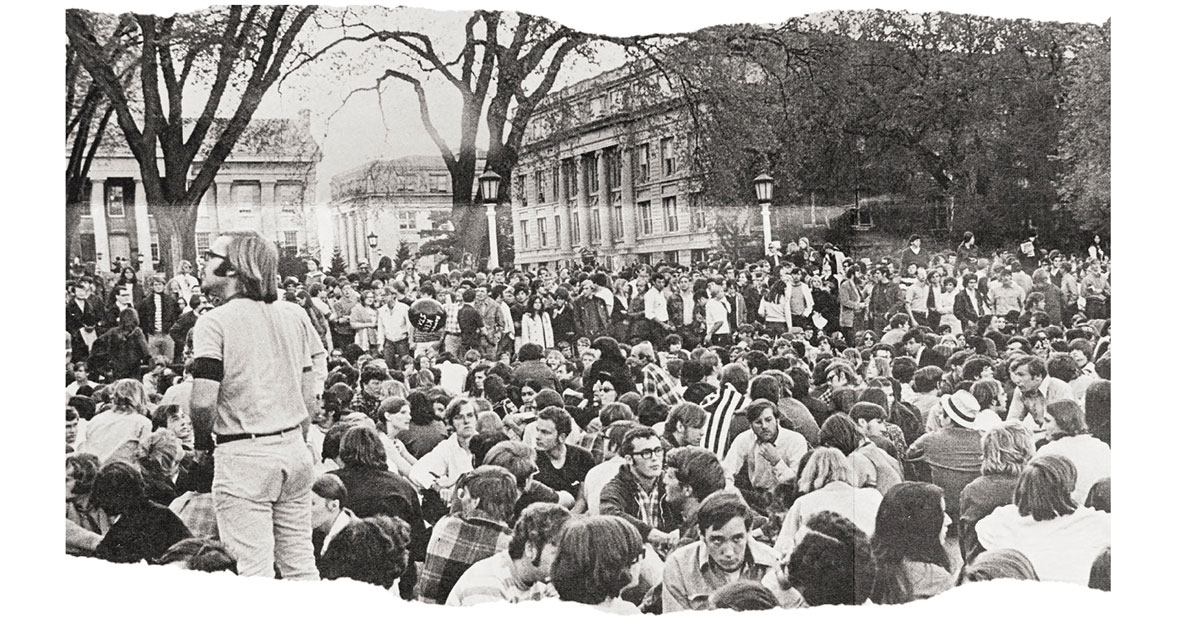 PHOTO: UI LIBRARIES SPECIAL COLLECTIONS
Campus Erupts
Miller later told longtime Hawkeye broadcaster Ron Gonder that the 1969-70 team was not only the best passing team he'd ever coached, but maybe the best he'd ever seen. The Iowa players say Miller was convinced his team could have beaten even the mighty Bruins.
Miller left Iowa after the season to continue his hall of fame career at Oregon State University. He died in 2001.
Less than two months after the 1970 NCAA Tournament, four students were shot to death at Kent State University in Ohio during a spring of opposition to the Nixon administration's decision to invade Cambodia. Iowa's campus, like many others, erupted in protest. University president Willard "Sandy" Boyd (81LHD) gave students the option to leave campus early after a building burned down under suspicious circumstances.
Jensen says he didn't go to his graduation. Back then, he recalls, it seemed like there were stories published every day in The Daily Iowan about kids his age losing their lives in Vietnam. There were days when it was hard to walk downtown due to the protests over the war, he says.
But there were also those times of unity, such as when thousands of Iowans got together to see the Hawkeyes play. Warmed by their enthusiastic cheering, J.J. and the Dealers ran up and down the court, whipping the ball around to one another at a pace that has yet to be matched.