Preparing for a showdown, the assistant Wisconsin coach reminisces about his time as a Hawkeye.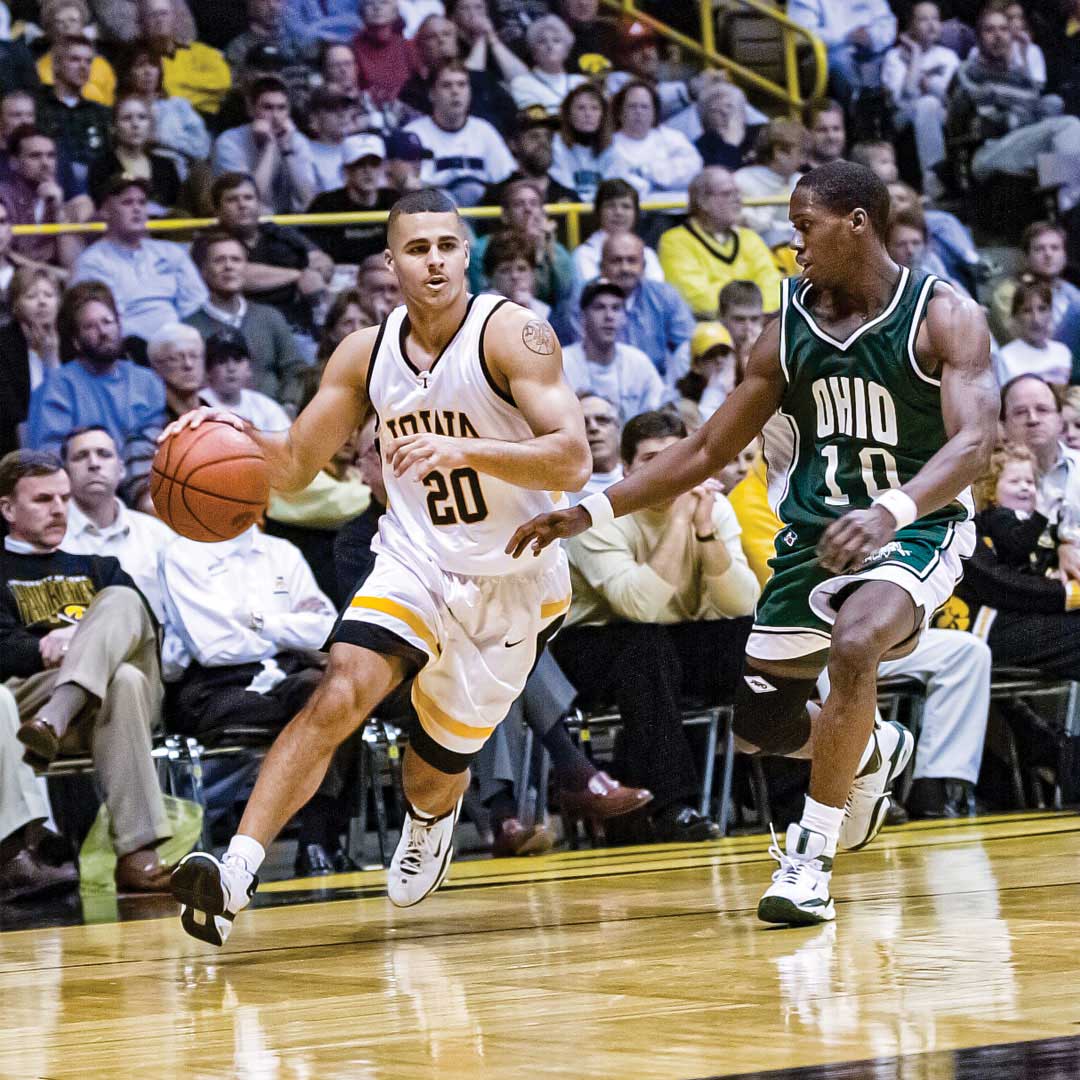 PHOTO: UI ATHLETICS
Dean Oliver, who led the Hawkeyes to the Sweet 16 as a sophomore, ranks second all-time in career steals and fourth in assists at Iowa.
When Dean Oliver (01BBA) returns to Carver-Hawkeye Arena, it's hard to break old habits. The former four-year starter for the Iowa men's basketball team sees familiar faces and walks the same hallways but reminds himself to steer past the home locker room. Twenty years after completing an illustrious Hawkeye career at point guard (1997-2001), Oliver is in his fourth season as an assistant coach for Wisconsin.
MARCH MEMORIES
The three-time all-Big Ten honoree and team MVP made some of his fondest Hawkeye memories off the court, including on the team's 1998 London trip before his sophomore season. "We made the most of our time there, traveling the city, experiencing a different culture, and spending time with each other," says Oliver. "I'll cherish those moments the rest of my life."
Those Hawkeyes reached the Sweet 16 in head coach Tom Davis' final season, falling to eventual national champion Connecticut. Two years later, under coach Steve Alford, the Hawkeyes battled injuries and lost seven of their last eight regular-season games before winning the Big Ten Tournament. "We were trying to figure out our new roles and lost a lot of close games in that stretch," says Oliver. "Finally, it just clicked—and it all clicked in one weekend."
A PLAYERS' COACH
Oliver began to see a future in coaching toward the end of his nine-year professional basketball career in the NBA and overseas. "You start coaching your teammates as you get older," says Oliver. "I was almost doing more coaching than playing toward the end because a lot of the things I was telling them I couldn't do myself."
In 2011, he landed an assistant role at North Dakota under Brian Jones, who was an Iowa assistant during Oliver's last two seasons. Oliver joined the Wisconsin staff in 2017 and continues to embrace a role he relished as a player. "I really enjoy helping other players—and you always do that as a point guard," says Oliver. "You're trying to make others play together and better. That transcends into coaching."
SIZING UP THE HAWKEYES
Oliver is busy looking for an edge over this year's Hawkeyes when they come to Madison February 18 and meet the Badgers again March 7 in Iowa City. "Luka Garza is an unbelievable player—just how he works all game long is extremely hard to stop," says Oliver. "You throw all the talented guys around him with the way they move the ball and know where to go. They have a high basketball IQ all the way around. They're a great team and hard to prepare for."
Oliver's support for Iowa remains, except when it involves Wisconsin. "As long as we're not playing, I still pull for the Hawkeyes," says Oliver. "As long as we're No. 1 and they're No. 2."
---
Q&A With Dean Oliver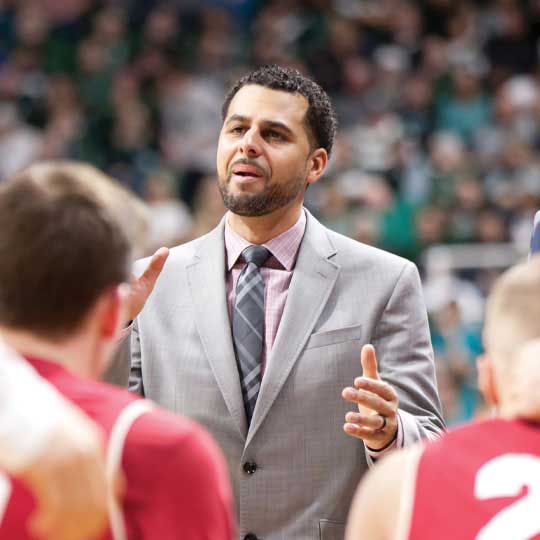 PHOTO: UNIVERSITY OF WISCONSIN
After three-year stints at North Dakota and Illinois State, Dean Oliver is in his fourth season as an assistant coach at Wisconsin.
What do you remember about the 1998–99 team?
We pulled together for Tom Davis, as we knew it was going to be his last year. The seniors on that team were also special, and we wanted to send them out the right way. We came together and played like a true team. No one knew who was going to have a big night and no one cared. We just wanted to play our best and see what we could do. Something that sticks out about that team is we really had a lot of fun playing the game.
What stands out about the 2001 Big Ten Tournament title run?
I remember Brody Boyd (05BA) hitting threes all over the place and lots of guys stepping up defensively. I'll never forget the happiness of the guys on the floor, I think it was the Ohio State game, just giddy and having fun. Even though it was a tight game, we just knew we were going to find a way to win and then win the next one. Our confidence grew with each possession.
How did you grow as a point guard under Tom Davis?
Coach Davis was a great teacher. I was thrown into the fire as a freshman, but he would pull me aside almost daily and talk about my decision making, whether in a game or practice. He'd ask me 'What did you see there?' He would talk those things through, teach the game, and help me build better habits as a point guard. I saw a big jump from my freshman to sophomore year, and a lot of that was from those teaching moments, and that's what I've tried to do as a coach. I realize how much he helped me as a player in making better decisions and realizing things you don't really see as you're playing.
How did you develop in two seasons under Steve Alford?
Coach Alford came in with a whole different style which helped me develop other parts of my game. He ran more of a motion offense, and I had to learn how to read things on the fly and get involved without the ball in my hands. I didn't realize how important screening was as a point guard and all those little things. He taught me those parts of the game and motivated me in being a better leader.
How did your playing career prepare you for coaching?
Coaching is a lot like point guard play, you've got to get in guys' ears and figure out a way where they can play well together. A lot of times as a player you get so focused on your own performance, and as a coach you've got to find ways to get guys pushing in the same direction. There's a science to it and there's a lot of different methods, but that's the fun of it—trying to get guys to play collectively.
How would you describe your coaching style?
I try to mimic the great coaches I've had in my career. I try to be a teacher and analytical with the guys and coach the way I liked to be coached as a player. I point out all the mistakes and am hard on them, but then I also pick them up and show them what they're doing well.
What's it like coming back to Carver-Hawkeye Arena as an opposing coach?
It's always going to feel strange. There's been multiple times where I've almost walked into the wrong locker room because we're creatures of habit.
What's this season been like amid a pandemic?
You've got to be ready for any curveball thrown your way. One thing we've learned is don't take anything for granted. You've got to enjoy the time, the practices, and the work that you do.
What are your long-term coaching goals?
Ultimately, I want to be a head coach at the Division I level. That's always been the goal, but I also want to teach and learn as much as I can before I hop over to that seat. I've heard no matter how prepared you think you are, you're never fully prepared.