The recently opened 5,100-seat venue hosted the USA Wrestling Senior Nationals in October.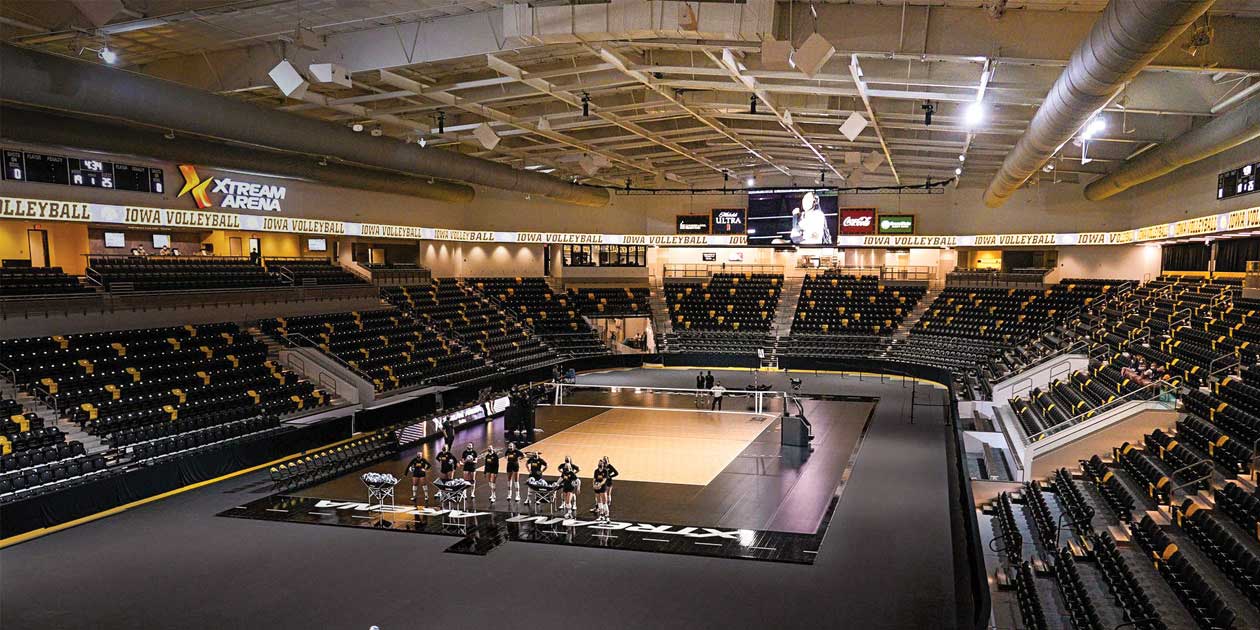 PHOTO: STEPHEN MALLY/UI ATHLETICS
Inside Coralville's Xtream Arena
SMove over, Carver-Hawkeye Arena—a new venue is open and hosting sports fans in the Iowa City area.
Xtream Arena, located in Coralville, is the new home for Hawkeye volleyball. The $70 million sports and entertainment complex—not built or owned by the University of Iowa—officially opened in September. While an official volleyball game has yet to be played as of press time, following the decision by the Big Ten Conference to postpone the 2020-21 fall sports season, practice is being held in the arena.
"Obviously, it's a setback not being able to play yet," Henry B. and Patricia B. Tippie Director of Athletics Chair Gary Barta said during a VIP event at the new venue earlier this fall. "But it's fun for me to be able to hear those balls bouncing and hear the athletes on the floor and on the court."
Head volleyball coach Vicki Brown, who is in her second season leading the team, is also excited that her players have been able to use this new space. Her team is looking to rebound following a 10-21 finish last season.
Brown says the arena will offer an inviting atmosphere for fans. "We are thrilled that we'll be able to create more of an intimate feel for our fans," she says. "This is an opportunity for fans to get a little closer to the floor and enjoy a homier experience."
Brown says Iowa volleyball anticipates a spring season and is looking forward to welcoming fans whenever it is safe to do so.
In addition to the arena, the new venue houses a 53,000-squarefoot fieldhouse, which includes five full basketball courts. Investors hope the space will continue to attract amateur and professional sporting events, such as the recently hosted USA Wrestling Senior Nationals. The October event featured three days of competition in three Olympic disciplines.
The UI's consistent dominance in collegiate wrestling has historically made the Iowa City area a popular choice for hosting prominent wrestling events. Iowa wrestling captured nine straight NCAA titles from 1978 to 1986 and has won 23 of the last 43 titles. The program has also churned out 345 All-American honors and 83 individual championships.
"We refer to Iowa City/ Coralville as 'Wrestling Town USA,' so it is only appropriate that the first event in the arena is a top-level national wrestling tournament," says Nick Pfeiffer, vice president of marketing and communications for Think Iowa City, the Iowa City/Coralville Area Convention and Visitors Bureau.
Pfeiffer's organization helped coordinate the event, which brought 450 athletes and coaches, along with 2,500 spectators to the new arena. During the tournament, masks were required and social distancing was enforced.
Xtream Arena also plans to host a minor league hockey team, as well as concerts, family shows, and special events.