The Hawkeye football and baseball alumnus joins the Kansas City Chiefs Radio Network as a color commentator.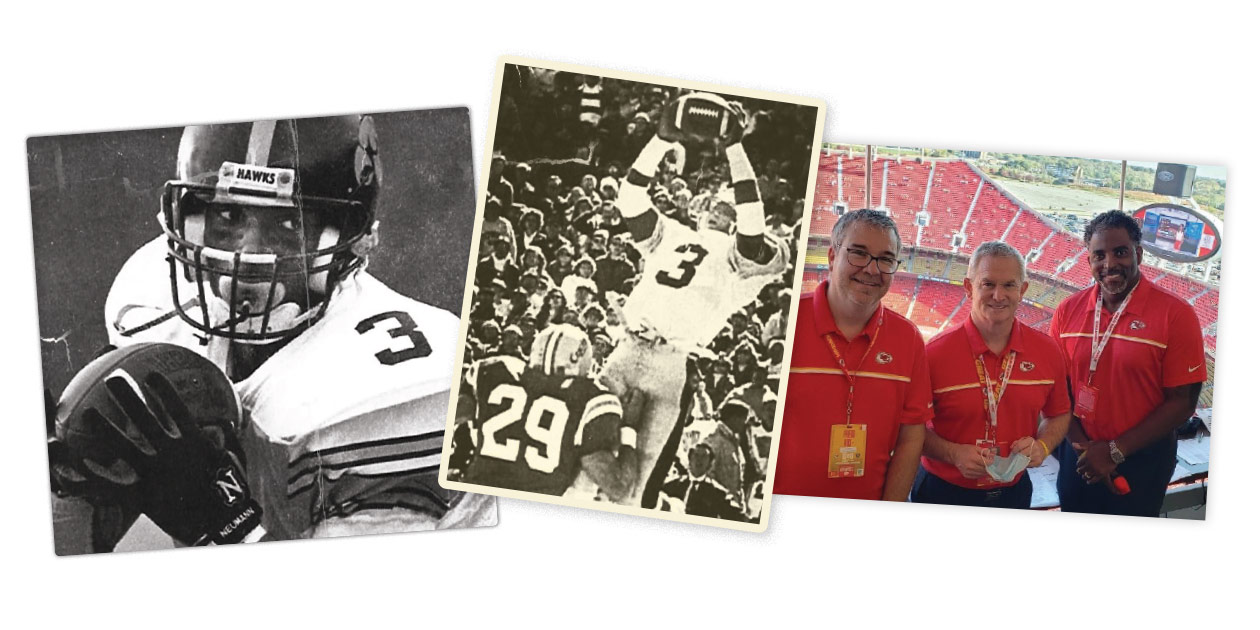 YEARBOOK PHOTOS: 1992 HAWKEYE; CHIEFS PHOTOS COURTESY DANAN HUGHES
ABOVE, LEFT AND CENTER: Danan Hughes was part of the 1990-91 Hawkeye team that shared a Big Ten championship and took Iowa to its third Rose Bowl in 10 years. RIGHT: Kansas City Chiefs radio crew Josh Klingler, Mitch Holthus, and Danan Hughes. Both Klingler and Hughes are Iowa alumni.
A native of Bayonne, New Jersey, Danan Hughes (17BA) was a talented two-sport athlete recruited to Iowa by coaching legends Hayden Fry and Duane Banks.
Hughes had 146 catches for 2,216 yards and 21 touchdowns as a receiver in Fry's high-octane offense. He ranks fourth in receiving yards and 10th in all-purpose yards in the Iowa record book. Hughes was just as dynamic on the diamond under Banks, where in three seasons he hit .318 with nine home runs, 34 RBIs, and 23 stolen bases.
The Milwaukee Brewers selected Hughes in the third round of the 1992 Major League Baseball draft, while the Kansas City Chiefs took him in the seventh round of the 1993 NFL Draft. Hughes played two seasons of minor league baseball but found more success professionally on the gridiron. He played in Kansas City from 1993 to 1998, catching 46 passes for 425 yards and four touchdowns.
After retiring from football, Hughes worked as a banker and coached club baseball before going into broadcasting. He's been a part of the Big Ten Network's baseball and football coverage since 2008 and a mainstay on the Chiefs' local pregame and postgame shows since 2014.
This fall, Hughes joined the Chiefs Radio Network as a color commentator covering the defending Super Bowl champions. He works alongside another UI alumnus, Josh Klingler (93BA), who is a sideline reporter for the network. A sports radio host in Kansas City, Klingler has worked as a sideline reporter covering the University of Kansas for 14 years.