The NFL All-Pro and Super Bowl champion says farewell after 13 seasons with the Baltimore Ravens.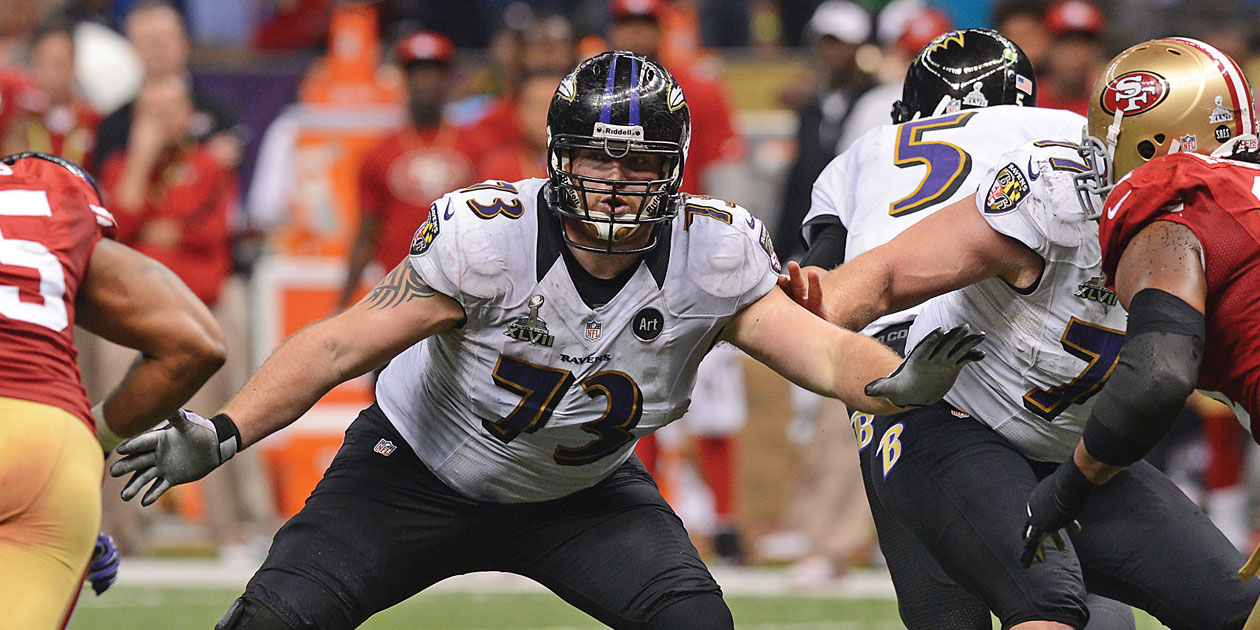 PHOTO COURTESY BALTIMORE RAVENS
Marshal Yanda (07BA) wanted to go out on his own terms. After his Baltimore Ravens were upset in the AFC Divisional Round by the Tennessee Titans in January, Yanda had a difficult decision to make—retire or return for one more NFL season.
At age 35, Yanda was at the top of his game. He had a Super Bowl ring and eight Pro Bowl selections—tied with NFL veteran quarterbacks Tom Brady and Drew Brees for the most by an offensive player since 2011. In 2019, he anchored an offensive line that helped Baltimore set an NFL record for rushing yards in a season and produce a franchise-best 14-2 regular season record.
Yanda also had multiple injuries during his 13-year career, including most recently a fractured ankle in 2017. By March, Yanda was ready to announce his retirement.
"The health risks of me getting hurt again dominated my mind," says Yanda, who ends his career starting in 166 NFL games and logging just 43 penalties in 7,376 offensive snaps. "I had a lot of fun this past season—more than any other regular season in my career—and I wanted to end my career playing well. I got to experience so much, meet so many great people, and fight so many battles against the best in the world."
When the Anamosa, Iowa, native transferred from North Iowa Area Community College to the University of Iowa in 2005, playing professional football was not on his radar. Yanda started spring practice his junior year at third-team right tackle, but by the following season, he had earned second-team All-Big Ten honors and became a third-round pick in the NFL draft.
Yanda has continued to train in Iowa City during the past seven NFL offseasons, crediting Iowa coaches and fellow lineman Mike Elgin (06BSE) for his success. "Iowa did everything to shape me and prepare me for life—whether I played football or not—and they did so the right way every single day," says Yanda. "The physical and mental toughness and accountability they taught me was unreal. I reached potentials I never thought possible."
Now, with a post-NFL workout and diet in hand, Yanda has lost 50 pounds since January. It's all part of the next chapter of his life, which puts his wife, Shannon Hunt Yanda (04CER, 06BS), and their three kids front and center. "I want to spend as much time with my family as I can," says Yanda. "I've been playing football every fall since seventh grade, so I need to figure out how much football I want in my life. I'm going to take it one day at a time and follow my heart."