An internationally ranked Hawkeye who was once a warm-up partner for pros Novak Djokovic and Andy Murray has been granted another year of eligibility.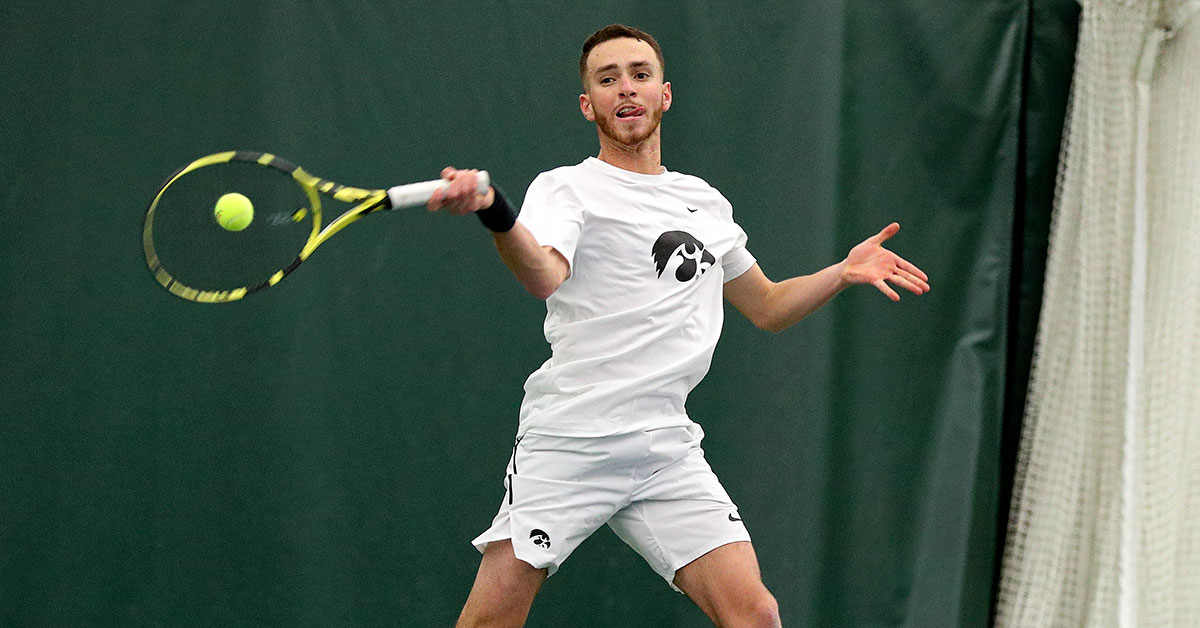 PHOTO: Stephen Mally/UI Athletics
The Hawkeyes' No. 1 player, Kareem Allaf won 11 of 13 singles matches this spring to help Iowa reach its top ranking in school history before the season was canceled due to COVID-19.
Kareem Allaf has traveled the world since age 11 in pursuit of a professional tennis career. Internationally ranked and a warm-up partner for elite professionals Novak Djokovic and Andy Murray, Allaf experienced his toughest transition—and greatest growth—when he moved from Dubai to Division I. The Hawkeyes' No. 1 player led the program to its best team ranking in school history this spring and rose to second all-time at Iowa in career singles victories (85) and combined singles and doubles victories (146) before the season ended prematurely due to the COVID-19 pandemic. Granted another year of eligibility for 2020-21, Allaf aims to lead the Hawkeyes to their first NCAA Tournament.
GLOBAL CONNECTION
Born in Des Moines and raised in Dubai, Allaf began tennis at age 7 and started competing on the International Tennis Federation junior circuit at 13. The son of an Olympic swimmer, Allaf found his passion on the tennis court and honored his father's Syrian heritage by competing on the country's Davis Cup team. Allaf caught the attention of UI Mellecker Family Head Men's Tennis Coach Ross Wilson in 2015 by ascending the junior rankings as one of the top 200 players in the world under age 18. The two communicated through Facebook and Skype, and former UI assistant coach Ty Schaub watched Allaf compete in Austria before he committed to Iowa two months later.
TOUGH TRANSITION
In fall 2015, Allaf arrived on campus two weeks after classes started and redshirted the season as the NCAA ruled him ineligible until he completed a year of school. He used the time to refine his game, improve his time management, and acclimate to college life. "I wasn't physically ready to compete at a college level and it took a lot out of me," says the enterprise leadership and communication studies major. "It took me a while to know this was the right choice until I started playing and experiencing the team aspect."
Allaf joined the lineup in fall 2016 and posted a team-best 23 singles wins in his first season, although his limited endurance hindered him in longer matches. Says Allaf: "I didn't look like an athlete at that point."
ADVANTAGE ALLAF
In summer 2017, Allaf cleaned up his diet and increased his workout regimen for a successful sophomore campaign. The next summer, he stayed in Iowa to further develop his athleticism and compete in numerous tournaments before rising to the Hawkeyes' No. 1 singles spot as a junior and senior. "Kareem has really improved his fitness, serve, and shot selection within the point," says Wilson. "In addition, he has really mastered being a student-athlete on the court and in the classroom."
Allaf won his first professional tournament last summer, became only the second player in program history to reach the main draw of the Intercollegiate Tennis Association All-American Championships last fall, and entered this past spring season 25 pounds lighter than his first. "[My improved fitness] made me believe that I can hang around and beat guys when it got tough physically and the matches were longer," says Allaf. "The more physically fit I am, the better I am mentally."
---