The Hawkeyes gave fans at Carver-Hawkeye Arena plenty to cheer about this season.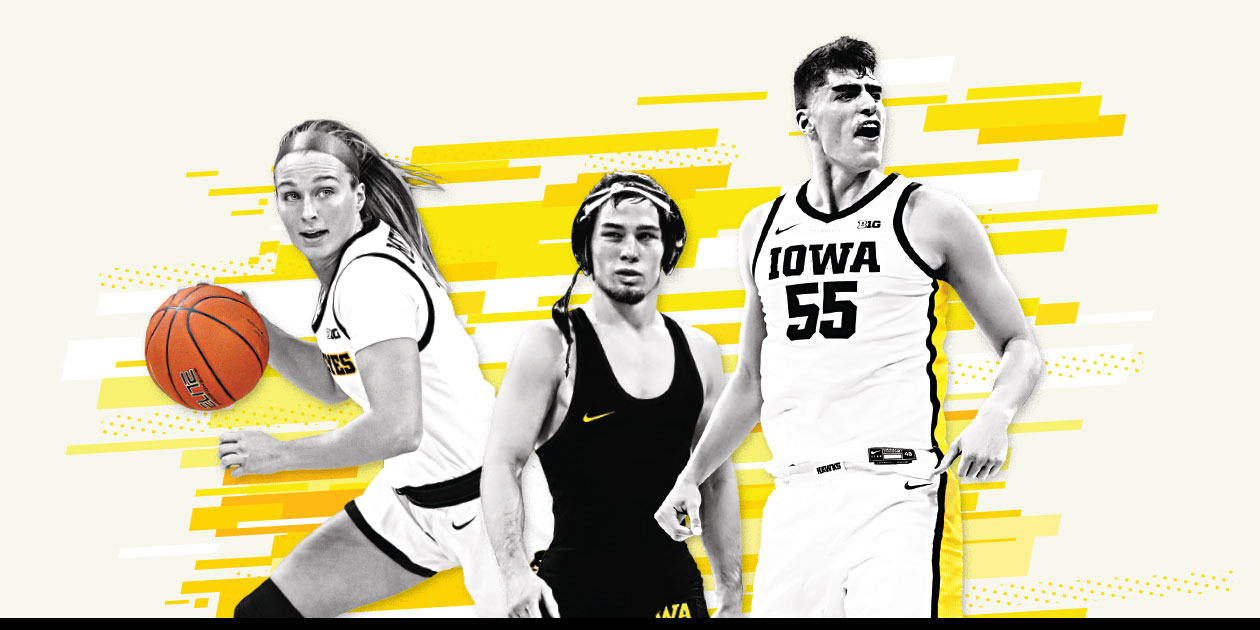 MEYER PHOTO: STEPHEN MALLY/UI ATHLETICS; GARZA AND LEE PHOTOS: BRIAN RAY/UI ATHLETICS
Hawkeye standouts Makenzie Meyer, Spencer Lee, and Luka Garza
It was a heartbreaking end to what had been a memorable winter campaign for the Iowa wrestling and basketball teams.
The Hawkeyes seemed primed on the mat and the hardwood for runs for national glory—that is, until their seasons came to an abrupt halt in the wake of the COVID-19 pandemic. The Big Ten and NCAA canceled all athletics activities for the remainder of the spring, meaning no national basketball tournaments and NCAA wrestling meet.
The announcements came March 12, the day the Iowa men's basketball team was to open the Big Ten Tournament in Indianapolis.
"We fully support the actions being taken by the Big Ten Conference and the NCAA, knowing that the health, safety, and wellness of our student-athletes and staff members is the top priority," said Gary Barta, UI's Henry B. and Patricia B. Tippie Director of Athletics Chair. "My heart aches for our student-athletes, coaches, and athletic staff, as our spring sport seasons are cut short, especially for our seniors. I sympathize with our winter sports teams who were primed to compete at their upcoming NCAA Championship events.
"We will do everything in our power to provide our full support for everyone in Iowa athletics as we move forward through the spring semester."
---
WRESTLING
Hawks Seize No. 1 Ranking and Big Ten Championship
Before the season was canceled, the Hawkeye grapplers were poised to capture their first NCAA team title since 2010.
Recent months had brought a return to the No. 1 spot in the polls, a 2020 Olympic Trials qualifier, a milestone win for Coach Tom Brands (92BS), and the 36th Big Ten championship in program history.
"Our coaching staff is disappointed for our guys, their families, and our fans," Brands said. "I understand the Big Ten Conference and NCAA made decisions based on information available and are acting in what they believe is in the best interest of the student-athletes. We will process this and move forward, as we always do. Our guys have a lot to be proud of and much more still to accomplish."
Those accomplishments included:
Propelled by a dominating win over rival Iowa State in November, Iowa climbed to the top spot in the NWCA Coaches Poll for the first time since Feb. 17, 2015. They held on to the No. 1 ranking for the remainder of the duals season, finishing a perfect 13-0 (9-0 Big Ten).
Iowa won its 29th team title at the 57-year-old Midlands Championships in December in Hoffman Estates, Illinois. The Hawkeyes set a tournament record with 196.5 points.
Iowa's dual meet win against Wisconsin in December marked Brands' 100th Big Ten victory as coach. Senior Pat Lugo also reached 100 career wins this winter.
Two-time defending national champion Spencer Lee won the 57-kilogram crown at the U.S. Senior Nationals to earn a berth to April's 2020 Olympic Team Trials.
Iowa claimed its first outright Big Ten Tournament title since 2010 on March 8 in Piscataway, New Jersey. In dominating fashion, the Hawkeyes scored 157.5 team points and crowned three individual champions: Alex Marinelli, Lee, and Lugo.
---
WOMEN'S BASKETBALL
Home Is Where the Tigerhawk Is
Carver-Hawkeye Arena has been one of the toughest venues in the nation to earn a win in recent seasons. The Hawkeyes ran their home winning streak to 36 games this winter, recording its second-straight unbeaten home campaign. Iowa owns the nation's second-longest home winning streak, dating back to January 2018.
Carver's lively crowds had plenty to cheer about. Seniors Kathleen Doyle and Makenzie Meyer each reached 1,000 career points in early season games at home. And on New Year's Eve, Iowa recorded the highest point total in program history in a 108-72 drubbing of visiting Illinois.
Doyle has provided some of the most electrifying moments for fans. In January, the 5-foot-9 guard earned back-to-back Big Ten Player of the Week honors, then earned the national Naismith Player of the Week award after a stretch of performances that included her 31 points, 10 assists, and nine rebounds in Iowa's upset over then-No. 12 Indiana. In March, Doyle was named the consensus Big Ten Player of the Year, marking the third straight year the honor went to a Hawkeye.
The Hawkeyes, who finished 23-7 overall and 14-4 in the Big Ten, were awaiting their NCAA Tournament fate when word came the event had been canceled.
"While we are tremendously disappointed, our prayers are with all those suffering from the coronavirus and for all those making decisions in how to best treat and contain the pandemic," Iowa coach Lisa Bluder said. "Our players have worked so hard all season long to achieve success and earn the opportunity to play in the NCAA Tournament. It is a shocking and unprecedented way to end a season.
---
MEN'S BASKETBALL
Garza's Greatness
No big men in college basketball was as dominant as hard-nosed center Luka Garza this season. Named the Big Ten's Player of the Year, the junior was a bucket-pouring, rebound-vacuuming, shot-swatting force in the middle for the Hawkeyes.
A National Player of the Year candidate, Garza is a finalist for several prestigious awards, including the John R. Wooden Award, the Lute Olson Award, and the Naismith Trophy. Garza set a new Iowa scoring record after 26-point game against Purdue on Feb. 13, when he passed John Johnson (1970) to become the only Hawkeye to score over 700 points in a single season.
Garza in January became the 27th player in program history with 1,000 points and 500 rebounds. Season highlights included a 44-point night at Michigan—the third-best scoring game in Iowa history—and a career-high 18 rebounds against Nebraska and Wisconsin. He recorded 20 or more points in the final 16 games of the regular season—the longest streak by a Big Ten player since 1987.
The Washington, D.C., native's toughness has been his calling card. Against Texas Tech, Garza received four stitches after being hit in the mouth, while at Iowa State, a flying elbow jarred one of his teeth loose. In both games, Garza returned to the court to lead Iowa to victory.
Iowa ended the abbreviated season with a 20-11 record (11-9 Big Ten).
"First and foremost, our prayers are with those who have been affected by the coronavirus as well as those responsible for the decisions that affect so many," coach Fran McCaffery said after the conference tournament had been canceled. "Following the advice from global health professionals, the Big Ten made a very difficult, but correct decision.
"I am incredibly proud of my team and this decision does not diminish everything that we have accomplished this season. While our players, coaches, and fans are all disappointed, the bigger picture of the health and well-being of everyone must be our top priority."