Here's what you had to say about the stories in Iowa Magazine.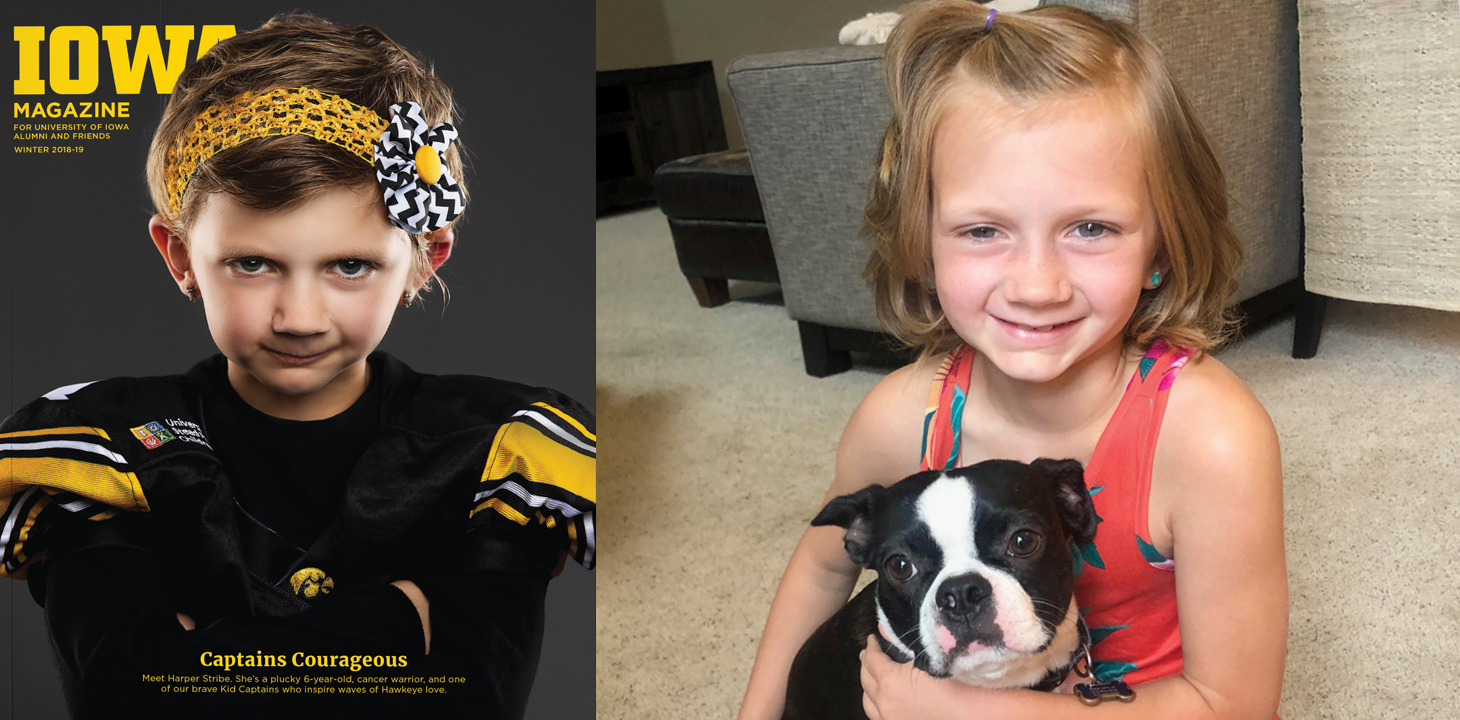 COVER PHOTO: DAN ROLLING; HARPER PHOTO: NICOLE STRIBE
Kid Captain Update
Harper [a 2018 Kid Captain whose cancer story was featured prominently in last winter's Iowa Magazine] saw the list of Kid Captain honorees for 2019. What an exciting time for them!
Harper is doing well. She has moved to scans every four months now, with her next one this month. Her hair is growing like crazy—she is a happy and healthy girl right now. Thank God!
Being part of the Iowa Magazine article and being a Kid Captain was an experience Harper and our family will never forget. Here's a recent pic of Harper and her dog, Hurley.
Nicole Stribe
Polk City, Iowa
Memories of Vonnegut
I particularly enjoyed your summer issue. It contained so many interesting articles, ranging from the flash writing contest winner to the Bookshelf Picks to the article on Kurt Vonnegut's time on campus ["Slaughterhouse-Five Turns 50"].
When Vonnegut arrived at the Iowa Writers' Workshop in 1965, all his books were out of print. No one quite knew who he was. By the time of his departure in 1967, that was no longer the case.
I served as an administrative assistant at the Iowa Writers' Workshop for the two years of Vonnegut's residency. With offices located in the Quonset huts, we were an eclectic group and a bit of an oddity on campus. One such attraction is not the one you might expect. A restroom accommodation brought many students into our office, especially in winter, because the toilet flushed very warm water.
I was a graduate student in the Workshop in 1972-73 but was working full-time and raising a young family, so did not opt for an MFA. I was admitted in poetry. I did try my hand at fiction, but the best that I could muster was a vignette, and that's why I have all the admiration in the world for someone who can write an entire book. Perhaps my son Tim Johnston (85BA) [best-selling author of The Current and Descent] did get his writing sense from me, but his talent goes way beyond.
Judy Hills Johnston (73BA)
Iowa City
---
Slaughterhouse-Five by Kurt Vonnegut is one of my favorite books. Growing up as a child of World War II parents, I met my share of veterans who were Billy Pilgrim.
Eric Palmer
Oskaloosa, Iowa
---
During Kurt Vonnegut's time at Iowa, I set up a one-on-one interview with him as part of my class work for American Humor and Satire. It did not go well.
I had been writing for newspapers since age 11 and went in with a series of questions that should have yielded a decent paper. It was at the end of a long, wintry day in a Quonset hut down by the Iowa River near the Iowa Memorial Union that we met. Vonnegut did not seem to want to help facilitate a smooth-running conversation. He was like a bad guest on The Tonight Show with monosyllabic answers.
When I asked about his writing and how it might fit into the pantheon of literature then being published, such as Joseph Heller's Catch-22 or Thomas Wolfe's The Kandy-Kolored Tangerine-Flake Streamline Baby (which Vonnegut enthusiastically wrote a blurb for), the great man seemed offended, but that was the topic of my essay for American Humor and Satire, so I really needed to ask.
I was attempting to maintain a B average for 15 hours of classwork so that I could transfer to Berkeley, where I had just spent the summer. Thanks largely to Vonnegut's uncooperative, taciturn nature, I got a C+, which scuttled that plan. I have always wondered how my life might have been different if Vonnegut had treated a young undergraduate English major with just a small amount of kindness.
Connie Corcoran Wilson (67BA)
East Moline, Illinois
Happy Birthdays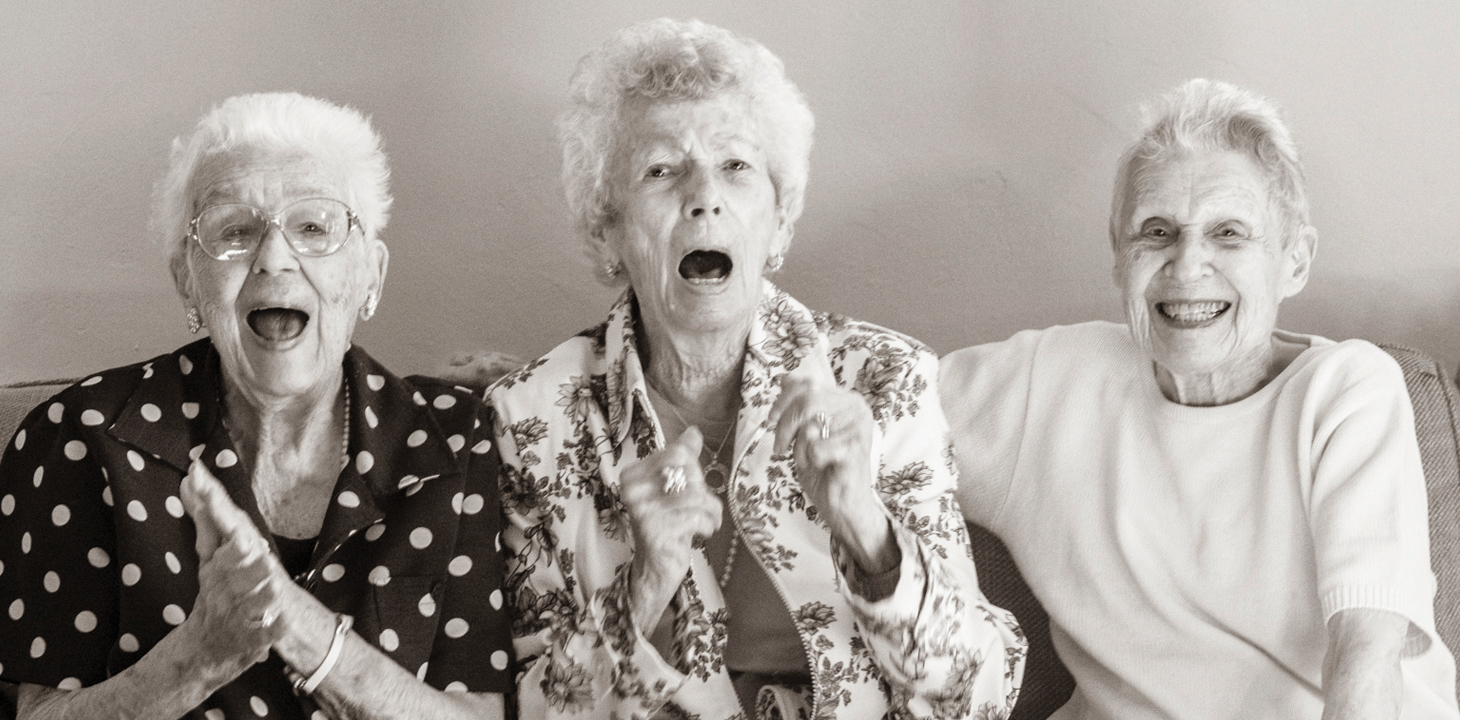 PHOTO: CHARLIE MILLS
As pictured above from left, Helen Kuttler Jaeggi (46BA), Eugenia Mannon Rooth (46BA), and Margaret Kuttler Mills (41BA) gathered in Seattle this past summer with family and friends to celebrate Helen's 95th and Margaret's 99th birthdays.
The Kuttler sisters grew up in Davenport, Iowa, before attending the University of Iowa. Both sisters enjoy frequent games of bridge and keep an active life. Prior to Seattle, Helen lived in Rockford, Illinois, and Sun Lakes, Arizona, and Margaret lived in Salem, Oregon, and Blakely Island, Washington.
Charlie Mills
Seattle
What Makes a Family?
From being the next-door neighbor of Human Genome Project director Francis Collins when he was studying at the University of North Carolina, I have been interested in reading about his genetics work. I was surprised he was not mentioned in "Unraveling the Mystery in Our Genes."
Collins filled our neighborhood with wonderful music on evenings when we could get outside. He was a great neighbor with girls we so enjoyed. I do wish the UI would have him for a speech or conference; his intellect was massive even then. To be such a nice person, plus so smart, was amazing.
I was adopted at three months old and would love to have health information to give my sons. I have no interest in finding members of a biological family and don't understand the need to know. I would like to say this was because my adopted family was everything a child would want, but mental illness kept that from being so.
I am glad when people are happy with being "found," but I just don't see biology as making a family. At one time, I thought about having a third person contact my biological family for health information, but I decided against even this course of action.
M. Suzy Vance
North Liberty, Iowa
Return of the Rickey
I read "Art Revival," and I am thrilled that the George Rickey sculpture will soon be "out and about" with the public. I have missed that piece so much.
When I was a docent at the UI art museum, I loved watching young children fascinated by that sculpture. They would try to imitate the movements with their arms, never taking their eyes off the changes and movement they saw. Most visitors to the art museum were enchanted with it. It will be a very happy day when we can see it again and say, "Welcome back!"
Joyce Carman-Baldus
Iowa City