In the winning entry from the UI's first flash writing contest, a superhero comes out of retirement.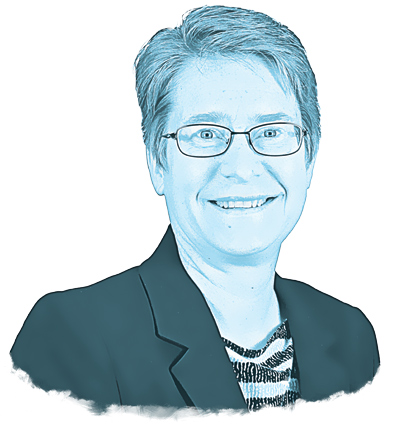 Pam Stek (09MA, 17PhD) of Iowa City is the winner of Write Now: The UI Alumni and Friends Flash Writing Contest. Earlier this year, nearly 240 people from around the world, ranging in age from 10 to 87, submitted stories for the first-ever online competition. Entrants had 48 hours to craft a story of 1,000 words or less using one of two sets of Iowa-centric writing prompts. For her winning story, "Travelin' Man," Stek had to incorporate fantasy (genre), the Iowa River (setting), and a feather (object).
A former actuary, Stek, 55, studied math as an undergraduate at Macalester College in St. Paul, Minnesota. Later in life, Stek earned a master's and PhD in history from the UI, as well as a graduate certificate in gender, women's, and sexuality studies. She recently began dabbling in creative writing after taking an undergraduate fiction writing class at the UI as a fun change of pace.
Stek said she nearly skipped the contest after seeing the two genre options, fantasy and romantic comedy, because she hadn't written in either style. But with some coaxing from her two daughters and a unique idea—what happens when a superhero grows old?—she decided to give it a try. The result was a touching story that won over the panel of judges: Jack B. King University Librarian John Culshaw, UI International Writing Program Associate Director Hugh Ferrer (01MFA), and community volunteer Mary Harreld.
"The winner resonated strongly with us because of the author's exceptional storytelling skills," wrote the judges. "Set in beautiful but sometimes dangerous wintertime Iowa City, 'Travelin' Man' made challenging life situations both surprising and personal."
For Stek, the contest allowed her to tap a creative side she largely kept bottled up while pursuing her doctorate. Her dissertation, for example, was on the political activism of Midwest immigrant women in the late 19th and early 20th centuries. "You don't have to worry if all your facts and footnotes are right," Stek says of fiction writing. "It's a fun change."
---
More Flash Writing Online
Read all 10 Write Now finalists and check back in with us next year to learn how you can take part in our second annual flash writing contest.