University of Iowa Stanley Museum of Art leaders prepare for a new building and sculpture garden.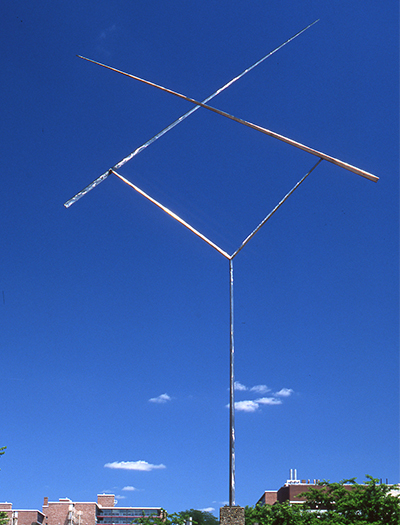 Two Lines Oblique by George Rickey is being renovated for installation in a new sculpture garden in Gibson Square Park.
When the flood of 2008 forced the UI Stanley Museum of Art to close its doors, it wasn't just the building that was lost. The museum also had to uproot and place into storage several large sculptures that had been arts campus landmarks for decades.
Now work is underway to restore one of the UI's major public art pieces, which could one day anchor a new sculpture park in the heart of campus. Museum conservators are currently revitalizing a work by sculptor George Rickey titled Two Lines Oblique, which has been stored for a decade. The 25-foot-tall, antenna-like steel sculpture was a gift from Louis (29BSC, 31MA) and Lucille Shulman when the original UI Museum of Art opened in 1969.
Following this month's ceremonial groundbreaking for the new museum, UI Stanley Museum of Art Director Lauren Lessing says the hope is to establish a sculpture garden in nearby Gibson Square Park. The UI plans to build the museum just south of the Main Library, making the leafy park at the corner of Burlington and Madison streets a natural fit to showcase some of the university's best public art, including pieces that haven't been seen since the flood.
Though plans have yet to be finalized, Lessing hopes to install the Rickey sculpture in Gibson Square before the new museum is built. Other sculptures would follow, including monumental works by artists Mark Di Suvero and Beverly Pepper that are currently in storage. "It will be a wonderful symbol to get it fixed up, bring it out, and put it in place," Lessing says of the piece by Rickey, who studied at the UI in 1947. "It'll be like running a flag up the flagpole and saying, 'Here we come.'"