The preseason All-American is blocking out NFL draft hype to lead the Iowa defensive line this fall.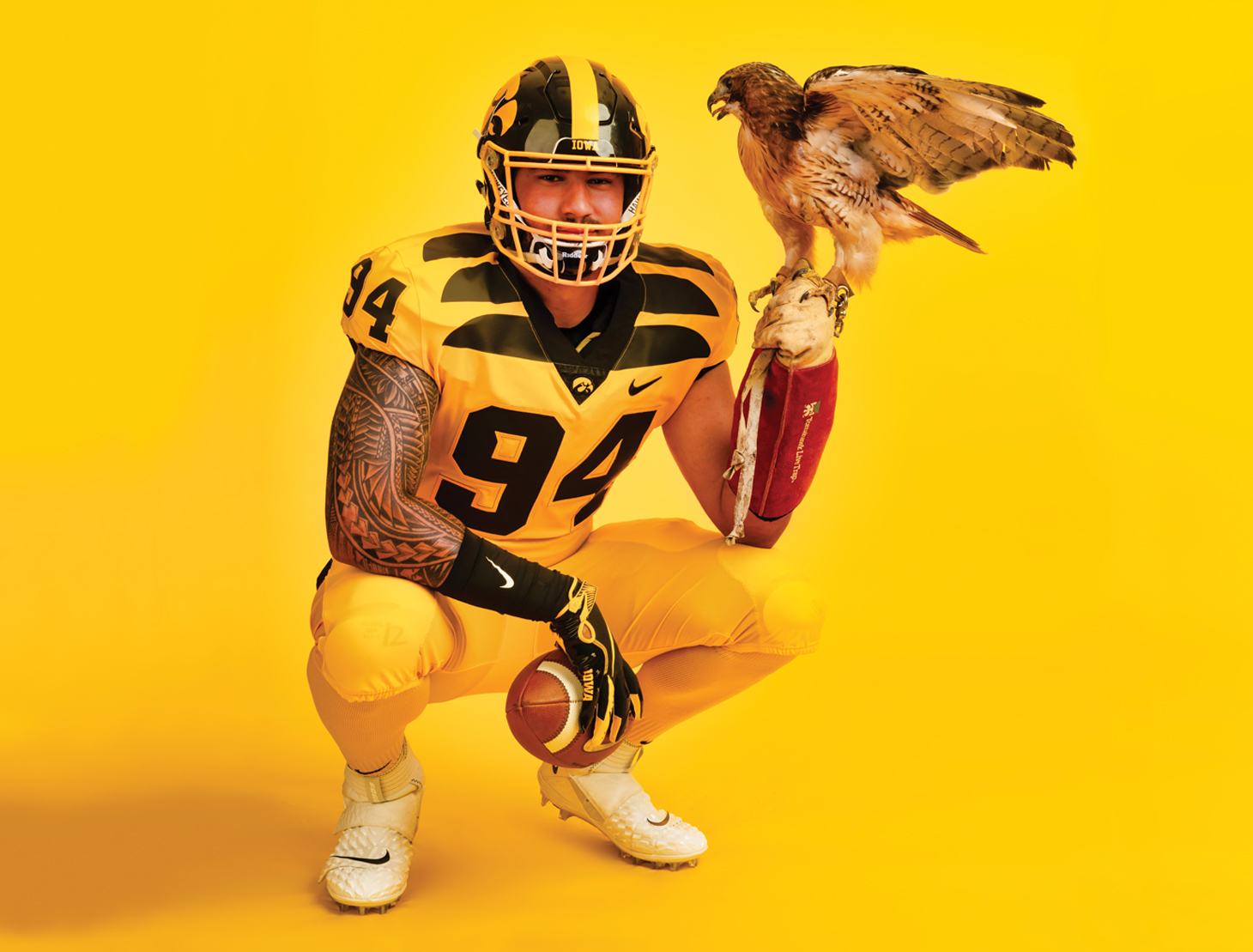 PHOTO: BRIAN RAY/UI ATHLETICS
Epenesa is pictured in Iowa's new alternate uniform, which the Hawkeyes will sport Oct. 12 when they host Penn State.
A.J. Epenesa has dedicated years of training for a moment like this. The Hawkeye junior defensive end steps into a starting role this season amid heightened expectations, increased attention from opponents, and an abundance of media hype. Pegged as a preseason All-American and first-round pick in next spring's NFL draft, Epenesa isn't looking too far ahead, harnessing his focus on the task—or man—in front of him.
INGRAINED WORK ETHIC
Epenesa learned the value of hard work at a young age through his father, Eppy Epenesa (98BA), who was raised in American Samoa and rose from an Iowa football walk-on to a scholarship athlete and letter winner. In the summers, Eppy set up physical challenges for A.J. and his three siblings, including tire flips in the backyard and hill sprints in the park. "That's where it all started, that work ethic of waking up and doing that training," says A.J. Epenesa. "You earn what you for work for. [My father] drilled that into me, and I'm a big believer in it."
BECOMING A HAWKEYE
A heralded five-star recruit in the class of 2017, Epenesa developed an early affinity for Iowa. The Glen Carbon, Illinois, native grew up watching Hawkeye games and attended the Legends of Iowa football camp in middle school, where he met Pat Angerer (09BA), Chuck Long (85BBA), and several of his father's former teammates. Epenesa received his first scholarship offer from Iowa in 2014 and committed to the Hawkeyes two years later. Despite all the national recognition and an NFL-ready physique, the 6-foot-6, 280-pounder saw limited snaps as a freshman and sophomore while learning from Parker Hesse (17BA, 18MA), Anthony Nelson (18BBA), and Matt Nelson (18BA, 18BS). Still, Epenesa earned first-team All-Big Ten honors in 2018, tallying 37 tackles and a conference-best 10.5 sacks. "I came in with a mindset of being a sponge and learning," he says. "I knew my time would come."
START AGAIN
For the first time since high school, Epenesa is a starter once again and the likely focal point of every opposing offense. The increased attention is just another motivating factor for him to produce on the field—whether it's making the play or creating opportunities for his teammates. Says Epenesa: "If [opponents] think they can just focus on me, they might be making a mistake."
---
Watch A.J. and his father, Eppy (98BA), talk about their Hawkeye football family legacy.